"It Is Not A Question of Who Is Right Or Wrong But What Is Right Or Wrong That Counts.

"

--Geoff Metcalf






Wo

rld & National



'This has spiraled downward': Trump, top Democrats put raw partisan divide on full display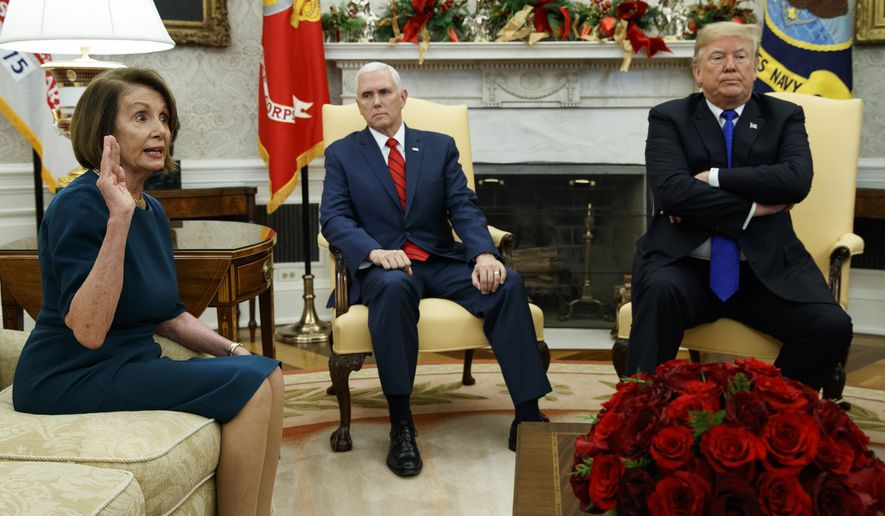 President Trump and congressional Democratic leaders ripped off the bandage over their raw, partisan disagreements Tuesday in open bickering that offered a glimpse of the divided government to come in the next two years.
During a White House meeting intended to seek common ground to avoid a partial government shutdown next week, the president and incoming House Speaker Nancy Pelosi and Senate Democratic leader Charles E. Schumer instead squabbled over funding for the border wall, traded blame for the last shutdown and jousted over which party commands the stronger political hand since the midterm elections.
Most of the feuding played out on camera in front of reporters who were invited by the president to cover the meeting. The Democrats pleaded with Mr. Trump several times to kick out the press.
"Let's debate in private," Mr. Schumer urged as cameras continued to roll.
---
'Terror' at Christmas market: 'Islamist' who shot dead three people and wounded 13 in Strasbourg had been identified as 'a threat to the state' it is revealed as manhunt continues
At least three people were killed and 13 others injured when a gunman opened fire at a Christmas market in Strasbourg, northeastern France on Tuesday evening.
Police identified the gunman as Cherif Chekatt, a Strasbourg-born 29-year-old who has a criminal record and is a designated 'threat to the state' on the security services' watchlist.
A manhunt is now underway for Chekatt, who managed to flee the scene in a hijacked taxi after being wounded in a shootout with soldiers, and President Emmanuel Macron has raised France's terror level.
---
DIE ANOTHER MAY Theresa May 'will win' no-confidence vote tonight – but could still be toppled as PM
Tory MPs will tonight vote on whether or not to kick out the Prime Minister
THERESA May is on course to WIN tonight's no-confidence vote after a majority of Tory MPs pledged to support the Prime Minister.
But she could still end up losing her job if she fails to crush the revolt against her by a large margin.
Today Mrs May insisted she IS still the right person to lead the party - but hinted she could quit before the next election in a last-ditch bid to win over wavering backbenchers.
---
Secretive State Dept. offensive targets propaganda, 'deep fakes'
The State Department is ramping up a secretive counter-propaganda center to fight Russian disinformation efforts in nearly two dozen nations as part of what Trump administration officials say is an expanding push to crush Moscow's "fake news" influence operations around the world.
While Russian disinformation is a core target, officials say the push is tied to a wider overhaul of the department's Global Engagement Center — an outfit that had been plagued in recent years by bureaucratic bungling and an unclear mandate — to target aggressively "big-power propaganda" undermining America's image abroad.
"We're going on offense and we're going on offense against major state adversaries in the propaganda and disinformation realm," the center's acting Coordinator Daniel Kimmage said Tuesday. "Russia looms large in our priorities and after that, China and Iran."
---
Pope Francis poised to redo translation of Lord's Prayer
Pope Francis, showing once again his willingness to turn over liturgical tables, is expected to approve a change in the translation of the Lord's Prayer, the famous biblical petition recited by Christians billions of times a day.
The Italian Episcopal Conference [CEI] has submitted the proposed change to the Vatican for approval, changing the line "lead us not into temptation" to "abandon us not when in temptation," reported the Italian newswire service Ansa and the [U.K.] Express.
A year ago, the pope brought the issue to the forefront when he described the petition widely used for centuries in many languages, including English and Italian, as "not a good translation."
---
Trump warns against impeachment: 'The people would revolt'
President Trump warned against efforts to impeach him Tuesday, raising the specter of a popular uprising against a Congress that did that.
Mr. Trump issued his caution in an Oval Office interview with Reuters news agency, saying he wasn't worried that Democrats, more of whom are publicly demanding he be removed from office, will be in control of the House next month.
"I'm not concerned, no," he added. "I think that the people would revolt if that happened."
He also dismissed the possibility on the merits and noted the good economic numbers.
---
Democrats eagerly anticipate return of earmarks as way to win over rank and file members
Rep. Steny Hoyer predicts bipartisan support in return to pork-barrel spending
House Democrats are eagerly eyeing the chance to revive earmarks when they take the majority next year, saying it is Congress's duty to siphon the money to pet projects — and hoping a return to pork-barrel spending will help keep back-benchers in line.
But they're wary of taking the leap alone and say they're hoping Senate Republicans will join them in reversing an eight-year ban.
Rep. Steny H. Hoyer, poised to become House majority leader when the new Congress convenes in January, told reporters he expects bipartisan support for a return to earmarks.
Earmarks are line items tucked into bills carving out a portion of spending for roads, bridges, parking garages, and military weapons systems at the insistence of a particular lawmaker or two.
---
Nikki Haley: Trump's Unpredictability Helped in International Deals
Outgoing U.S. Ambassador to the United Nations Nikki Haley said in an interview airing Wednesday she has often found President Donald Trump's "unpredictable" nature useful while dealing with ambassadors from around the world.
"I was trying to get the job done, and I got the job done by being truthful, but also by letting him be unpredictable and not showing our cards," Haley told NBC News' Craig Melvin in an interview airing on on "Today" Wednesday.
"He would ratchet up the rhetoric, and then I'd go back to the ambassadors and say: 'You know, he's pretty upset. I can't promise you what he's going to do or not, but I can tell you if we do these sanctions, it will keep him from going too far,'" she said in the exclusive interview.
---

Security firm warns of new global campaign targeting critical infrastructure

A hacking group is aggressively targeting critical infrastructure in a new global campaign, a security firm revealed on Wednesday.

The campaign, known as Operation Sharpshooter, has gone after key industries including nuclear, defense, energy, and financial groups by using a malicious implant that has links, according to McAfee Labs.

Operation Sharpshooter uses an implant called Rising Sun, which leverages a malicious source code linked to another prominent hacking group — the Lazarus Group — that is widely believed to be based out of North Korea.


---
How the liberal morality police ruin lives
The American civil rights movements became necessary because minority groups in this country had enough of being bullied, marginalized and targeted by a society that punished them for being different. Whether it be the black or gay civil rights movements, or the movement to enfranchise and expand women's rights, the goal was not for special rights, but for the ability to live our lives without threat and to enjoy all the rights to which every American is entitled.
The right to not be destroyed because people don't like you — the bedrock principle informing all civil rights values and successes — is being made a mockery of by today's modern liberal inquisitors. Ask comedian and actor Kevin Hart and Heisman Trophy winner Kyler Murray.
Both black men offended the liberal morality police by making comments deemed insensitive or the now ubiquitous "homophobic" on social media years ago. Their word crimes required some miserable soul to pour over Twitter looking for a statement or attitude with which to crucify them.
---
Putting service men and women first
We wrote recently on these pages that we must engage in "right-sizing America's government to protect our economic growth." That is, we must safeguard the rapid economic growth induced by our major tax reform/tax cut legislation of 2017, and not dissipate it on more wasteful spending as we have in the past and as will be urged by the new "progressive" (not Democratic) majority in the House.
Some federal spending is not only good, but essential to the survival of our nation — national defense being the key, obvious area to secure our freedom and way of life. That streamlining of the military can and should be done is confirmed by the savings and modernization already implemented and projected by the Department of Defense.
But national defense should be priority one. We need solid defense to make clear to our adversaries — Russia and China (and to a lesser extent North Korea and Iran) — that we mean business and that their best response is improving trade and other relations, not building new missiles, armaments and defense outposts (through artificial island garrisons — China) or (invading, or threatening, neighbors who prefer independence — Russia).
"It is discouraging to think how many people are shocked by honesty and how few by deceit."

-- Noel Coward

(1899-1973) British playwright

---

The Medal of Honor is the highest award for valor in action against an enemy force which can be bestowed upon an individual serving in the Armed Services of the United States.

GeneTrerally presented to its recipient by the President of the United States of America in the name of Congress.

The first award of the Medal of Honor was made March 25, 1863 to Private JACOB PARROTT.The last award of the Medal of Honor was made September 15, 2011 to Sergeant DAKOTA MEYER.

Since then there have been: • 3458 recipients of the Medal of Honor.

• Today there are 85 Living Recipients of the Medal of Honor.

Citation


Captain Humbert R. Versace distinguished himself by extraordinary heroism during the period of 29 October 1963 to 26 September 1965, while serving as S-2 Advisor, Military Assistance Advisory Group, Detachment 52, Ca Mau, Republic of Vietnam. While accompanying a Civilian Irregular Defense Group patrol engaged in combat operations in Thoi Binh District, An Xuyen Province, Captain Versace and the patrol came under sudden and intense mortar, automatic weapons, and small arms fire from elements of a heavily armed enemy battalion. As the battle raged, Captain Versace, although severely wounded in the knee and back by hostile fire, fought valiantly and continued to engage enemy targets. Weakened by his wounds and fatigued by the fierce firefight, Captain Versace stubbornly resisted capture by the over-powering Viet Cong force with the last full measure of his strength and ammunition. Taken prisoner by the Viet Cong, he exemplified the tenets of the Code of Conduct from the time he entered into Prisoner of War status. Captain Versace assumed command of his fellow American soldiers, scorned the enemy's exhaustive interrogation and indoctrination efforts, and made three unsuccessful attempts to escape, despite his weakened condition which was brought about by his wounds and the extreme privation and hardships he was forced to endure. During his captivity, Captain Versace was segregated in an isolated prisoner of war cage, manacled in irons for prolonged periods of time, and placed on extremely reduced ration. The enemy was unable to break his indomitable will, his faith in God, and his trust in the United States of America. Captain Versace, an American fighting man who epitomized the principles of his country and the Code of Conduct, was executed by the Viet Cong on 26 September 1965. Captain Versace's gallant actions in close contact with an enemy force and unyielding courage and bravery while a prisoner of war are in the highest traditions of the military service and reflect the utmost credit upon himself and the United States Army.

---

From the Archives

We Have Met the Enemy…
Geoff Metcalf


"They who can give up essential liberty to obtain a little temporary safety deserve neither liberty nor safety.
--Benjamin Franklin
"The American people must be willing to give up a degree of personal privacy in exchange for safety and security."
--Louis Freeh


In the wake of the clamor over the most recent WikiLeaks data dump, 'Vault 7', 'UMBRAGE', et al, it should be noted this is not really anything new. What we are seeing here is simply the evolution of something that goes back to the late 50s (to the incomplete best knowledge I have).

It is kinda cool to finally see even

The New York Times

acknowledging material

I was writing about in 1998

.

In April of 1998 I wrote "Privacy has become an anachronism." I was commenting on "a massive system designed to intercept all your e-mail, fax traffic and more." I was explaining 'Echelon', the illegitimate offspring of a

UKUSA Treaty

signed by the United States, United Kingdom, Canada, Australia and New Zealand. Its purpose was, and is, to have a vast global intelligence monster, which allegedly shares common goals. The system was so "efficient" that reportedly National Security Agency folk from Fort Meade could work from Menwith Hill in England to intercept local communications without either nation having to burden themselves with the formality of seeking approval (a court order) or disclosing the operation. And this was all pre-9/11 and pre-the anti-constitutional

'Patriot Act'

.

It is illegal (without a Judge's signed permission) for the United States to spy on its citizens … kinda. The laws have long been circumvented by a mutual pact among five nations. Under the terms of UKUSA agreement, Britain spies on Americans and America spies on British citizens, and then the two conspirators trade data. A classic technical finesse. It is legal, but the intent to evade the spirit is inescapable.

I often fictionalized the genesis of 'Echelon' as an informal meeting of a group of post war American and British intelligence types drinking in some remote rustic bar. An imagined CIA type complains to his MI6 buddy about the hassles of US laws preventing US intelligence from surveillance of bad guys, and the Brit echoes the same complaint.

"Hey wait a moment mate," says Nigel, the make-believe MI6 guy, "I can spy on your guys and you can spy on our bad players…why don't we just come up with a mechanism whereby we spy on your villains, you spy on our villains, and we just 'share' the intel?"

This system was called ECHELON, and has been kicking around in some form longer than most of you. The result of the UKUSA treaty signed by the United States, United Kingdom, Canada, Australia and New Zealand was, and is, to have a vast global intelligence monster which allegedly shares common goals.

The London Telegraph reported in December of 1997 that the Civil liberties Committee of the European Parliament had officially confirmed the existence and purpose of ECHELON. "A global electronic spy network that can eavesdrop on every telephone, e-mail and telex communication around the world will be officially acknowledged for the first time in a European Commission report. …"

The report noted: "Within Europe all e-mail, telephone and fax communications are routinely intercepted by the United States National Security Agency, transferring all target information from the European mainland via the strategic hub of London, then by satellite to Fort Meade in Maryland via the crucial hub at Menwith Hill, in the North York moors in the UK.

"The ECHELON system forms part of the UKUSA system but unlike many of the electronic spy systems developed during the Cold War, ECHELON was designed primarily for non-military targets: governments, organizations and businesses in virtually every country."

An interesting sidebar appeared in the International Herald Tribune under the headline, "Big Corporate Brother: It Knows More About You Than You Think." The story details Acxiom Corp, which was a humongous information service hidden in the Ozark foothills. Twenty-four hours a day, Acxiom electronically gathered and sorts all kinds of data about 196 million Americans. Credit card transactions and magazine subscriptions, telephone numbers, real estate records, automotive data, hunting, business and fishing licenses, consumer surveys and demographic detail that would make a marketing department's research manager salivate. This relatively new (legal) enterprise was known as "data warehousing" or "data-mining", and it underscores the cruel reality that the fiction of personal privacy has become obsolete. Technology's ability to collect and analyze data has made privacy a quaint albeit interesting dinosaur.

The Tribune reported that "Axciom can often determine whether an American owns a dog or cat, enjoys camping or gourmet cooking, reads the Bible or lots of other books. It can often pinpoint an American's occupation, car and favorite vacations. By analyzing the equivalent of billions of pages of data, it often projects for its customers who should be offered a credit card or who is likely to buy a computer."

Most of this information is from y 1998 piece. Echelon has developed, matured, and morphed into a much more powerful hybrid. 'Carnivore' was software to help triage the cacophony of data. Vault 7 and 'Umbrage' are logical (some would argue "insidious") growth.

More to follow…