"It Is Not A Question of Who Is Right Or Wrong But What Is Right Or Wrong That Counts.

"

--Geoff Metcalf
Providing an on line Triage of the news since 1997



Wo

rld & Nation
Pentagon chief Esper opposes Trump plan: 'I do not support invoking the Insurrection Act'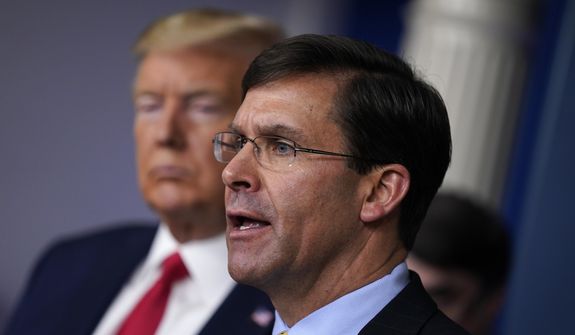 Defense Secretary Mark Esper said Wednesday he opposes using the Insurrection Act to deploy active-duty military forces to American cities to quell riots and protests.





In a press conference at the Pentagon, Mr. Esper said the use of active-duty troops should be a "last resort" for the country, and he does not believe such a course is necessary or appropriate right now.





President Trump earlier this week threatened to invoke the 1807 law if governors do not activate National Guard forces to control crowds and stop widespread looting. Protests have gripped much of the country following last week's death of George Floyd, a black man, during a confrontation with Minneapolis police.





Mr

.

Esper made clear Wednesday he would oppose such a move.




---
US protests defy curfews as Trump faces backlash for violent crackdown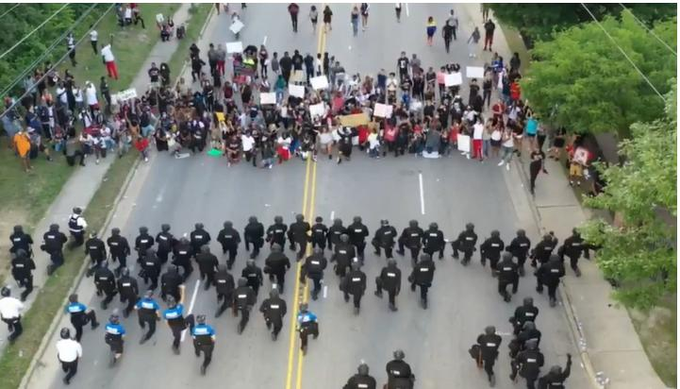 Protesters defied curfews across the United States as leaders scrambled to stem anger over police racism while President Donald Trump rejected criticism over his use of force to break up a peaceful rally.
Standoffs between police and demonstrators stretched into the night in cities from New York to Los Angeles over the death of George Floyd, an unarmed African-American man whose killing has brought once-in-a-generation protests to the nation for the past week.
But there were fewer reports of the looting and violence that had soured street demonstrations in previous nights.
---

Rod Rosenstein: Carter Page FISA warrants seemed 'justified' at the time

Former Deputy Attorney General Rod Rosenstein will tell senators on Wednesday that he approved the now-suspect surveillance applications for ex-Trump campaign aide Carter Page because it looked proper at the time, and he didn't know the bureau had ignored its own policies to justify the warrant.

Mr. Rosenstein, in testimony prepared for delivery to the Senate Judiciary Committee, also defended his decision to name a special counsel, Robert Mueller, to probe Russian activities during the 2016 election, saying at that point early in the Trump administration there just weren't many confirmed U.S. attorneys who could have done the investigation.

Mr. Rosenstein, who served from the early days of the Trump administration until May 2019, was a key figure in overseeing that probe, which was charged with investigating whether anyone on President Trump's team was conspiring with Russian operatives. The investigation found no conclusive evidence of such a conspiracy.


---

Nancy Pelosi on Trump: 'What is this, a banana republic?'

House Speaker Nancy Pelosi on Wednesday questioned whether the U.S. is devolving into a banana republic in light of President Trump's stop in front of St. John's Episcopal Church near the White House earlier this week.

"For peaceful demonstrators to make way — make way for the president to walk through … what is this, a banana republic?" Mrs. Pelosi, California Democrat, said on MSNBC's "Morning Joe."

Law enforcement had cleared protesters near the White House on Monday as Mr. Trump was preparing to deliver a Rose Garden speech on the ongoing unrest in the country after the killing of George Floyd in the custody of Minneapolis police on Memorial Day.


---
Trump looks beyond North Carolina for convention as relations deteriorate with state leaders
President Donald Trump said Tuesday that the Republican Party would seek to pull its August nominating convention out of North Carolina after Democratic Gov. Roy Cooper refused to heed a GOP demand that he pre-authorize a gathering of at least 19,000 people.
"Governor Cooper is still in Shelter-In-Place Mode, and not allowing us to occupy the arena as originally anticipated and promised," Trump tweeted shortly after 9 p.m. "We are now forced to seek another State to host the 2020 Republican National Convention."
Republican Party Chair Ronna McDaniel had said earlier in the day that the party would begin exploring options outside of North Carolina.
---
'Lay down your arms': Prominent veterans urge troops to defy Trump
President Trump's idea to deploy active-duty military forces to quell increasingly violent riots in cities across the country has sparked a sharp legal and constitutional clash.
But an even more explosive debate has broken out on a question once believed unthinkable: Should — and will — rank-and-file troops obey the commander in chief if they are ordered to round up American citizens on the streets of New York, Louisville or Chicago?
Some prominent veterans and lawmakers on Capitol Hill are calling on service members to "lay down your arms" and defy Mr. Trump's orders should he invoke the 1807 Insurrection Act and seek to move tanks and personnel to major metropolitan areas as civil unrest grows after the Memorial Day death of George Floyd during a confrontation with Minneapolis police.
---
AOC: Rep. Steve King's primary defeat is victory against white supremacy
Rep. Alexandria Ocasio-Cortez is celebrating Rep. Steve King's loss in Iowa's 4th Congressional District, saying it knocks down one of the most high-profile "white supremacist" in Congress.
"Goodbye, Rep. Steve King," Ms. Ocasio-Cortez said on Twitter. "You are certainly not the only white supremacist in federal government, but you were among the most prominent."
Mr. King lost his five-way GOP primary contest Tuesday in Iowa's 4th Congressional District to state Sen. Randy Feenstra. Mr. King has served nine terms in Congress.
---
Studies struggle to pin down racism's role in police relations with blacks
It has been six years since the Ferguson riots put a microscope on relations between police and black communities, and despite dozens of studies on the matter, researchers say they are no closer to a consensus on the role that bias and racism play.
It turns out there is not good enough data to be able to draw firm conclusions, leaving a chaotic landscape of competing conclusions.
One paper saying black unarmed civilians are 3.5 times more likely than whites to be shot by police is stacked up against a competing study arguing that once factors are controlled, there are no racial differences in police shootings.
---
China Delayed Releasing Coronavirus Info, Frustrating WHO
Throughout January, the World Health Organization publicly praised China for what it called a speedy response to the new coronavirus and thanked the Chinese government for sharing the genetic map of the virus "immediately."
But in fact, Chinese officials sat on releasing the genetic map, or genome, of the deadly virus for over a week after multiple government labs had fully decoded it, not sharing details key to designing tests, drugs and vaccines. Strict controls on information and competition within the Chinese public health system were largely to blame, The Associated Press has found from internal documents, emails and dozens of interviews.
Health officials only released the genome after a Chinese lab published it ahead of authorities on a virology website on Jan 11. Even then, China stalled for at least two weeks more on giving WHO the details it needed, according to recordings of multiple internal meetings held by the U.N. health agency in January — all at a time when the outbreak arguably might have been dramatically slowed.
---
The left's poisoning of the educational infrastructure
Liberal academics indoctrinate charges in the how-tos of Molotov cocktails and statue vandalism
Courtesy of our educational infrastructure having been transformed into leftist indoctrination centers, the result is politicians who care only about ideology where citizens are collateral damage in their march toward a leftist utopia.
Our media is populated with news-actors who are similarly bound to their teachers' idols of social justice, political correctness and identity politics. All of our institutions are suffering from the twin masters of identity politics and woke philosophy.
In New York City during the riots, two individuals were arrested for attempting to bomb a marked New York Police Department cruiser with a Molotov cocktail. Upon arrest, police found additional material in the car to make more Molotov cocktails, and the booking complaint alleges they intended to hand out the bombs to other rioters.
---
From impeachment, to pandemic, to riots, wildfires and killer hornets, 2020 is proving to be a doozy
Can 2020 get crazier? You bet. We're just getting started.
If you wrote a screenplay of what's happened so far in 2020 and gave it to Hollywood producers, they'd laugh you right out of the room.
"So, your movie," they'd say, "has the president of the United States being impeached, a pandemic killing more than 100,000 Americans and 375,000 worldwide, race riots and looting in dozens of U.S. cities, a billion animals killed in Australian wildfires, Brexit, royals abdicating, drone strikes whacking terrorists — and a wave of killer hornets to boot? Get out!"
" It is discouraging to think how many people are shocked by honesty and how few by deceit."

-- Noel Coward

(1899-1973) British playwright

---

The Medal of Honor is the highest award for valor in action against an enemy force which can be bestowed upon an individual serving in the Armed Services of the United States.

GeneTrerally presented to its recipient by the President of the United States of America in the name of Congress.

The first award of the Medal of Honor was made March 25, 1863 to Private JACOB PARROTT.The last award of the Medal of Honor was made September 15, 2011 to Sergeant DAKOTA MEYER.

Since then there have been: • 3458 recipients of the Medal of Honor.

• Today there are 85 Living Recipients of the Medal of Honor.

Citation


Captain Humbert R. Versace distinguished himself by extraordinary heroism during the period of 29 October 1963 to 26 September 1965, while serving as S-2 Advisor, Military Assistance Advisory Group, Detachment 52, Ca Mau, Republic of Vietnam. While accompanying a Civilian Irregular Defense Group patrol engaged in combat operations in Thoi Binh District, An Xuyen Province, Captain Versace and the patrol came under sudden and intense mortar, automatic weapons, and small arms fire from elements of a heavily armed enemy battalion. As the battle raged, Captain Versace, although severely wounded in the knee and back by hostile fire, fought valiantly and continued to engage enemy targets. Weakened by his wounds and fatigued by the fierce firefight, Captain Versace stubbornly resisted capture by the over-powering Viet Cong force with the last full measure of his strength and ammunition. Taken prisoner by the Viet Cong, he exemplified the tenets of the Code of Conduct from the time he entered into Prisoner of War status. Captain Versace assumed command of his fellow American soldiers, scorned the enemy's exhaustive interrogation and indoctrination efforts, and made three unsuccessful attempts to escape, despite his weakened condition which was brought about by his wounds and the extreme privation and hardships he was forced to endure. During his captivity, Captain Versace was segregated in an isolated prisoner of war cage, manacled in irons for prolonged periods of time, and placed on extremely reduced ration. The enemy was unable to break his indomitable will, his faith in God, and his trust in the United States of America. Captain Versace, an American fighting man who epitomized the principles of his country and the Code of Conduct, was executed by the Viet Cong on 26 September 1965. Captain Versace's gallant actions in close contact with an enemy force and unyielding courage and bravery while a prisoner of war are in the highest traditions of the military service and reflect the utmost credit upon himself and the United States Army.

---

From the Archives

We Have Met the Enemy…
Geoff Metcalf


"They who can give up essential liberty to obtain a little temporary safety deserve neither liberty nor safety.
--Benjamin Franklin
"The American people must be willing to give up a degree of personal privacy in exchange for safety and security."
--Louis Freeh


In the wake of the clamor over the most recent WikiLeaks data dump, 'Vault 7', 'UMBRAGE', et al, it should be noted this is not really anything new. What we are seeing here is simply the evolution of something that goes back to the late 50s (to the incomplete best knowledge I have).

It is kinda cool to finally see even

The New York Times

acknowledging material

I was writing about in 1998

.

In April of 1998 I wrote "Privacy has become an anachronism." I was commenting on "a massive system designed to intercept all your e-mail, fax traffic and more." I was explaining 'Echelon', the illegitimate offspring of a

UKUSA Treaty

signed by the United States, United Kingdom, Canada, Australia and New Zealand. Its purpose was, and is, to have a vast global intelligence monster, which allegedly shares common goals. The system was so "efficient" that reportedly National Security Agency folk from Fort Meade could work from Menwith Hill in England to intercept local communications without either nation having to burden themselves with the formality of seeking approval (a court order) or disclosing the operation. And this was all pre-9/11 and pre-the anti-constitutional

'Patriot Act'

.

It is illegal (without a Judge's signed permission) for the United States to spy on its citizens … kinda. The laws have long been circumvented by a mutual pact among five nations. Under the terms of UKUSA agreement, Britain spies on Americans and America spies on British citizens, and then the two conspirators trade data. A classic technical finesse. It is legal, but the intent to evade the spirit is inescapable.

I often fictionalized the genesis of 'Echelon' as an informal meeting of a group of post war American and British intelligence types drinking in some remote rustic bar. An imagined CIA type complains to his MI6 buddy about the hassles of US laws preventing US intelligence from surveillance of bad guys, and the Brit echoes the same complaint.

"Hey wait a moment mate," says Nigel, the make-believe MI6 guy, "I can spy on your guys and you can spy on our bad players…why don't we just come up with a mechanism whereby we spy on your villains, you spy on our villains, and we just 'share' the intel?"

This system was called ECHELON, and has been kicking around in some form longer than most of you. The result of the UKUSA treaty signed by the United States, United Kingdom, Canada, Australia and New Zealand was, and is, to have a vast global intelligence monster which allegedly shares common goals.

The London Telegraph reported in December of 1997 that the Civil liberties Committee of the European Parliament had officially confirmed the existence and purpose of ECHELON. "A global electronic spy network that can eavesdrop on every telephone, e-mail and telex communication around the world will be officially acknowledged for the first time in a European Commission report. …"

The report noted: "Within Europe all e-mail, telephone and fax communications are routinely intercepted by the United States National Security Agency, transferring ll target information from the Eurv opean mainland via the strategic hub of London, then by satellite to Fort Meade in Maryland via the crucial hub at Menwith Hill, in the North York moors in the UK.

"The ECHELON system forms part of the UKUSA system but unlike many of the electronic spy systems developed during the Cold War, ECHELON was designed primarily for non-military targets: governments, organizations and businesses in virtually every country."

An interesting sidebar appeared in the International Herald Tribune under the headline, "Big Corporate Brother: It Knows More About You Than You Think." The story details Acxiom Corp, which was a humongous information service hidden in the Ozark foothills. Twenty-four hours a day, Acxiom electronically gathered and sorts all kinds of data about 196 million Americans. Credit card transactions and magazine subscriptions, telephone numbers, real estate records, automotive data, hunting, business and fishing licenses, consumer surveys and demographic detail that would make a marketing department's research manager salivate. This relatively new (legal) enterprise was known as "data warehousing" or "data-mining", and it underscores the cruel reality that the fiction of personal privacy has become obsolete. Technology's ability to collect and analyze data has made privacy a quaint albeit interesting dinosaur.

The Tribune reported that "Axciom can often determine whether an American owns a dog or cat, enjoys camping or gourmet cooking, reads the Bible or lots of other books. It can often pinpoint an American's occupation, car and favorite vacations. By analyzing the equivalent of billions of pages of data, it often projects for its customers who should be offered a credit card or who is likely to buy a computer."

Most of this information is from y 1998 piece. Echelon has developed, matured, and morphed into a much more powerful hybrid. 'Carnivore' was software to help triage the cacophony of data. Vault 7 and 'Umbrage' are logical (some would argue "insidious") growth.

More to follow…