---
Updated
hrs

Wo
rld & National
"The Press was protected so that it could bare the secrets of the government and inform the people. Only a free and unrestrained press can effectively expose deception in government. And paramount among the responsibilities of a free press is the duty to prevent any part of the government from deceiving the people."
-- Justice Hugo L. Black
(1886-1971) US Supreme Court Justice

Trump's voter base on the line with talk about gun control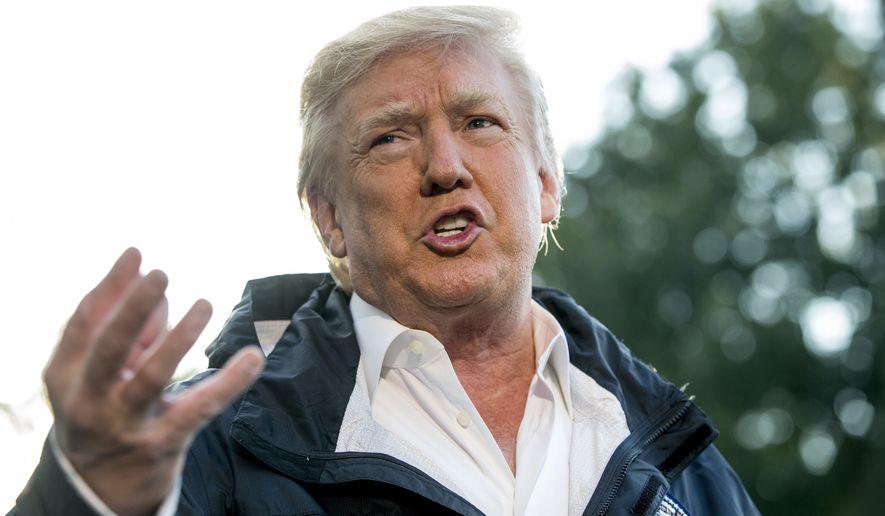 President Trump said Tuesday that his administration will weigh gun laws in the wake of the Las Vegas massacre, a move that advisers say would shock and disappoint core supporters like no other action of his presidency.
Mr. Trump was asked by reporters if the mass shooting at an outdoor concert that left at least 59 dead, plus the gunman, and nearly 530 injured — the worst in modern U.S. history — would prompt him to consider gun control legislation.
"We have a tragedy," Mr. Trump said at the White House. "We'll be talking about gun laws as time goes by."
Pressed by reporters later Tuesday, the president said of engaging in a gun control debate, "At some point, perhaps that will come. But that's not for now; that's for a later time."
---
Rex Tillerson furious with Trump on policy decisions?
Secretary of State Rex W. Tillerson was so infuriated with President Trump this past summer that Vice President Mike Pence had to intervene, NBC News first reported on Wednesday.
Mr. Tillerson had numerous issues with the administration's policies, and particularly with Mr. Trump's political comments to the Boy Scouts last summer.
The secretary of state considered resigning, but he was talked out of it, the report said.
---
Tillerson: I Never Considered Quitting
Secretary of State Rex Tillerson Wednesday strongly denied an NBC News report that he'd threatened to quit after a series of disputes with President Donald Trump, but refused to say whether he called the president a "moron," calling the question "petty nonsense."
"My commitment to the success of our president and our country is as strong as it was the day I accepted his offer to serve as Secretary of State," Tillerson said in a press appearance called hours after NBC News' story broke.
NBC told CNN's Brian Stelter that it stood by its reporting.
"There is much to be done and we're just getting started," Tillerson said during his hurriedly planned announcement. "To address a few specifics that have been erroneously reported this morning, the vice president has never had to persuade me to remain as Secretary of State because I have never considered leaving this post. I value the friendship and the counsel of the vice president and I admire his leadership within President Trump's administration to address the many important agendas of President Trump."
---
Las Vegas Strip shooter prescribed anti-anxiety drug in June
Stephen Paddock, who killed at least 58 people and wounded hundreds more in Las Vegas on Sunday with high-powered rifles, was prescribed an anti-anxiety drug in June that can lead to aggressive behavior, the Las Vegas Review-Journal has learned.
Records from the Nevada Prescription Monitoring Program obtained Tuesday show Paddock was prescribed 50 10-milligram diazepam tablets by Henderson physician Dr. Steven Winkler on June 21.
A woman who answered the phone at Winkler's office would not make him available to answer questions and would neither confirm nor deny that Paddock was ever a patient.
Paddock purchased the drug — its brand name is Valium — without insurance at a Walgreens store in Reno on the same day it was prescribed. He was supposed to take one pill a day.
Diazepam is a sedative-hypnotic drug in the class of drugs known as benzodiazepines, which studies have shown can trigger aggressive behavior. Chronic use or abuse of sedatives such as diazepam can also trigger psychotic experiences, according to drugabuse.com.
WHAT DOES SHE KNOW?
'Sent away' before attack...
HE LEFT A NOTE?
KILLING MACHINE: FILMED HIMSELF DURING SLAUGHTER...
Meticulous Planning...
Police release dramatic bodycam footage...
Hotels now using metal detectors...
Trump Set to Comfort Survivors...

---
Scalise: Vega Shooting 'Fortified' Gun Ownership Rights
House Majority Whip Steve Scalise, R-La., said in a new interview that Sunday's shooting rampage in Las Vegas "fortified" his views on the right to bear arms.
Scalise, who was wounded and nearly died in June's Congressional baseball practice shooting, spoke with Fox News' Martha MacCallum for an interview that will air Tuesday evening. Scalise said his views on the Second Amendment have not changed despite a lone gunman killing at least 59 people and wounding more than 500 others.
"I think it's fortified it because first of all, you've got to recognize that when there's a tragedy like this, the first thing we should be thinking about is praying for the people who were injured and doing whatever we can to help them, to help law enforcement," Scalise said. "We shouldn't first be thinking of promoting our political agenda."
---
Mulvaney: We'll Help Puerto Rico Rebuild; Must 'Fix Itself' From Debt
Budget Director Mick Mulvaney on Wednesday put to bed any inference that President Donald Trump offered to wipe out Puerto Rico's debt, saying, "I wouldn't take it word for word with that."
During his visit Tuesday to the storm-ravaged island, Trump said, "They owe a lot of money to your friends on Wall Street and we're going to have to wipe that out."
Mulvaney walked that back to CNN on Wednesday, saying that the federal government will help PR rebuild from Hurricane Maria, but that when it comes to its debt, the U.S. territory is on its own.
"I wouldn't take it word for word with that. I talked to the president at some length yesterday," Mulvaney told CNN. "The primary focus of the federal effort is to make sure the island is safe and that we're rebuilding the island."
---
Catalonia moves to declare independence from Spain on Monday
Catalonia will move on Monday to declare independence from Spain following Oct. 1's banned referendum as the European Union nation nears a rupture that threatens the foundations of its young democracy.
Mireia Boya, a Catalan lawmaker from the pro-independence Popular Unity Candidacy (CUP) party, said on Twitter that a declaration of independence would follow a parliamentary session on Monday to evaluate the results of the vote to break away.
"We know that there may be disbarments, arrests ... But we are prepared, and in no case will it be stopped," she said.
---
NY Times: Healthcare Rates Could Rise 50 Perecent
Prices for some individual policies sold under the federal healthcare law could increase by over 50 percent next year, The New York Times reported.
Regulators in many states are approving the increases from health insurers in a bid to keep the companies, despite the uncertainty of the future of Obamacare.
In Georgia alone, insurance commissioner Ralph Hudgens said the approved rates would be up to 57.5 percent higher next year. Hudgens is a critic of the healthcare law, according to the Times.
"Obamacare has become even more unaffordable for Georgia's middle class," Hudgens said. "I am disappointed by reports that the latest Obamacare repeal has stalled once again and urge Congress to take action to end this failed health insurance experiment."
---

Administration officials push DACA path to citizenship
Contradicts Trump's stance
Top administration officials told Congress on Tuesday that illegal immigrant Dreamers should be granted a full pathway to citizenship, seemingly contradicting President Trump, who said last month that citizenship wasn't on the table.
With just two days to go before the final deadline for Dreamers to renew protections under the Obama-era deportation amnesty program known as DACA, officials were on Capitol Hill to defend their handling of the situation.
They said that with the exception of Puerto Ricans affected by hurricanes, the Oct. 5 renewal deadline will remain in place and that it's up to Congress to figure out more permanent protections.
Michael Dougherty, assistant homeland security secretary for strategy and policy, said the nearly 700,000 Dreamers protected by DACA deserve to be made secure.
---
Why gun control won't end mass murder
As the nation continues to reel from the nation's worst mass shooting in modern history, politicians and other opportunists find the massacre too inviting not to exploit. The knee-jerk cravenness of liberals to scrape up their calls for gun-control while demonizing the National Rifle Association (NRA) immediately sucks all the air out of the room, eliminating any discussion or investigation of other foundational forces driving mass violence.
At about 7:03 a.m. EDT, as the East Coast was waking up to the horrific news of the shooting in Las Vegas, Hillary Clinton was ready at the smartphone. With little information and even less decency, she reduced the unfolding human catastrophe to a political opportunity: "The crowd fled at the sound of gunshots. Imagine the deaths if the shooter had a silencer, which the NRA wants to make easier to get."
Continuing the missives to her 18.7 million Twitter followers, she actually managed to insist we put politics aside while doing the opposite, all within the 140-character limit, "Our grief isn't enough. We can and must put politics aside, stand up to the NRA, and work together to try to stop this from happening again."
---

Should Ryan and McConnell be dumped?
Republican leaders may have failures, but their victories can't be overlooked
Should House Speaker Paul Ryan and Senate Majority Leader Mitch McConnell be repealed and replaced? The argument for their ouster, repeated ad nauseam, is that Republicans now control both houses of Congress, so how come the leaders won't deliver for their Republican president? But are these attacks reasonable?
Why has Mr. Ryan, for instance, come in for such sustained assaults by many on the right when the chamber he controls has delivered on significant fronts for both President Trump and conservatives generally, including — but not limited to — defense, health care, financial regulation and immigration? Such news, of course, might have eluded those absorbing only the negative noise emanating from the president and many of the major stars on talk radio. But here's Mr. Ryan's record on just three significant issues.
The House voted to repeal and replace Obamacare on May 4, with The Wall Street Journal running a front-page picture of a beaming Donald Trump celebrating the victory with the House speaker. The lead Journal story reported that House Republicans "repealed most of President Obama's signature health-insurance law Thursday in a tight vote [217 to 213], handing President Donald Trump his first legislative victory and vindicating GOP leaders who failed twice before to pass a bill."
---
---
"It is discouraging to think how many people are shocked by honesty and how few by deceit."
-- Noel Coward
(1899-1973) British playwright
---
---
The Medal of Honor is the highest award for valor in action against an enemy force which can be bestowed upon an individual serving in the Armed Services of the United States.
GeneTrerally presented to its recipient by the President of the United States of America in the name of Congress.
The first award of the Medal of Honor was made March 25, 1863 to Private JACOB PARROTT.The last award of the Medal of Honor was made September 15, 2011 to Sergeant DAKOTA MEYER.
Since then there have been: • 3458 recipients of the Medal of Honor.
• Today there are 85 Living Recipients of the Medal of Honor.
Citation

Captain Humbert R. Versace distinguished himself by extraordinary heroism during the period of 29 October 1963 to 26 September 1965, while serving as S-2 Advisor, Military Assistance Advisory Group, Detachment 52, Ca Mau, Republic of Vietnam. While accompanying a Civilian Irregular Defense Group patrol engaged in combat operations in Thoi Binh District, An Xuyen Province, Captain Versace and the patrol came under sudden and intense mortar, automatic weapons, and small arms fire from elements of a heavily armed enemy battalion. As the battle raged, Captain Versace, although severely wounded in the knee and back by hostile fire, fought valiantly and continued to engage enemy targets. Weakened by his wounds and fatigued by the fierce firefight, Captain Versace stubbornly resisted capture by the over-powering Viet Cong force with the last full measure of his strength and ammunition. Taken prisoner by the Viet Cong, he exemplified the tenets of the Code of Conduct from the time he entered into Prisoner of War status. Captain Versace assumed command of his fellow American soldiers, scorned the enemy's exhaustive interrogation and indoctrination efforts, and made three unsuccessful attempts to escape, despite his weakened condition which was brought about by his wounds and the extreme privation and hardships he was forced to endure. During his captivity, Captain Versace was segregated in an isolated prisoner of war cage, manacled in irons for prolonged periods of time, and placed on extremely reduced ration. The enemy was unable to break his indomitable will, his faith in God, and his trust in the United States of America. Captain Versace, an American fighting man who epitomized the principles of his country and the Code of Conduct, was executed by the Viet Cong on 26 September 1965. Captain Versace's gallant actions in close contact with an enemy force and unyielding courage and bravery while a prisoner of war are in the highest traditions of the military service and reflect the utmost credit upon himself and the United States Army.
---
3/14/20017

We Have Met the Enemy…

Geoff Metcalf
"They who can give up essential liberty to obtain a little temporary safety deserve neither liberty nor safety.
--Benjamin Franklin
"The American people must be willing to give up a degree of personal privacy in exchange for safety and security."
--Louis Freeh

In the wake of the clamor over the most recent WikiLeaks data dump, 'Vault 7', 'UMBRAGE', et al, it should be noted this is not really anything new. What we are seeing here is simply the evolution of something that goes back to the late 50s (to the incomplete best knowledge I have).
It is kinda cool to finally see even the New York Times (www.nytimes.com/2017/03/09/opinion/the-truth-about-the-wikileaks-cia-cache.html?_r=0) acknowledging material I was writing about in 1998 (http://www.wnd.com/1998/04/6108/ ).
In April of 1998 I wrote "Privacy has become an anachronism." I was commenting on "a massive system designed to intercept all your e-mail, fax traffic and more." I was explaining 'Echelon', the illegitimate offspring of a UKUSA treaty (https://www.nationalarchives.gov.uk/ukusa/ ) signed by the United States, United Kingdom, Canada, Australia and New Zealand. Its purpose was, and is, to have a vast global intelligence monster, which allegedly shares common goals. The system was so "efficient" that reportedly National Security Agency folk from Fort Meade could work from Menwith Hill in England to intercept local communications without either nation having to burden themselves with the formality of seeking approval (a court order) or disclosing the operation. And this was all pre-9/11 and pre-the anti-constitutional 'Patriot Act'.
It is illegal (without a Judge's signed permission) for the United States to spy on its citizens … kinda. The laws have long been circumvented by a mutual pact among five nations. Under the terms of UKUSA agreement, Britain spies on Americans and America spies on British citizens, and then the two conspirators trade data. A classic technical finesse. It is legal, but the intent to evade the spirit is inescapable.
I often fictionalized the genesis of 'Echelon' as an informal meeting of a group of post war American and British intelligence types drinking in some remote rustic bar. An imagined CIA type complains to his MI6 buddy about the hassles of US laws preventing US intelligence from surveillance of bad guys, and the Brit echoes the same complaint.
"Hey wait a moment mate," says Nigel, the make-believe MI6 guy, "I can spy on your guys and you can spy on our bad players…why don't we just come up with a mechanism whereby we spy on your villains, you spy on our villains, and we just 'share' the intel?"
This system was called ECHELON, and has been kicking around in some form longer than most of you. The result of the UKUSA treaty signed by the United States, United Kingdom, Canada, Australia and New Zealand was, and is, to have a vast global intelligence monster which allegedly shares common goals.
The London Telegraph reported in December of 1997 that the Civil liberties Committee of the European Parliament had officially confirmed the existence and purpose of ECHELON. "A global electronic spy network that can eavesdrop on every telephone, e-mail and telex communication around the world will be officially acknowledged for the first time in a European Commission report. …"
The report noted: "Within Europe all e-mail, telephone and fax communications are routinely intercepted by the United States National Security Agency, transferring all target information from the European mainland via the strategic hub of London, then by satellite to Fort Meade in Maryland via the crucial hub at Menwith Hill, in the North York moors in the UK.
"The ECHELON system forms part of the UKUSA system but unlike many of the electronic spy systems developed during the Cold War, ECHELON was designed primarily for non-military targets: governments, organizations and businesses in virtually every country."
An interesting sidebar appeared in the International Herald Tribune under the headline, "Big Corporate Brother: It Knows More About You Than You Think." The story details Acxiom Corp, which was a humongous information service hidden in the Ozark foothills. Twenty-four hours a day, Acxiom electronically gathered and sorts all kinds of data about 196 million Americans. Credit card transactions and magazine subscriptions, telephone numbers, real estate records, automotive data, hunting, business and fishing licenses, consumer surveys and demographic detail that would make a marketing department's research manager salivate. This relatively new (legal) enterprise was known as "data warehousing" or "data-mining", and it underscores the cruel reality that the fiction of personal privacy has become obsolete. Technology's ability to collect and analyze data has made privacy a quaint albeit interesting dinosaur.
The Tribune reported that "Axciom can often determine whether an American owns a dog or cat, enjoys camping or gourmet cooking, reads the Bible or lots of other books. It can often pinpoint an American's occupation, car and favorite vacations. By analyzing the equivalent of billions of pages of data, it often projects for its customers who should be offered a credit card or who is likely to buy a computer."
Most of this information is from y 1998 piece. Echelon has developed, matured, and morphed into a much more powerful hybrid. 'Carnivore' was software to help triage the cacophony of data. Vault 7 and 'Umbrage' are logical (some would argue "insidious") growth.
More to follow…