Wednesday April 26th, 2017
"It Is Not A Question of Who Is Right Or Wrong But What Is Right Or Wrong That Counts.
"
--Geoff Metctalf
---
Updated
World & National
"The Press was protected so that it could bare the secrets of the government and inform the people. Only a free and unrestrained press can effectively expose deception in government. And paramount among the responsibilities of a free press is the duty to prevent any part of the government from deceiving the people."


-- Justice Hugo L. Black
(1886-1971) US Supreme Court Justice

Ex-spy admits anti-Trump dossier unverified, blames Buzzfeed for publishing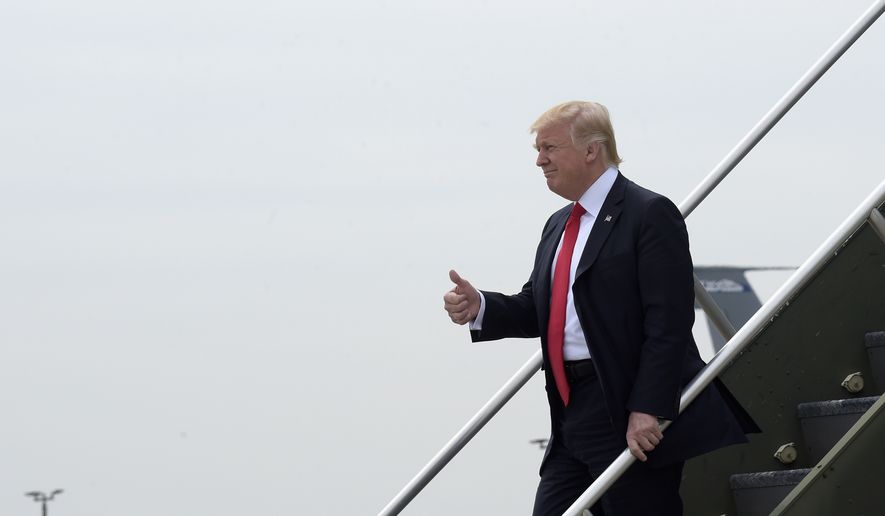 Christopher Steele, the former British spy who wrote the infamous anti-Donald Trump dossier, acknowledges that a sensational charge his sources made about a tech company CEO and Democratic Party hacking is unverified.
In a court filing, Mr. Steele also says his accusations against the president and his aides about a supposed Russian hacking conspiracy were never supposed to be made public, much less posted in full on a website for the world to see on Jan. 10.
He defends himself by saying he was betrayed by his client and that he followed proper internal channels by giving the dossier to Sen. John McCain, Arizona Republican, to alert the U.S. government.
---
GOP says Democrats/ 'poison pills' are hold up in spending battle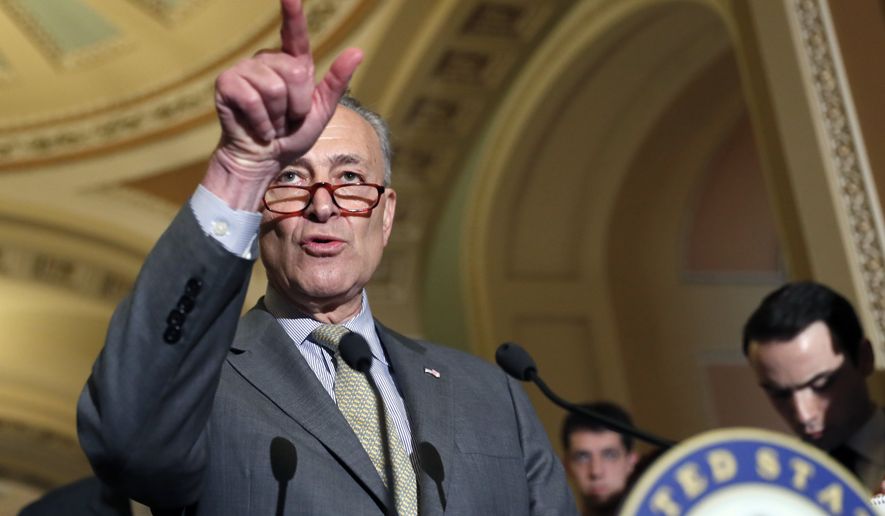 Now that the border wall is off the table, Republicans say Democrats are the ones standing in the way of a deal to avoid a government shutdown at the end of this week.
Senate Majority Leader Mitch McConnell opened the session Wednesday by saying the GOP has complied with Democrats' demands to drop "poison pill" provisions — but said Democrats are now insisting on their own poison pills.
"If they take their own advice we can finish this negotiation," the Kentucky Republican said.
Democrats' late-season demand for Obamacare money to be included in the spending bill has complicated negotiations. Initially, Democratic leaders signaled they wouldn't accept a bill that didn't include Obamacare's cost-sharing payments — money that's never been included in the bills before, but that the Obama administration paid out in violation of the law.
---
U.S. sets up missile defense in South Korea as North shows power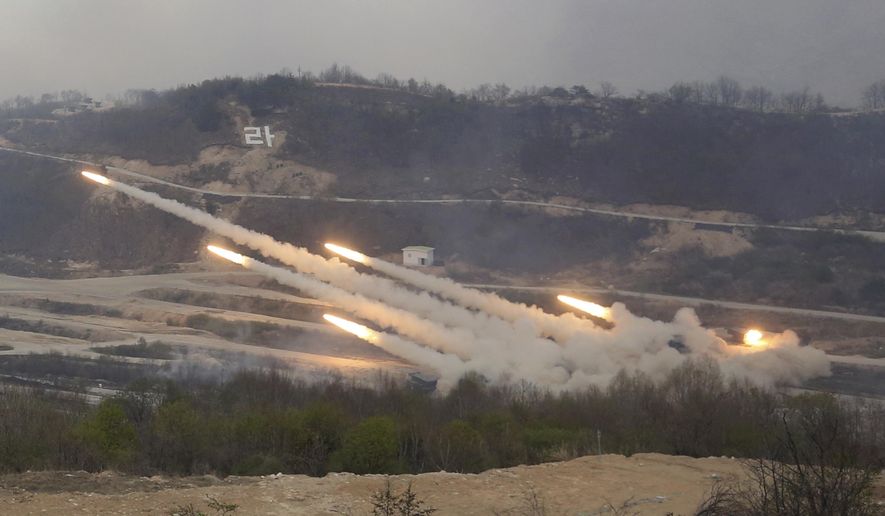 In a defiant bit of timing, South Korea announced Wednesday that key parts of a contentious U.S. missile defense system have been installed a day after rival North Korea showed off its military power.
The South's trumpeting of progress in setting up the Terminal High-Altitude Area Defense system, or THAAD, comes as high-powered U.S. military assets converge on the Korean Peninsula and as a combative North Korea signals possible nuclear and missile testing.
North Korea conducted live-fire artillery drills on Tuesday, the 85th anniversary of the founding of its million-person strong Korean People's Army. On the same day, a U.S. guided-missile submarine docked in South Korea. And the USS Carl Vinson aircraft carrier is also headed toward the peninsula for a joint exercise with South Korea.
---
Sanctuary citiies have 'blood of dead Americans on their hands'
The White House lashed out Tuesday night against the federal judge who blocked President Trump's anti-sanctuary city executive order, and said sanctuaries like San Francisco have "the blood of dead Americans on their hands."
Press Secretary Sean Spicer said the ruling by Judge William H. Orrick misconstrued U.S. immigration laws and undercuts Americans' faith in government.
"This case is yet one more example of egregious overreach by a single, unelected district judge," Mr. Spicer said in a scorching statement. "But we are confident we will ultimately prevail in the Supreme Court, just as we will prevail in our lawful efforts to impose immigration restrictions necessary to keep terrorists out of the United States."
The statement was all the more striking because it conflicted with the Justice Department's take on the case. Department spokesman Ian D. Prior said rather than blocking Mr. Trump, the key part of Tuesday's ruling actually endorsed the administration's current approach to sanctuary cities.
---
Trump prepares to seat Judge Thapar, first of scores of conservatives for federal courts
Fresh off his successful Supreme Court battle, President Trump will now try his luck stocking the federal appeals court with conservative jurists — and Democrats are mostly powerless to stop him.
First up is Judge Amul R. Thapar, whom Mr. Trump has tapped to sit on the 6th U.S. Circuit Court of Appeals and who will sit for his confirmation hearing in the Senate on Wednesday.
Progressive activist groups are preparing for a fight, saying Judge Thapar has several controversial rulings on his record.
---
Planned Parenthood exec who 'wanted a Lamborghini' caught haggling over baby body parts
The Center for Medical Progress released a never-before-seen video Wednesday showing a top Planned Parenthood executive haggling over the price of baby body parts from abortions.
Mary Gatter, president of the medical directors' council at the Planned Parenthood Federation of America, is the same executive who, in a previous undercover video, was caught saying she wanted to buy a Lamborghini with the profits from fetal tissue.
In the new video, when an undercover journalist tells Ms. Gatter he is willing to pay $50 per fetal tissue specimen, she says that's "on the low end."
---
Study finds increase in illicit pot use abuse on states that allow medical marijuana
Illicit marijuana use and cannabis-use disorders increased in states with medical marijuana laws, according to a study published Wednesday in the Journal of the American Medical Association Psychiatry.
Researchers across the country examined data from three cross-sectional U.S. adult studies between the periods of 1991-1992, 2001-2002 and 2012-2013.
In the study, illicit use was defined as "getting high" with no medicinal purpose. Cannabis-use disorders were classified as substance abuse disorders under the Diagnostic and Statistical Manual of Mental Disorders.
The time periods were significant in that no states had marijuana medical laws between 1991 and 1992.
In 2001-2002, 18.9 percent of Americans lived in states with medical marijuana laws, and one-third of Americans lived in states with medical marijuana laws between 2012 and 2013.
---
Oregon rose parade cancelled after radicals threaten to oust GOP celebrants
An annual community parade in Oregon has been cancelled after radicals threatened to shut down the event unless the local Republican Party was banned from participating.
Organizers of the 82nd Avenue of Roses Parade in East Portland received an anonymous email urging them to bar the Multnomah County Republican Party, or "we will have two hundred or more people rush into the parade into the middle and drag and push those people out."
The 82nd Avenue of Roses Business Association issued a statement Tuesday saying that it could "no longer guarantee the safety of our community and have made the difficult decision to cancel the parade originally scheduled for Saturday, April 29, at 9:30 a.m."
"The related Carnival at Eastport Plaza is also cancelled," the association said. "We are deeply disappointed that the agendas of these outside groups have so regrettably impacted East Portland and the 82nd Avenue community."
---
The Democratic Party's 'Gong Show'
"[T]he Democratic Party is extremely weak and incapable of organizing people."
— Sen. Bernard Sanders, April 3, 2017.

Finally, the Democrats admit it wasn't the Russians, James B. Comey or sexism that brought Hillary Clinton down. We are now told by journalists, leading Democrats, and even a former Democratic presidential candidate, that it was the inept dysfunction of the party itself, Hillary, and her abused and frightened team that has reduced them all to irrelevant, vapid political busybodies.
The poor sops. For such a long time, they told us they were beset by evil Russians, a dastardly FBI director, and that ubiquitously hideous misogyny. Such drama and international intrigue. But we now know the Democratic Party's woes are not, at all, akin to a James Bond movie. Alas, they're more like the "Gong Show."
The other week, Hillary Clinton made much of a book she's working on that, she attested, pins the blame for her failure on the Russians, Mr. Comey and sexism. Sadly, someone beat her to the real story and actually reports the truth of the matter.
---

Advice and consent in the time of obstructionhttp://wAdvice and consent in the time of obstruction
Democrats' slow-rolling makes recess appointments Trump's only alternative
Desperate times call forth diabolical pleasures, and what could give more pleasure than stopping the obstructionist Democrats dead in their tracks.
There are more than 500 unfilled executive branch positions and more than 120 judicial vacancies. If the Democrats decide to require a minimum of 30 hours of debate on each nominee, as they are entitled to do under Senate rules, confirming all of President Trump's nominees could take, essentially, forever — i.e., President Trump's whole first term. This is the revenge of the sore losers.
Mr. Trump has said he doesn't need to fill all the positions, and that is technically true. But he has to fill many of them if he is going to get control of the federal bureaucracy, which he must do if he is to fulfill his oath to take care that the laws be faithfully executed.
---
"It is discouraging to think how many people are shocked by honesty and how few by deceit."
-- Noel Coward
(1899-1973) British playwright
---
---
The Medal of Honor is the highest award for valor in action against an enemy force which can be bestowed upon an individual serving in the Armed Services of the United States.
GeneTrerally presented to its recipient by the President of the United States of America in the name of Congress.
The first award of the Medal of Honor was made March 25, 1863 to Private JACOB PARROTT.The last award of the Medal of Honor was made September 15, 2011 to Sergeant DAKOTA MEYER.
Since then there have been: • 3458 recipients of the Medal of Honor.
• Today there are 85 Living Recipients of the Medal of Honor.
Citation

Captain Humbert R. Versace distinguished himself by extraordinary heroism during the period of 29 October 1963 to 26 September 1965, while serving as S-2 Advisor, Military Assistance Advisory Group, Detachment 52, Ca Mau, Republic of Vietnam. While accompanying a Civilian Irregular Defense Group patrol engaged in combat operations in Thoi Binh District, An Xuyen Province, Captain Versace and the patrol came under sudden and intense mortar, automatic weapons, and small arms fire from elements of a heavily armed enemy battalion. As the battle raged, Captain Versace, although severely wounded in the knee and back by hostile fire, fought valiantly and continued to engage enemy targets. Weakened by his wounds and fatigued by the fierce firefight, Captain Versace stubbornly resisted capture by the over-powering Viet Cong force with the last full measure of his strength and ammunition. Taken prisoner by the Viet Cong, he exemplified the tenets of the Code of Conduct from the time he entered into Prisoner of War status. Captain Versace assumed command of his fellow American soldiers, scorned the enemy's exhaustive interrogation and indoctrination efforts, and made three unsuccessful attempts to escape, despite his weakened condition which was brought about by his wounds and the extreme privation and hardships he was forced to endure. During his captivity, Captain Versace was segregated in an isolated prisoner of war cage, manacled in irons for prolonged periods of time, and placed on extremely reduced ration. The enemy was unable to break his indomitable will, his faith in God, and his trust in the United States of America. Captain Versace, an American fighting man who epitomized the principles of his country and the Code of Conduct, was executed by the Viet Cong on 26 September 1965. Captain Versace's gallant actions in close contact with an enemy force and unyielding courage and bravery while a prisoner of war are in the highest traditions of the military service and reflect the utmost credit upon himself and the United States Army.
---
3/14/20017

We Have Met the Enemy…

Geoff Metcalf
"They who can give up essential liberty to obtain a little temporary safety deserve neither liberty nor safety.
--Benjamin Franklin
"The American people must be willing to give up a degree of personal privacy in exchange for safety and security."
--Louis Freeh

In the wake of the clamor over the most recent WikiLeaks data dump, 'Vault 7', 'UMBRAGE', et al, it should be noted this is not really anything new. What we are seeing here is simply the evolution of something that goes back to the late 50s (to the incomplete best knowledge I have).
It is kinda cool to finally see even the New York Times (www.nytimes.com/2017/03/09/opinion/the-truth-about-the-wikileaks-cia-cache.html?_r=0) acknowledging material I was writing about in 1998 (http://www.wnd.com/1998/04/6108/ ).
In April of 1998 I wrote "Privacy has become an anachronism." I was commenting on "a massive system designed to intercept all your e-mail, fax traffic and more." I was explaining 'Echelon', the illegitimate offspring of a UKUSA treaty (https://www.nationalarchives.gov.uk/ukusa/ ) signed by the United States, United Kingdom, Canada, Australia and New Zealand. Its purpose was, and is, to have a vast global intelligence monster, which allegedly shares common goals. The system was so "efficient" that reportedly National Security Agency folk from Fort Meade could work from Menwith Hill in England to intercept local communications without either nation having to burden themselves with the formality of seeking approval (a court order) or disclosing the operation. And this was all pre-9/11 and pre-the anti-constitutional 'Patriot Act'.
It is illegal (without a Judge's signed permission) for the United States to spy on its citizens … kinda. The laws have long been circumvented by a mutual pact among five nations. Under the terms of UKUSA agreement, Britain spies on Americans and America spies on British citizens, and then the two conspirators trade data. A classic technical finesse. It is legal, but the intent to evade the spirit is inescapable.
I often fictionalized the genesis of 'Echelon' as an informal meeting of a group of post war American and British intelligence types drinking in some remote rustic bar. An imagined CIA type complains to his MI6 buddy about the hassles of US laws preventing US intelligence from surveillance of bad guys, and the Brit echoes the same complaint.
"Hey wait a moment mate," says Nigel, the make-believe MI6 guy, "I can spy on your guys and you can spy on our bad players…why don't we just come up with a mechanism whereby we spy on your villains, you spy on our villains, and we just 'share' the intel?"
This system was called ECHELON, and has been kicking around in some form longer than most of you. The result of the UKUSA treaty signed by the United States, United Kingdom, Canada, Australia and New Zealand was, and is, to have a vast global intelligence monster which allegedly shares common goals.
The London Telegraph reported in December of 1997 that the Civil liberties Committee of the European Parliament had officially confirmed the existence and purpose of ECHELON. "A global electronic spy network that can eavesdrop on every telephone, e-mail and telex communication around the world will be officially acknowledged for the first time in a European Commission report. …"
The report noted: "Within Europe all e-mail, telephone and fax communications are routinely intercepted by the United States National Security Agency, transferring all target information from the European mainland via the strategic hub of London, then by satellite to Fort Meade in Maryland via the crucial hub at Menwith Hill, in the North York moors in the UK.
"The ECHELON system forms part of the UKUSA system but unlike many of the electronic spy systems developed during the Cold War, ECHELON was designed primarily for non-military targets: governments, organizations and businesses in virtually every country."
An interesting sidebar appeared in the International Herald Tribune under the headline, "Big Corporate Brother: It Knows More About You Than You Think." The story details Acxiom Corp, which was a humongous information service hidden in the Ozark foothills. Twenty-four hours a day, Acxiom electronically gathered and sorts all kinds of data about 196 million Americans. Credit card transactions and magazine subscriptions, telephone numbers, real estate records, automotive data, hunting, business and fishing licenses, consumer surveys and demographic detail that would make a marketing department's research manager salivate. This relatively new (legal) enterprise was known as "data warehousing" or "data-mining", and it underscores the cruel reality that the fiction of personal privacy has become obsolete. Technology's ability to collect and analyze data has made privacy a quaint albeit interesting dinosaur.
The Tribune reported that "Axciom can often determine whether an American owns a dog or cat, enjoys camping or gourmet cooking, reads the Bible or lots of other books. It can often pinpoint an American's occupation, car and favorite vacations. By analyzing the equivalent of billions of pages of data, it often projects for its customers who should be offered a credit card or who is likely to buy a computer."
Most of this information is from y 1998 piece. Echelon has developed, matured, and morphed into a much more powerful hybrid. 'Carnivore' was software to help triage the cacophony of data. Vault 7 and 'Umbrage' are logical (some would argue "insidious") growth.
More to follow…