---
Updated
hrs

Wo
rld & National
"The Press was protected so that it could bare the secrets of the government and inform the people. Only a free and unrestrained press can effectively expose deception in government. And paramount among the responsibilities of a free press is the duty to prevent any part of the government from deceiving the people."
-- Justice Hugo L. Black
(1886-1971) US Supreme Court Justice

Trump says 'alt-left' ALSO to blame for Charlottesville violence
Warns against destroying statues

A defiant President Trump doubled down Tuesday on his initial claim that activists on both the left and the right were responsible for violence at a white nationalist rally in Charlottesville, Virginia, and he warned that eradicating public monuments linked to slavery could diminish the legacies of Founders such as George Washington and Thomas Jefferson.
Defending his first, roundly criticized assessment that "many sides" were guilty of violence during Saturday's clashes, the president said he didn't single out white supremacists initially because he didn't have all the facts at the time and didn't want to rush to judgment for the sake of political correctness.
"I wanted to make sure, unlike most politicians, that what I said was correct," the president said. "Unlike the media, before I make a statement, I like to know the facts."
But Mr. Trump also said at a contentious news conference at Trump Tower in New York that leftists committed much of the violence, while the media blamed only the "alt-right" movement.
Networks Spend 77 Percent of Evening News on Wild Trump Presser

---
Honoring patriots or traitors? Legacy of Confederate statues in eye of beholder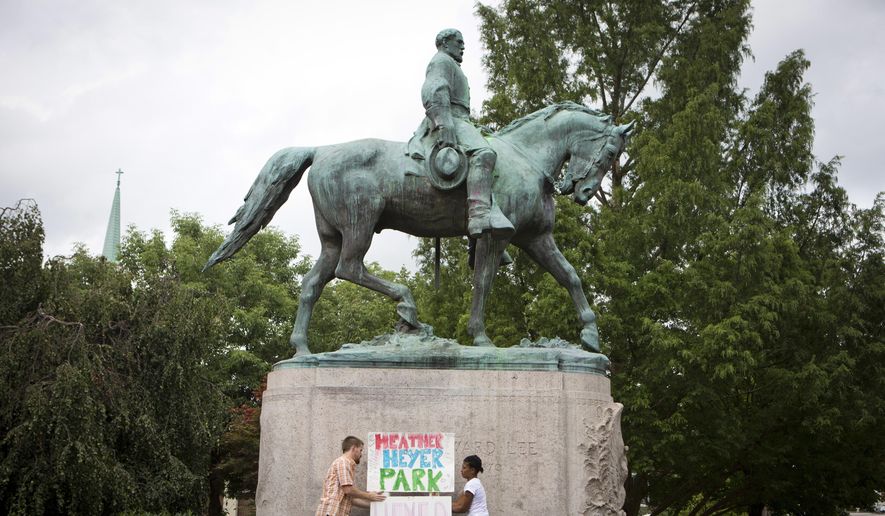 A group comprised mostly of black activists dedicated to preserving American history is calling for Confederate monuments and statues to be preserved as reminders and lessons of the darker side of the country's past.
Sandra Crenshaw, a former Dallas City Council member, teamed up with the Buffalo Soldiers of the American West and Sons of Confederate Veterans to oppose the creation of a task force charged with removing Confederate monuments from the city's public spaces.
She said the statues serve as a reminder of an important part of American history and that removing them won't solve any of the real problems facing the country.
---
Trump expected to endorse challenger to Flake at Arizona rally
President Trump's new campaign trip to Arizona next week has state Republicans speculating that he is going to endorse a primary challenger to Sen. Jeff Flake.
Mr. Trump is leaning towards endorsing Arizona Treasurer Jeff DeWitt, state Republican sources told The Washington Times, in a move that could help crystalize the race.
Earlier this summer Mr. Trump floated the possibility of spending $10 million to help unseat Mr. Flake, who has been one of the president's top opponents within the Republican Party. The senator opposed Mr. Trump's candidacy and has emerged as a leading GOP critic on Capitol Hill.
---
Baltimore hauls away four Confederate monuments after overnight removal
Crews removed Baltimore's Confederate statues early Wednesday, days after the deadly unrest in Charlottesville instigated by white nationalists rallying to defend a downtown Confederate monument.
The quiet and sudden removal of four monuments, with little fanfare and no advance notice, marks an attempt by the city to avoid a long, bruising conflict that has embroiled Charlottesville and other communities rethinking how they honor figures who fought to preserve slavery.
---

California farmer to pay $1.1 million in fines for plowing wheat field without permit
Lengthy dispute over Waters of the U.S. rule ends in court settlement
President Trump has sought to help farmers by rolling back the Obama administration's hotly contested Waters of the United States rule, but it didn't happen soon enough to help John Duarte.
The farmer from California's Central Valley agreed Tuesday to a settlement with the Justice Department that will have him pay $330,000 in civil penalties and purchase $770,000 in vernal pool mitigation credits for violating the water rule by plowing his wheat field in 2012.
The alternative was to roll the dice in court and risk a fine of as much as $45 million, which would have devastated his family business, Duarte Nursery, located near Modesto.
---
Chicago Pastor Wants Presidents' Names Removed from Washington, Jackson Parks Over Ties to Slavery
A Chicago pastor has asked the Emanuel administration to remove the names of two presidents who owned slaves from parks on the South Side, saying the city should not honor slave owners in black communities.
A bronze statue of George Washington on horseback stands at the corner of 51st and King Drive, at the northwest entrance to Washington Park.
Bishop James Dukes, pastor of Liberation Christian Center, said he wants the statue gone, and he wants George Washington's name removed from the park.
---
Trump praises North Korea for backing down on missile threat
US President Donald Trump praised North Korean leader Kim Jong Un on Wednesday for appearing to back down on his threat to launch missiles toward the US territory of Guam.
In an early morning tweet, Trump said: "Kim Jong Un of North Korea made a very wise and well reasoned decision. The alternative would have been both catastrophic and unacceptable!"
Trump appeared to be referring to Kim's decision to put a hold on launching four missiles into the waters around the Pacific island of Guam, as North Korea had previously threatened.
---
Oregon first to offer free abortions for all, including illegal aliens
Landmark $10.2M bill puts insurers, taxpayers on the hook for abortion copays, deductibles
Oregon Gov. Kate Brown signed a landmark bill to provide free abortions for all, including illegal immigrants, by requiring insurance companies to cover the procedures and putting taxpayers on the hook for the tab.
The long-awaited signing of House Bill 3391, approved by the state legislature July 5 with no Republican votes, triggered a torrent of criticism from conservatives along with praise from the pro-choice movement.
"Thank Kate Brown for signing the nation's most progressive reproductive health bill into law today!" said NARAL Pro-Choice Oregon in a statement.
---
Sessions to criticize Chicago, praise Miami-Dade in remarks on sanctuary cities
Attorney General Jeff Sessions plans to renew his criticism of Chicago leadership over officials' unwillingness to cooperate with federal immigration authorities by linking it to the city's troubling level of violence.
Traveling Wednesday to Miami-Dade County, one of two jurisdictions the Justice Department recently cleared of having "sanctuary" policies that defy federal immigration laws, Mr. Sessions is expected give a speech touting positive effects of the county's cooperation with federal authorities.
"I know that Miami-Dade will be an example of the good that comes from following the law," Mr. Sessions said in a statement released ahead of the event. "We have already seen that: the same Independence Day weekend when Chicago suffered more than 100 shootings and 15 homicides, Miami-Dade also had a historic number of shooting deaths — zero."
---
Americans' view of trade aren't just about economics.
As U.S. trade officials gear up this week to begin renegotiating NAFTA, the trade pact with Canada and Mexico, what do voters really think about trade agreements?
Donald Trump is a protectionist president. On his first day in office, Trump withdrew the United States from the Trans-Pacific Partnership. He talks about breaking or renegotiating existing trade agreements and levying increased tariffs on the United States' main trading partners — Canada, China and Mexico — and about a broader border-adjustment tax.
Conventional wisdom suggests that voters support trade protection when they think it is in their economic interest. Many news outlets have provided helpful lists of which U.S. jobs would be helped or hurt by limits on imports.
---
China urges India to protect peace after border altercation
China on Wednesday urged India to protect the peace and stability of their border after Indian sources said soldiers of the two Asian giants were involved in an altercation in the western Himalayas.
Troops from the two countries have been embroiled in a seven-week standoff on the Doklam plateau in another part of the remote Himalayan region near their disputed frontier.
On Tuesday, a source in New Delhi, who had been briefed on the military situation on the border, said soldiers foiled a bid by a group of Chinese troops to enter Indian territory in Ladakh, near a lake called Pangong.
---
The deadly mpact of identity politics
By conflating white supremacists and Trump supporters, the 'Resistance' pours hate on hate
In the aftermath of the horror of the Charlottesville riot, there's been less condemnation by the media and the left of the neo-Nazi that is charged with murdering Heather Heyer and injuring at least 19 others than there has been of President Trump.
Americans know full well the environment of hate and violence that identity politics has served us. It has manifested in many ways, including last year during a peaceful Black Lives Matter march in Dallas when an African-American military veteran murdered five police officers. Officials said the sniper was determined to kill as many white officers as possible.
In June, the nation was shocked with the attempted assassination of more than 20 Republican members of Congress. A deranged liberal political activist and Bernie Sanders supporter seriously injured Rep. Steve Scalise and wounded four others.
---

South Korea's fine line between reform and retribution
President Moon's tough medicine could damage the entire economy
It was only a month ago that the Pentagon's Defense Intelligence Agency said North Korea could have a "reliable, nuclear-capable ICBM" program as soon as 2018. This week, the threat from North Korea appears even more imminent. And yet, while the war of words between President Trump and Kim Jong-un accelerates, South Korean President Moon Jae-in remains committed to diplomatic engagement with the North, offering to host peace talks.
From many visits to the Republic of Korea as a governor, U.S. senator and private citizen through the years, I have admired the rise of free people who appreciate American's historic sacrifice for their freedom and share our values as trusted allies. I have advocated for South Korea's entry into our visa waiver program for enhanced business, tourism, educational and cultural ties between Americans and Koreans. I authored the National Korean-American Day legislation, which is celebrated every January throughout the United States during the past dozen years. I support free, fair trade between the U.S. and South Korea and have spoken in Seoul at international and national prayer ceremonies. Indeed, in many speeches I present a nighttime satellite picture of the Korean Peninsula showing darkness and light — restrictive totalitarianism versus freedom and longer, healthier prosperous lives. There's no better object lesson in the world telling the effect on free people and a free enterprise system compared to a communist dictatorship starving its own people on its own land.
"It is discouraging to think how many people are shocked by honesty and how few by deceit."
-- Noel Coward
(1899-1973) British playwright
---
---
The Medal of Honor is the highest award for valor in action against an enemy force which can be bestowed upon an individual serving in the Armed Services of the United States.
GeneTrerally presented to its recipient by the President of the United States of America in the name of Congress.
The first award of the Medal of Honor was made March 25, 1863 to Private JACOB PARROTT.The last award of the Medal of Honor was made September 15, 2011 to Sergeant DAKOTA MEYER.
Since then there have been: • 3458 recipients of the Medal of Honor.
• Today there are 85 Living Recipients of the Medal of Honor.
Citation

Captain Humbert R. Versace distinguished himself by extraordinary heroism during the period of 29 October 1963 to 26 September 1965, while serving as S-2 Advisor, Military Assistance Advisory Group, Detachment 52, Ca Mau, Republic of Vietnam. While accompanying a Civilian Irregular Defense Group patrol engaged in combat operations in Thoi Binh District, An Xuyen Province, Captain Versace and the patrol came under sudden and intense mortar, automatic weapons, and small arms fire from elements of a heavily armed enemy battalion. As the battle raged, Captain Versace, although severely wounded in the knee and back by hostile fire, fought valiantly and continued to engage enemy targets. Weakened by his wounds and fatigued by the fierce firefight, Captain Versace stubbornly resisted capture by the over-powering Viet Cong force with the last full measure of his strength and ammunition. Taken prisoner by the Viet Cong, he exemplified the tenets of the Code of Conduct from the time he entered into Prisoner of War status. Captain Versace assumed command of his fellow American soldiers, scorned the enemy's exhaustive interrogation and indoctrination efforts, and made three unsuccessful attempts to escape, despite his weakened condition which was brought about by his wounds and the extreme privation and hardships he was forced to endure. During his captivity, Captain Versace was segregated in an isolated prisoner of war cage, manacled in irons for prolonged periods of time, and placed on extremely reduced ration. The enemy was unable to break his indomitable will, his faith in God, and his trust in the United States of America. Captain Versace, an American fighting man who epitomized the principles of his country and the Code of Conduct, was executed by the Viet Cong on 26 September 1965. Captain Versace's gallant actions in close contact with an enemy force and unyielding courage and bravery while a prisoner of war are in the highest traditions of the military service and reflect the utmost credit upon himself and the United States Army.
---
3/14/20017

We Have Met the Enemy…

Geoff Metcalf
"They who can give up essential liberty to obtain a little temporary safety deserve neither liberty nor safety.
--Benjamin Franklin
"The American people must be willing to give up a degree of personal privacy in exchange for safety and security."
--Louis Freeh

In the wake of the clamor over the most recent WikiLeaks data dump, 'Vault 7', 'UMBRAGE', et al, it should be noted this is not really anything new. What we are seeing here is simply the evolution of something that goes back to the late 50s (to the incomplete best knowledge I have).
It is kinda cool to finally see even the New York Times (www.nytimes.com/2017/03/09/opinion/the-truth-about-the-wikileaks-cia-cache.html?_r=0) acknowledging material I was writing about in 1998 (http://www.wnd.com/1998/04/6108/ ).
In April of 1998 I wrote "Privacy has become an anachronism." I was commenting on "a massive system designed to intercept all your e-mail, fax traffic and more." I was explaining 'Echelon', the illegitimate offspring of a UKUSA treaty (https://www.nationalarchives.gov.uk/ukusa/ ) signed by the United States, United Kingdom, Canada, Australia and New Zealand. Its purpose was, and is, to have a vast global intelligence monster, which allegedly shares common goals. The system was so "efficient" that reportedly National Security Agency folk from Fort Meade could work from Menwith Hill in England to intercept local communications without either nation having to burden themselves with the formality of seeking approval (a court order) or disclosing the operation. And this was all pre-9/11 and pre-the anti-constitutional 'Patriot Act'.
It is illegal (without a Judge's signed permission) for the United States to spy on its citizens … kinda. The laws have long been circumvented by a mutual pact among five nations. Under the terms of UKUSA agreement, Britain spies on Americans and America spies on British citizens, and then the two conspirators trade data. A classic technical finesse. It is legal, but the intent to evade the spirit is inescapable.
I often fictionalized the genesis of 'Echelon' as an informal meeting of a group of post war American and British intelligence types drinking in some remote rustic bar. An imagined CIA type complains to his MI6 buddy about the hassles of US laws preventing US intelligence from surveillance of bad guys, and the Brit echoes the same complaint. http://www.washingtontimes.com/news/2017/aug/15/donald-trump-on-charlottesville-danged-if-he-does-/
"Hey wait a moment mate," says Nigel, the make-believe MI6 guy, "I can spy on your guys and you can spy on our bad players…why don't we just come up with a mechanism whereby we spy on your villains, you spy on our villains, and we just 'share' the intel?"
This system was called ECHELON, and has been kicking around in some form longer than most of you. The result of the UKUSA treaty signed by the United States, United Kingdom, Canada, Australia and New Zealand was, and is, to have a vast global intelligence monster which allegedly shares common goals.
The London Telegraph reported in December of 1997 that the Civil liberties Committee of the European Parliament had officially confirmed the existence and purpose of ECHELON. "A global electronic spy network that can eavesdrop on every telephone, e-mail and telex communication around the world will be officially acknowledged for the first time in a European Commission report. …"
The report noted: "Within Europe all e-mail, telephone and fax communications are routinely intercepted by the United States National Security Agency, transferring all target information from the European mainland via the strategic hub of London, then by satellite to Fort Meade in Maryland via the crucial hub at Menwith Hill, in the North York moors in the UK.
"The ECHELON system forms part of the UKUSA system but unlike many of the electronic spy systems developed during the Cold War, ECHELON was designed primarily for non-military targets: governments, organizations and businesses in virtually every country."
An interesting sidebar appeared in the International Herald Tribune under the headline, "Big Corporate Brother: It Knows More About You Than You Think." The story details Acxiom Corp, which was a humongous information service hidden in the Ozark foothills. Twenty-four hours a day, Acxiom electronically gathered and sorts all kinds of data about 196 million Americans. Credit card transactions and magazine subscriptions, telephone numbers, real estate records, automotive data, hunting, business and fishing licenses, consumer surveys and demographic detail that would make a marketing department's research manager salivate. This relatively new (legal) enterprise was known as "data warehousing" or "data-mining", and it underscores the cruel reality that the fiction of personal privacy has become obsolete. Technology's ability to collect and analyze data has made privacy a quaint albeit interesting dinosaur.
The Tribune reported that "Axciom can often determine whether an American owns a dog or cat, enjoys camping or gourmet cooking, reads the Bible or lots of other books. It can often pinpoint an American's occupation, car and favorite vacations. By analyzing the equivalent of billions of pages of data, it often projects for its customers who should be offered a credit card or who is likely to buy a computer."
Most of this information is from y 1998 piece. Echelon has developed, matured, and morphed into a much more powerful hybrid. 'Carnivore' was software to help triage the cacophony of data. Vault 7 and 'Umbrage' are logical (some would argue "insidious") growth.
More to follow…