"It Is Not A Question of Who Is Right Or Wrong But What Is Right Or Wrong That Counts.

"

--Geoff Metcalf
Providing an on line Triage of the news since 1997



Wo

rld & Nation
Bernie Sanders wins New Hampshire primary; Andrew Yang, Michael Bennet drop out
Sen. Bernard Sanders won New Hampshire's first-in-the-nation primary for the second time, strengthening his grip on the far-left mantle in the race and giving him a burst of momentum heading into the Nevada caucuses and South Carolina primary this month.
The race was closer in 2020 than in 2016, but Mr. Sanders fended off a late charge by former South Bend, Indiana, Mayor Pete Buttigieg, who narrowly won the Iowa caucuses last week.
With 88% of the vote counted, Mr. Sanders had captured 26%, followed by Mr. Buttigieg with 24.3% and Sen. Amy Klobuchar of Minnesota with 19.8%.
Sen. Elizabeth Warren of Massachusetts and former Vice President Joseph R. Biden appeared headed for disappointing fourth- and fifth-place finishes, respectively, with single-digit percentages.
---
The spectacular collapse of Joe Biden as the Democrats' front-runner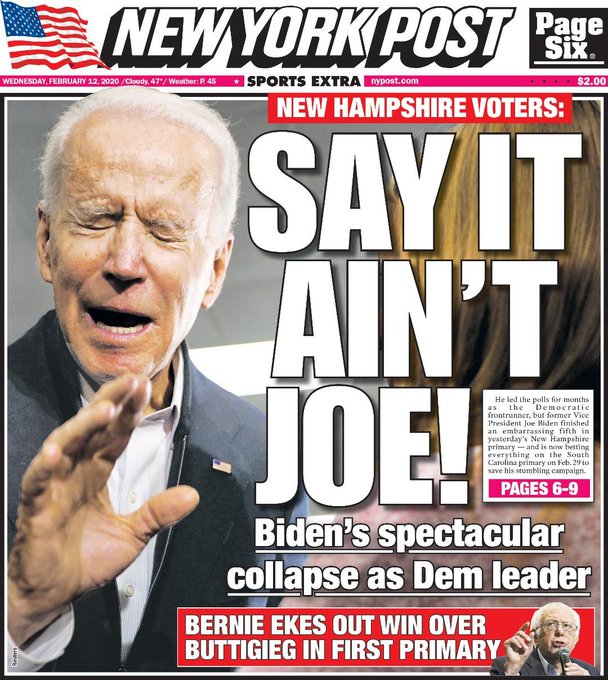 He was once the presumptive Democratic nominee, but on Tuesday, Joe Biden fled New Hampshire with his tail between his legs — and headed to South Carolina, where he watched his dismal results come in.
Sensing a humiliating defeat in the Granite State, Biden's team announced the former vice president was throwing in the towel before the polls had even closed, spending Tuesday evening at a campaign launch party in Columbia, SC, about 1,000 miles away.
Biden ended up placing fifth in New Hampshire, capturing less than 9 percent of the vote and none of the state's pledged delegates.
---
Expert: Coronavirus Outbreak 'Just Beginning' Outside China


The coronavirus epidemic may be peaking in China where it was first detected in the central city of Wuhan but it is just beginning in the rest of the world and likely to spread, a global expert on infectious diseases said on Wednesday.

The Chinese government's senior medical adviser has said the disease is hitting a peak in China and may be over by April. He said he was basing the forecast on mathematical modeling, recent events and government action.

Dale Fisher, chair of the Global Outbreak Alert & Response Network that is coordinated by the World Health Organization, said that predicted "time course" may well be true if the virus is allowed to run free in Wuhan.


---
Equal Rights Amendment's intentions hijacked by LGBTQ movement
'The amendment is so poorly drafted and so general it's fair to say it's meaningless'
The slogan in the 1970s was ERA Now. But what happens when it's ERA later?
In this case, much later. Virginia's purported ratification of the Equal Rights Amendment last month created a legal mess. Among the questions raised is whether the equality promised for two sexes would apply to the growing LGBTQ movement.
"What is difficult in the case of the Equal Rights Amendment is that the words are essentially meaningless," said Rob Natelson, who heads the Constitutional Studies Center at the Independence Institute. "The amendment is so poorly drafted and so general it's fair to say it's meaningless."
---
Dems Cry Foul as Barr Intervenes in Stone, Flynn Cases
Attorney General William Barr has taken the lead on several legal matters of interest to President Donald Trump, including the federal case against Trump aide Roger Stone, moves that will likely prompt allegations of political interference, reports NBC News.
Barr intervened to seek a more lenient sentence for Stone, who was facing up to nine years in prison, hours after Trump called the sentence "very horrible and unfair."
Four lawyers who prosecuted Stone resigned from the case following the announcement. Two quit the Department of Justice altogether.
---
Mike Bloomberg Quietly Laying Groundwork With Dem Leaders
Former New York City Mayor Mike Bloomberg has started aggressively courting key Democrats – including many who are supporting his top rivals for the party's presidential nomination, NBC News is reporting.
The Bloomberg campaign's strategy is to inform top Democrats of his plans in case they decide to back him later, according to the network news.
Top Bloomberg campaign advisers met with about 20 House members last week to brief them on the candidate's plans to win the nomination and beat President Donald Trump in the November election.
---
U.S. Household Debt Exceeds $14 Trillion for the First Time
Americans increased their borrowing for the 22nd straight quarter as more households took out loans to buy homes or refinance existing mortgages, according to a report released today from the Federal Reserve Bank of New York.
Total U.S. household debt rose by $601 billion in the fourth quarter from a year earlier, or 1.4%, surpassing $14 trillion for the first time, the New York Fed's quarterly household credit and debt report showed. That's $1.5 trillion above the previous peak in the third quarter of 2008. Overall household debt is now 26.8% above the second-quarter 2013 trough.
Mortgage borrowing rose by $120 billion to $9.56 trillion. The rate for a 30-year mortgage has fallen by about 100 basis points over the past year, adding to home purchasers' buying power. For example, a $500,000, 30-year loan costs about $300 less per month.
"Mortgage originations, including refinances, increased significantly in the final quarter of 2019," Wilbert Van Der Klaauw, vice president at the New York Fed, said in a statement.
---
Terrified of Bernie Sanders, Democratic leaders look for King Solomon to split the baby
Democratic pols and media gasbags — not to repeat myself — have finally found somebody they hate nearly as much as they hate President Trump: Bernie Sanders.
It really is amazing to watch the comfortable Democrat poobahs wring their hands in agony as they watch Mr. Sanders rack up these impressive wins in the Democratic primary.
In Iowa, they refuse to even acknowledge he appears to have won the most votes. In New Hampshire, they are doing all they can to blunt his victory and crown somebody else for coming in second, third or fourth place.
---
'Oscars 2020' parades Hollywood's contempt for everyday Americans
The low-rated awards show couldn't resist spewing Trump hatred in smug, hypocritical attacks
February 2020 will forever be known not only as the month when President Trump was reelected, but why that happened. Signs were everywhere that the American people had grown tired of being held in contempt by the self-satisfied political and cultural glitterati. For those still nursing their rage at Mr. Trump and his supporters, their very, very bad month has coughed up another reminder that they're no longer admired or influential, and they have only themselves to blame.
Once again, Hollywood gathered on Sunday for the Oscar ceremony, their annual ritual of back-slapping and self-congratulations. And then the ratings came in. For anyone in Hollywood or the entertainment industry who remained confident that America still cared, they had another thing coming.
The New York Times headline blared, "2020 Oscars Broadcast Hit New Ratings Low …," reporting a collapse of 20 percent in total viewers compared to last year and a shocking 31 percent drop among what's considered the preferred "demo" age group of 25-54. In other words, it was the lowest ratings they received of all-time with 26.3 million viewers, or about 6 million fewer than last year.
---
" It is discouraging to think how many people are shocked by honesty and how few by deceit."

-- Noel Coward

(1899-1973) British playwright

---

The Medal of Honor is the highest award for valor in action against an enemy force which can be bestowed upon an individual serving in the Armed Services of the United States.

GeneTrerally presented to its recipient by the President of the United States of America in the name of Congress.

The first award of the Medal of Honor was made March 25, 1863 to Private JACOB PARROTT.The last award of the Medal of Honor was made September 15, 2011 to Sergeant DAKOTA MEYER.

Since then there have been: • 3458 recipients of the Medal of Honor.

• Today there are 85 Living Recipients of the Medal of Honor.

Citation


Captain Humbert R. Versace distinguished himself by extraordinary heroism during the period of 29 October 1963 to 26 September 1965, while serving as S-2 Advisor, Military Assistance Advisory Group, Detachment 52, Ca Mau, Republic of Vietnam. While accompanying a Civilian Irregular Defense Group patrol engaged in combat operations in Thoi Binh District, An Xuyen Province, Captain Versace and the patrol came under sudden and intense mortar, automatic weapons, and small arms fire from elements of a heavily armed enemy battalion. As the battle raged, Captain Versace, although severely wounded in the knee and back by hostile fire, fought valiantly and continued to engage enemy targets. Weakened by his wounds and fatigued by the fierce firefight, Captain Versace stubbornly resisted capture by the over-powering Viet Cong force with the last full measure of his strength and ammunition. Taken prisoner by the Viet Cong, he exemplified the tenets of the Code of Conduct from the time he entered into Prisoner of War status. Captain Versace assumed command of his fellow American soldiers, scorned the enemy's exhaustive interrogation and indoctrination efforts, and made three unsuccessful attempts to escape, despite his weakened condition which was brought about by his wounds and the extreme privation and hardships he was forced to endure. During his captivity, Captain Versace was segregated in an isolated prisoner of war cage, manacled in irons for prolonged periods of time, and placed on extremely reduced ration. The enemy was unable to break his indomitable will, his faith in God, and his trust in the United States of America. Captain Versace, an American fighting man who epitomized the principles of his country and the Code of Conduct, was executed by the Viet Cong on 26 September 1965. Captain Versace's gallant actions in close contact with an enemy force and unyielding courage and bravery while a prisoner of war are in the highest traditions of the military service and reflect the utmost credit upon himself and the United States Army.

---

From the Archives

We Have Met the Enemy…
Geoff Metcalf


"They who can give up essential liberty to obtain a little temporary safety deserve neither liberty nor safety.
--Benjamin Franklin
"The American people must be willing to give up a degree of personal privacy in exchange for safety and security."
--Louis Freeh


In the wake of the clamor over the most recent WikiLeaks data dump, 'Vault 7', 'UMBRAGE', et al, it should be noted this is not really anything new. What we are seeing here is simply the evolution of something that goes back to the late 50s (to the incomplete best knowledge I have).

It is kinda cool to finally see even

The New York Times

acknowledging material

I was writing about in 1998

.

In April of 1998 I wrote "Privacy has become an anachronism." I was commenting on "a massive system designed to intercept all your e-mail, fax traffic and more." I was explaining 'Echelon', the illegitimate offspring of a

UKUSA Treaty

signed by the United States, United Kingdom, Canada, Australia and New Zealand. Its purpose was, and is, to have a vast global intelligence monster, which allegedly shares common goals. The system was so "efficient" that reportedly National Security Agency folk from Fort Meade could work from Menwith Hill in England to intercept local communications without either nation having to burden themselves with the formality of seeking approval (a court order) or disclosing the operation. And this was all pre-9/11 and pre-the anti-constitutional

'Patriot Act'

.

It is illegal (without a Judge's signed permission) for the United States to spy on its citizens … kinda. The laws have long been circumvented by a mutual pact among five nations. Under the terms of UKUSA agreement, Britain spies on Americans and America spies on British citizens, and then the two conspirators trade data. A classic technical finesse. It is legal, but the intent to evade the spirit is inescapable.

I often fictionalized the genesis of 'Echelon' as an informal meeting of a group of post war American and British intelligence types drinking in some remote rustic bar. An imagined CIA type complains to his MI6 buddy about the hassles of US laws preventing US intelligence from surveillance of bad guys, and the Brit echoes the same complaint.

"Hey wait a moment mate," says Nigel, the make-believe MI6 guy, "I can spy on your guys and you can spy on our bad players…why don't we just come up with a mechanism whereby we spy on your villains, you spy on our villains, and we just 'share' the intel?"

This system was called ECHELON, and has been kicking around in some form longer than most of you. The result of the UKUSA treaty signed by the United States, United Kingdom, Canada, Australia and New Zealand was, and is, to have a vast global intelligence monster which allegedly shares common goals.

The London Telegraph reported in December of 1997 that the Civil liberties Committee of the European Parliament had officially confirmed the existence and purpose of ECHELON. "A global electronic spy network that can eavesdrop on every telephone, e-mail and telex communication around the world will be officially acknowledged for the first time in a European Commission report. …"

The report noted: "Within Europe all e-mail, telephone and fax communications are routinely intercepted by the United States National Security Agency, transferring ll target information from the Eurv opean mainland via the strategic hub of London, then by satellite to Fort Meade in Maryland via the crucial hub at Menwith Hill, in the North York moors in the UK.

"The ECHELON system forms part of the UKUSA system but unlike many of the electronic spy systems developed during the Cold War, ECHELON was designed primarily for non-military targets: governments, organizations and businesses in virtually every country."

An interesting sidebar appeared in the International Herald Tribune under the headline, "Big Corporate Brother: It Knows More About You Than You Think." The story details Acxiom Corp, which was a humongous information service hidden in the Ozark foothills. Twenty-four hours a day, Acxiom electronically gathered and sorts all kinds of data about 196 million Americans. Credit card transactions and magazine subscriptions, telephone numbers, real estate records, automotive data, hunting, business and fishing licenses, consumer surveys and demographic detail that would make a marketing department's research manager salivate. This relatively new (legal) enterprise was known as "data warehousing" or "data-mining", and it underscores the cruel reality that the fiction of personal privacy has become obsolete. Technology's ability to collect and analyze data has made privacy a quaint albeit interesting dinosaur.

The Tribune reported that "Axciom can often determine whether an American owns a dog or cat, enjoys camping or gourmet cooking, reads the Bible or lots of other books. It can often pinpoint an American's occupation, car and favorite vacations. By analyzing the equivalent of billions of pages of data, it often projects for its customers who should be offered a credit card or who is likely to buy a computer."

Most of this information is from y 1998 piece. Echelon has developed, matured, and morphed into a much more powerful hybrid. 'Carnivore' was software to help triage the cacophony of data. Vault 7 and 'Umbrage' are logical (some would argue "insidious") growth.

More to follow…