"It Is Not A Question of Who Is Right Or Wrong But What Is Right Or Wrong That Counts.

"

--Geoff Metcalf
Wo

rld & Nation
Trump orders up new sanctions on Iran, after oil attack
Tightens economic pressure as Mike Pompeo meets Saudis
President Trump said Wednesday he will tighten the economic screws on Iran, as the U.S. and Saudi Arabia coordinate a response to drone strikes on the kingdom's oil fields.
"I have just instructed the Secretary of the Treasury to substantially increase Sanctions on the country of Iran!" Mr. Trump tweeted from California, where he is on a fundraising swing.
Secretary of State Mike Pompeo is meeting Wednesday with Saudi leaders to discuss the Saturday drone strikes that disrupted the global oil supply.
---
Trump names Robert O'Brien, hostage negotiator, as national security adviser
President Donald Trump says he plans to name hostage negotiator Robert O'Brien to be his new national security adviser.
Trump tweeted Wednesday that he has "worked long & hard" with O'Brien and that "he will do a great job!"
Trump's announcement about O'Brien comes a week after he ousted John Bolton from the national security adviser's post, citing policy disagreements.
---
Top Democrats rush to squash Kavanaugh impeachment push
Democratic leaders are working overtime to stop the party from walking the plank by calling for the impeachment of Supreme Court Justice Brett M. Kavanaugh, but rank-and-file members and 2020 presidential contenders can't resist the impulse to try to score political points.
It is not the first time that Democrats in Washington have rushed to embrace the most sordid storyline to try to curry favor with prized slices of the electorate. In 2017, Democrats sacrificed one of their own, Sen. Al Franken of Minnesota, when he was accused of sexual mischief.
Sen. Patrick J. Leahy of Vermont, a former chairman of the Senate Judiciary Committee, said Tuesday that the Kavanaugh impeachment push isn't going anywhere on Capitol Hill.
---
Corey Lewandowski: Jerry Nadler, Judiciary Committee Dems scared of primary challengers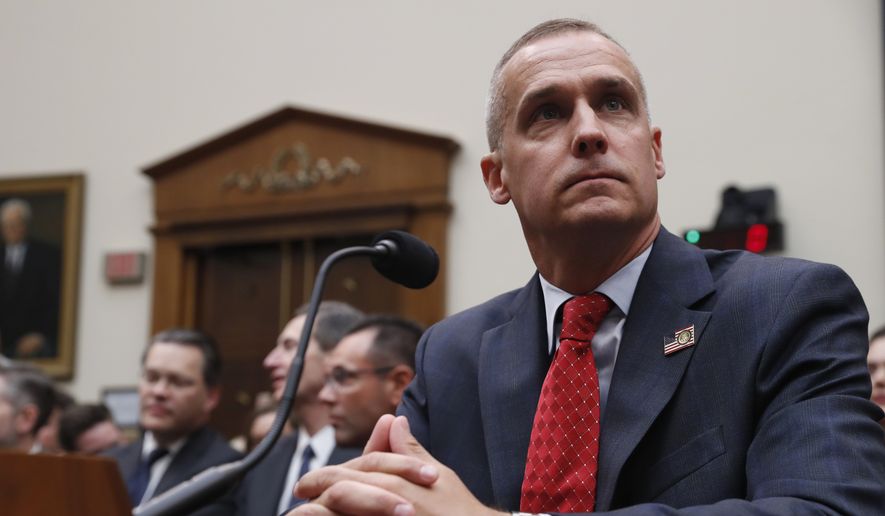 Former Trump campaign manager Corey Lewandowski on Wednesday said Democrats on the House Judiciary Committee who are pressing forward with an inquiry on whether to recommend articles of impeachment against President Trump are motivated in part by fending off criticism from their left flank.

"I believe that there are very many members on that committee who only care about making sure they're reelected, and they can be as far left as possible so they can fend off those primary challenges, and I think Congressman Nadler is one of them in the Upper West Side of New York," Mr. Lewandowski said on Fox News' "Fox & Friends."

Mr. Nadler, who tangled with Mr. Lewandowski at a hearing on Tuesday on Capitol Hill, has already drawn at least one primary challenger.



---
'Hero of Cologne' awarded Bronze Star for actions in WWII in surprise ceremony
A prolific World War II tank gunner lost his chance 74 years ago at a Bronze Star for a moment's charity: talking to German children asking for a stick of bubble gum in the rubble-strewn streets of Cologne.
But Cpl. Clarence Smoyer will get his due on Wednesday morning.
In a surprise ceremony at the World War II Memorial on the National Mall, the Army will make Mr. Smoyer its latest war hero. The 95-year-old native of Allentown, Pennsylvania, will be awarded a Bronze Star for valorous actions that won him the nickname "The Hero of Cologne."
---
How Andrew McCabe's FBI media leaks, cover-up were uncovered
A Justice Department inspector general's report is the driving force for possible criminal charges against former FBI Deputy Director Andrew McCabe, as his attorneys and the department square off in a legal and media showdown.
The inspector general's 20-month-old findings sparked an ongoing Justice investigation. It said Mr. McCabe lied to fellow agents and cast blame on colleagues for his orchestrated press leak.
His legal team lost an appeal to Deputy Attorney General Jeffrey Rosen to avert criminal charges that may come out of the U.S. attorney's office for the District of Columbia. Defense attorney Michael R. Bromwich floated an unconfirmed rumor that the grand jury refused to indict.
---
Prominent Democratic donor and gay activist Ed Buck arrested on three felony counts
A prominent gay activist and big-money Democratic donor has been arrested on suspicion of operating a drug house.
Ed Buck faces three felony counts — battery, distributing methamphetamine and maintaining a drug house — in the case of 37-year-old man who suffered a drug overdose last week, according to a report Tuesday evening in the Los Angeles Times.
Mr. Buck, who will appear in court Wednesday, is accused of injecting the man with meth — at least the third such overdose to which he's been connected.
---
McConnell Says Congress in 'Holding Pattern' on Gun Control
Senate Majority Leader Mitch McConnell says Congress remains "in a holding pattern" on gun control as lawmakers await proposals from the White House.
President Donald Trump has said he would veto a House-passed bill to expand background checks for gun purchases. But McConnell said he is hopeful that, after a spate of mass shootings, there are other gun-related proposals that Congress can approve and Trump can support.
The Kentucky Republican told reporters Tuesday that, "I'm still waiting for guidance from the White House about what (Trump) is comfortable signing ... and hopefully making some progress."
---
Israel elections results based on counted ballots – 12.53 P.M.
4,034,847 votes had been counted – or 63.10% of the ballots cast.
The Central Election Committee (CEC) published the first results based on counted votes. At 12.53 p.m., 4,034,847 votes had been counted – or 63.10% of the ballots cast.
With 90.4% of the votes from Tuesday's elections counted, Blue and White stands at 32 seats and Likud at 31 seats, with Blue and White leading by a narrow margin over Likud, according to Channel 13. It is important to note that these are still not the final results.
Read More Related Articles
---
The Kavanaugh lynch mob returns; once again, plot to defame drives Democratic playbook
It is time for Justice Brett M. Kavanaugh to sue the establishment hatchet men (and women) who have conspired and colluded to destroy his reputation, legacy and arguably even his family. The gang that worked so hard, and failed, to destroy him and his family during his confirmation hearings last year is back.
Like a horrible scene of a dog that vomits and begins to re-eat his past meal, the latest is from two New York Times reporters who have written a book about Justice Kavanaugh reintroducing the same allegations of sexual misconduct he faced last year. They presented an excerpt as an essay in the Sunday edition of The Times, in which a detail that destroys the foundation of their story, was omitted.
This new attempted assassination of Justice Kavanaugh is intended to be one of the building blocks to cast doubt on all of his judicial decisions. There is a mechanism with which to remove a U.S. Supreme Court justice; it's called impeachment, requiring facts and due process. But with the politics of personal destruction, you don't need to be bothered by fairness, and you can politicize the Supreme Court by targeting individual justices with personal smear campaigns.
---
With Brett Kavanaugh debacle, The New York Times becomes a dangerous misinformation tool of the left
America's "paper of record" has long been an arm of the Democratic Party, but it wasn't always that way.
The New York Times was founded in 1851 and in the first two presidential elections it gave no endorsement. Over the next 94 years, The Times was balanced, endorsing 12 Republican presidential candidates (including its first six) and 12 Democratic presidential candidates (along with one candidate from the Bourbon Democrats).
Since 1960, though — the last 15 elections — the paper has endorsed only Democrats (its win-loss record: 7-8).
During those last 60 years, the paper has become more openly liberal. Its op-ed page is, of course, hardcore left. But that bias has been creeping into the news pages for years, with reporters and editors twisting facts and spinning the news to fits its leftward lean, often in support of Democrats.
---
---
"It is discouraging to think how many people are shocked by honesty and how few by deceit."

-- Noel Coward

(1899-1973) British playwright

---

The Medal of Honor is the highest award for valor in action against an enemy force which can be bestowed upon an individual serving in the Armed Services of the United States.

GeneTrerally presented to its recipient by the President of the United States of America in the name of Congress.

The first award of the Medal of Honor was made March 25, 1863 to Private JACOB PARROTT.The last award of the Medal of Honor was made September 15, 2011 to Sergeant DAKOTA MEYER.

Since then there have been: • 3458 recipients of the Medal of Honor.

• Today there are 85 Living Recipients of the Medal of Honor.

Citation


Captain Humbert R. Versace distinguished himself by extraordinary heroism during the period of 29 October 1963 to 26 September 1965, while serving as S-2 Advisor, Military Assistance Advisory Group, Detachment 52, Ca Mau, Republic of Vietnam. While accompanying a Civilian Irregular Defense Group patrol engaged in combat operations in Thoi Binh District, An Xuyen Province, Captain Versace and the patrol came under sudden and intense mortar, automatic weapons, and small arms fire from elements of a heavily armed enemy battalion. As the battle raged, Captain Versace, although severely wounded in the knee and back by hostile fire, fought valiantly and continued to engage enemy targets. Weakened by his wounds and fatigued by the fierce firefight, Captain Versace stubbornly resisted capture by the over-powering Viet Cong force with the last full measure of his strength and ammunition. Taken prisoner by the Viet Cong, he exemplified the tenets of the Code of Conduct from the time he entered into Prisoner of War status. Captain Versace assumed command of his fellow American soldiers, scorned the enemy's exhaustive interrogation and indoctrination efforts, and made three unsuccessful attempts to escape, despite his weakened condition which was brought about by his wounds and the extreme privation and hardships he was forced to endure. During his captivity, Captain Versace was segregated in an isolated prisoner of war cage, manacled in irons for prolonged periods of time, and placed on extremely reduced ration. The enemy was unable to break his indomitable will, his faith in God, and his trust in the United States of America. Captain Versace, an American fighting man who epitomized the principles of his country and the Code of Conduct, was executed by the Viet Cong on 26 September 1965. Captain Versace's gallant actions in close contact with an enemy force and unyielding courage and bravery while a prisoner of war are in the highest traditions of the military service and reflect the utmost credit upon himself and the United States Army.

---

From the Archives

We Have Met the Enemy…
Geoff Metcalf


"They who can give up essential liberty to obtain a little temporary safety deserve neither liberty nor safety.
--Benjamin Franklin
"The American people must be willing to give up a degree of personal privacy in exchange for safety and security."
--Louis Freeh


In the wake of the clamor over the most recent WikiLeaks data dump, 'Vault 7', 'UMBRAGE', et al, it should be noted this is not really anything new. What we are seeing here is simply the evolution of something that goes back to the late 50s (to the incomplete best knowledge I have).

It is kinda cool to finally see even

The New York Times

acknowledging material

I was writing about in 1998

.

In April of 1998 I wrote "Privacy has become an anachronism." I was commenting on "a massive system designed to intercept all your e-mail, fax traffic and more." I was explaining 'Echelon', the illegitimate offspring of a

UKUSA Treaty

signed by the United States, United Kingdom, Canada, Australia and New Zealand. Its purpose was, and is, to have a vast global intelligence monster, which allegedly shares common goals. The system was so "efficient" that reportedly National Security Agency folk from Fort Meade could work from Menwith Hill in England to intercept local communications without either nation having to burden themselves with the formality of seeking approval (a court order) or disclosing the operation. And this was all pre-9/11 and pre-the anti-constitutional

'Patriot Act'

.

It is illegal (without a Judge's signed permission) for the United States to spy on its citizens … kinda. The laws have long been circumvented by a mutual pact among five nations. Under the terms of UKUSA agreement, Britain spies on Americans and America spies on British citizens, and then the two conspirators trade data. A classic technical finesse. It is legal, but the intent to evade the spirit is inescapable.

I often fictionalized the genesis of 'Echelon' as an informal meeting of a group of post war American and British intelligence types drinking in some remote rustic bar. An imagined CIA type complains to his MI6 buddy about the hassles of US laws preventing US intelligence from surveillance of bad guys, and the Brit echoes the same complaint.

"Hey wait a moment mate," says Nigel, the make-believe MI6 guy, "I can spy on your guys and you can spy on our bad players…why don't we just come up with a mechanism whereby we spy on your villains, you spy on our villains, and we just 'share' the intel?"

This system was called ECHELON, and has been kicking around in some form longer than most of you. The result of the UKUSA treaty signed by the United States, United Kingdom, Canada, Australia and New Zealand was, and is, to have a vast global intelligence monster which allegedly shares common goals.

The London Telegraph reported in December of 1997 that the Civil liberties Committee of the European Parliament had officially confirmed the existence and purpose of ECHELON. "A global electronic spy network that can eavesdrop on every telephone, e-mail and telex communication around the world will be officially acknowledged for the first time in a European Commission report. …"

The report noted: "Within Europe all e-mail, telephone and fax communications are routinely intercepted by the United States National Security Agency, transferring ll target information from the European mainland via the strategic hub of London, then by satellite to Fort Meade in Maryland via the crucial hub at Menwith Hill, in the North York moors in the UK.

"The ECHELON system forms part of the UKUSA system but unlike many of the electronic spy systems developed during the Cold War, ECHELON was designed primarily for non-military targets: governments, organizations and businesses in virtually every country."

An interesting sidebar appeared in the International Herald Tribune under the headline, "Big Corporate Brother: It Knows More About You Than You Think." The story details Acxiom Corp, which was a humongous information service hidden in the Ozark foothills. Twenty-four hours a day, Acxiom electronically gathered and sorts all kinds of data about 196 million Americans. Credit card transactions and magazine subscriptions, telephone numbers, real estate records, automotive data, hunting, business and fishing licenses, consumer surveys and demographic detail that would make a marketing department's research manager salivate. This relatively new (legal) enterprise was known as "data warehousing" or "data-mining", and it underscores the cruel reality that the fiction of personal privacy has become obsolete. Technology's ability to collect and analyze data has made privacy a quaint albeit interesting dinosaur.

The Tribune reported that "Axciom can often determine whether an American owns a dog or cat, enjoys camping or gourmet cooking, reads the Bible or lots of other books. It can often pinpoint an American's occupation, car and favorite vacations. By analyzing the equivalent of billions of pages of data, it often projects for its customers who should be offered a credit card or who is likely to buy a computer."

Most of this information is from y 1998 piece. Echelon has developed, matured, and morphed into a much more powerful hybrid. 'Carnivore' was software to help triage the cacophony of data. Vault 7 and 'Umbrage' are logical (some would argue "insidious") growth.

More to follow…