Thursday April 27th, 2017
"It Is Not A Question of Who Is Right Or Wrong But What Is Right Or Wrong That Counts.
"
--Geoff Metctalf
---
Updated
World & National
"The Press was protected so that it could bare the secrets of the government and inform the people. Only a free and unrestrained press can effectively expose deception in government. And paramount among the responsibilities of a free press is the duty to prevent any part of the government from deceiving the people."


-- Justice Hugo L. Black
(1886-1971) US Supreme Court Justice

Trump says no plan to pull out of NAFTA?
Trump tells Canada, Mexico, he won't terminate NAFTA treaty yet
President Trump told the leaders of Canada and Mexico on Wednesday that the United States would not be pulling out of the North American Free Trade Agreement "at this time," opening the door to future negotiations on the same day that Trump was considering signaling a strong intent to withdraw as a potential way of bringing the parties to the dealmaking table.
But Trump said NAFTA's three-nation partnership could still hang in the balance if the talks do not produce "a fair deal for all."
"If we do not reach a fair deal for all, we will then terminate NAFTA. Relationships are good — deal very possible!" Trump wrote in a tweet posted early Thursday.
---
Pentagon warned Flynn against accepting foreign paymenets
Former national security advisor Michael Flynn was warned by the Pentagon against accepting foreign payments following his retirement in 2014, according to new documents released Thursday by the House Oversight Committee.
The Defense Intelligence Agency's (DIA) inspector general launched an investigation into Flynn's actions this month, according to another document released by committee Democrats.
In a 2014 letter to Flynn from the DIA — released in redacted form by the committee — the agency advised him that it is illegal for former military officers to accept payment from a foreign government without prior approval.
---
UC Berkeley Gears Up For Violent Protests Over Coulter Speech Cancellation
Following the cancellation of the Ann Coulter speech at University of California, Berkeley, far-right supporters plan to hold a rally Thursday to denounce what they claim is the attempted silencing of their conservative views, stoking fears of another violent encounter with far-left groups.
UC Police said it was preparing for violence Thursday between militant factions on both sides, even as the speech by the conservative firebrand Coulter was canceled over fears of violence.
Gavin McInnes, founder of the pro-Trump "Proud Boys," said he would fly to Berkeley to speak Thursday and was encouraging other alt-right forces to make a large appearance at the gathering, scheduled for 2:00 p.m. at Civic Center Park.
Striking reversal in culture wars...
Graveyard of First Amendment...
Portland rose parade canceled after 'antifascists' threaten Republican marchers...


---
How Team Trump plans to kill Obama's Paris climate deal by declaring it a treaty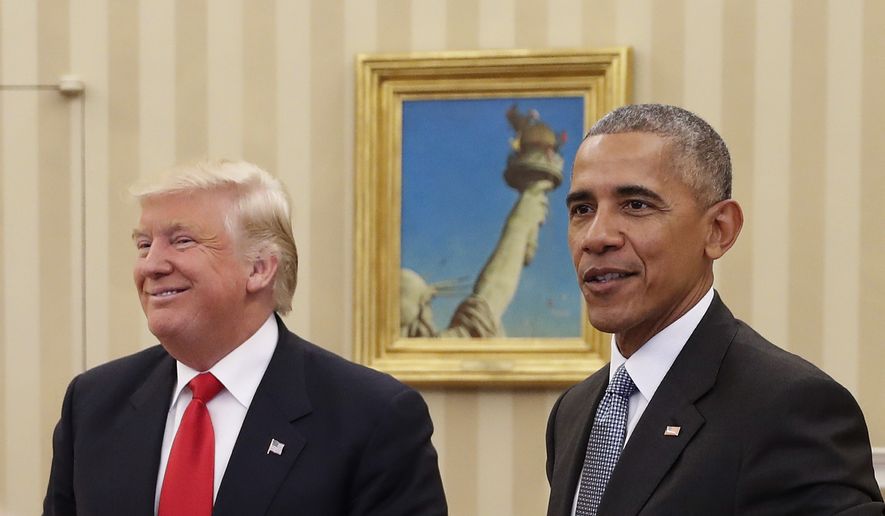 As President Trump's top advisers prepare to hash out a final policy on the Paris climate agreement dumped onto their laps by President Obama, another option has hit the table: Declare the deal a treaty and send it to the Senate to be killed.
The treaty option could emerge as the middle ground in the increasingly tense battle between "remainers" on the one hand, who say the president should abide by Mr. Obama's global warming deal, and the Paris agreement's detractors, who say Mr. Trump would be breaking a key campaign promise if he doesn't withdraw from the pact.
Mr. Trump's principal advisers are slated to meet Thursday to hash out a final set of recommendations for the president, with several deadlines looming next month.
At an initial meeting of top staffers Tuesday, several memos and letters that were circulated laid out the options, including the treaty proposal put forth by Christopher C. Horner and Marlo Lewis Jr., senior fellows at the Competitive Enterprise Institute.
Under their vision, Mr. Trump could toss out Mr. Obama's decision that the Paris accord was an executive agreement, declare it a treaty and send it to the Senate, where it would need a two-thirds vote for ratification.
---
Poll: 93 Perecent of Trump Voters Stand by President
A wide majority of those who voted for Donald Trump approve of his job performance as president as he approached his 100th day in office, a new University of Virginia Center for Politics poll indicates.
Here are the survey's results:
93 percent of Trump voters approve of the job he's doing, while 7 percent disapprove.
42 percent strongly approve, while 51 percent somewhat approve.
70 percent said the country is headed in the right direction, compared to 22 percent who say the country is on the wrong track.
44 percent of men were strong approvers, while 39 percent of women strongly approved.
---

House Freedom Caucus endorses Republicans' revised health care plan
Says allowing states to opt out of Obamacare rules pushes them to 'yes'
The hard-line conservatives who helped sink Republicans' first Obamacare repeal attempt reversed course Wednesday and officially endorsed the latest plan designed to slash costs for healthy Americans, giving congressional leaders a critical boost as they seek a do-over.
The House Freedom Caucus' support will heap pressure on Republican centrists, who also resisted the first go-around last month but who will now be called upon to get the repeal bill over the finish line.
"While the revised version still does not fully repeal Obamacare, we are prepared to support it to keep our promise to the American people to lower health care costs," the Freedom Caucus said in a statement.
---
White House's all-hands briefing on North Korea Underwhelmed
The entire US Senate was bused to the White House on Wednesday afternoon to receive a much-hyped classified briefing on North Korea — but some senators emerged unimpressed by the content and the "lack of straight answers" they got from administration officials.
"It was an OK briefing," Republican Sen. Bob Corker, chairman of the Foreign Relations Committee, told reporters.
"What was discussed, I already knew," Corker said, according to BuzzFeed. "I'm not certain I would have had the briefing today, but I do appreciate — you know, they've got a great team that they put together."
---
Page says he's the victim of 'horrendous civil rights viiolations'
Former Trump campaign adviser Carter Page said Thursday he's a victim of a civil rights crime.
"I've been the victim of one of the most horrendous civil rights violations in recent U.S. election history," Mr. Page said on CNN.
Mr. Page was investigated last year for his connections to Russian officials, and his name was in the leaked dossier concerning the Trump team's ties to Russia. The FBI recently obtained a warrant for Mr. Page's communications after leaving the Trump campaign, arguing there was enough probable cause to obtain the warrant.
"There is no probable cause, and there could be no probable cause based on anything I've ever done with Russia or any Russian person," Mr. Page said.
---
Israel strikes arms depot near Damascus airport?
* Air strikes target weapons supplies at Damascus airport
* Israeli intelligence minister hints at Israeli involvement
* Rebel sources say airport used by Iran to resupply Hezbollah

Israel struck an arms supply hub operated by the Lebanese group Hezbollah near Damascus airport on Thursday, targeting weapons sent from Iran via commercial and military cargo planes, Syrian rebel and regional intelligence sources said.
Video carried on Arab TV and shared on social media showed the pre-dawn airstrikes caused a fire around the airport east of the Syrian capital, suggesting fuel sources or weapons containing explosives were hit.
Syrian state media said Israeli missiles hit a military position southwest of the airport, but did not mention arms or fuel. It said "Israeli aggression" had caused explosions and some material losses, but did not expand on the damage.
---
Russian Intelligence ship sinks after collision with freighter off Turkish coast
A Russian naval intelligence ship sank Thursday after colliding with a merchant freighter in foggy conditions on the Black Sea near Istanbul, the Turkish coast guard said. All 78 crew members on the Russian vessel were rescued.
The crew of the freighter Youzarsif H, a Togo-flagged ship traveling from Romania to Jordan and carrying 8,800 sheep, was unharmed and the ship suffered slight damage to its bow, according to local media reports.
In Moscow, Russia's Defense Ministry issued a statement confirming that the vessel, the Liman, went down after the collision tore a hole in the hull below the waterline.
---

Tangled in Obama's Iran nuclear trap
Certification of Tehran's compliance is neither wise, necessary nor accurate
On April 18, the State Department certified Iran to be in compliance with its commitments under the Iran nuclear deal (Joint Comprehensive Plan of Action, or JCPOA). As France's iconic foreign minister, the Marquis de Talleyrand, once reportedly said: "This was worse than a crime; it was a mistake."
The applicable statute not only did not require such a certification, it openly invited President Trump not to make one if circumstances warranted, as they clearly did here. More seriously, the certification raises fundamental questions whether the State Department's bureaucracy knows or cares that U.S. Iran policy has changed with the Trump administration's advent.
The applicable reporting statute requires that, at least every 90 days, the president must determine whether he "is able to certify" that among other things, "Iran is transparently, verifiably, and fully implementing the agreement, including all related technical or additional agreements," and that "Iran has not taken any action, including covert activities, that could significantly advance its nuclear weapons program."
---

The anatomy of a Trump decision
He collects a wide range of advice, then acts
When Donald Trump's Florida lawyer Paul Rampell first proposed turning the future president's Mar-a-Lago estate into a private club, Mr. Trump pronounced the idea "dumb." Over the next month, Messrs. Rampell and Trump argued back and forth about the idea until Mr. Trump finally agreed with Mr. Rampell.
What happened in between provides an anatomy of how Mr. Trump makes decisions and gives insight into what sometimes seems like chaos in the Trump White House.
Mr. Trump bought Marjorie Merriweather Post's 114-room 1927 estate for $5 million in 1985. A white elephant, the estate cost $1 million a year to maintain. By 1991, Mr. Trump wanted to subdivide the estate's 20 acres into lots. He consulted Mr. Rampell, who argued that the best use of the property would be a private club.
---
"It is discouraging to think how many people are shocked by honesty and how few by deceit."
-- Noel Coward
(1899-1973) British playwright
---
---
The Medal of Honor is the highest award for valor in action against an enemy force which can be bestowed upon an individual serving in the Armed Services of the United States.
GeneTrerally presented to its recipient by the President of the United States of America in the name of Congress.
The first award of the Medal of Honor was made March 25, 1863 to Private JACOB PARROTT.The last award of the Medal of Honor was made September 15, 2011 to Sergeant DAKOTA MEYER.
Since then there have been: • 3458 recipients of the Medal of Honor.
• Today there are 85 Living Recipients of the Medal of Honor.
Citation

Captain Humbert R. Versace distinguished himself by extraordinary heroism during the period of 29 October 1963 to 26 September 1965, while serving as S-2 Advisor, Military Assistance Advisory Group, Detachment 52, Ca Mau, Republic of Vietnam. While accompanying a Civilian Irregular Defense Group patrol engaged in combat operations in Thoi Binh District, An Xuyen Province, Captain Versace and the patrol came under sudden and intense mortar, automatic weapons, and small arms fire from elements of a heavily armed enemy battalion. As the battle raged, Captain Versace, although severely wounded in the knee and back by hostile fire, fought valiantly and continued to engage enemy targets. Weakened by his wounds and fatigued by the fierce firefight, Captain Versace stubbornly resisted capture by the over-powering Viet Cong force with the last full measure of his strength and ammunition. Taken prisoner by the Viet Cong, he exemplified the tenets of the Code of Conduct from the time he entered into Prisoner of War status. Captain Versace assumed command of his fellow American soldiers, scorned the enemy's exhaustive interrogation and indoctrination efforts, and made three unsuccessful attempts to escape, despite his weakened condition which was brought about by his wounds and the extreme privation and hardships he was forced to endure. During his captivity, Captain Versace was segregated in an isolated prisoner of war cage, manacled in irons for prolonged periods of time, and placed on extremely reduced ration. The enemy was unable to break his indomitable will, his faith in God, and his trust in the United States of America. Captain Versace, an American fighting man who epitomized the principles of his country and the Code of Conduct, was executed by the Viet Cong on 26 September 1965. Captain Versace's gallant actions in close contact with an enemy force and unyielding courage and bravery while a prisoner of war are in the highest traditions of the military service and reflect the utmost credit upon himself and the United States Army.
---
3/14/20017

We Have Met the Enemy…

Geoff Metcalf
"They who can give up essential liberty to obtain a little temporary safety deserve neither liberty nor safety.
--Benjamin Franklin
"The American people must be willing to give up a degree of personal privacy in exchange for safety and security."
--Louis Freeh

In the wake of the clamor over the most recent WikiLeaks data dump, 'Vault 7', 'UMBRAGE', et al, it should be noted this is not really anything new. What we are seeing here is simply the evolution of something that goes back to the late 50s (to the incomplete best knowledge I have).
It is kinda cool to finally see even the New York Times (www.nytimes.com/2017/03/09/opinion/the-truth-about-the-wikileaks-cia-cache.html?_r=0) acknowledging material I was writing about in 1998 (http://www.wnd.com/1998/04/6108/ ).
In April of 1998 I wrote "Privacy has become an anachronism." I was commenting on "a massive system designed to intercept all your e-mail, fax traffic and more." I was explaining 'Echelon', the illegitimate offspring of a UKUSA treaty (https://www.nationalarchives.gov.uk/ukusa/ ) signed by the United States, United Kingdom, Canada, Australia and New Zealand. Its purpose was, and is, to have a vast global intelligence monster, which allegedly shares common goals. The system was so "efficient" that reportedly National Security Agency folk from Fort Meade could work from Menwith Hill in England to intercept local communications without either nation having to burden themselves with the formality of seeking approval (a court order) or disclosing the operation. And this was all pre-9/11 and pre-the anti-constitutional 'Patriot Act'.
It is illegal (without a Judge's signed permission) for the United States to spy on its citizens … kinda. The laws have long been circumvented by a mutual pact among five nations. Under the terms of UKUSA agreement, Britain spies on Americans and America spies on British citizens, and then the two conspirators trade data. A classic technical finesse. It is legal, but the intent to evade the spirit is inescapable.
I often fictionalized the genesis of 'Echelon' as an informal meeting of a group of post war American and British intelligence types drinking in some remote rustic bar. An imagined CIA type complains to his MI6 buddy about the hassles of US laws preventing US intelligence from surveillance of bad guys, and the Brit echoes the same complaint.
"Hey wait a moment mate," says Nigel, the make-believe MI6 guy, "I can spy on your guys and you can spy on our bad players…why don't we just come up with a mechanism whereby we spy on your villains, you spy on our villains, and we just 'share' the intel?"
This system was called ECHELON, and has been kicking around in some form longer than most of you. The result of the UKUSA treaty signed by the United States, United Kingdom, Canada, Australia and New Zealand was, and is, to have a vast global intelligence monster which allegedly shares common goals.
The London Telegraph reported in December of 1997 that the Civil liberties Committee of the European Parliament had officially confirmed the existence and purpose of ECHELON. "A global electronic spy network that can eavesdrop on every telephone, e-mail and telex communication around the world will be officially acknowledged for the first time in a European Commission report. …"
The report noted: "Within Europe all e-mail, telephone and fax communications are routinely intercepted by the United States National Security Agency, transferring all target information from the European mainland via the strategic hub of London, then by satellite to Fort Meade in Maryland via the crucial hub at Menwith Hill, in the North York moors in the UK.
"The ECHELON system forms part of the UKUSA system but unlike many of the electronic spy systems developed during the Cold War, ECHELON was designed primarily for non-military targets: governments, organizations and businesses in virtually every country."
An interesting sidebar appeared in the International Herald Tribune under the headline, "Big Corporate Brother: It Knows More About You Than You Think." The story details Acxiom Corp, which was a humongous information service hidden in the Ozark foothills. Twenty-four hours a day, Acxiom electronically gathered and sorts all kinds of data about 196 million Americans. Credit card transactions and magazine subscriptions, telephone numbers, real estate records, automotive data, hunting, business and fishing licenses, consumer surveys and demographic detail that would make a marketing department's research manager salivate. This relatively new (legal) enterprise was known as "data warehousing" or "data-mining", and it underscores the cruel reality that the fiction of personal privacy has become obsolete. Technology's ability to collect and analyze data has made privacy a quaint albeit interesting dinosaur.
The Tribune reported that "Axciom can often determine whether an American owns a dog or cat, enjoys camping or gourmet cooking, reads the Bible or lots of other books. It can often pinpoint an American's occupation, car and favorite vacations. By analyzing the equivalent of billions of pages of data, it often projects for its customers who should be offered a credit card or who is likely to buy a computer."
Most of this information is from y 1998 piece. Echelon has developed, matured, and morphed into a much more powerful hybrid. 'Carnivore' was software to help triage the cacophony of data. Vault 7 and 'Umbrage' are logical (some would argue "insidious") growth.
More to follow…