"It Is Not A Question of Who Is Right Or Wrong But What Is Right Or Wrong That Counts.

"

--Geoff Metcalf
Wo

rld & Nation
Iran's Zarif Threatens 'All Out War' If Military Strike on Iran
Iran warned President Donald Trump on Thursday against being dragged into all-out war in the Middle East following an attack on Saudi Arabian oil facilities which Washington and Riyadh blame on Tehran.
U.S. Secretary of State Mike Pompeo has described the weekend strike that initially halved Saudi oil output as an act of war and has been discussing possible retaliation with Saudi Arabia and other Gulf allies.
Trump on Wednesday struck a cautious note, saying there were many options short of war with Iran, which denies involvement in the Sept. 14 strikes. He ordered more sanctions on Tehran.
---
Barr's expanded background check on firearms proposal confuses senators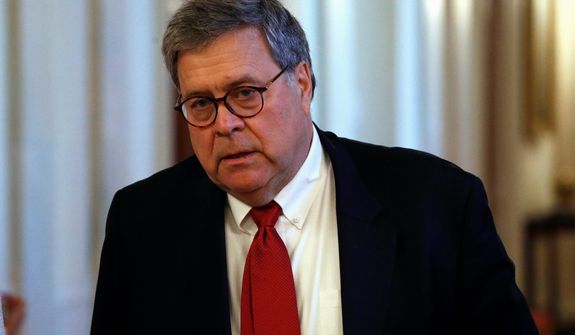 A proposal for expanded background checks on firearms by Attorney General William P. Barr left senators with more questions than answers Wednesday as they wait for President Trump to propose legislation aimed at cutting gun violence.
"I'm just not sure where we're at," Sen. Chris Murphy, Connecticut Democrat, told reporters. "Are we supposed to negotiate over this? Are we supposed to wait until the president signs off on it?"
Mr. Barr visited Capitol Hill on Wednesday to talk with lawmakers about expanding background checks and floated a proposal to do so.
---
Rep. Ilhan Omar wants Trump suspended from Twitter
Rep. Ilhan Omar pressed Twitter to suspend President Trump after his account shared a tweet Wednesday that falsely claimed to show her partying during last week's anniversary of the September 11 terrorist attacks.
Originally posted by conservative commentator Terrence Williams and subsequently shared by Mr. Trump, the tweet contained a video of Ms. Omar, Minnesota Democrat, dancing Friday at an event hosted by the Congressional Black Caucus. Mr. Williams falsely claimed that the clip was filmed days earlier on the anniversary of Sept. 11, and Mr. Trump shared that tweet, adding that it depicted the "new face of the Democrat Party."
"The President of the United States is continuing to spread lies that put my life at risk," Ms. Omar reacted on Twitter. "What is Twitter doing to combat this misinformation?"
---
Trump sues Manhattan DA, seeks to block tax return subpoena
President Trump on Thursday sued to block Manhattan District Attorney Cyrus R. Vance Jr. from obtaining his tax returns.
"In response to the subpoenas issued by the New York County District Attorney, we have filed a lawsuit this morning in Federal Court on behalf of the President in order to address the significant constitutional issues at stake in this case," Jay Sekulow, the president's attorney, said in a statement.
The filing comes after Mr. Vance subpoenaed the president's tax returns as his office probes potential campaign finance violations during the 2016 election related to hush money payments to pornstar Stormy Daniels, who claims to have had an affair with the president.
---
Justice Dept. IG referred James Comey for criminal prosecution
Justice Department Inspector General Michael E. Horowitz said Wednesday that he referred former FBI Director James B. Comey for criminal prosecution this year after concluding he leaked sensitive materials to a friend.
And the Justice Department watchdog told Congress he would "assess" Republican allegations of inconsistent statements in Mr. Comey's testimony before the Senate.
Mr. Horowitz's disclosure that he made the criminal referral marks his first public statement about the criticism lodged against Mr. Comey in a report released last summer. He told lawmakers it is standard practice to make a criminal referral when wrongdoing is suspected.
---
Joe who? Elizabeth Warren stakes her claim as true heir to Obama legacy
Sen. Elizabeth Warren is gaining on Joseph R. Biden in the Democratic presidential race and, of course, she has a plan to beat him: Shatter the image of the former vice president as heir to the Obama legacy.
The senator from Massachusetts is offering Democrats an Obama-esque vision that Mr. Biden can't match with his meandering message about fighting racism and restoring the status quo in a post-Trump America.
Although Ms. Warren would steer the country much further left, her plans for a socialist-style makeover echo Mr. Obama's promise in 2008 of "fundamentally transforming the United States of America."
---
Weakened Netanyahu's Offer for Unity Government Rebuffed by Rival Gantz
Israel's weakened Prime Minister Benjamin Netanyahu saw his offer on Thursday for a coalition with his strongest political rival, Benny Gantz, swiftly rebuffed after failing to secure a governing majority in a tight election.
Netanyahu's surprise move was an abrupt change of strategy for the right-wing leader. Its rejection could spell weeks of wrangling after Tuesday's election, which followed an inconclusive national ballot in April.
Gantz's centrist Blue and White party emerged from the second round of voting this year slightly ahead of Netanyahu's Likud, but also short of enough supporters in the 120-member parliament for a ruling bloc.
---
China Attacks Pelosi for Meeting Hong Kong Activists
China's foreign ministry on Thursday accused U.S. congressional leader Nancy Pelosi of making irresponsible remarks about pro-democracy protests in Hong Kong, one day after she welcomed activists from the city to the U.S. Capitol.
Spokesman Geng Shuang said Pelosi and other American lawmakers had confused right and wrong by engaging with what he termed Hong Kong separatists.
"We urge the U.S. to stop bolstering radical violent forces in Hong Kong that advocate Hong Kong independence, and stop intensifying words and actions that undermine the prosperity and stability of Hong Kong," he said at a daily briefing.
---

Trump's nonstop war against liberal culture


No slugfest is too off-topic or trivial for the president



Donald Trump is waging a nonstop, all-encompassing war against progressive culture, in magnitude analogous to what 19th-century Germans once called a Kulturkampf.

As a result, not even former President George W. Bush has incurred the degree of hatred from the left that is now directed at President Trump. For most of his time in office, Mr. Trump, his family, his friends and his businesses have been investigated, probed, dissected and constantly attacked.

In 2016 and early 2017, Barack Obama appointees in the FBI, CIA and Department of Justice tried to subvert the Trump campaign, interfere with his transition and, ultimately, abort his presidency. Now, congressional Democrats promise impeachment before the 2020 election.


---
Federal Reserve usurps the Trump administration's power
A system of checks and balances is what the Fed needs after all
On Aug. 27, the former president of the New York Fed made a jaw-dropping claim. Speaking in a Bloomberg News opinion piece, Bill Dudley argued that the Federal Reserve should take an overtly political stand against President Trump. "There's even an argument that the election itself falls within the Fed's purview," Mr. Dudley proclaimed, "After all, Trump's reelection arguably presents a threat to the U.S. and global economy."
Mr. Dudley's statement, unsurprisingly, stoked serious concerns about the supposed "independence" of the Federal Reserve. As it stands, the Fed is supposed to remain as a neutral arbiter, abiding by its dual mandate to balance low unemployment and stable inflation. It wasn't designed to pick sides, political or otherwise. And yet, here we are.
It looks like a system of checks and balances is exactly what the Federal Reserve needs after all.
---
---
"It is discouraging to think how many people are shocked by honesty and how few by deceit."

-- Noel Coward

(1899-1973) British playwright

---

The Medal of Honor is the highest award for valor in action against an enemy force which can be bestowed upon an individual serving in the Armed Services of the United States.

GeneTrerally presented to its recipient by the President of the United States of America in the name of Congress.

The first award of the Medal of Honor was made March 25, 1863 to Private JACOB PARROTT.The last award of the Medal of Honor was made September 15, 2011 to Sergeant DAKOTA MEYER.

Since then there have been: • 3458 recipients of the Medal of Honor.

• Today there are 85 Living Recipients of the Medal of Honor.

Citation


Captain Humbert R. Versace distinguished himself by extraordinary heroism during the period of 29 October 1963 to 26 September 1965, while serving as S-2 Advisor, Military Assistance Advisory Group, Detachment 52, Ca Mau, Republic of Vietnam. While accompanying a Civilian Irregular Defense Group patrol engaged in combat operations in Thoi Binh District, An Xuyen Province, Captain Versace and the patrol came under sudden and intense mortar, automatic weapons, and small arms fire from elements of a heavily armed enemy battalion. As the battle raged, Captain Versace, although severely wounded in the knee and back by hostile fire, fought valiantly and continued to engage enemy targets. Weakened by his wounds and fatigued by the fierce firefight, Captain Versace stubbornly resisted capture by the over-powering Viet Cong force with the last full measure of his strength and ammunition. Taken prisoner by the Viet Cong, he exemplified the tenets of the Code of Conduct from the time he entered into Prisoner of War status. Captain Versace assumed command of his fellow American soldiers, scorned the enemy's exhaustive interrogation and indoctrination efforts, and made three unsuccessful attempts to escape, despite his weakened condition which was brought about by his wounds and the extreme privation and hardships he was forced to endure. During his captivity, Captain Versace was segregated in an isolated prisoner of war cage, manacled in irons for prolonged periods of time, and placed on extremely reduced ration. The enemy was unable to break his indomitable will, his faith in God, and his trust in the United States of America. Captain Versace, an American fighting man who epitomized the principles of his country and the Code of Conduct, was executed by the Viet Cong on 26 September 1965. Captain Versace's gallant actions in close contact with an enemy force and unyielding courage and bravery while a prisoner of war are in the highest traditions of the military service and reflect the utmost credit upon himself and the United States Army.

---

From the Archives

We Have Met the Enemy…
Geoff Metcalf


"They who can give up essential liberty to obtain a little temporary safety deserve neither liberty nor safety.
--Benjamin Franklin
"The American people must be willing to give up a degree of personal privacy in exchange for safety and security."
--Louis Freeh


In the wake of the clamor over the most recent WikiLeaks data dump, 'Vault 7', 'UMBRAGE', et al, it should be noted this is not really anything new. What we are seeing here is simply the evolution of something that goes back to the late 50s (to the incomplete best knowledge I have).

It is kinda cool to finally see even

The New York Times

acknowledging material

I was writing about in 1998

.

In April of 1998 I wrote "Privacy has become an anachronism." I was commenting on "a massive system designed to intercept all your e-mail, fax traffic and more." I was explaining 'Echelon', the illegitimate offspring of a

UKUSA Treaty

signed by the United States, United Kingdom, Canada, Australia and New Zealand. Its purpose was, and is, to have a vast global intelligence monster, which allegedly shares common goals. The system was so "efficient" that reportedly National Security Agency folk from Fort Meade could work from Menwith Hill in England to intercept local communications without either nation having to burden themselves with the formality of seeking approval (a court order) or disclosing the operation. And this was all pre-9/11 and pre-the anti-constitutional

'Patriot Act'

.

It is illegal (without a Judge's signed permission) for the United States to spy on its citizens … kinda. The laws have long been circumvented by a mutual pact among five nations. Under the terms of UKUSA agreement, Britain spies on Americans and America spies on British citizens, and then the two conspirators trade data. A classic technical finesse. It is legal, but the intent to evade the spirit is inescapable.

I often fictionalized the genesis of 'Echelon' as an informal meeting of a group of post war American and British intelligence types drinking in some remote rustic bar. An imagined CIA type complains to his MI6 buddy about the hassles of US laws preventing US intelligence from surveillance of bad guys, and the Brit echoes the same complaint.

"Hey wait a moment mate," says Nigel, the make-believe MI6 guy, "I can spy on your guys and you can spy on our bad players…why don't we just come up with a mechanism whereby we spy on your villains, you spy on our villains, and we just 'share' the intel?"

This system was called ECHELON, and has been kicking around in some form longer than most of you. The result of the UKUSA treaty signed by the United States, United Kingdom, Canada, Australia and New Zealand was, and is, to have a vast global intelligence monster which allegedly shares common goals.

The London Telegraph reported in December of 1997 that the Civil liberties Committee of the European Parliament had officially confirmed the existence and purpose of ECHELON. "A global electronic spy network that can eavesdrop on every telephone, e-mail and telex communication around the world will be officially acknowledged for the first time in a European Commission report. …"

The report noted: "Within Europe all e-mail, telephone and fax communications are routinely intercepted by the United States National Security Agency, transferring ll target information from the European mainland via the strategic hub of London, then by satellite to Fort Meade in Maryland via the crucial hub at Menwith Hill, in the North York moors in the UK.

"The ECHELON system forms part of the UKUSA system but unlike many of the electronic spy systems developed during the Cold War, ECHELON was designed primarily for non-military targets: governments, organizations and businesses in virtually every country."

An interesting sidebar appeared in the International Herald Tribune under the headline, "Big Corporate Brother: It Knows More About You Than You Think." The story details Acxiom Corp, which was a humongous information service hidden in the Ozark foothills. Twenty-four hours a day, Acxiom electronically gathered and sorts all kinds of data about 196 million Americans. Credit card transactions and magazine subscriptions, telephone numbers, real estate records, automotive data, hunting, business and fishing licenses, consumer surveys and demographic detail that would make a marketing department's research manager salivate. This relatively new (legal) enterprise was known as "data warehousing" or "data-mining", and it underscores the cruel reality that the fiction of personal privacy has become obsolete. Technology's ability to collect and analyze data has made privacy a quaint albeit interesting dinosaur.

The Tribune reported that "Axciom can often determine whether an American owns a dog or cat, enjoys camping or gourmet cooking, reads the Bible or lots of other books. It can often pinpoint an American's occupation, car and favorite vacations. By analyzing the equivalent of billions of pages of data, it often projects for its customers who should be offered a credit card or who is likely to buy a computer."

Most of this information is from y 1998 piece. Echelon has developed, matured, and morphed into a much more powerful hybrid. 'Carnivore' was software to help triage the cacophony of data. Vault 7 and 'Umbrage' are logical (some would argue "insidious") growth.

More to follow…