"It Is Not A Question of Who Is Right Or Wrong But What Is Right Or Wrong That Counts.

"

--Geoff Metcalf



Wo
rld & National
'Unimaginable devastation':Hurricane Michael wrecks Florida Panhandle with 155mph wind
Hurricane Michael increased in strength as it made a direct hit on the Florida Panhandle on Wednesday afternoon as a catastrophic Category 4 hurricane, pushing a deadly storm surge and whipping the coast with 155 mph winds.
The eye of the monstrous hurricane made landfall near Mexico Beach just before 2pm and the eyewall came ashore minutes earlier between Panama City and St. Vincent Island.
Hurricane-force winds extended outward up to 45 miles from the center and were tearing buildings apart in Panama City Beach. Beachfront structures could be seen collapsing and metal roofing materials were blown away amid the heavy rain.
Forecasters said rainfall could reach up to a foot and the life-threatening storm surge could swell to 14 feet. By 3pm, Michael still had top sustained winds of 150 mph as its core moved over Florida's Panhandle.
---
Trump talks to press nearly nonstop as wins pile up: 'We've never had that kind of access'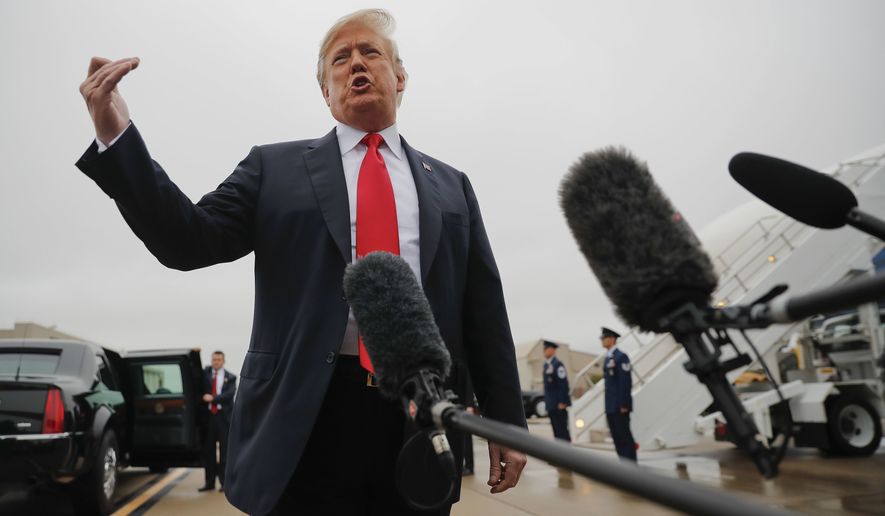 President Trump, already the most media-accessible president in memory, is talking to journalists almost nonstop as his successes pile up ahead of the midterm elections.
Take Tuesday, for example.
Mr. Trump opened an Oval Office meeting to the press in late morning to accept the resignation of Nikki Haley as ambassador to the United Nations. Such a high-profile departure ordinarily wouldn't be a positive for the White House, but the president and Mrs. Haley made clear that the separation was friendly. They took questions from journalists for 20 minutes on a variety of subjects.
"Anything else?" the president asked when reporters seemed to be running out of questions.
Veteran journalists can't remember anything like it.
---

Penalized pro-Trump Defense Dept. worker wins key Pentagon concession
Evidence may play role in appeal to get back security clearance
The Pentagon has decided to disclose a piece of evidence it withheld from Trump-supporting analyst Adam Lovinger, who alleges his security clearance was revoked as retaliation for whistle-blowing.
The Pentagon originally said the evidence, an anti-Lovinger internal memo, was off limits. It turned over three blank pages to his attorney, who protested. The Pentagon relented Oct. 1 by providing the full document.
The memo could play a pivotal role in Mr. Lovinger's appeal. It was written by Barbara Westgate, who directs the Washington Headquarters Services (WHS).
---
John Roberts asks federal judges to handle Kavanaugh complaints
Chief Justice John Roberts is referring ethics complaints against new Supreme CourtJustice Brett M. Kavanaugh to federal judges in Colorado and neighboring states.
The complaints deal with statements Kavanaugh made during his confirmation hearings. They were filed originally with Kavanaugh's old court, the U.S. Court of Appeals for the District of Columbia Circuit.
Roberts took no action on them while Kavanaugh's nomination was pending. He received the first three of 15 eventual complaints on Sept. 20, a week before Kavanaugh's angry denial of a sexual assault allegation by Christine Blasey Ford.
---
Republicans push to confirm more than 40 judges before midterms
With the Supreme Court nomination of Brett M. Kavanaugh completed, GOP senators are quickly pivoting to filling out the rest of the federal courts, eyeing more than 40 district and circuit judges they want to confirm before the end of the year.
One top priority is filling the seat left vacant on the powerful D.C. Circuit Court of Appeals when Justice Kavanaugh was elevated.
Senate Judiciary Committee Chairman Charles E. Grassley, Republicans' point man on the issue, said if the White House can nominate someone this week, lawmakers could have Justice Kavanaugh's replacement seated by Christmas.
That would be in addition to 38 district judges and three circuit judges already pending on the Senate floor, who Republicans say they should confirm before they leave Washington to campaign for the mid-term elections.
---
Dina Powell Leads to Replace Nikki Haley
President Donald Trump said Wednesday that ex-White House aide Dina Powell is on the short list for succeeding Nikki Haley as U.S. Ambassador to the United Nations.
The former deputy national security adviser, who left the administration last January, is a contender, though not the frontrunner, Trump said, the New York Post reported.
"But she's somebody we're talking to," he said, the Post reported.
Powell ditched the White House to return to Goldman Sachs, which gave her more time with her family, Politico reported.
Even Haley seemed to be pitching Powell — posting a Twitter photo of the two boating in South Carolina over the weekend.
---
Crown prince sought to lure Khashoggi back to Saudi Arabia and detain him, U.S. intercepts show
The crown prince of Saudi Arabia, Mohammed bin Salman, ordered an operation to lure Washington Post columnist Jamal Khashoggi back to Saudi Arabia from his home in Virginia and then detain him, according to U.S. intelligence intercepts of Saudi officials discussing the plan.
The intelligence, described by U.S. officials familiar with it, is another piece of evidence implicating the Saudi regime in Khashoggi's disappearance last week after he entered the Saudi Consulate in Istanbul. Turkish officials say that a Saudi security team lay in wait for the journalist and killed him.
---
Trump: US 'Getting Closer' to Finding Out Fate of Saudi Journalist
President Donald Trump said U.S. authorities are "getting closer" to finding out what happened to a Saudi Arabian journalist who disappeared in Turkey last week, an issue that threatens to damage ties between the kingdom and Washington.
"It would be a very sad thing and we will probably know in the very short future," Trump said during an interview with a Fox News program Thursday when asked about a report that Saudi leaders may have been involved in the disappearance of the journalist, Jamal Khashoggi.
A bipartisan group of U.S. senators on Wednesday said they are forcing an investigation into Khashoggi, triggering a human rights probe that could result in sanctions against Saudi officials and entities.
---
Philadelphia Representative Proposes Bill To Drug Test All Pennsylvania Lawmakers
"If it's good for one, it's good for all." That's what one Pennsylvania legislator is arguing in a new proposal that would require all state lawmakers to be tested for illegal drugs.
Philadelphia County Rep. Angel Cruz submitted House Bill 620 as an amendment to Senate Bill 6, which calls for drug testing for Pennsylvanians on welfare and other state assistance programs.
"The lawmakers are the lawmakers, and we're not above the law," Rep. Cruz told WGAL in Lancaster.
---
A voice above the din of hysteria
The latest lowest of the low in the public conversation was struck last week by the American Civil Liberties Union, for its television commercial of spliced together video clips of Bill Clinton and Bill Cosby denying their sexual transgressions, and linking them to Brett Kavanaugh, Matt Lauer, Harvey Weinstein and Charlie Rose.
The ACLU's stated mission is "to defend and preserve the individual rights and liberties guaranteed to every person in the country by the Constitution and laws of the United States," and not so long ago the ACLU was regarded as one of the brave guardians of free speech and civil liberties, including the right to the presumption of innocence until proved guilty. But now the ACLU, which once stood alone if necessary to resist the hysteria that gives birth to a mob, now slides into the muck of the mob. "In Gotcha We Trust" is hardly an inspiring slogan.
It's a difficult time to see ethics at work in many of our cultural institutions. Rigor and reason have been sacrificed to partisan politics. We've always expected our congressmen (and congresswomen) to fight it out with tough words and pointed barbs, but with due respect for right and wrong. Moral distinctions cannot be heard now above the din of hysteria.
---
'Gosnell': The movie
Arguably, a contributing factor to the continuation of abortion is that it is performed out of sight and thus, out of many minds.
A film about one of the worst practitioners of abortion, Kermit Gosnell, opens Oct. 12 in at least 600 theaters. Gosnell is the Philadelphia abortionist sentenced in 2013 to life in prison without parole for the murder of a baby born alive in a botched abortion.
The film, "Gosnell: The Trial of America's Biggest Serial Killer," is based on trial transcripts and police records.
"It is discouraging to think how many people are shocked by honesty and how few by deceit."
-- Noel Coward
(1899-1973) British playwright
---
The Medal of Honor is the highest award for valor in action against an enemy force which can be bestowed upon an individual serving in the Armed Services of the United States.
GeneTrerally presented to its recipient by the President of the United States of America in the name of Congress.
The first award of the Medal of Honor was made March 25, 1863 to Private JACOB PARROTT.The last award of the Medal of Honor was made September 15, 2011 to Sergeant DAKOTA MEYER.
Since then there have been: • 3458 recipients of the Medal of Honor.
• Today there are 85 Living Recipients of the Medal of Honor.
Citation
Captain Humbert R. Versace distinguished himself by extraordinary heroism during the period of 29 October 1963 to 26 September 1965, while serving as S-2 Advisor, Military Assistance Advisory Group, Detachment 52, Ca Mau, Republic of Vietnam. While accompanying a Civilian Irregular Defense Group patrol engaged in combat operations in Thoi Binh District, An Xuyen Province, Captain Versace and the patrol came under sudden and intense mortar, automatic weapons, and small arms fire from elements of a heavily armed enemy battalion. As the battle raged, Captain Versace, although severely wounded in the knee and back by hostile fire, fought valiantly and continued to engage enemy targets. Weakened by his wounds and fatigued by the fierce firefight, Captain Versace stubbornly resisted capture by the over-powering Viet Cong force with the last full measure of his strength and ammunition. Taken prisoner by the Viet Cong, he exemplified the tenets of the Code of Conduct from the time he entered into Prisoner of War status. Captain Versace assumed command of his fellow American soldiers, scorned the enemy's exhaustive interrogation and indoctrination efforts, and made three unsuccessful attempts to escape, despite his weakened condition which was brought about by his wounds and the extreme privation and hardships he was forced to endure. During his captivity, Captain Versace was segregated in an isolated prisoner of war cage, manacled in irons for prolonged periods of time, and placed on extremely reduced ration. The enemy was unable to break his indomitable will, his faith in God, and his trust in the United States of America. Captain Versace, an American fighting man who epitomized the principles of his country and the Code of Conduct, was executed by the Viet Cong on 26 September 1965. Captain Versace's gallant actions in close contact with an enemy force and unyielding courage and bravery while a prisoner of war are in the highest traditions of the military service and reflect the utmost credit upon himself and the United States Army.
---
From the Archives

We Have Met the Enemy…

Geoff Metcalf
"They who can give up essential liberty to obtain a little temporary safety deserve neither liberty nor safety.
--Benjamin Franklin
"The American people must be willing to give up a degree of personal privacy in exchange for safety and security."
--Louis Freeh

In the wake of the clamor over the most recent WikiLeaks data dump, 'Vault 7', 'UMBRAGE', et al, it should be noted this is not really anything new. What we are seeing here is simply the evolution of something that goes back to the late 50s (to the incomplete best knowledge I have).
It is kinda cool to finally see even
The New York Times
acknowledging material
I was writing about in 1998
.
In April of 1998 I wrote "Privacy has become an anachronism." I was commenting on "a massive system designed to intercept all your e-mail, fax traffic and more." I was explaining 'Echelon', the illegitimate offspring of a
UKUSA Treaty
signed by the United States, United Kingdom, Canada, Australia and New Zealand. Its purpose was, and is, to have a vast global intelligence monster, which allegedly shares common goals. The system was so "efficient" that reportedly National Security Agency folk from Fort Meade could work from Menwith Hill in England to intercept local communications without either nation having to burden themselves with the formality of seeking approval (a court order) or disclosing the operation. And this was all pre-9/11 and pre-the anti-constitutional
'Patriot Act'
.
It is illegal (without a Judge's signed permission) for the United States to spy on its citizens … kinda. The laws have long been circumvented by a mutual pact among five nations. Under the terms of UKUSA agreement, Britain spies on Americans and America spies on British citizens, and then the two conspirators trade data. A classic technical finesse. It is legal, but the intent to evade the spirit is inescapable.
I often fictionalized the genesis of 'Echelon' as an informal meeting of a group of post war American and British intelligence types drinking in some remote rustic bar. An imagined CIA type complains to his MI6 buddy about the hassles of US laws preventing US intelligence from surveillance of bad guys, and the Brit echoes the same complaint.
"Hey wait a moment mate," says Nigel, the make-believe MI6 guy, "I can spy on your guys and you can spy on our bad players…why don't we just come up with a mechanism whereby we spy on your villains, you spy on our villains, and we just 'share' the intel?"
This system was called ECHELON, and has been kicking around in some form longer than most of you. The result of the UKUSA treaty signed by the United States, United Kingdom, Canada, Australia and New Zealand was, and is, to have a vast global intelligence monster which allegedly shares common goals.
The London Telegraph reported in December of 1997 that the Civil liberties Committee of the European Parliament had officially confirmed the existence and purpose of ECHELON. "A global electronic spy network that can eavesdrop on every telephone, e-mail and telex communication around the world will be officially acknowledged for the first time in a European Commission report. …"
The report noted: "Within Europe all e-mail, telephone and fax communications are routinely intercepted by the United States National Security Agency, transferring all target information from the European mainland via the strategic hub of London, then by satellite to Fort Meade in Maryland via the crucial hub at Menwith Hill, in the North York moors in the UK.
"The ECHELON system forms part of the UKUSA system but unlike many of the electronic spy systems developed during the Cold War, ECHELON was designed primarily for non-military targets: governments, organizations and businesses in virtually every country."
An interesting sidebar appeared in the International Herald Tribune under the headline, "Big Corporate Brother: It Knows More About You Than You Think." The story details Acxiom Corp, which was a humongous information service hidden in the Ozark foothills. Twenty-four hours a day, Acxiom electronically gathered and sorts all kinds of data about 196 million Americans. Credit card transactions and magazine subscriptions, telephone numbers, real estate records, automotive data, hunting, business and fishing licenses, consumer surveys and demographic detail that would make a marketing department's research manager salivate. This relatively new (legal) enterprise was known as "data warehousing" or "data-mining", and it underscores the cruel reality that the fiction of personal privacy has become obsolete. Technology's ability to collect and analyze data has made privacy a quaint albeit interesting dinosaur.
The Tribune reported that "Axciom can often determine whether an American owns a dog or cat, enjoys camping or gourmet cooking, reads the Bible or lots of other books. It can often pinpoint an American's occupation, car and favorite vacations. By analyzing the equivalent of billions of pages of data, it often projects for its customers who should be offered a credit card or who is likely to buy a computer."
Most of this information is from y 1998 piece. Echelon has developed, matured, and morphed into a much more powerful hybrid. 'Carnivore' was software to help triage the cacophony of data. Vault 7 and 'Umbrage' are logical (some would argue "insidious") growth.
More to follow…