Thursday June 22nd, 2017
"It Is Not A Question of Who Is Right Or Wrong But What Is Right Or Wrong That Counts.
"
--Geoff Metctalf
---
Updated
hrs

Wo
rld & National
"The Press was protected so that it could bare the secrets of the government and inform the people. Only a free and unrestrained press can effectively expose deception in government. And paramount among the responsibilities of a free press is the duty to prevent any part of the government from deceiving the people."
-- Justice Hugo L. Black
(1886-1971) US Supreme Court Justice


Senate GOP unveils Obamacare replacement
Offers tax subsidies for poor; Medicaid expansion


Senate Republicans' new Obamacare replacement plan softens the edges of the House bill that President Trump reportedly called "mean," offering more generous tax subsidies for the poor to buy insurance and extending the lifespan of President Obama's Medicaid expansion.
But the bill, which GOP leaders revealed Thursday morning as a "discussion draft," maintains the same basic outline as the House proposal, repealing Obamacare's "individual mandate" and the health exchanges and replacing them with tax credits aimed at helping those who don't get coverage through their jobs buy plans on the individual market.
The 142-page plan would also strip federal funding from Planned Parenthood, the country's largest network of abortion clinics.
---
Trump blasts Obama for not stopping cyberattacks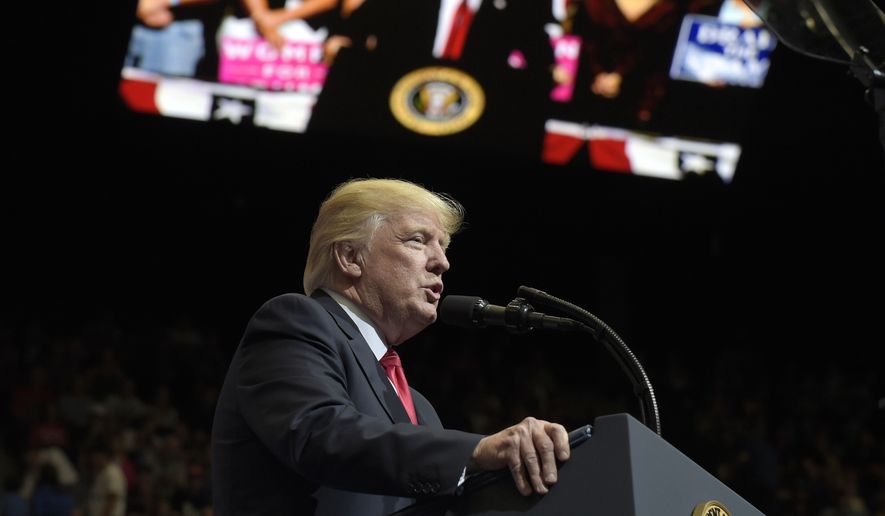 President Trump tweeted Thursday his reaction to former Homeland Security Secretary Jeh Johnson's testimony on the Russian cyberattacks in the 2016 election.
"Former Homeland Security Adviser Jeh Johnson is the latest top intelligence official to state there was no grand scheme between Trump & Russia," Mr. Trump tweeted.
He added, "By the way, if Russia was working so hard on the 2016 Election, it all took place during the Obama Admin. Why didn't they stop them?"
---
Intel officials tell Mueller of uncomfortable interaction with Trump on Russia case
Two intelligence officials told special counsel Robert Mueller and Senate investigators that President Trump suggested they publicly say there was no collusion between his campaign and the Russians, CNN reported on Thursday.
Director of National Intelligence Dan Coats and National Security Agency Director Adm. Mike Rogers told Mr. Mueller and the Senate investigators in separate meetings that the interaction with the president was uncomfortable, but that Mr. Trump was not ordering them to interfere.
The report also says Mr. Coats and Adm. Rogers gave more information to the special counsel and the closed Senate meeting than they did in the open hearing.
---
New York Dem says it's time for Nancy Pelosi to go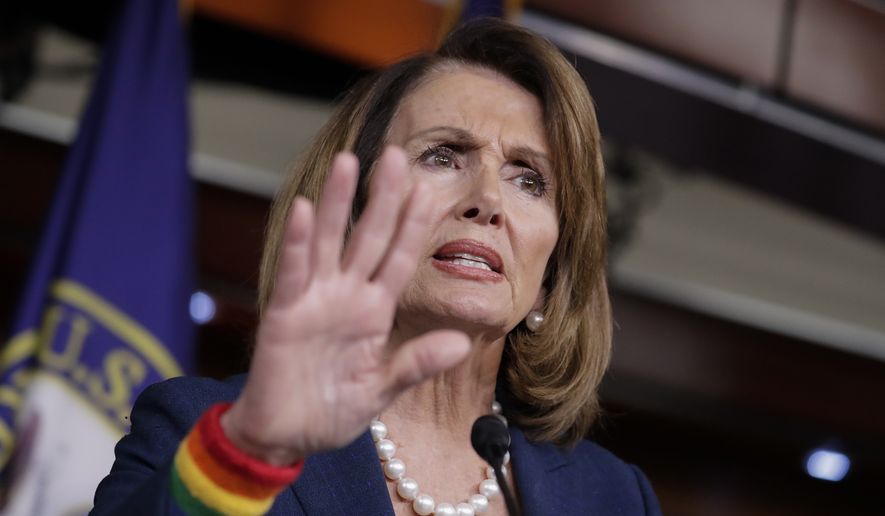 Rep. Kathleen Rice said Thursday that House Minority Leader Nancy Pelosi's time in leadership is over.
"Nancy Pelosi was a great speaker, she was a great leader, but her time has come and gone. And yes, she is a great fundraiser, but if the money we're raising through her leadership is not helping us win elections, then we have to have this conversation now," Ms. Rice said on MSNBC.
The New York Democrat explained that Republicans continue to use Mrs. Pelosi in their ads in these special elections, like in Georgia, and Democrats keep losing. Ms. Rice said this needs to be addressed before the 2018 elections if Democrats want a chance of winning back seats.
---
Democrats at a loss for explanation after another special-election defeat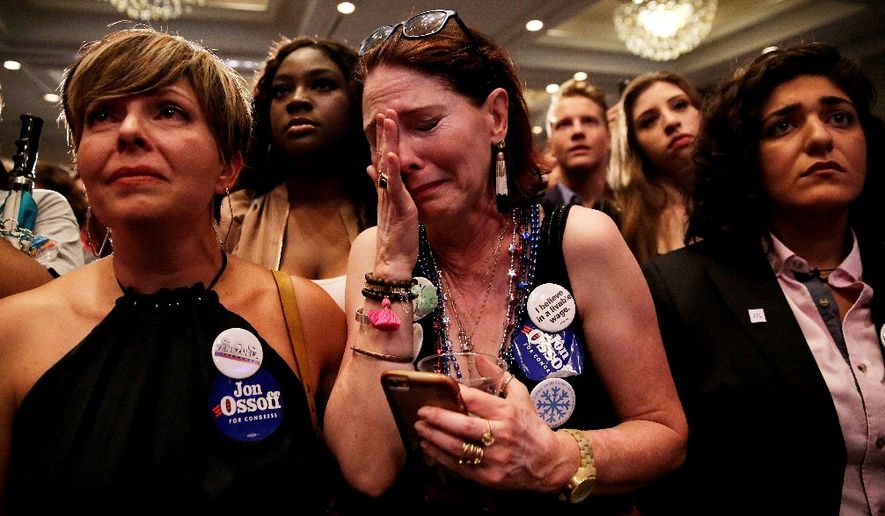 After losing another special election that party leaders had hoped would signal a rebuke of the Trump presidency, Democrats on Wednesday cast about for someone or something to blame: from Nancy Pelosi, the leader of the House Democrats, to ill-managed campaigns to candidates who were too liberal — or not liberal enough.
Voters in Georgia, though, who dealt the latest blow to Democrats this week, said the problem is much simpler: The party just isn't fielding good candidates.
Jon Ossoff, the party's offering in Tuesday's special congressional election in Georgia, was a 30-year-old electoral novice who didn't even live in the district, and whose chief experience in his short adult life was as a staffer on Capitol Hill. Last month's congressional race in Montana, meanwhile, featured a cowboy poet whose colorful past weighed down his campaign.
---
Arkansas bar to decide a potential discipline against Hillary Clinton
State Dept. also deciding whether to strip security clearance from Clinton, aides
Former Secretary of State Hillary Clinton escaped criminal charges last year, but her legal troubles may not be over — the Arkansas state bar has promised a decision by next month on disciplinary action.
And the State Department continues to probe Mrs. Clinton's mishandling of classified information, with an eye toward deciding whether she and several top aides should maintain their access to classified information at the State Department.
"The department's investigation is ongoing," State officials said in a letter to Sen. Chuck Grassley, which the Iowa Republican released earlier this month.
---
Trinity College professor calls white people 'inhuman'
A Connecticut college professor has created a firestorm for calling white people "inhuman a-holes" who need to "die" following last week's shooting attack on congressional Republicans.
Trinity College's Johnny Eric Williams' social media feed after the June 14 shooting of Louisiana Rep. Steve Scalise included racial tirades and commentary calling on minorities to "confront" white people and "end this now," a reference to an alleged system of "white supremacy."
"It is past time for the racially oppressed to do what people who believe themselves to be 'white' will not do, put end to the vectors of their destructive mythology of whiteness and their white supremacy system. #LetThemF–ingDie," the associate professor of sociology said June 18 in a series of Facebook posts. "The time is now to confront these inhuman assholes and end this now."
---
Michael Brown's Family in Secret Settlement With Ferguson
The parents of Michael Brown reached a settlement Tuesday in the wrongful-death lawsuit they filed over the fatal shooting of the unarmed, black 18-year-old by a white police officer nearly three years ago in Ferguson, Missouri.
Financial terms of the settlement approved by U.S. District Judge E. Richard Webber were not disclosed. Anthony Gray, the attorney for Brown's parents, declined comment, as did Ferguson Mayor James Knowles III.
Michael Brown Sr. and Lezley McSpadden sued the city, former Police Chief Tom Jackson and former police officer Darren Wilson in 2015. They argued that the death of their son deprived them of financial support through his future potential wages.
---

Beyond German pacifism
'Never again' notwithstanding, seeking peace often means confronting evil
"The Germans are either at your feet or at your throat," wrote the Roman historian Tacitus 2,000 years ago. Sadly, that axiom is not just ancient history. In the last century, Germany started two world wars, caused the death and suffering of tens of millions, and was responsible for the unspeakable horror of the Holocaust. Now Germany refuses to build a military commensurate with its economic power and is even reluctant to use the military that it has. Its political leaders must address these serious shortcomings and, even more importantly, lead their country out of its pervasive pacifist culture.
NATO member countries agreed to spend 2 percent of their gross domestic product on defense. In 2016, America spent 3.6 percent and the European Union 1.4 percent. Germany's 1.2 percent spending fell below the already-low European average. In contrast, Russia spent 5 percent, France 1.8 percent, and Poland, the United Kingdom and Estonia 2 percent each. NATO is now confronted by a newly aggressive Russia. But Germany, Europe's strongest economy, most populous country and its political leader, is relying on America to defend its homeland.
---

Trump and his generals
Entrusting national security to military pros is a win for the country
Donald Trump earned respect from the Washington establishment for appointing three of the nation's most accomplished generals to direct his national security policy: James Mattis (secretary of defense), H.R. McMaster (national security adviser) and John Kelly (secretary of homeland security).
In the first five months of the Trump administration, the three generals — along with Secretary of State Rex Tillerson, the former ExxonMobil CEO — have already recalibrated America's defenses.
At home, illegal immigration is down by some 70 percent. Abroad, a new policy of principled realism seeks to re-establish deterrence through credible threats of retaliation. The generals are repairing old friendships with allies and neutrals while warning traditional enemies not to press their luck.
President Trump has turned over most of the details of military operations to his generals. According to his critics, Mr. Trump is improperly outsourcing to his generals both strategic decision-making and its tactical implementation.
"It is discouraging to think how many people are shocked by honesty and how few by deceit."
-- Noel Coward
(1899-1973) British playwright
---
---
The Medal of Honor is the highest award for valor in action against an enemy force which can be bestowed upon an individual serving in the Armed Services of the United States.
GeneTrerally presented to its recipient by the President of the United States of America in the name of Congress.
The first award of the Medal of Honor was made March 25, 1863 to Private JACOB PARROTT.The last award of the Medal of Honor was made September 15, 2011 to Sergeant DAKOTA MEYER.
Since then there have been: • 3458 recipients of the Medal of Honor.
• Today there are 85 Living Recipients of the Medal of Honor.
Citation

Captain Humbert R. Versace distinguished himself by extraordinary heroism during the period of 29 October 1963 to 26 September 1965, while serving as S-2 Advisor, Military Assistance Advisory Group, Detachment 52, Ca Mau, Republic of Vietnam. While accompanying a Civilian Irregular Defense Group patrol engaged in combat operations in Thoi Binh District, An Xuyen Province, Captain Versace and the patrol came under sudden and intense mortar, automatic weapons, and small arms fire from elements of a heavily armed enemy battalion. As the battle raged, Captain Versace, although severely wounded in the knee and back by hostile fire, fought valiantly and continued to engage enemy targets. Weakened by his wounds and fatigued by the fierce firefight, Captain Versace stubbornly resisted capture by the over-powering Viet Cong force with the last full measure of his strength and ammunition. Taken prisoner by the Viet Cong, he exemplified the tenets of the Code of Conduct from the time he entered into Prisoner of War status. Captain Versace assumed command of his fellow American soldiers, scorned the enemy's exhaustive interrogation and indoctrination efforts, and made three unsuccessful attempts to escape, despite his weakened condition which was brought about by his wounds and the extreme privation and hardships he was forced to endure. During his captivity, Captain Versace was segregated in an isolated prisoner of war cage, manacled in irons for prolonged periods of time, and placed on extremely reduced ration. The enemy was unable to break his indomitable will, his faith in God, and his trust in the United States of America. Captain Versace, an American fighting man who epitomized the principles of his country and the Code of Conduct, was executed by the Viet Cong on 26 September 1965. Captain Versace's gallant actions in close contact with an enemy force and unyielding courage and bravery while a prisoner of war are in the highest traditions of the military service and reflect the utmost credit upon himself and the United States Army.
---
3/14/20017

We Have Met the Enemy…

Geoff Metcalf
"They who can give up essential liberty to obtain a little temporary safety deserve neither liberty nor safety.
--Benjamin Franklin
"The American people must be willing to give up a degree of personal privacy in exchange for safety and security."
--Louis Freeh

In the wake of the clamor over the most recent WikiLeaks data dump, 'Vault 7', 'UMBRAGE', et al, it should be noted this is not really anything new. What we are seeing here is simply the evolution of something that goes back to the late 50s (to the incomplete best knowledge I have).
It is kinda cool to finally see even the New York Times (www.nytimes.com/2017/03/09/opinion/the-truth-about-the-wikileaks-cia-cache.html?_r=0) acknowledging material I was writing about in 1998 (http://www.wnd.com/1998/04/6108/ ).
In April of 1998 I wrote "Privacy has become an anachronism." I was commenting on "a massive system designed to intercept all your e-mail, fax traffic and more." I was explaining 'Echelon', the illegitimate offspring of a UKUSA treaty (https://www.nationalarchives.gov.uk/ukusa/ ) signed by the United States, United Kingdom, Canada, Australia and New Zealand. Its purpose was, and is, to have a vast global intelligence monster, which allegedly shares common goals. The system was so "efficient" that reportedly National Security Agency folk from Fort Meade could work from Menwith Hill in England to intercept local communications without either nation having to burden themselves with the formality of seeking approval (a court order) or disclosing the operation. And this was all pre-9/11 and pre-the anti-constitutional 'Patriot Act'.
It is illegal (without a Judge's signed permission) for the United States to spy on its citizens … kinda. The laws have long been circumvented by a mutual pact among five nations. Under the terms of UKUSA agreement, Britain spies on Americans and America spies on British citizens, and then the two conspirators trade data. A classic technical finesse. It is legal, but the intent to evade the spirit is inescapable.
I often fictionalized the genesis of 'Echelon' as an informal meeting of a group of post war American and British intelligence types drinking in some remote rustic bar. An imagined CIA type complains to his MI6 buddy about the hassles of US laws preventing US intelligence from surveillance of bad guys, and the Brit echoes the same complaint.
"Hey wait a moment mate," says Nigel, the make-believe MI6 guy, "I can spy on your guys and you can spy on our bad players…why don't we just come up with a mechanism whereby we spy on your villains, you spy on our villains, and we just 'share' the intel?"
This system was called ECHELON, and has been kicking around in some form longer than most of you. The result of the UKUSA treaty signed by the United States, United Kingdom, Canada, Australia and New Zealand was, and is, to have a vast global intelligence monster which allegedly shares common goals.
The London Telegraph reported in December of 1997 that the Civil liberties Committee of the European Parliament had officially confirmed the existence and purpose of ECHELON. "A global electronic spy network that can eavesdrop on every telephone, e-mail and telex communication around the world will be officially acknowledged for the first time in a European Commission report. …"
The report noted: "Within Europe all e-mail, telephone and fax communications are routinely intercepted by the United States National Security Agency, transferring all target information from the European mainland via the strategic hub of London, then by satellite to Fort Meade in Maryland via the crucial hub at Menwith Hill, in the North York moors in the UK.
"The ECHELON system forms part of the UKUSA system but unlike many of the electronic spy systems developed during the Cold War, ECHELON was designed primarily for non-military targets: governments, organizations and businesses in virtually every country."
An interesting sidebar appeared in the International Herald Tribune under the headline, "Big Corporate Brother: It Knows More About You Than You Think." The story details Acxiom Corp, which was a humongous information service hidden in the Ozark foothills. Twenty-four hours a day, Acxiom electronically gathered and sorts all kinds of data about 196 million Americans. Credit card transactions and magazine subscriptions, telephone numbers, real estate records, automotive data, hunting, business and fishing licenses, consumer surveys and demographic detail that would make a marketing department's research manager salivate. This relatively new (legal) enterprise was known as "data warehousing" or "data-mining", and it underscores the cruel reality that the fiction of personal privacy has become obsolete. Technology's ability to collect and analyze data has made privacy a quaint albeit interesting dinosaur.
The Tribune reported that "Axciom can often determine whether an American owns a dog or cat, enjoys camping or gourmet cooking, reads the Bible or lots of other books. It can often pinpoint an American's occupation, car and favorite vacations. By analyzing the equivalent of billions of pages of data, it often projects for its customers who should be offered a credit card or who is likely to buy a computer."
Most of this information is from y 1998 piece. Echelon has developed, matured, and morphed into a much more powerful hybrid. 'Carnivore' was software to help triage the cacophony of data. Vault 7 and 'Umbrage' are logical (some would argue "insidious") growth.
More to follow…