"It Is Not A Question of Who Is Right Or Wrong But What Is Right Or Wrong That Counts.

"

--Geoff Metcalf
Providing an on line Triage of the news since 1997



Wo

rld & Nation
Watch: World Health Organization holds press conference on the coronavirus outbreak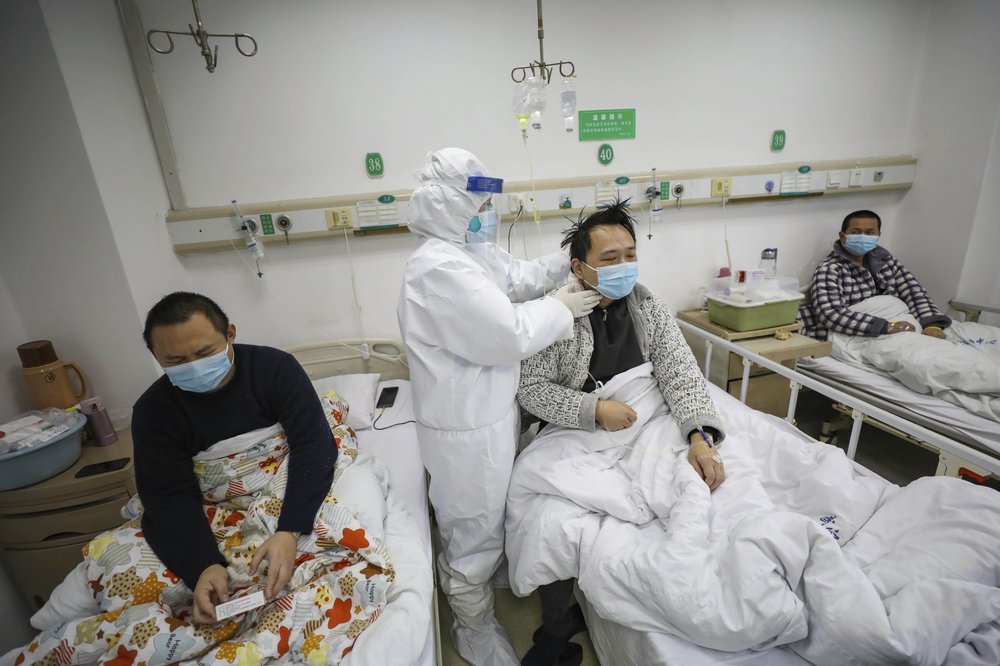 As of Thursday, more than 60,000 cases of coronavirus have been reported in over two dozen countries, resulting in least 1,300 deaths, almost all in China.

The number of new cases appeared to be stabilizing until Thursday, when China changed its methodology for counting the diseases.

World Health Organization officials are holding a press conference Thursday to update the public on the coronavirus outbreak, which has killed more people than the 2003 SARS epidemic.

As of Thursday, more than 60,000 cases of coronavirus have been reported in over two dozen cohttps://www.mcclatchydc.com/news/nation-world/national/article240139933.htmluntries, resulting in least 1,300 deaths, almost exclusively in China. The WHO declared the virus a global health emergency last month, a rare designation that helps the international agency mobilize financial and political support to contain the outbreak.




---
Former White House chief of staff John Kelly unloads on Trump
Former general critiques Trump on Vindman, N. Korea and immigration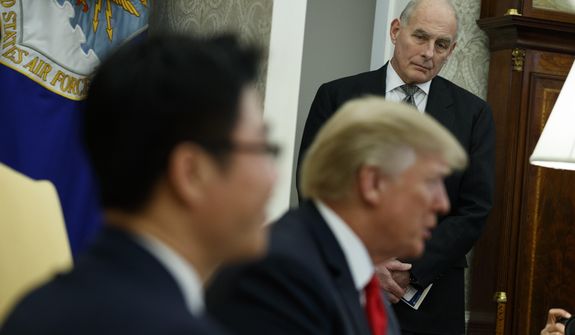 President Trump's former Chief of Staff John F. Kelly said late Wednesday the National Security Council staffer ousted from the White House was just doing his job when he raised concerns about the president's July phone call with the Ukrainian president.
Mr. Kelly defended Lt. Col Alexander Vindman, who was escorted from the White House last week, during a speech late Wednesday to college students in New Jersey.
"He did exactly what we teach them to do from cradle to grave," Mr. Kelly said at Drew University in Morristown, according to The Atlantic. "He went and told his boss what he just heard."
---

U.S., Taliban reach deal for 7-day reduction in violence


Agreement could be first step toward lasting peace, U.S. officials say



The U.S. has reached a tentative deal with the Taliban that could serve as the basis for a more lasting pact to end the longest war in American history, officials said Thursday.

Speaking at a NATO conference in Brussels, Defense Secretary Mark Esper said little about the details of the agreement other than the fact it centers on a key seven-day test period during which the Taliban has committed to halt attacks across Afghanistan.

"The United States and Taliban have negotiated a proposal for a seven-day reduction in violence," Mr. Esper said. "Our approach is this: That the best, if not only, solution forward is a political agreement. We have the basis for one on the table and we are asking for a hard look at it. We are consulting with our allies, we are consulting with Congress and others. And I think peace deserves a chance. But it will demand that all parties comply with our obligations if we move forward."


---
Lawmakers to Trump: Don't Slash Food Stamps, We Used Them
A handful of U.S. lawmakers have a unique argument for asking President Donald Trump not to slash the food stamp program — they themselves once relied on it.
The Republican president this week proposed $15 billion in cuts to the $71 billion Supplemental Nutrition Assistance Program (SNAP), commonly called food stamps, as part of his $4.8 trillion budget plan.
Trump argues that many Americans receiving food stamps do not need them, given the strong economy and low unemployment. His administration already has tightened eligibility guidelines for the food assistance program.
In their letter to Trump, nine Democratic lawmakers said they had each participated in the program "during times of financial struggle for our families."
---
Puerto Rico Govt Loses $2.6M in Phishing Scam
Puerto Rico's government has lost more than $2.6 million after falling for an email phishing scam, according to a senior official.
The finance director of the island's Industrial Development Company, Rubén Rivera, said in a complaint filed to police Wednesday that the agency sent the money to a fraudulent account.
Rivera said the government agency transferred the money on Jan. 17 after receiving an email that alleged a change to a banking account tied to remittance payments, according to a police statement.
---
Bloomberg Hits Back at 'Carnival Barking Clown' Trump: 'Behind Your Back They Laugh at You'
Need evidence that Mike Bloomberg is now viewed as a political threat to the second term of President Donald Trump? Look no further than Thursday's insults hurled at the former New York City mayor via the president's Twitter feed, and perhaps more interestingly, how Bloomberg hit back in a quick and clinical manner.
Trump first quote-tweeted a photoshopped image that portrayed a diminutive Bloomberg standing next to a stack of papers while an oversized president cut symbolic red tape above. Trump called Bloomberg a "LOSER who has money but can't debate," before adding, "He reminds me of a tiny version of Jeb 'Low Energy' Bush, but Jeb has more political skill and has treated the Black community much better than Mini!"
Trump ridiculed Bloomberg's height, saying he is a "5'4″ mass of dead energy who doesn't want to be on the debate stage with these professional politicians." A simple Google search indicates that Bloomberg is listed as 5'8″ though efforts to physically measure the presidential hopeful at this time were unsuccessful.
---
McClatchy files bankruptcy to shed costs of print legacy and speed shift to digital
McClatchy Co. filed for bankruptcy Thursday, a move that will end family control of America's second largest local news company and hand it to creditors who have expressed support for independent journalism.
The Chapter 11 filing will allow McClatchy to restructure its debts and, it hopes, shed much of its pension obligations. Under a plan outlined in its filing to a federal bankruptcy court, about 60 percent of its debt would be eliminated as the news organization tries to reposition for a digital future.
The likely new owners, if the court accepts the plan, would be led by hedge fund Chatham Asset Management LLC. They would operate McClatchy as a privately held company. More than 7 million shares of both publicly available and protected family-owned stock would be canceled.
---
North Korea scraps 'Christmas surprise' amid China woes
North Korea has delayed its much-anticipated "Christmas surprise" of a major intercontinental ballistic missile test out of concern that such a provocation — after two years of stop-start nuclear diplomacy — would trigger sharp negative reactions from Washington and the international community.
South Korean analysts, including a high-level defector from the North, say Pyongyang's planning for a launch also has been delayed by the coronavirus outbreak in China, which shares a long border with North Korea and serves as its closest security and economic ally.
"The most friendly country of North Korea — China — is having serious difficulties, and North Korea doesn't want to make things worse," said Lee Gee-dong, vice president of the Institute for National Security Strategy in Seoul. "I think for the coming three or four months, it will be quite quiet and the North Koreans will not carry out any provocative or dangerous actions against the world."
---
Terrified of Sanders, Democratic leaders look for King Solomon to split the baby
Democratic pols and media gasbags — not to repeat myself — have finally found somebody they hate nearly as much as they hate President Trump: Bernie Sanders.
It really is amazing to watch the comfortable Democrat poobahs wring their hands in agony as they watch the Vermont senator rack up these impressive wins in the Democratic primary.
In Iowa, they refuse to even acknowledge he appears to have won the most votes. In New Hampshire, they are doing all they can to blunt his victory and crown somebody else for coming in second, third or fourth place.
Some in the media have even resorted to calling him and his exuberant followers "brown shirts." Now that is certainly what you get with socialism, but it is amazing to hear actual card-carrying members of the American press uttering such slurs.
---
Annual Office of Management and Budget report is ground zero for regulatory clashes
Washington's covert war over regulations
It's easy to get lost in the bedlam of the fevered impeachment battles in Washington, D.C., but behind the scenes, a covert battle is being waged that affects every American's pocketbook. This war is taking place in the corridors of academia, at nonprofits, the halls of Congress and offices of lobbyists. Its purpose is to influence the direction of the massive and growing fourth branch of government: The federal bureaucracies that now manage most federal policy. It's your money, your health and your environment at stake, but if you don't pay attention, you may be short-changed.
Surprisingly, an obscure annual report issued by the Office of Management and Budget (OMB) has become ground zero in these ongoing clashes. Since 1996, Congress has instructed the OMB to produce a kind of scorecard for federal regulations. The required "Report to Congress on the Benefits and Costs of Federal Regulations" provides the data that each side uses as they engage in an ideological battle over the future of federal regulation.
---
" It is discouraging to think how many people are shocked by honesty and how few by deceit."

-- Noel Coward

(1899-1973) British playwright

---

The Medal of Honor is the highest award for valor in action against an enemy force which can be bestowed upon an individual serving in the Armed Services of the United States.

GeneTrerally presented to its recipient by the President of the United States of America in the name of Congress.

The first award of the Medal of Honor was made March 25, 1863 to Private JACOB PARROTT.The last award of the Medal of Honor was made September 15, 2011 to Sergeant DAKOTA MEYER.

Since then there have been: • 3458 recipients of the Medal of Honor.

• Today there are 85 Living Recipients of the Medal of Honor.

Citation


Captain Humbert R. Versace distinguished himself by extraordinary heroism during the period of 29 October 1963 to 26 September 1965, while serving as S-2 Advisor, Military Assistance Advisory Group, Detachment 52, Ca Mau, Republic of Vietnam. While accompanying a Civilian Irregular Defense Group patrol engaged in combat operations in Thoi Binh District, An Xuyen Province, Captain Versace and the patrol came under sudden and intense mortar, automatic weapons, and small arms fire from elements of a heavily armed enemy battalion. As the battle raged, Captain Versace, although severely wounded in the knee and back by hostile fire, fought valiantly and continued to engage enemy targets. Weakened by his wounds and fatigued by the fierce firefight, Captain Versace stubbornly resisted capture by the over-powering Viet Cong force with the last full measure of his strength and ammunition. Taken prisoner by the Viet Cong, he exemplified the tenets of the Code of Conduct from the time he entered into Prisoner of War status. Captain Versace assumed command of his fellow American soldiers, scorned the enemy's exhaustive interrogation and indoctrination efforts, and made three unsuccessful attempts to escape, despite his weakened condition which was brought about by his wounds and the extreme privation and hardships he was forced to endure. During his captivity, Captain Versace was segregated in an isolated prisoner of war cage, manacled in irons for prolonged periods of time, and placed on extremely reduced ration. The enemy was unable to break his indomitable will, his faith in God, and his trust in the United States of America. Captain Versace, an American fighting man who epitomized the principles of his country and the Code of Conduct, was executed by the Viet Cong on 26 September 1965. Captain Versace's gallant actions in close contact with an enemy force and unyielding courage and bravery while a prisoner of war are in the highest traditions of the military service and reflect the utmost credit upon himself and the United States Army.

---

From the Archives

We Have Met the Enemy…
Geoff Metcalf


"They who can give up essential liberty to obtain a little temporary safety deserve neither liberty nor safety.
--Benjamin Franklin
"The American people must be willing to give up a degree of personal privacy in exchange for safety and security."
--Louis Freeh


In the wake of the clamor over the most recent WikiLeaks data dump, 'Vault 7', 'UMBRAGE', et al, it should be noted this is not really anything new. What we are seeing here is simply the evolution of something that goes back to the late 50s (to the incomplete best knowledge I have).

It is kinda cool to finally see even

The New York Times

acknowledging material

I was writing about in 1998

.

In April of 1998 I wrote "Privacy has become an anachronism." I was commenting on "a massive system designed to intercept all your e-mail, fax traffic and more." I was explaining 'Echelon', the illegitimate offspring of a

UKUSA Treaty

signed by the United States, United Kingdom, Canada, Australia and New Zealand. Its purpose was, and is, to have a vast global intelligence monster, which allegedly shares common goals. The system was so "efficient" that reportedly National Security Agency folk from Fort Meade could work from Menwith Hill in England to intercept local communications without either nation having to burden themselves with the formality of seeking approval (a court order) or disclosing the operation. And this was all pre-9/11 and pre-the anti-constitutional

'Patriot Act'

.

It is illegal (without a Judge's signed permission) for the United States to spy on its citizens … kinda. The laws have long been circumvented by a mutual pact among five nations. Under the terms of UKUSA agreement, Britain spies on Americans and America spies on British citizens, and then the two conspirators trade data. A classic technical finesse. It is legal, but the intent to evade the spirit is inescapable.

I often fictionalized the genesis of 'Echelon' as an informal meeting of a group of post war American and British intelligence types drinking in some remote rustic bar. An imagined CIA type complains to his MI6 buddy about the hassles of US laws preventing US intelligence from surveillance of bad guys, and the Brit echoes the same complaint.

"Hey wait a moment mate," says Nigel, the make-believe MI6 guy, "I can spy on your guys and you can spy on our bad players…why don't we just come up with a mechanism whereby we spy on your villains, you spy on our villains, and we just 'share' the intel?"

This system was called ECHELON, and has been kicking around in some form longer than most of you. The result of the UKUSA treaty signed by the United States, United Kingdom, Canada, Australia and New Zealand was, and is, to have a vast global intelligence monster which allegedly shares common goals.

The London Telegraph reported in December of 1997 that the Civil liberties Committee of the European Parliament had officially confirmed the existence and purpose of ECHELON. "A global electronic spy network that can eavesdrop on every telephone, e-mail and telex communication around the world will be officially acknowledged for the first time in a European Commission report. …"

The report noted: "Within Europe all e-mail, telephone and fax communications are routinely intercepted by the United States National Security Agency, transferring ll target information from the Eurv opean mainland via the strategic hub of London, then by satellite to Fort Meade in Maryland via the crucial hub at Menwith Hill, in the North York moors in the UK.

"The ECHELON system forms part of the UKUSA system but unlike many of the electronic spy systems developed during the Cold War, ECHELON was designed primarily for non-military targets: governments, organizations and businesses in virtually every country."

An interesting sidebar appeared in the International Herald Tribune under the headline, "Big Corporate Brother: It Knows More About You Than You Think." The story details Acxiom Corp, which was a humongous information service hidden in the Ozark foothills. Twenty-four hours a day, Acxiom electronically gathered and sorts all kinds of data about 196 million Americans. Credit card transactions and magazine subscriptions, telephone numbers, real estate records, automotive data, hunting, business and fishing licenses, consumer surveys and demographic detail that would make a marketing department's research manager salivate. This relatively new (legal) enterprise was known as "data warehousing" or "data-mining", and it underscores the cruel reality that the fiction of personal privacy has become obsolete. Technology's ability to collect and analyze data has made privacy a quaint albeit interesting dinosaur.

The Tribune reported that "Axciom can often determine whether an American owns a dog or cat, enjoys camping or gourmet cooking, reads the Bible or lots of other books. It can often pinpoint an American's occupation, car and favorite vacations. By analyzing the equivalent of billions of pages of data, it often projects for its customers who should be offered a credit card or who is likely to buy a computer."

Most of this information is from y 1998 piece. Echelon has developed, matured, and morphed into a much more powerful hybrid. 'Carnivore' was software to help triage the cacophony of data. Vault 7 and 'Umbrage' are logical (some would argue "insidious") growth.

More to follow…