"It Is Not A Question of Who Is Right Or Wrong But What Is Right Or Wrong That Counts.

"

--Geoff Metcalf




Wo

rld & National



'A great and noble man': Bush honored one last time in Washington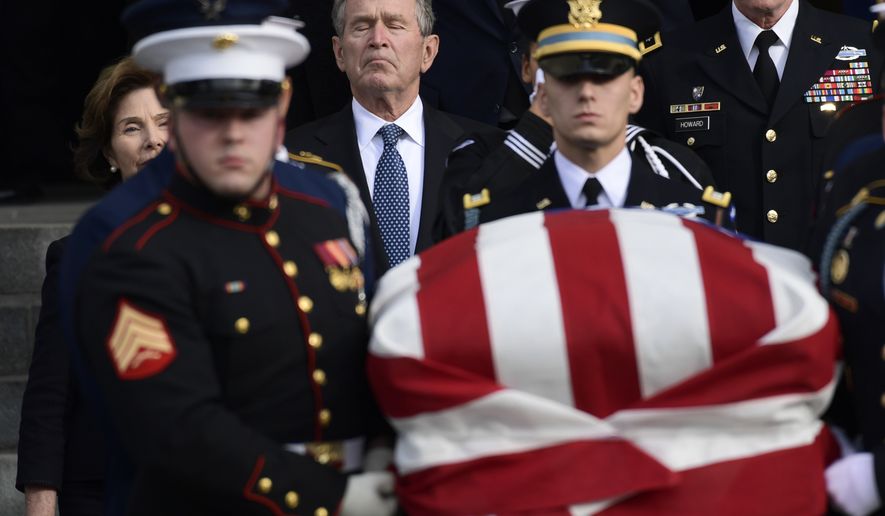 A military band played "Hail to the Chief," cannons sang out a 21-gun salute and the presidential jet took to the sky, lifting former President George H.W. Bush away from Washington one last time.
The capital gave a solemn but fervent farewell Wednesday to the 41st president, whose death Friday at 94 launched a week of commemorations for a man acclaimed as one of the most decent to hold the White House, and at a particularly consequential time for the nation's history.
The service was the capstone to three days of mourning in Washington for Mr. Bush, giving thousands of residents and tourists a chance to stream by his casket as it lay in state in the Capitol Rotunda.
---
U.S. warns Russia with 'extraordinary flight' over Ukraine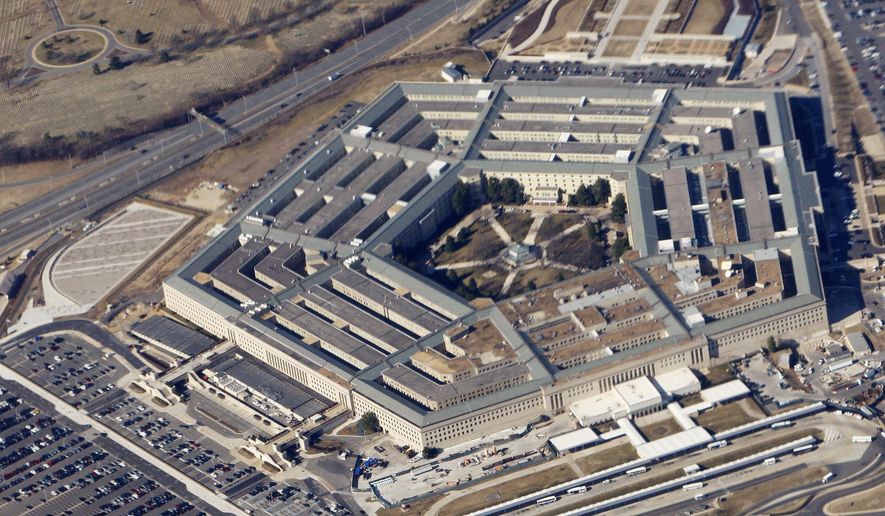 Blasting Russia's "dangerous escalation" in the region, U.S. planes on Thursday conducted an "extraordinary flight" over Ukraine in what Pentagon officials cast as a blunt warning to Moscow.

The flights come as a direct response to last week's incident in the Kerch Strait, which saw Russian forces fire on Ukrainian vessels and take their crews hostage. The events sparked an international uproar and led President Trump to cancel a planned meeting with Russian President Vladimir Putin at last week's G20 Summit.

In a statement on Thursday, the Defense Department said the flights were designed to send a clear message.


---
Fox News legal analyst Andrew Napolitano expects Donald Trump Jr. to be indicted
The senior judicial analyst at Fox News said Wednesday that he expects Donald Trump Jr. to be indicted — and said the presidential son does, too.
In an interview Wednesday on SiriusXM's "The Dan Abrams Show," Mr. Napolitano based his speculation on special counsel Robert Mueller's recommendation that former National Security Adviser Michael Flynn serve no jail time in light of the "substantial assistance" he had given the probe.
When Mr. Abrams suggested that means Mr. Mueller expects to bring charges against someone in President Trump's inner circle, Mr. Napolitano replied, "yes."
"I don't know who," Mr. Napolitano said, "but I do know that Donald Jr. has told friends he expects to be indicted."
---
'Yellow vests' force Macron to abandon fuel tax hike: 'If not there will be chaos'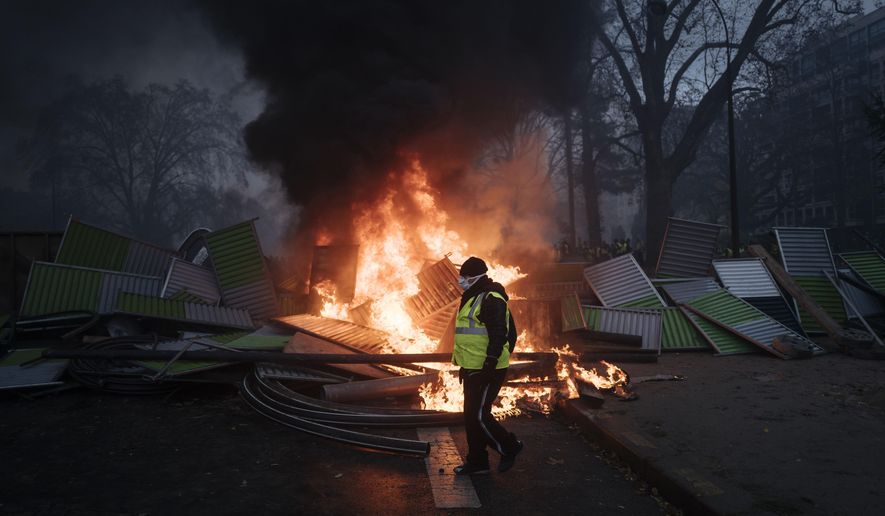 French President Emmanuel Macron scrapped a fuel tax rise Wednesday amid fears of new violence, after weeks of nationwide protests and the worst rioting in Paris in decades.
Protesters celebrated the victory, but some said Macron's surrender came too late and is no longer enough to quell the mounting anger at their president, whom they consider out-of-touch with the problems of ordinary people.
Macron decided Wednesday to "get rid" of the tax planned for next year, an official in the president's office told The Associated Press. Prime Minister Edouard Philippe told lawmakers the tax is no longer included in the 2019 budget.
The decision has ramifications beyond France, since the fuel tax rise was part of Macron's efforts to wean France off fossil fuels in order to reduce greenhouse gases and slow down climate change. Its withdrawal is both a blow to broader efforts to fight climate change and a warning to other world leaders trying to do the same thing.
---
Kamala Harris top aide resigns over involvement in harassment lawsuit
A top aide to California U.S. Sen. Kamala Harris has resigned over his involvement in a harassment lawsuit while he worked at the state Department of Justice.
The Sacramento Bee reports Larry Wallace left his job Wednesday as a senior adviser in Harris's Sacramento office. The newspaper reports his resignation came after it inquired about a $400,000 settlement in 2017 related to the harassment lawsuit.
Harris was California's attorney general before she became a U.S. senator in 2017.
---
Huawei Arrest Reignites US-China Tensions
China on Thursday demanded Canada release a Huawei Technologies executive who was arrested in a case that adds to technology tensions with Washington and threatens to complicate trade talks.
Huawei's chief financial officer, Meng Wanzhou, faces possible extradition to the United States, according to Canadian authorities. The Globe and Mail newspaper, citing law enforcement sources, said she is suspected of trying to evade U.S. trade curbs on Iran.
The timing is awkward following the announcement of a U.S.-Chinese cease-fire in a tariff war over Beijing's technology policy. Meng was detained in Vancouver on Saturday, the day Presidents Donald Trump and Xi Jinping met in Argentina and announced their deal.
---
China Confident It Can Clinch US Trade Deal as Trump Demands 'Real Deal'
China expressed confidence on Wednesday that it can reach a trade deal with the United States, despite fresh warnings from President Donald Trump that he would revert to more tariffs if the two sides cannot resolve their differences.
The remarks by the Chinese Commerce Ministry follow a period of relative quiet from Beijing after Trump and Chinese leader Xi Jinping reached a temporary truce in their trade war at a meeting over dinner in Argentina on Saturday.
---
MAY HITS BACK Theresa May says she WON'T postpone key Brexit vote – as ministers beg her to scrap it
At least three Cabinet ministers are believed to be trying to persuade the PM to put the December 11 vote off, but she's standing firm
THERESA May has vowed to push ahead with her crunch vote on Brexit next week - even as minister begged her to scrap it.
The Prime Minister defied her critics this morning to insist she has no plans to put off the crucial Commons showdown.
She told the BBC today: "We're in the middle of 5 days of debate which will lead to a vote on this issue... they are voting on the deal."
---
Study: Half of All High School Students Don't Trust the Media to Report Accurately and Fairly
An increasing amount of distrust in the news media is a hot topic these days. While adults and consistent news consumers are usually the focus of such studies, those who are still in school are often left out of this conversation. And they shouldn't be, especially considering the findings below.
A national study of 9,774 high school students and 498 teachers is the seventh in a series of national surveys of high school students and teachers commissioned by Knight Foundation over the last 12 years. This year's survey incorporated several questions from Gallup's Free Expression on Campus survey of college students, released in 2018, in order to compare the two surveys.
Among the findings, 89 percent of high school students agree that "people should be allowed to express unpopular opinions," consistent with previous Knight surveys of high school students.
---
Two US Marine Aircraft Crash Off Japan
One US Marine died and five were missing after two Marine Corps aircraft collided in mid-air and crashed into the sea off the coast of Japan during an air-to-air refueling exercise on Thursday, Japanese and American officials said.
Japan's defense ministry said its maritime forces had so far found two of the seven Marines who were aboard the aircraft - an F/A-18 Hornet fighter jet and a KC-130 Hercules - at the time of the incident.
Another marine was in a stable condition at Marine Corps Air Station Iwakuni, while the second had been found about 10 hours after the collision and brought aboard a Japanese military vessel, the ministry said.
---
Golden Globes Nominations: 'Vice' Leads With 6, 'Versace' Tops TV With 4
The 2019 Golden Globes nominations were announced Thursday morning.
Vice leads the film nominees with six, followed by The Favourite, Green Book and A Star Is Born with five apiece.
On the TV side, The Assassination of Gianni Versace: American Crime Story leads with a total of four Golden Globes nominations.
Th Golden Globes nominations announcement took place one month before the awards ceremony on Jan. 6.
---
The perpetual presidency
Former President Barack Obama recently continued his series of public broadsides against his successor, President Donald Trump.
Mr. Obama's charges are paradoxical. On one hand, Mr. Obama seems to believe that he, rather than Mr. Trump, should be credited with the current economic boom and the emergence of the United States as the world's largest energy producer. But Mr. Obama also has charged that Mr. Trump's policies are pernicious and failing.
Apparently, Mr. Obama believes that all of Mr. Trump's successes are due to Mr. Obama, and all of Mr. Trump's setbacks are his own.
---
Flynn Sentencing Memo Is Not Ominous
The media is having a feeding frenzy, trying to interpret the sentencing memo just filed in Michael Flynn's case, but most of these interpretations are misplaced. The sentencing memo filed by the Office of Special Counsel is a fairly standard filing by federal prosecutors. So, rather than relying on political pundits to interpret this document, allow me provide you with the insight of an attorney experienced in federal criminal matters.
The media has made a big to-do of Mueller's decision to describe Flynn as having provided "substantial assistance." However, those enamored with Mueller's choice of words should understand that "substantial assistance" is the same language used to describe all cooperation agreements and is the title of the relevant section of the U.S. Sentencing Guidelines - §5K1.1, Substantial Assistance to Authorities. To explain how this section applies to Flynn, I will show how it works in ordinary, non-political criminal cases.
"It is discouraging to think how many people are shocked by honesty and how few by deceit."

-- Noel Coward

(1899-1973) British playwright

---

The Medal of Honor is the highest award for valor in action against an enemy force which can be bestowed upon an individual serving in the Armed Services of the United States.

GeneTrerally presented to its recipient by the President of the United States of America in the name of Congress.

The first award of the Medal of Honor was made March 25, 1863 to Private JACOB PARROTT.The last award of the Medal of Honor was made September 15, 2011 to Sergeant DAKOTA MEYER.

Since then there have been: • 3458 recipients of the Medal of Honor.

• Today there are 85 Living Recipients of the Medal of Honor.

Citation


Captain Humbert R. Versace distinguished himself by extraordinary heroism during the period of 29 October 1963 to 26 September 1965, while serving as S-2 Advisor, Military Assistance Advisory Group, Detachment 52, Ca Mau, Republic of Vietnam. While accompanying a Civilian Irregular Defense Group patrol engaged in combat operations in Thoi Binh District, An Xuyen Province, Captain Versace and the patrol came under sudden and intense mortar, automatic weapons, and small arms fire from elements of a heavily armed enemy battalion. As the battle raged, Captain Versace, although severely wounded in the knee and back by hostile fire, fought valiantly and continued to engage enemy targets. Weakened by his wounds and fatigued by the fierce firefight, Captain Versace stubbornly resisted capture by the over-powering Viet Cong force with the last full measure of his strength and ammunition. Taken prisoner by the Viet Cong, he exemplified the tenets of the Code of Conduct from the time he entered into Prisoner of War status. Captain Versace assumed command of his fellow American soldiers, scorned the enemy's exhaustive interrogation and indoctrination efforts, and made three unsuccessful attempts to escape, despite his weakened condition which was brought about by his wounds and the extreme privation and hardships he was forced to endure. During his captivity, Captain Versace was segregated in an isolated prisoner of war cage, manacled in irons for prolonged periods of time, and placed on extremely reduced ration. The enemy was unable to break his indomitable will, his faith in God, and his trust in the United States of America. Captain Versace, an American fighting man who epitomized the principles of his country and the Code of Conduct, was executed by the Viet Cong on 26 September 1965. Captain Versace's gallant actions in close contact with an enemy force and unyielding courage and bravery while a prisoner of war are in the highest traditions of the military service and reflect the utmost credit upon himself and the United States Army.

---

From the Archives

We Have Met the Enemy…
Geoff Metcalf


"They who can give up essential liberty to obtain a little temporary safety deserve neither liberty nor safety.
--Benjamin Franklin
"The American people must be willing to give up a degree of personal privacy in exchange for safety and security."
--Louis Freeh


In the wake of the clamor over the most recent WikiLeaks data dump, 'Vault 7', 'UMBRAGE', et al, it should be noted this is not really anything new. What we are seeing here is simply the evolution of something that goes back to the late 50s (to the incomplete best knowledge I have).

It is kinda cool to finally see even

The New York Times

acknowledging material

I was writing about in 1998

.

In April of 1998 I wrote "Privacy has become an anachronism." I was commenting on "a massive system designed to intercept all your e-mail, fax traffic and more." I was explaining 'Echelon', the illegitimate offspring of a

UKUSA Treaty

signed by the United States, United Kingdom, Canada, Australia and New Zealand. Its purpose was, and is, to have a vast global intelligence monster, which allegedly shares common goals. The system was so "efficient" that reportedly National Security Agency folk from Fort Meade could work from Menwith Hill in England to intercept local communications without either nation having to burden themselves with the formality of seeking approval (a court order) or disclosing the operation. And this was all pre-9/11 and pre-the anti-constitutional

'Patriot Act'

.

It is illegal (without a Judge's signed permission) for the United States to spy on its citizens … kinda. The laws have long been circumvented by a mutual pact among five nations. Under the terms of UKUSA agreement, Britain spies on Americans and America spies on British citizens, and then the two conspirators trade data. A classic technical finesse. It is legal, but the intent to evade the spirit is inescapable.

I often fictionalized the genesis of 'Echelon' as an informal meeting of a group of post war American and British intelligence types drinking in some remote rustic bar. An imagined CIA type complains to his MI6 buddy about the hassles of US laws preventing US intelligence from surveillance of bad guys, and the Brit echoes the same complaint.

"Hey wait a moment mate," says Nigel, the make-believe MI6 guy, "I can spy on your guys and you can spy on our bad players…why don't we just come up with a mechanism whereby we spy on your villains, you spy on our villains, and we just 'share' the intel?"

This system was called ECHELON, and has been kicking around in some form longer than most of you. The result of the UKUSA treaty signed by the United States, United Kingdom, Canada, Australia and New Zealand was, and is, to have a vast global intelligence monster which allegedly shares common goals.

The London Telegraph reported in December of 1997 that the Civil liberties Committee of the European Parliament had officially confirmed the existence and purpose of ECHELON. "A global electronic spy network that can eavesdrop on every telephone, e-mail and telex communication around the world will be officially acknowledged for the first time in a European Commission report. …"

The report noted: "Within Europe all e-mail, telephone and fax communications are routinely intercepted by the United States National Security Agency, transferring all target information from the European mainland via the strategic hub of London, then by satellite to Fort Meade in Maryland via the crucial hub at Menwith Hill, in the North York moors in the UK.

"The ECHELON system forms part of the UKUSA system but unlike many of the electronic spy systems developed during the Cold War, ECHELON was designed primarily for non-military targets: governments, organizations and businesses in virtually every country."

An interesting sidebar appeared in the International Herald Tribune under the headline, "Big Corporate Brother: It Knows More About You Than You Think." The story details Acxiom Corp, which was a humongous information service hidden in the Ozark foothills. Twenty-four hours a day, Acxiom electronically gathered and sorts all kinds of data about 196 million Americans. Credit card transactions and magazine subscriptions, telephone numbers, real estate records, automotive data, hunting, business and fishing licenses, consumer surveys and demographic detail that would make a marketing department's research manager salivate. This relatively new (legal) enterprise was known as "data warehousing" or "data-mining", and it underscores the cruel reality that the fiction of personal privacy has become obsolete. Technology's ability to collect and analyze data has made privacy a quaint albeit interesting dinosaur.

The Tribune reported that "Axciom can often determine whether an American owns a dog or cat, enjoys camping or gourmet cooking, reads the Bible or lots of other books. It can often pinpoint an American's occupation, car and favorite vacations. By analyzing the equivalent of billions of pages of data, it often projects for its customers who should be offered a credit card or who is likely to buy a computer."

Most of this information is from y 1998 piece. Echelon has developed, matured, and morphed into a much more powerful hybrid. 'Carnivore' was software to help triage the cacophony of data. Vault 7 and 'Umbrage' are logical (some would argue "insidious") growth.

More to follow…