"It Is Not A Question of Who Is Right Or Wrong But What Is Right Or Wrong That Counts.

"

--Geoff Metcalf
Wo

rld & Nation
Joe Biden takes aim at far-left rivals' 'Medicare for All' in Democratic debate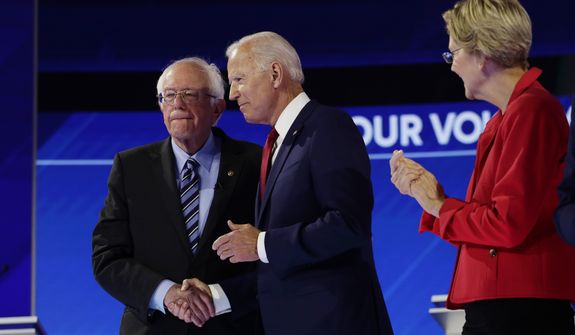 The long-awaited clash between former Vice President Joseph R. Biden and his far-left rivals finally occurred Thursday on the debate stage, with the two sides exchanging sharp jabs over health care.
Mr. Biden, the front-runner in the race, also found himself under fire from other moderate candidates aiming to dent his seemingly impenetrable armor.
Former Housing and Urban Development Secretary Julian Castro questioned the health and mental vigor of the 76-year-old Mr. Biden.
---
O'Rourke: 'Hell Yes We're Going to Take Away Your AR-15'
El Paso, Texas, native Beto O'Rourke passionately defended a ban of semi-automatic rifles like the ones used in recent mass shootings, including one in his hometown.
At the Democratic debate Thursday night, he was asked if he would implement mandatory buybacks for assault-style weapons.
"I am, if it's a weapon that was designed to kill people on a battlefield," he said.
"So many other people were shot by that AR-15 in Odessa, there weren't enough ambulances to get to them in time. Hell yes, we're going to take away your AR-15, your AK-47. We're not going to allow it to be used against a fellow American anymore."
---
U.S. to disclose name of Saudi official redacted in 9/11 FBI report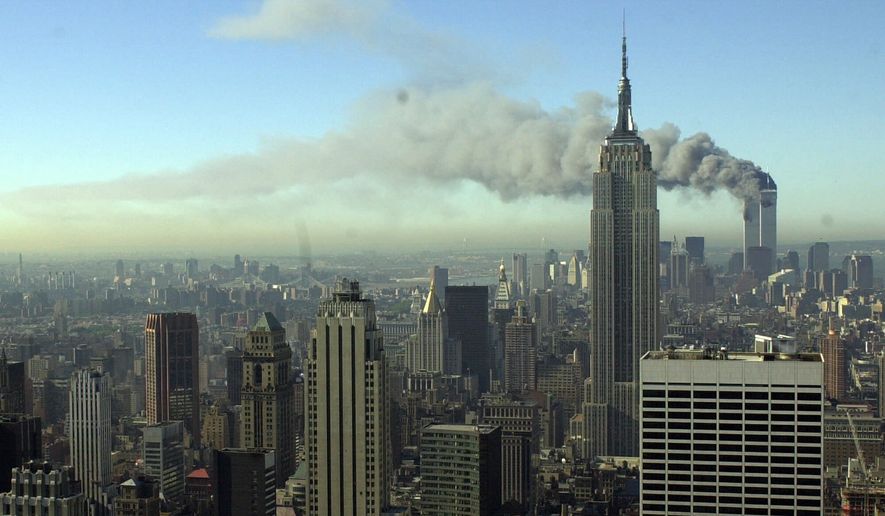 The U.S. said Thursday that it will disclose the name of a Saudi citizen sought by lawyers for victims of the Sept. 11 attacks who want to link the kingdom to the terrorist plot.
Attorney General William Barr had the option of invoking a "state secrets" privilege to withhold the release of the name, which lawyers for survivors and victims' relatives believe belongs to a Saudi government official who they say assigned two men in California to assist two of the hijackers.
Instead, Justice Department lawyers said in a court filing that the FBI will make the name available to a limited circle of people that includes lawyers for survivors and victims' relatives as well as to attorneys for the Saudi government. The decision is a big step forward for Sept. 11 victims, who allege in a long-running lawsuit that Saudi Arabia provided support for the attacks.
---
China to Lift Punitive Tariffs on US Soybeans, Pork
China will lift punitive tariffs imposed on U.S. soybeans and pork in a trade war with Washington, a state news agency said Friday, adding to conciliatory gestures by the two sides ahead of negotiations.
China will suspend tariff hikes on soybeans, pork and some other farm goods, the Xinhua News Agency said, citing the Cabinet planning agency and the Commerce Ministry. It said Beijing "supports domestic companies in purchasing a certain amount of U.S. farm produce," but gave no details.
The move follows President Donald Trump's decision Wednesday to postpone a planned Oct. 1 tariff hike on Chinese imports to Oct. 15.
---
'Guardian' program trains armed teachers to stop an active school shooter
"Get down on your knees!"
It's not something a teacher ordinarily would shout during a summer training program, but this is no ordinary program.
This teacher was participating in active shooter response training under Florida's revamped Coach Aaron Feis Guardian Program at Southport Elementary School near Panama City.
She and other teachers were taught to tread cautiously down a hallway and peer into classrooms, which were empty save for role players — one of whom was posing as an active shooter.
Their job: Make threat assessments of each classroom while looking for the "shooter."
---
Nancy Pelosi is adamant: 'Impeachment is a very divisive measure'
House Speaker Nancy Pelosi did not clarify whether or not the Judiciary committee's investigation into President Trump constitutes a formal impeachment investigation, as confusion stirs amongst her members.
However, the top-ranking Democrat notably avoided using the I-word to describe the ongoing investigation like several Judiciary members, including Chairman Jerry Nadler, have.
Rather, she doubled down on the argument she's been using for months — impeachment is a possibility but six committees need to finish the investigations that have been ongoing for months first.
---
Escorts Deploy Without USS Harry S. Truman as East Coast Carrier Shortage Persists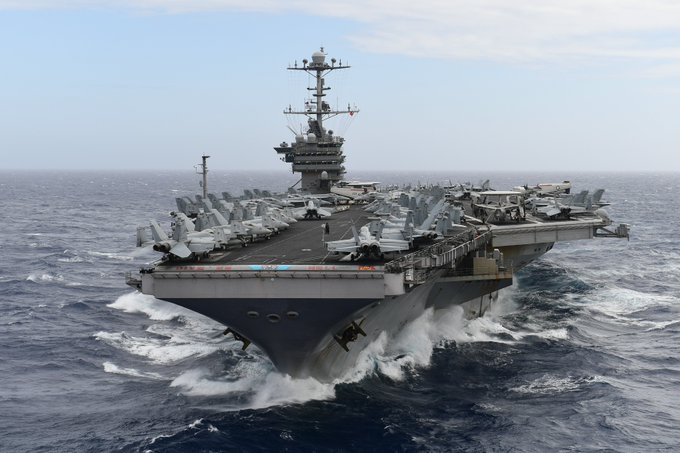 Surface escorts from the Harry S. Truman Carrier Strike Group left their homeports today to kick off an overseas deployment.
Aircraft carrier USS Harry S. Truman (CVN-75) did not.
After the carrier was sidelined at the end of August with a malfunction in the ship's electrical distribution system, engineers continue to assess the problem. "The aircraft carrier's repairs are progressing, and all efforts are being made to deploy the carrier and air wing as soon as possible," according to a Navy statement to USNI News.
---
U.K. Prime Minister Boris Johnson denies lying to the queen over Brexit
Asked in an interview, "Did you lie to the queen when you asked her to [suspend] Parliament?" Johnson said, "Absolutely not."
British Prime Minister Boris Johnson on Thursday denied lying to Queen Elizabeth II as he continues to face pressure over his decision to suspend Parliament in the midst of the ongoing Brexit crisis.
Johnson suspended Parliament from Tuesday until mid-October, something he claims is necessary to prepare for a new parliamentary session and a new legislative agenda.
Because of an archaic quirk of Britain's constitutional monarchy, to do this he needed to ask for the queen's permission and explain his reasons for the suspension — the longest since World War II.
On Wednesday, the highest civil court in Scotland ruled that this advice and the suspension were unlawful because they were clearly designed to "stymie parliamentary scrutiny" of the government.
---
How the memories of Sept. 11 bolster resolve
On the morning of Sept. 11, 2001, I was filling the kids' bowls full of cereal before sending them off to school. Tonette called me from work and told me to turn on the television in the living room. I did.
Peter Jennings was on air talking about a plane crashing into one of the World Trade Center towers. At the beginning, they thought it was a horrible accident. Then, much to our collective horror, another plane smashed into the other twin tower. It was shocking to think that two jet airliners could have crashed into these buildings.
We were all so naive.
Feeling uneasy, but not fully understanding the gravity of the situation, I packed up the kids and took them down to Teddy Roosevelt Elementary School in our hometown of Wauwatosa. Wisconsin. Soon after, I met my carpool and we headed off to Madison. We were still oblivious to the magnitude of the actions that day.
---
Democrats hated Bolton until Trump fired him
It was March 2018 and Sen. Chris Murphy, Connecticut Democrat, was deeply disturbed. President Trump had just announced that John R. Bolton would serve as his third appointed national security adviser and Mr. Murphy, a thoroughgoing dove, was alarmed.
"John Bolton is being picked for the top non-confirmable national security job because a Senate that confirmed DeVos, Zinke, Price, and Pruitt will not confirm Bolton for anything [because] he is too extreme," the senator tweeted. "Noodle that for a second."
Now that Mr. Trump has heaved Mr. Bolton overboard, Mr. Murphy suddenly has second thoughts about Mr. Bolton's place in the administration. It turns out, you see, that Mr. Bolton was a stabilizing influence.
---
---
"It is discouraging to think how many people are shocked by honesty and how few by deceit."

-- Noel Coward

(1899-1973) British playwright

---

The Medal of Honor is the highest award for valor in action against an enemy force which can be bestowed upon an individual serving in the Armed Services of the United States.

GeneTrerally presented to its recipient by the President of the United States of America in the name of Congress.

The first award of the Medal of Honor was made March 25, 1863 to Private JACOB PARROTT.The last award of the Medal of Honor was made September 15, 2011 to Sergeant DAKOTA MEYER.

Since then there have been: • 3458 recipients of the Medal of Honor.

• Today there are 85 Living Recipients of the Medal of Honor.

Citation


Captain Humbert R. Versace distinguished himself by extraordinary heroism during the period of 29 October 1963 to 26 September 1965, while serving as S-2 Advisor, Military Assistance Advisory Group, Detachment 52, Ca Mau, Republic of Vietnam. While accompanying a Civilian Irregular Defense Group patrol engaged in combat operations in Thoi Binh District, An Xuyen Province, Captain Versace and the patrol came under sudden and intense mortar, automatic weapons, and small arms fire from elements of a heavily armed enemy battalion. As the battle raged, Captain Versace, although severely wounded in the knee and back by hostile fire, fought valiantly and continued to engage enemy targets. Weakened by his wounds and fatigued by the fierce firefight, Captain Versace stubbornly resisted capture by the over-powering Viet Cong force with the last full measure of his strength and ammunition. Taken prisoner by the Viet Cong, he exemplified the tenets of the Code of Conduct from the time he entered into Prisoner of War status. Captain Versace assumed command of his fellow American soldiers, scorned the enemy's exhaustive interrogation and indoctrination efforts, and made three unsuccessful attempts to escape, despite his weakened condition which was brought about by his wounds and the extreme privation and hardships he was forced to endure. During his captivity, Captain Versace was segregated in an isolated prisoner of war cage, manacled in irons for prolonged periods of time, and placed on extremely reduced ration. The enemy was unable to break his indomitable will, his faith in God, and his trust in the United States of America. Captain Versace, an American fighting man who epitomized the principles of his country and the Code of Conduct, was executed by the Viet Cong on 26 September 1965. Captain Versace's gallant actions in close contact with an enemy force and unyielding courage and bravery while a prisoner of war are in the highest traditions of the military service and reflect the utmost credit upon himself and the United States Army.

---

From the Archives

We Have Met the Enemy…
Geoff Metcalf


"They who can give up essential liberty to obtain a little temporary safety deserve neither liberty nor safety.
--Benjamin Franklin
"The American people must be willing to give up a degree of personal privacy in exchange for safety and security."
--Louis Freeh


In the wake of the clamor over the most recent WikiLeaks data dump, 'Vault 7', 'UMBRAGE', et al, it should be noted this is not really anything new. What we are seeing here is simply the evolution of something that goes back to the late 50s (to the incomplete best knowledge I have).

It is kinda cool to finally see even

The New York Times

acknowledging material

I was writing about in 1998

.

In April of 1998 I wrote "Privacy has become an anachronism." I was commenting on "a massive system designed to intercept all your e-mail, fax traffic and more." I was explaining 'Echelon', the illegitimate offspring of a

UKUSA Treaty

signed by the United States, United Kingdom, Canada, Australia and New Zealand. Its purpose was, and is, to have a vast global intelligence monster, which allegedly shares common goals. The system was so "efficient" that reportedly National Security Agency folk from Fort Meade could work from Menwith Hill in England to intercept local communications without either nation having to burden themselves with the formality of seeking approval (a court order) or disclosing the operation. And this was all pre-9/11 and pre-the anti-constitutional

'Patriot Act'

.

It is illegal (without a Judge's signed permission) for the United States to spy on its citizens … kinda. The laws have long been circumvented by a mutual pact among five nations. Under the terms of UKUSA agreement, Britain spies on Americans and America spies on British citizens, and then the two conspirators trade data. A classic technical finesse. It is legal, but the intent to evade the spirit is inescapable.

I often fictionalized the genesis of 'Echelon' as an informal meeting of a group of post war American and British intelligence types drinking in some remote rustic bar. An imagined CIA type complains to his MI6 buddy about the hassles of US laws preventing US intelligence from surveillance of bad guys, and the Brit echoes the same complaint.

"Hey wait a moment mate," says Nigel, the make-believe MI6 guy, "I can spy on your guys and you can spy on our bad players…why don't we just come up with a mechanism whereby we spy on your villains, you spy on our villains, and we just 'share' the intel?"

This system was called ECHELON, and has been kicking around in some form longer than most of you. The result of the UKUSA treaty signed by the United States, United Kingdom, Canada, Australia and New Zealand was, and is, to have a vast global intelligence monster which allegedly shares common goals.

The London Telegraph reported in December of 1997 that the Civil liberties Committee of the European Parliament had officially confirmed the existence and purpose of ECHELON. "A global electronic spy network that can eavesdrop on every telephone, e-mail and telex communication around the world will be officially acknowledged for the first time in a European Commission report. …"

The report noted: "Within Europe all e-mail, telephone and fax communications are routinely intercepted by the United States National Security Agency, transferring ll target information from the European mainland via the strategic hub of London, then by satellite to Fort Meade in Maryland via the crucial hub at Menwith Hill, in the North York moors in the UK.

"The ECHELON system forms part of the UKUSA system but unlike many of the electronic spy systems developed during the Cold War, ECHELON was designed primarily for non-military targets: governments, organizations and businesses in virtually every country."

An interesting sidebar appeared in the International Herald Tribune under the headline, "Big Corporate Brother: It Knows More About You Than You Think." The story details Acxiom Corp, which was a humongous information service hidden in the Ozark foothills. Twenty-four hours a day, Acxiom electronically gathered and sorts all kinds of data about 196 million Americans. Credit card transactions and magazine subscriptions, telephone numbers, real estate records, automotive data, hunting, business and fishing licenses, consumer surveys and demographic detail that would make a marketing department's research manager salivate. This relatively new (legal) enterprise was known as "data warehousing" or "data-mining", and it underscores the cruel reality that the fiction of personal privacy has become obsolete. Technology's ability to collect and analyze data has made privacy a quaint albeit interesting dinosaur.

The Tribune reported that "Axciom can often determine whether an American owns a dog or cat, enjoys camping or gourmet cooking, reads the Bible or lots of other books. It can often pinpoint an American's occupation, car and favorite vacations. By analyzing the equivalent of billions of pages of data, it often projects for its customers who should be offered a credit card or who is likely to buy a computer."

Most of this information is from y 1998 piece. Echelon has developed, matured, and morphed into a much more powerful hybrid. 'Carnivore' was software to help triage the cacophony of data. Vault 7 and 'Umbrage' are logical (some would argue "insidious") growth.

More to follow…