Friday February 16th, 2018
"It Is Not A Question of Who Is Right Or Wrong But What Is Right Or Wrong That Counts.
"
--Geoff Metctalf
---

Wo
rld & National
Cops Had Been Called to Florida Shooter's House More Than 35 Times
Local police made 36 trips to the house of the Florida mass murderer over a six-year period for erratic or violent behavior, Buzzfeed reported, citing dozens of police reports.
However, Nikolas Cruz, who confessed to the massacre of 17 students and adults at a high school in Parkland, Florida, was never arrested until Wednesday.
In September 2016, police responded to the home Cruz shared with his mother, Lynda, and brother, Zachary, because Nikolas had been fighting with his mom.
---
White House: New bipartisan DACA plan "giant amnesty"
Is the "Common Sense Caucus" a triumph of marketing over accuracy? The White House has been very clear on the terms it will accept for granting a path to citizenship for DACA recipients and normalization of the program. They want a border wall and an end to broad family-unification or "chain migration" practices in order to keep the problem from recurring. Donald Trump went so far as to issue a veto threat for anything that doesn't fully resolve the issue.
With time ticking down, yet another bipartisan gang with better branding has offered a deal that falls short of those demands. It also falls short of common sense:
A bipartisan group of senators reached a deal on immigration Wednesday as President Trump attempted to preemptively undercut the proposal by delivering an ultimatum: Pass my plan or risk a veto.
---
U.S. Supreme Court weighs intervening in 'Dreamers' problem
The U.S. Supreme Court could say on Friday whether it will consider President Donald Trump's appeal of a lower court decision blocking his order to end a program that shields hundreds of thousands of young immigrants from deportation.
The problem of what to do about the Dreamers, as the immigrants are known, landed back in the court system this week after the U.S. Senate debated the matter for several days and failed to approve any legislation.
With the fate of the 700,000 Dreamers, who were brought illegally into the United States years ago as children, still in limbo, the high court's nine justices were set to meet privately on Friday morning to discuss what cases they will hear.
---
4 Big Lies in Anti-Trump Ad '30 Seconds to Nuclear War'
California billionaire Tom Steyer has pledged to spend $40 million in a national campaign to impeach President Trump, and his latest broadside comes in the form of a 30-second ad riddled with half-truths, inaccuracies, and innuendo.
The ad, paid for by Steyer personally and not by his NextGen America political action committee, is part of his "Need to Impeach" campaign that is airing in all 50 states.
Democrats have been reluctant to publicly embrace the campaign by the top Democratic donor, fearing it could complicate their efforts to recapture control of the House in November.
---
ICE arrests 221 illegals, targets 122 business in LA sweep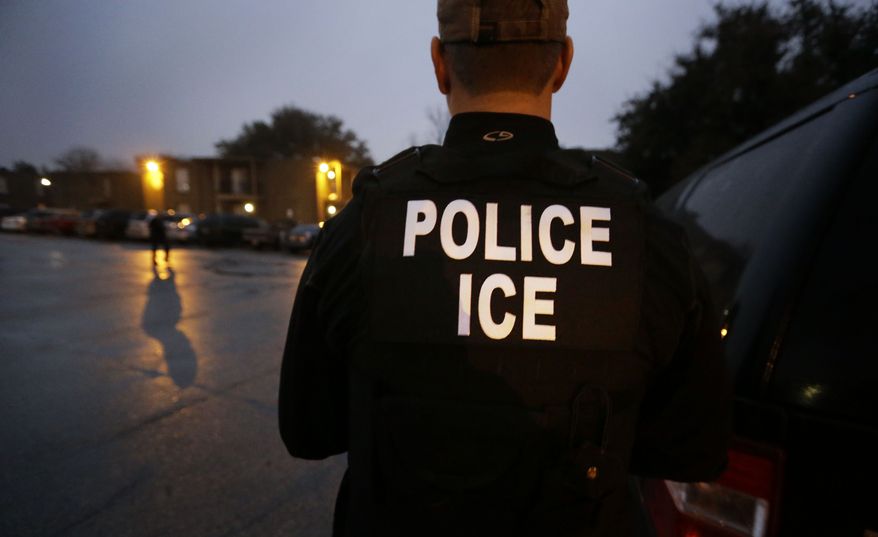 Federal deportation officers staged one of the biggest enforcement actions in years against businesses in Los Angeles this week, arresting 212 people and serving audit notices to 122 businesses who will have to prove they aren't hiring illegal immigrants.
Nearly all of those arrested were convicted criminals, according to U.S. Immigration and Customs Enforcement.
ICE said it targeted Los Angeles because it's a sanctuary city, meaning it refuses to fully cooperate with federal authorities on deportations from within its jails.
That means agents and officers have to go out into the community, said Thomas D. Homan, the agency's deputy director.
---

Mitt Romney launches Utah Senate bid with feel-good video
Takes s wipes at Washington and Trump
With an ode to his adopted home state of Utah and swipes at Washington and President Trump, Mitt Romney launched a political comeback Friday by announcing his bid for U.S. Senate.
Revealing his intentions in a 2/12 minute video, filled with uplifting images of family and the state's rugged beauty, Romney signaled his intention to run a localized campaign rooted in an old political standby: criticism of the Beltway and its noxious political culture.
"Utah is a better model for Washington than Washington is for Utah," Romney said, citing its balanced budget — required, as in most states, by law — its robust export industry and the cordiality he said prevails on its version of Capitol Hill.
In the most politically pointed remarks, he cited the state's long history of welcoming immigrants, a tradition rooted in the outreach of its dominant Mormon faith, and contrasted that, implicitly, with Trump's hard-line stance. "Washington," he said, "sends immigrants a message of exclusion."
---
Turkey and U.S. in Talks on Worsening Syria Crisis
About the only thing the top diplomats from the United States and Turkey could agree upon on Friday was that their countries' relations had reached a crisis point, as the two sides delayed negotiations until next month on issues that at times have brought the two NATO allies close to confrontation on the battlefield.
Secretary of State Rex W. Tillerson dined for three hours Thursday night with Turkey's president, Recep Tayyip Erdogan, and diplomats from both countries labored into the early hours of Friday morning in hopes of announcing at least a few specific measures. But the joint statement issued on Friday contained only anodyne affirmations of respect and a promise to keep talking.
"All these mechanisms are not kicking the ball off into the corner, not delaying the process. We're not trying to buy time," said Turkey's foreign minister, Mevlut Cavusoglu, while announcing an agreement that delays further talks until next month.
---
Why North Korea sent hundreds of cheerleaders to the Olympics
North Korea sent 22 athletes to the 2018 Olympics, and hundreds of cheerleaders to support them. Suki Kim, a writer who spent months undercover in North Korea, explains what's really going on behind this "army of beauties." Following is a transcript of the video.
Suki Kim: "The Army of Beauties," that's a phrase the Western media concocted because I'd never heard that in South Korea. In South Korea, they're just called cheerleaders or beautiful cheerleaders. So this business of beauty, or cheerleaders, or army. First of all, they are not an army and they are not cheerleaders. They're actually college students who've been rounded up by the government to be sent overseas to look pretty. So these young women are just citizens who, they've been chosen because the regime put some selection criteria which has to do with young age, looking pretty-- whatever they consider, from a good family, having loyalty to the party, and of a certain height-- about 5 foot 3 at least.
It's almost like a beauty contest, but except it's not a beauty contest 'cause you've been forced to take this position. And you don't have an option as a North Korean citizen. So when we're seeing these young women cheering, they're not like cheerleaders that you see. They didn't come there on their own will. They've been ordered by their regime. So they'll go back to their lives and it's as if these past few days never happened for them because they're not allowed to discuss any of it back home.
---
The snookered press at Pyeongchang
When Kim Jong-un dispatched his crack propaganda team to Pyeongchang (and not P.F. Chang, the Chinese restaurant chain, as reported by NBC News) to cover the Winter Olympics, he couldn't have imagined that the American media in town would have been so easy to con.
It was so easy, in fact, that a girl could do it, and she did. "If 'diplomatic dance' were an event at the Winter Olympics," CNN reported with gasps of breathless wonder, "Kim Jong-un's younger sister would be favored to win the gold."
"Without a word, and only flashing smiles," observed The New York Times, "Kim Jong-un's sister outflanked Vice President Mike Pence in diplomacy." The Washington Post and the BBC, the British radio and television network, compared Miss Kim to Ivanka Trump, the president's daughter. Reuters, the British news agency, did in fact award Miss Kim an "imaginary diplomacy gold medal" for her exploits, which was only right, because her difficulty in winning the gold was clearly imaginary.
---

How Afghanistan can take the road not taken in Vietnam
The Afghan army and security forces can become self-sufficient with American advisory, logistics and fire support
We haven't heard much about Afghanistan in the news lately. Occasionally, an American will be killed, or there will be a bombing, but the current U.S. strategy of the "Afghanization" seems to have produced a stalemate that is not necessarily a bad thing.
The United States is providing air support, but is also trying to improve the capabilities of the Afghan Air Force. U.S. Special Forces and other advisory missions continue to attempt to improve the Afghan security forces. Afghanistan looks today like what the legendary American counterinsurgency expert Edward Lansdale hoped South Vietnam would look like by 1970 had his ideas for counterinsurgency and nation-building had been adopted.
As author-historian Max Boot points out in his new biography of Mr. Lansdale, the U.S. administration under President Lyndon Johnson chose another road when it opted to have American forces lead the fight in 1965. Mr. Lansdale believed that an admittedly imperfect democratic government would break the stalemate in the long run, proving to be superior to what the communists in the north were peddling.
"It is discouraging to think how many people are shocked by honesty and how few by deceit."
-- Noel Coward
(1899-1973) British playwright
---
---
The Medal of Honor is the highest award for valor in action against an enemy force which can be bestowed upon an individual serving in the Armed Services of the United States.
GeneTrerally presented to its recipient by the President of the United States of America in the name of Congress.
The first award of the Medal of Honor was made March 25, 1863 to Private JACOB PARROTT.The last award of the Medal of Honor was made September 15, 2011 to Sergeant DAKOTA MEYER.
Since then there have been: • 3458 recipients of the Medal of Honor.
• Today there are 85 Living Recipients of the Medal of Honor.
Citation
https://www.washingtontimes.com/news/2018/feb/15/how-afghanistan-can-take-the-road-not-taken-in-vie/
Captain Humbert R. Versace distinguished himself by extraordinary heroism during the period of 29 October 1963 to 26 September 1965, while serving as S-2 Advisor, Military Assistance Advisory Group, Detachment 52, Ca Mau, Republic of Vietnam. While accompanying a Civilian Irregular Defense Group patrol engaged in combat operations in Thoi Binh District, An Xuyen Province, Captain Versace and the patrol came under sudden and intense mortar, automatic weapons, and small arms fire from elements of a heavily armed enemy battalion. As the battle raged, Captain Versace, although severely wounded in the knee and back by hostile fire, fought valiantly and continued to engage enemy targets. Weakened by his wounds and fatigued by the fierce firefight, Captain Versace stubbornly resisted capture by the over-powering Viet Cong force with the last full measure of his strength and ammunition. Taken prisoner by the Viet Cong, he exemplified the tenets of the Code of Conduct from the time he entered into Prisoner of War status. Captain Versace assumed command of his fellow American soldiers, scorned the enemy's exhaustive interrogation and indoctrination efforts, and made three unsuccessful attempts to escape, despite his weakened condition which was brought about by his wounds and the extreme privation and hardships he was forced to endure. During his captivity, Captain Versace was segregated in an isolated prisoner of war cage, manacled in irons for prolonged periods of time, and placed on extremely reduced ration. The enemy was unable to break his indomitable will, his faith in God, and his trust in the United States of America. Captain Versace, an American fighting man who epitomized the principles of his country and the Code of Conduct, was executed by the Viet Cong on 26 September 1965. Captain Versace's gallant actions in close contact with an enemy force and unyielding courage and bravery while a prisoner of war are in the highest traditions of the military service and reflect the utmost credit upon himself and the United States Army.
---
From the Archives

We Have Met the Enemy…

Geoff Metcalf
"They who can give up essential liberty to obtain a little temporary safety deserve neither liberty nor safety.
--Benjamin Franklin
"The American people must be willing to give up a degree of personal privacy in exchange for safety and security."
--Louis Freeh

In the wake of the clamor over the most recent WikiLeaks data dump, 'Vault 7', 'UMBRAGE', et al, it should be noted this is not really anything new. What we are seeing here is simply the evolution of something that goes back to the late 50s (to the incomplete best knowledge I have).
It is kinda cool to finally see even the New York Times (www.nytimes.com/2017/03/09/opinion/the-truth-about-the-wikileaks-cia-cache.html?_r=0) acknowledging material I was writing about in 1998 (http://www.wnd.com/1998/04/6108/ ).
In April of 1998 I wrote "Privacy has become an anachronism." I was commenting on "a massive system designed to intercept all your e-mail, fax traffic and more." I was explaining 'Echelon', the illegitimate offspring of a UKUSA treaty (https://www.nationalarchives.gov.uk/ukusa/ ) signed by the United States, United Kingdom, Canada, Australia and New Zealand. Its purpose was, and is, to have a vast global intelligence monster, which allegedly shares common goals. The system was so "efficient" that reportedly National Security Agency folk from Fort Meade could work from Menwith Hill in England to intercept local communications without either nation having to burden themselves with the formality of seeking approval (a court order) or disclosing the operation. And this was all pre-9/11 and pre-the anti-constitutional 'Patriot Act'.
It is illegal (without a Judge's signed permission) for the United States to spy on its citizens … kinda. The laws have long been circumvented by a mutual pact among five nations. Under the terms of UKUSA agreement, Britain spies on Americans and America spies on British citizens, and then the two conspirators trade data. A classic technical finesse. It is legal, but the intent to evade the spirit is inescapable.
I often fictionalized the genesis of 'Echelon' as an informal meeting of a group of post war American and British intelligence types drinking in some remote rustic bar. An imagined CIA type complains to his MI6 buddy about the hassles of US laws preventing US intelligence from surveillance of bad guys, and the Brit echoes the same complaint.
"Hey wait a moment mate," says Nigel, the make-believe MI6 guy, "I can spy on your guys and you can spy on our bad players…why don't we just come up with a mechanism whereby we spy on your villains, you spy on our villains, and we just 'share' the intel?"
This system was called ECHELON, and has been kicking around in some form longer than most of you. The result of the UKUSA treaty signed by the United States, United Kingdom, Canada, Australia and New Zealand was, and is, to have a vast global intelligence monster which allegedly shares common goals.
The London Telegraph reported in December of 1997 that the Civil liberties Committee of the European Parliament had officially confirmed the existence and purpose of ECHELON. "A global electronic spy network that can eavesdrop on every telephone, e-mail and telex communication around the world will be officially acknowledged for the first time in a European Commission report. …"
The report noted: "Within Europe all e-mail, telephone and fax communications are routinely intercepted by the United States National Security Agency, transferring all target information from the European mainland via the strategic hub of London, then by satellite to Fort Meade in Maryland via the crucial hub at Menwith Hill, in the North York moors in the UK.
"The ECHELON system forms part of the UKUSA system but unlike many of the electronic spy systems developed during the Cold War, ECHELON was designed primarily for non-military targets: governments, organizations and businesses in virtually every country."
An interesting sidebar appeared in the International Herald Tribune under the headline, "Big Corporate Brother: It Knows More About You Than You Think." The story details Acxiom Corp, which was a humongous information service hidden in the Ozark foothills. Twenty-four hours a day, Acxiom electronically gathered and sorts all kinds of data about 196 million Americans. Credit card transactions and magazine subscriptions, telephone numbers, real estate records, automotive data, hunting, business and fishing licenses, consumer surveys and demographic detail that would make a marketing department's research manager salivate. This relatively new (legal) enterprise was known as "data warehousing" or "data-mining", and it underscores the cruel reality that the fiction of personal privacy has become obsolete. Technology's ability to collect and analyze data has made privacy a quaint albeit interesting dinosaur.
The Tribune reported that "Axciom can often determine whether an American owns a dog or cat, enjoys camping or gourmet cooking, reads the Bible or lots of other books. It can often pinpoint an American's occupation, car and favorite vacations. By analyzing the equivalent of billions of pages of data, it often projects for its customers who should be offered a credit card or who is likely to buy a computer."
Most of this information is from y 1998 piece. Echelon has developed, matured, and morphed into a much more powerful hybrid. 'Carnivore' was software to help triage the cacophony of data. Vault 7 and 'Umbrage' are logical (some would argue "insidious") growth.
More to follow…