"It Is Not A Question of Who Is Right Or Wrong But What Is Right Or Wrong That Counts.

"

--Geoff Metcalf
Providing an on line Triage of the news since 1997
My son has narrated the last book I wrote.
Please consider listening to it and encouraging others to do so too.
(Click on Book Cover)
Wo
rld & Nation
White House urging Senate Dems to kill proposal naming Taiwan a 'major ally': Report
President Joe Biden's White House is reportedly urging Senate Democrats not to move forward with legislation that would name Taiwan a "major non-NATO ally."
Sens. Bob Menendez, D-NJ, and Lindsey Graham, R-SC, introduced the bill, which would also provide $4.5 billion in security aid to Taiwan. The White House is critical of the bill and wants Democrats to vote against it, however, according to Bloomberg News.
"The White House has significant concerns. I have significant concerns," Sen. Chris Murphy, D-CT, told Bloomberg.
"I'm not sure this is the moment to throw out 40 years of policy," he added, going on to yield that it does "makes sense for us to draw closer to Taiwan."
The White House did not immediately respond to requests for comment from Fox News.
---
Fuming China says it will stop military, climate talks with the U.S. over Pelosi's trip to Taiwan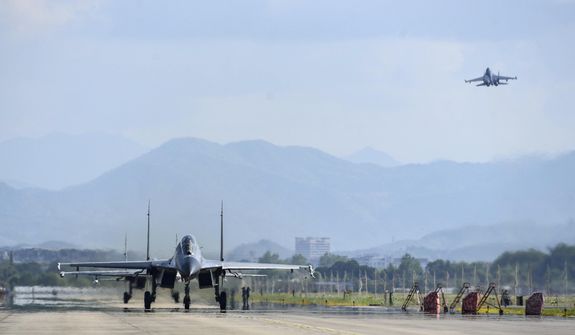 China sanctioned House Speaker Nancy Pelosi on Friday and said it will stop working with the U.S. on climate change, drug enforcement and some military coordination because the high-profile Democrat visited Taiwan over its objections.
The foreign ministry in Beijing said the eight "countermeasures" also include a suspension of cooperation on transnational crimes or repatriating illegal immigrants.
Chinese officials said talks between regional commanders and military maritime consultations would be canceled.
China announced the steps after conducting aggressive military exercises near Taiwan, which it considers to be a breakaway province.
Additionally, the foreign ministry said it would levy unspecific sanctions against Mrs. Pelosi and her "immediate family members" in accordance with Chinese law.
---
Florida Gov. DeSantis suspends 'woke' Tampa prosecutor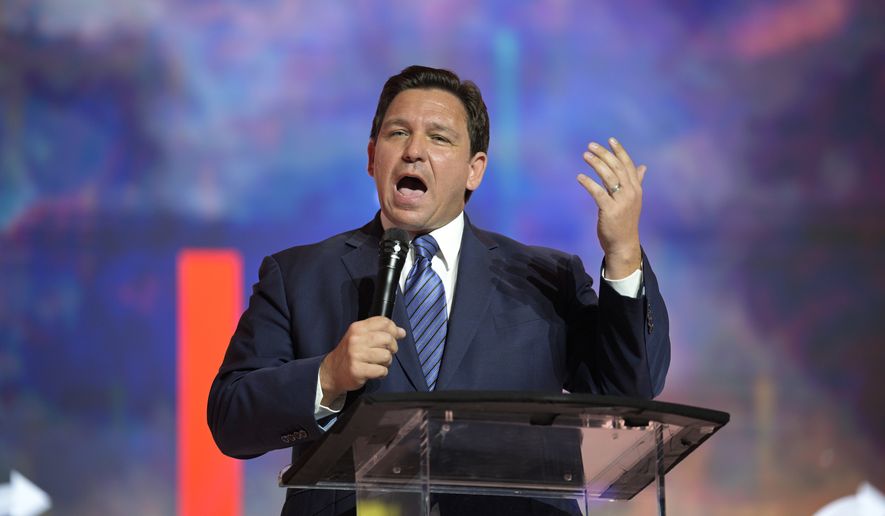 Florida Gov. Ron DeSantis said Thursday that he is suspending Tampa's "woke" state attorney, Andrew Warren, for "refusing to enforce Florida law," including abortion law, and for enacting soft-on-crime policies that have made the community less safe.
Referring to Florida's new ban on abortion at 15 weeks, Mr. DeSantis said of the prosecutor, "It's not for him to put himself above that and say that he is not going to enforce the laws."
Mr. Warren, a far-left Democrat who won his seat in 2016 after campaigning on criminal justice reform, has acted increasingly at odds with Republican leaders in the state. He most recently announced that he would not enforce any abortion restrictions in the wake of the Supreme Court ruling in June overturning Roe v. Wade, which legalized abortion at the federal level.
The governor said Mr. Warren was overstepping his authority.
---
Pete Buttigieg torches those who criticized Joe Biden for rising gas prices
U.S. Department of Transportation Secretary Pete Buttigieg recently weighed in with a critical response to those who previously blamed President Joe Biden for gas prices. Those same critics have been eerily silent over the last several weeks as gas prices have declined substantially.
On Thursday, August 4, Buttigieg appeared on MSNBC's Morning Joe where he discussed the drop in gas prices."We're seeing it go under four bucks in more and more places, but not everywhere and, of course, we want to see it continue to go down past that," Buttigieg told Mika Brzezinski.
According to the American Automobile Association, gas prices have dropped approximately $0.70 nationwide from an average of $4.81 to $4.139. Although prices are still higher than they were in August 2021, Buttigieg believes prices are beginning to settle.
---
Pentagon tells staff not to wipe cellphones of text, email records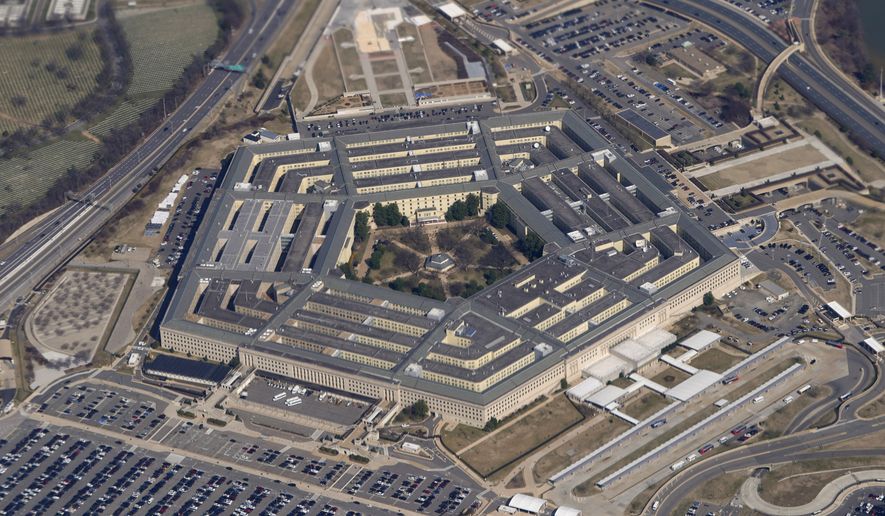 The Pentagon's deputy defense secretary this week reminded staffers that retaining messages and emails sent through government cellphones is required under the Federal Records Act after texts from senior-level Defense Department officials were scrubbed on Jan. 6, 2021.
In a memo sent out this week, Deputy Defense Secretary Kathleen Hicks reminded Pentagon officials that retaining required records "is a solemn responsibility and legal obligation for all federal employees, civilian and military."
The government mobile devices of former acting Defense Secretary Chris Miller, former Pentagon Chief of Staff Kash Patel and former Army Secretary Ryan McCarthy were wiped in the days after the end of former President Donald Trump's term in the White House.
---
Ukraine Seeks to Extend Shipping Safe Passage Deal Beyond Grain
Three grain ships left Ukrainian ports on Friday while the first inbound cargo vessel since Russia's invasion was due in Ukraine later in the day to load, as Kyiv called for the safe passage deal to be extended to other cargoes such as metals.
The July 22 deal marked a rare diplomatic breakthrough as war rages in eastern Ukraine, with Kyiv trying to rebuild its shattered economy after more than five months of conflict.
"We expect that the security guarantees of our partners from the U.N. and Turkey will continue to work, and food exports from our ports will become stable and predictable for all market participants," Ukrainian Infrastructure Minister Oleksandr Kubrakov said on Facebook after the ships set off.
---
Kremlin: Griner Swap Must Be Discussed Without Publicity
The Kremlin said Friday that it's open to talking about a possible prisoner exchange involving American basketball star Brittney Griner but strongly warned Washington against publicizing the issue.
Griner, a two-time U.S. Olympic champion and an eight-time all-star with the WNBA's Phoenix Mercury, has been detained in Russia since Feb. 17 after police at Moscow's airport said they found vape cartridges containing cannabis oil in her luggage.
A judge convicted the 31-year-old athlete Thursday of drug possession and smuggling, and sentenced her to nine years in prison. The politically charged case comes amid high tensions between Moscow and Washington over Russia's military action in Ukraine.
---
Trump ally Kari Lake wins GOP primary for Arizona governor
Kari Lake, a former news anchor who walked away from her journalism career and was embraced by Donald Trump and his staunch supporters, won the Republican primary for Arizona governor on Thursday.
Lake's victory was a blow to the GOP establishment that lined up behind lawyer and businesswoman Karrin Taylor Robson in an attempt to push their party past the chaotic Trump era. Lake said she would not have certified President Joe Biden's 2020 victory and put false claims of election fraud at the center of her campaign.
"Arizonans who have been forgotten by the establishment just delivered a political earthquake," Lake said in a statement after the race was called.
Republicans now enter the general election sprint with a slate of nominees closely allied with Trump who deny that Biden was legitimately elected president. Lake will face Democratic Secretary of State Katie Hobbs in the November election.
---
Top Democrat Maloney apologizes to Biden for questioning his reelection prospects
New York Democratic Rep. Carolyn Maloney, who earlier this week appeared to question whether President Joe Biden should run for reelection in 2024, on Thursday apologized to her party's leader.
In the same breath, however, she doubled down on remarks that she doesn't believe the 79-year-old Biden will run again -- despite Biden and the White House repeatedly saying he plans to run for a second term.
"Mr. President, I apologize. I want you to run. I happen to think you won't be running, but when you run or if you run, I will be there 100%. You have deserved it, you are a great president, and thank you for everything you have done for my state and all the states and all the cities in America." Maloney said during an appearance on CNN's "New Day."
---
'Move forward': Kyrsten Sinema endorses Democrats' climate, tax and spending bill
Her support means that Democrats have the votes to approve the legislation along party lines
Sen. Kyrsten Sinema, Arizona Democrat, broke her silence Thursday night on her party's efforts to pass a major climate, tax, and spending bill, saying in a statement that she plans to "move forward."
Her support means that Democrats have the votes they need to approve the legislation along party lines and deliver a significant victory to President Biden.
Ms. Sinema noted that her support for the $740 billion piece of legislation was contingent on changing its tax provisions targeting the wealthy and large corporations, about which she has long had reservations.
---
Lawmakers berate FBI chief over allegations of partisanship in Trump, Hunter Biden probes
FBI Director Christopher A. Wray on Thursday repeatedly sidestepped withering questions from Republicans on the Senate Judiciary Committee about partisanship in politically charged investigations, including the Hunter Biden probe.
Republican lawmakers accused the bureau of targeting "patriotic Americans," including parents at school board meetings who raised concerns about local education issues. They said the FBI was overeager to label conservatives as "militia violent extremists" and wondered why some of the agents accused of wrongdoing in the bureau's Trump-Russia collusion probe hadn't been disciplined.
Sen. Charles E. Grassley, Iowa Republican, said in his opening statement that the FBI is showing partisanship. He noted that the agency opened a probe of Donald Trump's 2016 presidential campaign based on thin accusations of collusion with Russia.
---
The Biden administration's recession has arrived. Just don't call it that
The July release of second quarter Gross Domestic Product (GDP) data confirms what the American people have feared for months—the Biden recession has arrived.
According to the report, GDP declined an annualized 0.9% in the second quarter of 2022, following the 1.6% decline in the first quarter. For two quarters in a row, domestic output has shrunk—the traditional definition of a recession. Other than the pandemic, it is the worst six months of economic growth in our economy since the financial crisis recession of 2009.
The Biden Administration's American Rescue Plan Act opened the spigot of federal spending while simultaneously disincentivizing work, which undercut the ability of the economy to produce the goods and services that would meet the artificially inflated demand. Their failed policies have crushed families and businesses, resulting in a broad-based weakening of economic activity with large declines in residential investment, falling business fixed investment, and anemic growth in private consumption.
---
Label me an American
"White adjacent" and "extremist" are the terms my opponents have labeled me because I do not meet their narrative of the oppressed minority immigrant who craves unlimited handouts.
I came to the United States as a refugee. My parents refused to take handouts because their goal was to utilize every opportunity this country gave them and work until they achieved their goals. After only a few months in the US, that opportunity came, and we moved to Africa where my father worked as an American contractor developing third-world countries. It was hard and unglamorous work, but it was an honest living and exemplified the "audacity of hope".
My mother brought her five children back to the U.S. seven years later for an American education, while my father remained in Africa for several years seeing his family once every six months. It was a sacrifice they made because it meant their children would have, that I would have, a chance at the American Dream. Their sacrifice was no different than millions of Americans who work hard every day to provide a better future for their children. The same intrinsic sacrifice my Caucasian in-laws made while they worked multiple jobs to give my wife and her brother a brighter future.
---
" It is discouraging to think how many people are shocked by honesty and how few by deceit."

-- Noel Coward

(1899-1973) British playwright

---

The Medal of Honor is the highest award for valor in action against an enemy force which can be bestowed upon an individual serving in the Armed Services of the United States.

GeneTrerally presented to its recipient by the President of the United States of America in the name of Congress.

The first award of the Medal of Honor was made March 25, 1863 to Private JACOB PARROTT.The last award of the Medal of Honor was made September 15, 2011 to Sergeant DAKOTA MEYER.

Since then there have been: • 3458 recipients of the Medal of Honor.

• Today there are 85 Living Recipients of the Medal of Honor.

Citation


Captain Humbert R. Versace distinguished himself by extraordinary heroism during the period of 29 October 1963 to 26 September 1965, while serving as S-2 Advisor, Military Assistance Advisory Group, Detachment 52, Ca Mau, Republic of Vietnam. While accompanying a Civilian Irregular Defense Group patrol engaged in combat operations in Thoi Binh District, An Xuyen Province, Captain Versace and the patrol came under sudden and intense mortar, automatic weapons, and small arms fire from elements of a heavily armed enemy battalion. As the battle raged, Captain Versace, although severely wounded in the knee and back by hostile fire, fought valiantly and continued to engage enemy targets. Weakened by his wounds and fatigued by the fierce firefight, Captain Versace stubbornly resisted capture by the over-powering Viet Cong force with the last full measure of his strength and ammunition. Taken prisoner by the Viet Cong, he exemplified the tenets of the Code of Conduct from the time he entered into Prisoner of War status. Captain Versace assumed command of his fellow American soldiers, scorned the enemy's exhaustive interrogation and indoctrination efforts, and made three unsuccessful attempts to escape, despite his weakened condition which was brought about by his wounds and the extreme privation and hardships he was forced to endure. During his captivity, Captain Versace was segregated in an isolated prisoner of war cage, manacled in irons for prolonged periods of time, and placed on extremely reduced ration. The enemy was unable to break his indomitable will, his faith in God, and his trust in the United States of America. Captain Versace, an American fighting man who epitomized the principles of his country and the Code of Conduct, was executed by the Viet Cong on 26 September 1965. Captain Versace's gallant actions in close contact with an enemy force and unyielding courage and bravery while a prisoner of war are in the highest traditions of the military service and reflect the utmost credit upon himself and the United States Army.

---

From the Archives

We Have Met the Enemy…
Geoff Metcalf


"They who can give up essential liberty to obtain a little temporary safety deserve neither liberty nor safety.
--Benjamin Franklin
"The American people must be willing to give up a degree of personal privacy in exchange for safety and security."
--Louis Freeh


In the wake of the clamor over the most recent WikiLeaks data dump, 'Vault 7', 'UMBRAGE', et al, it should be noted this is not really anything new. What we are seeing here is simply the evolution of something that goes back to the late 50s (to the incomplete best knowledge I have).

It is kinda cool to finally see even

The New York Times

acknowledging material

I was writing about in 1998

.

In April of 1998 I wrote "Privacy has become an anachronism." I was commenting on "a massive system designed to intercept all your e-mail, fax traffic and more." I was explaining 'Echelon', the illegitimate offspring of a

UKUSA Treaty

signed by the United States, United Kingdom, Canada, Australia and New Zealand. Its purpose was, and is, to have a vast global intelligence monster, which allegedly shares common goals. The system was so "efficient" that reportedly National Security Agency folk from Fort Meade could work from Menwith Hill in England to intercept local communications without either nation having to burden themselves with the formality of seeking approval (a court order) or disclosing the operation. And this was all pre-9/11 and pre-the anti-constitutional

'Patriot Act'

.

It is illegal (without a Judge's signed permission) for the United States to spy on its citizens … kinda. The laws have long been circumvented by a mutual pact among five nations. Under the terms of UKUSA agreement, Britain spies on Americans and America spies on British citizens, and then the two conspirators trade data. A classic technical finesse. It is legal, but the intent to evade the spirit is inescapable.

I often fictionalized the genesis of 'Echelon' as an informal meeting of a group of post war American and British intelligence types drinking in some remote rustic bar. An imagined CIA type complains to his MI6 buddy about the hassles of US laws preventing US intelligence from surveillance of bad guys, and the Brit echoes the same complaint.

"Hey wait a moment mate," says Nigel, the make-believe MI6 guy, "I can spy on your guys and you can spy on our bad players…why don't we just come up with a mechanism whereby we spy on your villains, you spy on our villains, and we just 'share' the intel?"

This system was called ECHELON, and has been kicking around in some form longer than most of you. The result of the UKUSA treaty signed by the United States, United Kingdom, Canada, Australia and New Zealand was, and is, to have a vast global intelligence monster which allegedly shares common goals.

The report noted: "Within Europe all e-mail, telephone and fax communications are routinely intercepted by the United States National Security Agency, transferring ll target information from the Eurv opean mainland via the strategic hub of London, then by satellite to Fort Meade in Maryland via the crucial hub at Menwith Hill, in the North York moors in th UK.

"The ECHELON system forms part of the UKUSA system but unlike many of the electronic spy systems developed during the Cold War, ECHELON was designed primarily for non-military targets: governments, organizations and businesses in virtually every country."