"It Is Not A Question of Who Is Right Or Wrong But What Is Right Or Wrong That Counts.

"

--Geoff Metcalf
Providing an on line Triage of the news since 1997



Wo

rld & Nation
5 Police Officers Shot Overnight During Unrest
At least five U.S. police were hit by gunfire during violent protests over the death of a black man in police custody, police and media said, hours after President Donald Trump vowed to use the military to halt the unrest.
Demonstrators set fire to a strip mall in Los Angeles, looted stores in New York City and clashed with police in St Louis, Missouri, where four officers were taken to hospital with non-life-threatening injuries after being shot.
A police officer was also shot during protests in the Las Vegas Strip area, The Associated Press said, quoting police. Another officer was "involved in a shooting" in the same area, the agency said without giving details.
---
Barr: Law enforcement must 'dominate' streets amid protests
U.S. officials vowed to "maximize federal law enforcement presence" in the nation's capital Monday night after days of violent demonstrations led to fires across Washington and left scores of businesses with broken windows and dozens of police officers injured.
In a call with governors, President Donald Trump and Attorney General William Barr also encouraged more aggressive action against those who cause violence during protests across the country following the killing of George Floyd, a black man who died after a white Minneapolis policeman pressed his knee into his neck for several minutes even after Floyd stopped moving and pleading for air. The demonstrations have turned violent in several cities, with fires ignited in Lafayette Park across from the White House.
The comments from Trump, Barr and other federal officials appeared aimed at avoiding similar scenes Monday night, when protesters were expected to gather again. But there were also questions about whether using more aggressive law enforcement measures against demonstrators protesting police brutality would only increase tensions.
---
Even staunch allies scold U.S. amid racial unrest: 'Its biggest problems never get solved'
The Trump administration's struggles to get control of violent nationwide protests has sparked comment and criticism from even some of America's staunchest allies, potentially driving a wedge between the U.S. and its partners as demonstrations spread around the globe and the U.S. seems paralyzed by an onset of crises.
A week after George Floyd died during a confrontation with Minnesota police, the racially charged firestorm has taken hold in all corners of the world.
America's main adversaries seem to be taking delight in the unrest. China and Iran are openly mocking the U.S. and claiming that the nation's deep-rooted racism and ineffective political system have led to an inevitable reckoning.
---
Black conservatives find common ground with liberals in wake of George Floyd's death
Black conservative leaders are finding common ground with their liberal counterparts on a host of police reform policies in the wake of the death of George Floyd in the custody of Minneapolis police officers, including de-escalation tactics, ending civil assets forfeiture and holding bad officers accountable.
"Four people for one person is ridiculous," said Marie Fischer, a member of the black conservative group Project 21, referring to the number of officers who helped restrain Mr. Floyd while one of them knelt on his neck for nearly nine minutes on May 25. "And they stopped him all for a counterfeit $20 bill?"
Liberal and conservative black leaders are beginning to coalesce around similar ideas in the wake of high-profile police killings of unarmed black males.
---
New Ebola outbreak flares up as measles, COVID-19 rage in DRC
The outbreak has come at a "challenging time" health officials say.
A new outbreak of Ebola has ignited in the Democratic Republic of the Congo, which is still trying to stamp out an Ebola outbreak from 2018—and is now also battling a massive measles outbreak and COVID-19.
The new Ebola outbreak is in the western city of Mbandaka, the capital of the Équateur Province. The city—situated at the junction of the Congo and Ruki Rivers—is a major trade and travel hub and home to more than 1 million people.
On Monday, June 1, 2020, officials confirmed an outbreak with six cases so far (three confirmed, three probable). Four of the cases have died, and two are being treated. The World Health Organization reported that officials expect to find more cases as outbreak responses ramp up.
---
Gun sales surge 80% in May, says research firm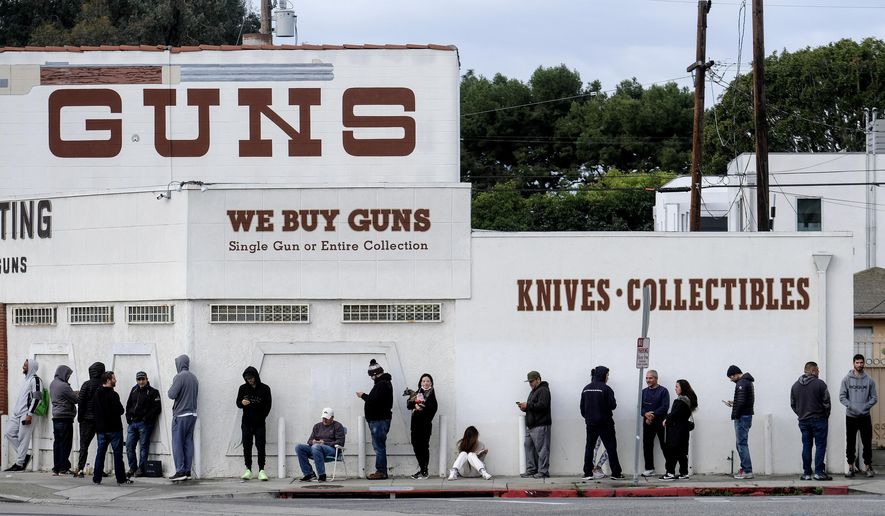 Gun sales surged in May as shops reported an uptick in interest and demand amid national protests after the Memorial Day killing of George Floyd and as the COVID-19 pandemic wreaked havoc and stoke fear across the country.
"Almost, you couldn't even keep up with it. That's how crazy it was," said Joe Hawk, owner of Guns & Roses in New Jersey. "After Memorial Day, it spiked again. It just went crazy again."
Small Arms Analytics & Forecasting, a private research firm, estimated that more than 1.7 million guns were sold in May, an 80% jump from May 2019.
---
Joe Biden looks to clinch nomination as 7 states, D.C. vote
Joe Biden could seize the number of delegates needed to formally clinch the Democrats' presidential nomination on Tuesday as seven states and the District of Columbia push through a pandemic and exploding racial tensions to host the largest slate of primary elections in almost three months.
Voters will be asked to navigate curfews, health concerns and a sharp increase in mail balloting as elections take place from Maryland to Montana. Four states were originally scheduled to vote in April but delayed their contests because of the coronavirus outbreak. Pennsylvania offers the day's biggest trove of delegates and represents a high-profile test case for Republicans and Democrats working to strengthen their operations in one of the most important general election battlegrounds.
"We think we're prepared," said state Democratic Party Chairwoman Nancy Patton Mills. "Thank goodness we have the opportunity of working this out in the primary because we don't know where we'll be with the pandemic in November."
---
Democrats, rioters don't care about George Floyd -- they're just using him
Why is anybody surprised to see the racial extortion, lawless rioting and selfish looting in the streets of America's big cities today — all in the name of an unarmed black man named George Floyd, who died in police custody last week?
There is a whole political party in America today that is entirely built upon such racial exploitation.
Democratic Party leaders in Washington do not actually care about the hardships of blacks in America today. They simply want to weaponize those hardships into votes year after year after year.
---
Don't let the COVID-19 pandemic justify run-away spending
Virus doesn't erase basic arithmetic, and government can only spend money it collects
In reaction to the 2008 recession, Congress and the Obama administration passed what was the largest stimulus package in U.S. history. But budgetary illiteracy has hit new levels. Expenditures intended to soften the fallout of the coronavirus pandemic has already tripled that record. We're not in Kansas anymore.
Speaker Pelosi and her Democratic colleagues in the House now want to double down. In May, the House passed the Health and Economic Recovery Omnibus Emergency Solutions Act, or HEROES Act—an 1,800-page, $3 trillion grab bag spending bill. The centerpiece of the bill is a $1 trillion bailout of local and state governments that have mismanaged taxpayer dollars for decades.
Illinois is "Exhibit A." At the close of fiscal year 2019, the state had $137 billion in unfunded pension liabilities — a $6 billion increase compared to the previous year despite record breaking contributions to the fund. More than one-quarter of the state budget is expected to be engulfed by pension costs in 2020. According to a recent analysis from the Illinois Policy Institute, depending on the job, between 43 percent and 94 percent of public employees will collect retirement payouts in excess of $1 million.
" It is discouraging to think how many people are shocked by honesty and how few by deceit."

-- Noel Coward

(1899-1973) British playwright

---

The Medal of Honor is the highest award for valor in action against an enemy force which can be bestowed upon an individual serving in the Armed Services of the United States.

GeneTrerally presented to its recipient by the President of the United States of America in the name of Congress.

The first award of the Medal of Honor was made March 25, 1863 to Private JACOB PARROTT.The last award of the Medal of Honor was made September 15, 2011 to Sergeant DAKOTA MEYER.

Since then there have been: • 3458 recipients of the Medal of Honor.

• Today there are 85 Living Recipients of the Medal of Honor.

Citation


Captain Humbert R. Versace distinguished himself by extraordinary heroism during the period of 29 October 1963 to 26 September 1965, while serving as S-2 Advisor, Military Assistance Advisory Group, Detachment 52, Ca Mau, Republic of Vietnam. While accompanying a Civilian Irregular Defense Group patrol engaged in combat operations in Thoi Binh District, An Xuyen Province, Captain Versace and the patrol came under sudden and intense mortar, automatic weapons, and small arms fire from elements of a heavily armed enemy battalion. As the battle raged, Captain Versace, although severely wounded in the knee and back by hostile fire, fought valiantly and continued to engage enemy targets. Weakened by his wounds and fatigued by the fierce firefight, Captain Versace stubbornly resisted capture by the over-powering Viet Cong force with the last full measure of his strength and ammunition. Taken prisoner by the Viet Cong, he exemplified the tenets of the Code of Conduct from the time he entered into Prisoner of War status. Captain Versace assumed command of his fellow American soldiers, scorned the enemy's exhaustive interrogation and indoctrination efforts, and made three unsuccessful attempts to escape, despite his weakened condition which was brought about by his wounds and the extreme privation and hardships he was forced to endure. During his captivity, Captain Versace was segregated in an isolated prisoner of war cage, manacled in irons for prolonged periods of time, and placed on extremely reduced ration. The enemy was unable to break his indomitable will, his faith in God, and his trust in the United States of America. Captain Versace, an American fighting man who epitomized the principles of his country and the Code of Conduct, was executed by the Viet Cong on 26 September 1965. Captain Versace's gallant actions in close contact with an enemy force and unyielding courage and bravery while a prisoner of war are in the highest traditions of the military service and reflect the utmost credit upon himself and the United States Army.

---

From the Archives

We Have Met the Enemy…
Geoff Metcalf


"They who can give up essential liberty to obtain a little temporary safety deserve neither liberty nor safety.
--Benjamin Franklin
"The American people must be willing to give up a degree of personal privacy in exchange for safety and security."
--Louis Freeh


In the wake of the clamor over the most recent WikiLeaks data dump, 'Vault 7', 'UMBRAGE', et al, it should be noted this is not really anything new. What we are seeing here is simply the evolution of something that goes back to the late 50s (to the incomplete best knowledge I have).

It is kinda cool to finally see even

The New York Times

acknowledging material

I was writing about in 1998

.

In April of 1998 I wrote "Privacy has become an anachronism." I was commenting on "a massive system designed to intercept all your e-mail, fax traffic and more." I was explaining 'Echelon', the illegitimate offspring of a

UKUSA Treaty

signed by the United States, United Kingdom, Canada, Australia and New Zealand. Its purpose was, and is, to have a vast global intelligence monster, which allegedly shares common goals. The system was so "efficient" that reportedly National Security Agency folk from Fort Meade could work from Menwith Hill in England to intercept local communications without either nation having to burden themselves with the formality of seeking approval (a court order) or disclosing the operation. And this was all pre-9/11 and pre-the anti-constitutional

'Patriot Act'

.

It is illegal (without a Judge's signed permission) for the United States to spy on its citizens … kinda. The laws have long been circumvented by a mutual pact among five nations. Under the terms of UKUSA agreement, Britain spies on Americans and America spies on British citizens, and then the two conspirators trade data. A classic technical finesse. It is legal, but the intent to evade the spirit is inescapable.

I often fictionalized the genesis of 'Echelon' as an informal meeting of a group of post war American and British intelligence types drinking in some remote rustic bar. An imagined CIA type complains to his MI6 buddy about the hassles of US laws preventing US intelligence from surveillance of bad guys, and the Brit echoes the same complaint.

"Hey wait a moment mate," says Nigel, the make-believe MI6 guy, "I can spy on your guys and you can spy on our bad players…why don't we just come up with a mechanism whereby we spy on your villains, you spy on our villains, and we just 'share' the intel?"

This system was called ECHELON, and has been kicking around in some form longer than most of you. The result of the UKUSA treaty signed by the United States, United Kingdom, Canada, Australia and New Zealand was, and is, to have a vast global intelligence monster which allegedly shares common goals.

The London Telegraph reported in December of 1997 that the Civil liberties Committee of the European Parliament had officially confirmed the existence and purpose of ECHELON. "A global electronic spy network that can eavesdrop on every telephone, e-mail and telex communication around the world will be officially acknowledged for the first time in a European Commission report. …"

The report noted: "Within Europe all e-mail, telephone and fax communications are routinely intercepted by the United States National Security Agency, transferring ll target information from the Eurv opean mainland via the strategic hub of London, then by satellite to Fort Meade in Maryland via the crucial hub at Menwith Hill, in the North York moors in the UK.

"The ECHELON system forms part of the UKUSA system but unlike many of the electronic spy systems developed during the Cold War, ECHELON was designed primarily for non-military targets: governments, organizations and businesses in virtually every country."

An interesting sidebar appeared in the International Herald Tribune under the headline, "Big Corporate Brother: It Knows More About You Than You Think." The story details Acxiom Corp, which was a humongous information service hidden in the Ozark foothills. Twenty-four hours a day, Acxiom electronically gathered and sorts all kinds of data about 196 million Americans. Credit card transactions and magazine subscriptions, telephone numbers, real estate records, automotive data, hunting, business and fishing licenses, consumer surveys and demographic detail that would make a marketing department's research manager salivate. This relatively new (legal) enterprise was known as "data warehousing" or "data-mining", and it underscores the cruel reality that the fiction of personal privacy has become obsolete. Technology's ability to collect and analyze data has made privacy a quaint albeit interesting dinosaur.

The Tribune reported that "Axciom can often determine whether an American owns a dog or cat, enjoys camping or gourmet cooking, reads the Bible or lots of other books. It can often pinpoint an American's occupation, car and favorite vacations. By analyzing the equivalent of billions of pages of data, it often projects for its customers who should be offered a credit card or who is likely to buy a computer."

Most of this information is from y 1998 piece. Echelon has developed, matured, and morphed into a much more powerful hybrid. 'Carnivore' was software to help triage the cacophony of data. Vault 7 and 'Umbrage' are logical (some would argue "insidious") growth.

More to follow…