"It Is Not A Question of Who Is Right Or Wrong But What Is Right Or Wrong That Counts.

"

--Geoff Metcalf




Wo

rld & National



Trump implores voters to protect GOP gains: 'Stop the radical resistance in its tracks'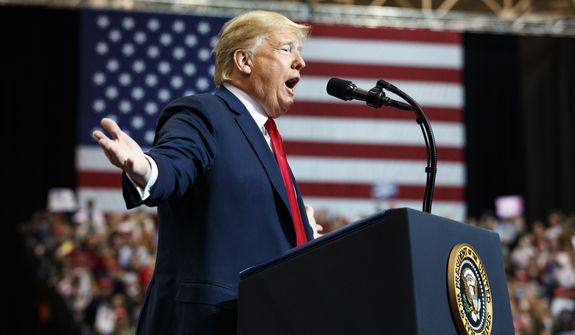 President Trump intensified his closing campaign argument Monday in three key midwestern states, urging voters to "stop the radical resistance in its tracks" and to protect the gains of his political movement as voters decide control of Congress.
He and GOP leaders on Capitol Hill continued to express optimism over Tuesday's elections, though the final indicators, from late-breaking polls to early voting tallies, suggested Democrats are poised for significant gains from Congress to governor's mansions across the country.
More Democrats voted early than Republicans in Florida, home to a number of key races, while in Arizona, Republicans' traditional voter-turnout advantage shrank in early voting, according to state statistics.
Mr. Trump, though, said he's seeing evidence of a tide breaking for Republican candidates.
---
Senate report paints devastating profile of Justice Kavanaugh accuser Julie Swetnick
A new Senate committee report questions the credibility of Supreme Court Justice Brett Kavanaugh's three main accusers, dishing out the worst criticism at gang-rape accuser Julie Swetnick.
The 400-page report by the Judiciary Committee's Republican staff paints a devastating portrait of Ms. Swetnick. She made the most sensational charges of the women accusers and won airtime on national TV. The report depicts her as dangerous, a serial complainer, a liar, mentally unstable and cruel toward her parents.
Ms. Swetnick's lawyer was Democratic presidential aspirant Michael Avenatti, a favorite of liberal cable TV shows as a fierce President Trump critic.
Judiciary Chairman Charles Grassley, Iowa Republican, has sent criminal referrals to the Justice Department accusing Ms. Swetnick and Mr. Avenatti of breaking federal law by submitting false statements.
---
Nancy Pelosi: Democrats must be ready to 'take a punch and throw a punch'
House Minority Leader Nancy Pelosi said during a recent interview that Democrats need to be able to "take a punch and throw a punch" once they retake Congress on Tuesday.
In an audio clip published by the Republican National Committee on Monday, the California Democrat sat for a live discussion with "Queer Eye" star and podcaster Jonathan Van Ness during the Bentzen Ball comedy festival in Washington, D.C., last weekend.
Mrs. Pelosi said with certainty that Democrats will win the majority on Election Day and make Congress more "transparent" and bipartisan, "if possible."
"[Democrats will] have legislation that meets [voters'] needs, identifies, connects with them so that they see where the Republicans are and where the Democrats are on that," she said. "And to do so in a way that tries to have as much common ground as possible, bipartisanship, if possible, stand our ground like a rock if not and try to unify the country.
---
Trump Administration Asks High Court to Fast-Track DACA Case
The Trump administration is asking the Supreme Court to fast-track a lawsuit over the president's decision to end a program that shields young immigrants from deportation.
The administration on Monday asked the Supreme Court to hear a case about Trump's decision to end the Deferred Action for Childhood Arrivals program, also known as DACA. A three-judge panel of the 9th U.S. Circuit Court of Appeals court heard arguments in the case in May but hasn't yet ruled. The high court typically doesn't take cases that are still pending before appeals courts.
The Trump administration had warned that it would ask the high court to step in if the appeals court didn't rule by Oct. 31. The administration had said it wants the high court to hear the case this term.
---
U.S. reimposes Iran sanctions in 'maximum pressure' campaign
The Trump administration on Monday reimposed sweeping sanctions on Iran, targeting its financial sector and oil industry to pressure the Islamic regime to cease nuclear weapon development and sponsoring terrorism.
The rollout was the largest ever single-day action targeting the Iranian regime and a crucial step in President Trump's pullout from the Iran nuclear deal that was announced in May.
---
Jan Brewer: Trump Right to Warn About Security Threat From Caravans
Former Arizona Governor Jan Brewer said President Donald Trump is right to warn of a security threat to the United States from caravans of Central Americans marching to the U.S. border with Mexico.
"President Trump has pledged that he will deploy the military to defend our territory, but the Democrats are demanding that we throw open the gates and let the hordes through unchecked," she said.
"The migrants themselves frequently employ both martial and religious terminology, referring to themselves as 'warriors' and vowing that nothing will stop them from entering the United States. 'Only God' will stop the caravan, one migrant preached, while another declared that 'Donald Trump is the antichrist.'
And she maintained the Department of Homeland Security has confirmed that some of those in the caravans are "gang members or have significant criminal histories."
---
After Pittsburgh attack, course offers gun training against shooters in synagogues
Hundreds of Jewish people in America have rushed to undertake training to learn how to shoot, after an attack on a synagogue in Pittsburgh, Pennsylvania, USA on October 27 that killed 11 people. A private company offering "Israeli tactical shooting techniques" has been inundated with hundreds of requests in the days following the shooting.
"There is no question that Jews are under threat in America. Would you say to soldiers on the front line, 'just lay down your guns and let the enemy kill you?' No. So Jews need to be armed," said Yonatan Stern, the founder of Cherev Gidon Israeli Tactical Training Academy, which offers classes in Pennsylvania and Arizona. Stern, a former officer of the Israel Defense Forces, created the academy six years ago, predicting, he says, that there would be attacks on the Jewish community in the United States.
The shooting at the Tree of Life synagogue in Pittsburgh was the deadliest attack on Jews in America's history. Stern says that his organisation has received more requests for training from Jews in the days since the attack than in the entire time the academy has been running.
---
MSNBC Puts Florida Governor Race Vote-Total Graphic Onscreen A Wee Bit Early
It's the kind of goof that the folks who scream about "fake news" likely will scream about. MSNBC this evening briefly put a graphic onscreen that showed "vote counts" for the Florida gubernatorial race — you know, the one being held tomorrow.
"Quick clarification here," a rather embarrassed All In host Chris Hayes told viewers. "Just want to say, earlier this hour, uh, we showed a graphic of the Florida gubernatorial race. May have caught your eye because our system had inadvertently populated some test numbers. Obviously, we do not yet have any vote totals here, the night before the election. That was a misfire. Don't worry. I was pretty confused when I saw it up there, to see it myself."
And, of course, MSNBC had Democrat Andrew Gillum leading the GOP's Ron DeSantis by six-tenths of a percentage point with 99% of the ballots counted.
---
So long to the end of the beginning
Just as soon as they get the dead carried out we can dispense with the last rites and continue the election that counts most. Ready or not, like it or not, the 2020 presidential election campaign begins this morning.
The pundits have been taking notes for months, eager to be first in line to promote somebody. If you're counting on success by getting struck by lightning, it's never too soon to get in line.
The early favorites, a category with a high number of prospects who will only get an early ticket to oblivion, presidential candidate-wise, are easy to identify but difficult to find when the going gets serious and impossible to find after the first presidential primary.
---
Defense stakes on Election Day
Since about 1968, the middle of the Vietnam War, one of the defining characteristics of the Democratic Party has been its opposition to defense spending. Throughout the Obama years, his administration mandated a slash-and-burn approach to defense spending that caused purchases of new weapon systems to be greatly reduced (or cancelled) and forced combat readiness of aging weapons to new lows.
President Trump's successes so far haven't cured the Democrats' allergy to investments in national security, but it did cause them to shift temporarily from their ideological opposition to defense generally to an obsessive opposition to border security, especially Mr. Trump's proposed border wall.
Both minority leaders, Sen. Chuck Schumer and Minority Leader Nancy Pelosi, surprisingly supported Mr. Trump's increased defense spending for fiscal 2019, though many of their members didn't.
"It is discouraging to think how many people are shocked by honesty and how few by deceit."

-- Noel Coward

(1899-1973) British playwright

---

The Medal of Honor is the highest award for valor in action against an enemy force which can be bestowed upon an individual serving in the Armed Services of the United States.

GeneTrerally presented to its recipient by the President of the United States of America in the name of Congress.

The first award of the Medal of Honor was made March 25, 1863 to Private JACOB PARROTT.The last award of the Medal of Honor was made September 15, 2011 to Sergeant DAKOTA MEYER.

Since then there have been: • 3458 recipients of the Medal of Honor.

• Today there are 85 Living Recipients of the Medal of Honor.

Citation


Captain Humbert R. Versace distinguished himself by extraordinary heroism during the period of 29 October 1963 to 26 September 1965, while serving as S-2 Advisor, Military Assistance Advisory Group, Detachment 52, Ca Mau, Republic of Vietnam. While accompanying a Civilian Irregular Defense Group patrol engaged in combat operations in Thoi Binh District, An Xuyen Province, Captain Versace and the patrol came under sudden and intense mortar, automatic weapons, and small arms fire from elements of a heavily armed enemy battalion. As the battle raged, Captain Versace, although severely wounded in the knee and back by hostile fire, fought valiantly and continued to engage enemy targets. Weakened by his wounds and fatigued by the fierce firefight, Captain Versace stubbornly resisted capture by the over-powering Viet Cong force with the last full measure of his strength and ammunition. Taken prisoner by the Viet Cong, he exemplified the tenets of the Code of Conduct from the time he entered into Prisoner of War status. Captain Versace assumed command of his fellow American soldiers, scorned the enemy's exhaustive interrogation and indoctrination efforts, and made three unsuccessful attempts to escape, despite his weakened condition which was brought about by his wounds and the extreme privation and hardships he was forced to endure. During his captivity, Captain Versace was segregated in an isolated prisoner of war cage, manacled in irons for prolonged periods of time, and placed on extremely reduced ration. The enemy was unable to break his indomitable will, his faith in God, and his trust in the United States of America. Captain Versace, an American fighting man who epitomized the principles of his country and the Code of Conduct, was executed by the Viet Cong on 26 September 1965. Captain Versace's gallant actions in close contact with an enemy force and unyielding courage and bravery while a prisoner of war are in the highest traditions of the military service and reflect the utmost credit upon himself and the United States Army.

---

From the Archives

We Have Met the Enemy…
Geoff Metcalf


"They who can give up essential liberty to obtain a little temporary safety deserve neither liberty nor safety.
--Benjamin Franklin
"The American people must be willing to give up a degree of personal privacy in exchange for safety and security."
--Louis Freeh


In the wake of the clamor over the most recent WikiLeaks data dump, 'Vault 7', 'UMBRAGE', et al, it should be noted this is not really anything new. What we are seeing here is simply the evolution of something that goes back to the late 50s (to the incomplete best knowledge I have).

It is kinda cool to finally see even

The New York Times

acknowledging material

I was writing about in 1998

.

In April of 1998 I wrote "Privacy has become an anachronism." I was commenting on "a massive system designed to intercept all your e-mail, fax traffic and more." I was explaining 'Echelon', the illegitimate offspring of a

UKUSA Treaty

signed by the United States, United Kingdom, Canada, Australia and New Zealand. Its purpose was, and is, to have a vast global intelligence monster, which allegedly shares common goals. The system was so "efficient" that reportedly National Security Agency folk from Fort Meade could work from Menwith Hill in England to intercept local communications without either nation having to burden themselves with the formality of seeking approval (a court order) or disclosing the operation. And this was all pre-9/11 and pre-the anti-constitutional

'Patriot Act'

.

It is illegal (without a Judge's signed permission) for the United States to spy on its citizens … kinda. The laws have long been circumvented by a mutual pact among five nations. Under the terms of UKUSA agreement, Britain spies on Americans and America spies on British citizens, and then the two conspirators trade data. A classic technical finesse. It is legal, but the intent to evade the spirit is inescapable.

I often fictionalized the genesis of 'Echelon' as an informal meeting of a group of post war American and British intelligence types drinking in some remote rustic bar. An imagined CIA type complains to his MI6 buddy about the hassles of US laws preventing US intelligence from surveillance of bad guys, and the Brit echoes the same complaint.

"Hey wait a moment mate," says Nigel, the make-believe MI6 guy, "I can spy on your guys and you can spy on our bad players…why don't we just come up with a mechanism whereby we spy on your villains, you spy on our villains, and we just 'share' the intel?"

This system was called ECHELON, and has been kicking around in some form longer than most of you. The result of the UKUSA treaty signed by the United States, United Kingdom, Canada, Australia and New Zealand was, and is, to have a vast global intelligence monster which allegedly shares common goals.

The London Telegraph reported in December of 1997 that the Civil liberties Committee of the European Parliament had officially confirmed the existence and purpose of ECHELON. "A global electronic spy network that can eavesdrop on every telephone, e-mail and telex communication around the world will be officially acknowledged for the first time in a European Commission report. …"

The report noted: "Within Europe all e-mail, telephone and fax communications are routinely intercepted by the United States National Security Agency, transferring all target information from the European mainland via the strategic hub of London, then by satellite to Fort Meade in Maryland via the crucial hub at Menwith Hill, in the North York moors in the UK.

"The ECHELON system forms part of the UKUSA system but unlike many of the electronic spy systems developed during the Cold War, ECHELON was designed primarily for non-military targets: governments, organizations and businesses in virtually every country."

An interesting sidebar appeared in the International Herald Tribune under the headline, "Big Corporate Brother: It Knows More About You Than You Think." The story details Acxiom Corp, which was a humongous information service hidden in the Ozark foothills. Twenty-four hours a day, Acxiom electronically gathered and sorts all kinds of data about 196 million Americans. Credit card transactions and magazine subscriptions, telephone numbers, real estate records, automotive data, hunting, business and fishing licenses, consumer surveys and demographic detail that would make a marketing department's research manager salivate. This relatively new (legal) enterprise was known as "data warehousing" or "data-mining", and it underscores the cruel reality that the fiction of personal privacy has become obsolete. Technology's ability to collect and analyze data has made privacy a quaint albeit interesting dinosaur.

The Tribune reported that "Axciom can often determine whether an American owns a dog or cat, enjoys camping or gourmet cooking, reads the Bible or lots of other books. It can often pinpoint an American's occupation, car and favorite vacations. By analyzing the equivalent of billions of pages of data, it often projects for its customers who should be offered a credit card or who is likely to buy a computer."

Most of this information is from y 1998 piece. Echelon has developed, matured, and morphed into a much more powerful hybrid. 'Carnivore' was software to help triage the cacophony of data. Vault 7 and 'Umbrage' are logical (some would argue "insidious") growth.

More to follow…