"It Is Not A Question of Who Is Right Or Wrong But What Is Right Or Wrong That Counts.

"

--Geoff Metcalf
Wo

rld & Nation
Saudi attacks underscore evolving drone threat, experts say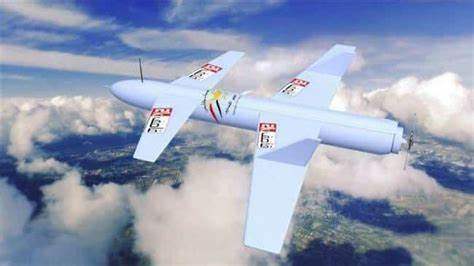 An attack on Saudi oil facilities at the weekend has exposed the vulnerability of the kingdom to drone strikes and underscores how traditional air defences can be breached by new low-cost technology, experts say.
Saudi Arabia is one of the world's biggest buyers of weapons and spent an estimated $65 billion on arms last year, mostly from the United States, according to the Stockholm International Peace Research Institute (SIPRI).
Its air defences include the latest radars, fighter jets such as the F-15, and Patriot missiles which are meant to intercept missiles fired from enemy territory.
But on Saturday, attacks on national energy giant Aramco's Abqaiq processing plant and the Khurais oil field knocked 5.7 million barrels per day (bpd) off production, over half of the OPEC kingpin's output.
---
Warning of election 'disaster', Israel's Netanyahu battles for survival
Israeli Prime Minister Benjamin Netanyahu battled for his political survival in the final hours of a close-run election on Tuesday, urging voters to support him to avert a "disaster".
His voice hoarse from weeks of campaigning, the veteran leader took to the streets and social media, at one point using a megaphone in Jerusalem's bus station, to urge voters to extend his unbroken decade in power.
Opinion polls put former armed forces chief Benny Gantz's centrist Blue and White party neck-and-neck with Netanyahu's right-wing Likud, and suggest the far-right Yisrael Beiteinu party could emerge as kingmaker in coalition talks.
---
Iran Leader Rules Out Talks as Trump Links Tehran to Saudi Oil Attack
Iran's supreme leader on Tuesday ruled out talks with Washington after President Donald Trump blamed Tehran for an attack on Saudi oil facilities that knocked out half the kingdom's output.
Trump said on Monday that it looked like Iran was behind the weekend strike at the heart of the Saudi oil industry, which cut 5% of global production, but stressed he did not want to go to war. Iran denied it was to blame.
"Iranian officials, at any level, will never talk to American officials ... this is part of their policy to put pressure on Iran," Iranian state TV quoted Ayatollah Ali Khamenei as saying.
---
'Lies and smears': Senate investigators reject N.Y. Times' new Kavanaugh claims
Senate investigators said Monday that the FBI ended the investigation of alleged sexual misconduct in college by Supreme Court Justice Brett M. Kavanaugh after interviewing at least four people involved in the purported incident who could not substantiate the story.
Details of the dead-end for the probe blew holes in claims published in The New York Times that investigators dropped the ball, perhaps purposely, during the brutal confirmation of Justice Kavanaugh. It also undermined calls by Democratic presidential hopefuls and lawmakers to reopen the case and pursue impeachment of the high court justice.
Senate investigators involved in the probe said their work was mischaracterized in the article, posted Saturday in The Times' opinion section.
"A year ago, The New York Times did not even find Deborah Ramirez's flimsy at best allegations fit to print," said Mike Davis, a former Senate Judiciary Committee counsel who worked on the Kavanaugh confirmation. "These allegations have not gotten any truer over the last year, and this is just the left's attempt to repackage and relitigate their lies and smears against Justice Kavanaugh, a very good man."
---
White House orders ex-Trump aides to defy House subpoenas
The White House has instructed two former aides to President Trump not to appear at a House Judiciary Committee hearing Tuesday, saying Rick Dearborn and Rob Porter are "absolutely immune" from testifying at what the panel is calling its first impeachment hearing.
In a letter sent to the panel and obtained by The Associated Press, White House counsel Pat Cipollone wrote that the Justice Department has advised, and Trump has directed, Dearborn and Porter to defy subpoenas because of "constitutional immunity."
In a separate letter, Cipollone said that former Trump campaign manager Corey Lewandowski should not reveal private conversations with Trump beyond what is in special counsel Robert Mueller's report. Lewandowski is scheduled to appear Tuesday.
---
High school cheerleaders on probation over pro-Trump banner
A high school cheerleading squad in North Carolina is on probation after some cheerleaders posed with a banner supporting President Trump before a football game.
Stanly County Schools Superintendent Jeff James told The Associated Press in an email Monday that the warning was levied by the North Carolina High School Athletic Association.
It happened before the Aug. 30 game at North Stanly High School, northeast of Charlotte. News outlets reported that the banner read: "Trump 2020: Make America Great Again."
The superintendent said the probation simply means "don't do it again." He says all North Carolina schools have a policy against displaying political signs.
---
Corey Lewandowski likely to clash with Dems during testimony at 'impeachment hearing'
Congress-watchers expect Corey Lewandowski to give Democrats a hard time on Capitol Hill on Tuesday as the star witness in their first "impeachment hearing."
Steve Schwinn, a professor at the John Marshall Law School, said he predicts the president's former campaign manager will come in "guns blazing" when House Judiciary Democrats pepper him with questions about how President Trump handled the Mueller investigation in its early days.
"I think he's going to come in very bombastic and aggressive with the panel," he told The Washington Times. "My guess is this Lewandowski thing is just going to devolve into a shouting match."
---
The Navy Says Those UFO Videos Are Real
And they were never meant to be released to the public.
The U.S. Navy has confirmed that three online videos purportedly showing UFOs are genuine. The service says the videos, taken by Navy pilots, show "unexplained aerial phenomena," but also states that the clips should have never been released to the public in the first place.
The three videos in question are titled "FLIR1," "Gimbal," and "GoFast." They show two separate encounters between Navy aircraft and UFOs.
One video was taken in 2015 off the East Coast by a F/A-185F fighter jet using the aircraft's onboard Raytheon AN/ASQ-228 Advanced Targeting Forward-Looking Infrared (ATFLIR) Pod. The other clip, also recorded with a Super Hornet ATFLIR pod, was taken off the coast of California in 2004 by pilots flying from the aircraft carrier USS Nimitz. In the videos, air crews loudly debate what the objects are and where they came from.
The videos were released for public viewing by The New York Times and To The Stars Academy of Arts & Sciences, a UFO research group from former Blink-182 member Tom DeLonge.
---
NATO, what is it good for?
Republican and Democratic administrations over the decades have urged the allies to pay their fair share
President Trump's criticism of the North Atlantic Treaty Organization (NATO), and his insistence that the allies "pay their fair share," have received prominent play in the media. What has been forgotten is that American frustration with burden sharing within the alliance is a long-standing issue. Both Republican and Democratic administrations across the last seven decades have echoed this complaint.
In fact, the Trump administration's insistence that allies meet their commitments can be taken as a signal it does value the organization. Mr. Trump wants it to remain useful and relevant in a complex international security landscape. The prodding reflects an understanding that international cooperation and multinational action require effort on the part of members and contributors — and that the effort is ongoing. In essence, every ally, each generation and each administration has to relearn and recommit to habits of dialogue, consultation and cooperation. This is because complex multinational organizations are not autonomous, or above national governments in authority. They also cannot be taken for granted or rest on the laurels of their previous successes, because the global security environment and political and economic conditions are constantly changing. When a security alliance becomes static, it dies.
---
Speeding bus traffic means fixing, and enforcing, parking rules
Just a few illegally parked cars create traffic bottlenecks and slow traffic for everyone, but buses most of all
The Washington Area Bus Transformation Project issued a comprehensive report earlier this month that laid out a multi-pronged approach for improving the performance and utilization of the area's buses calling for redesigned routes, new buses, traffic signal improvements and other complicated, costly investments that most area jurisdictions will be reluctant to make.
However, there is a simple and effective — and cheap — way to greatly speed up bus traffic in Washington D.C.: Enforce current parking rules downtown and stop allowing people to store their cars on residential streets for a pittance.
My daily commute takes me along Columbia Road to Connecticut Avenue NW to Farragut Square, and I traverse the two miles by foot most days because the bus doesn't travel much faster than a brisk walk. The slow bus traffic is almost entirely caused by parked cars obstructing traffic and hindering the ability of buses to access and egress bus stops.
---
---
"It is discouraging to think how many people are shocked by honesty and how few by deceit."

-- Noel Coward

(1899-1973) British playwright

---

The Medal of Honor is the highest award for valor in action against an enemy force which can be bestowed upon an individual serving in the Armed Services of the United States.

GeneTrerally presented to its recipient by the President of the United States of America in the name of Congress.

The first award of the Medal of Honor was made March 25, 1863 to Private JACOB PARROTT.The last award of the Medal of Honor was made September 15, 2011 to Sergeant DAKOTA MEYER.

Since then there have been: • 3458 recipients of the Medal of Honor.

• Today there are 85 Living Recipients of the Medal of Honor.

Citation


Captain Humbert R. Versace distinguished himself by extraordinary heroism during the period of 29 October 1963 to 26 September 1965, while serving as S-2 Advisor, Military Assistance Advisory Group, Detachment 52, Ca Mau, Republic of Vietnam. While accompanying a Civilian Irregular Defense Group patrol engaged in combat operations in Thoi Binh District, An Xuyen Province, Captain Versace and the patrol came under sudden and intense mortar, automatic weapons, and small arms fire from elements of a heavily armed enemy battalion. As the battle raged, Captain Versace, although severely wounded in the knee and back by hostile fire, fought valiantly and continued to engage enemy targets. Weakened by his wounds and fatigued by the fierce firefight, Captain Versace stubbornly resisted capture by the over-powering Viet Cong force with the last full measure of his strength and ammunition. Taken prisoner by the Viet Cong, he exemplified the tenets of the Code of Conduct from the time he entered into Prisoner of War status. Captain Versace assumed command of his fellow American soldiers, scorned the enemy's exhaustive interrogation and indoctrination efforts, and made three unsuccessful attempts to escape, despite his weakened condition which was brought about by his wounds and the extreme privation and hardships he was forced to endure. During his captivity, Captain Versace was segregated in an isolated prisoner of war cage, manacled in irons for prolonged periods of time, and placed on extremely reduced ration. The enemy was unable to break his indomitable will, his faith in God, and his trust in the United States of America. Captain Versace, an American fighting man who epitomized the principles of his country and the Code of Conduct, was executed by the Viet Cong on 26 September 1965. Captain Versace's gallant actions in close contact with an enemy force and unyielding courage and bravery while a prisoner of war are in the highest traditions of the military service and reflect the utmost credit upon himself and the United States Army.

---

From the Archives

We Have Met the Enemy…
Geoff Metcalf


"They who can give up essential liberty to obtain a little temporary safety deserve neither liberty nor safety.
--Benjamin Franklin
"The American people must be willing to give up a degree of personal privacy in exchange for safety and security."
--Louis Freeh


In the wake of the clamor over the most recent WikiLeaks data dump, 'Vault 7', 'UMBRAGE', et al, it should be noted this is not really anything new. What we are seeing here is simply the evolution of something that goes back to the late 50s (to the incomplete best knowledge I have).

It is kinda cool to finally see even

The New York Times

acknowledging material

I was writing about in 1998

.

In April of 1998 I wrote "Privacy has become an anachronism." I was commenting on "a massive system designed to intercept all your e-mail, fax traffic and more." I was explaining 'Echelon', the illegitimate offspring of a

UKUSA Treaty

signed by the United States, United Kingdom, Canada, Australia and New Zealand. Its purpose was, and is, to have a vast global intelligence monster, which allegedly shares common goals. The system was so "efficient" that reportedly National Security Agency folk from Fort Meade could work from Menwith Hill in England to intercept local communications without either nation having to burden themselves with the formality of seeking approval (a court order) or disclosing the operation. And this was all pre-9/11 and pre-the anti-constitutional

'Patriot Act'

.

It is illegal (without a Judge's signed permission) for the United States to spy on its citizens … kinda. The laws have long been circumvented by a mutual pact among five nations. Under the terms of UKUSA agreement, Britain spies on Americans and America spies on British citizens, and then the two conspirators trade data. A classic technical finesse. It is legal, but the intent to evade the spirit is inescapable.

I often fictionalized the genesis of 'Echelon' as an informal meeting of a group of post war American and British intelligence types drinking in some remote rustic bar. An imagined CIA type complains to his MI6 buddy about the hassles of US laws preventing US intelligence from surveillance of bad guys, and the Brit echoes the same complaint.

"Hey wait a moment mate," says Nigel, the make-believe MI6 guy, "I can spy on your guys and you can spy on our bad players…why don't we just come up with a mechanism whereby we spy on your villains, you spy on our villains, and we just 'share' the intel?"

This system was called ECHELON, and has been kicking around in some form longer than most of you. The result of the UKUSA treaty signed by the United States, United Kingdom, Canada, Australia and New Zealand was, and is, to have a vast global intelligence monster which allegedly shares common goals.

The London Telegraph reported in December of 1997 that the Civil liberties Committee of the European Parliament had officially confirmed the existence and purpose of ECHELON. "A global electronic spy network that can eavesdrop on every telephone, e-mail and telex communication around the world will be officially acknowledged for the first time in a European Commission report. …"

The report noted: "Within Europe all e-mail, telephone and fax communications are routinely intercepted by the United States National Security Agency, transferring ll target information from the European mainland via the strategic hub of London, then by satellite to Fort Meade in Maryland via the crucial hub at Menwith Hill, in the North York moors in the UK.

"The ECHELON system forms part of the UKUSA system but unlike many of the electronic spy systems developed during the Cold War, ECHELON was designed primarily for non-military targets: governments, organizations and businesses in virtually every country."

An interesting sidebar appeared in the International Herald Tribune under the headline, "Big Corporate Brother: It Knows More About You Than You Think." The story details Acxiom Corp, which was a humongous information service hidden in the Ozark foothills. Twenty-four hours a day, Acxiom electronically gathered and sorts all kinds of data about 196 million Americans. Credit card transactions and magazine subscriptions, telephone numbers, real estate records, automotive data, hunting, business and fishing licenses, consumer surveys and demographic detail that would make a marketing department's research manager salivate. This relatively new (legal) enterprise was known as "data warehousing" or "data-mining", and it underscores the cruel reality that the fiction of personal privacy has become obsolete. Technology's ability to collect and analyze data has made privacy a quaint albeit interesting dinosaur.

The Tribune reported that "Axciom can often determine whether an American owns a dog or cat, enjoys camping or gourmet cooking, reads the Bible or lots of other books. It can often pinpoint an American's occupation, car and favorite vacations. By analyzing the equivalent of billions of pages of data, it often projects for its customers who should be offered a credit card or who is likely to buy a computer."

Most of this information is from y 1998 piece. Echelon has developed, matured, and morphed into a much more powerful hybrid. 'Carnivore' was software to help triage the cacophony of data. Vault 7 and 'Umbrage' are logical (some would argue "insidious") growth.

More to follow…