"It Is Not A Question of Who Is Right Or Wrong But What Is Right Or Wrong That Counts.

"

--Geoff Metcalf






Wo

rld & National
House Freedom Caucus: Let's Work Through Break to End Shutdown
The House Freedom Caucus is urging lawmakers to skip an upcoming break in an attempt to reach a compromise to end the partial government shutdown.
In a Monday night posting on its Twitter account, the freedom caucus said: "Official position: HFC calls for House to stay in session through the weekend and next week, instead of gaveling out and taking a break. We must keep working to solve the border crisis and reach a compromise."
The Hill noted the House is scheduled a break from Jan. 17-28.
Newsmax.Headline.Standard- 17132-1714
---
No. of no-show airport security screeners soars in shutdown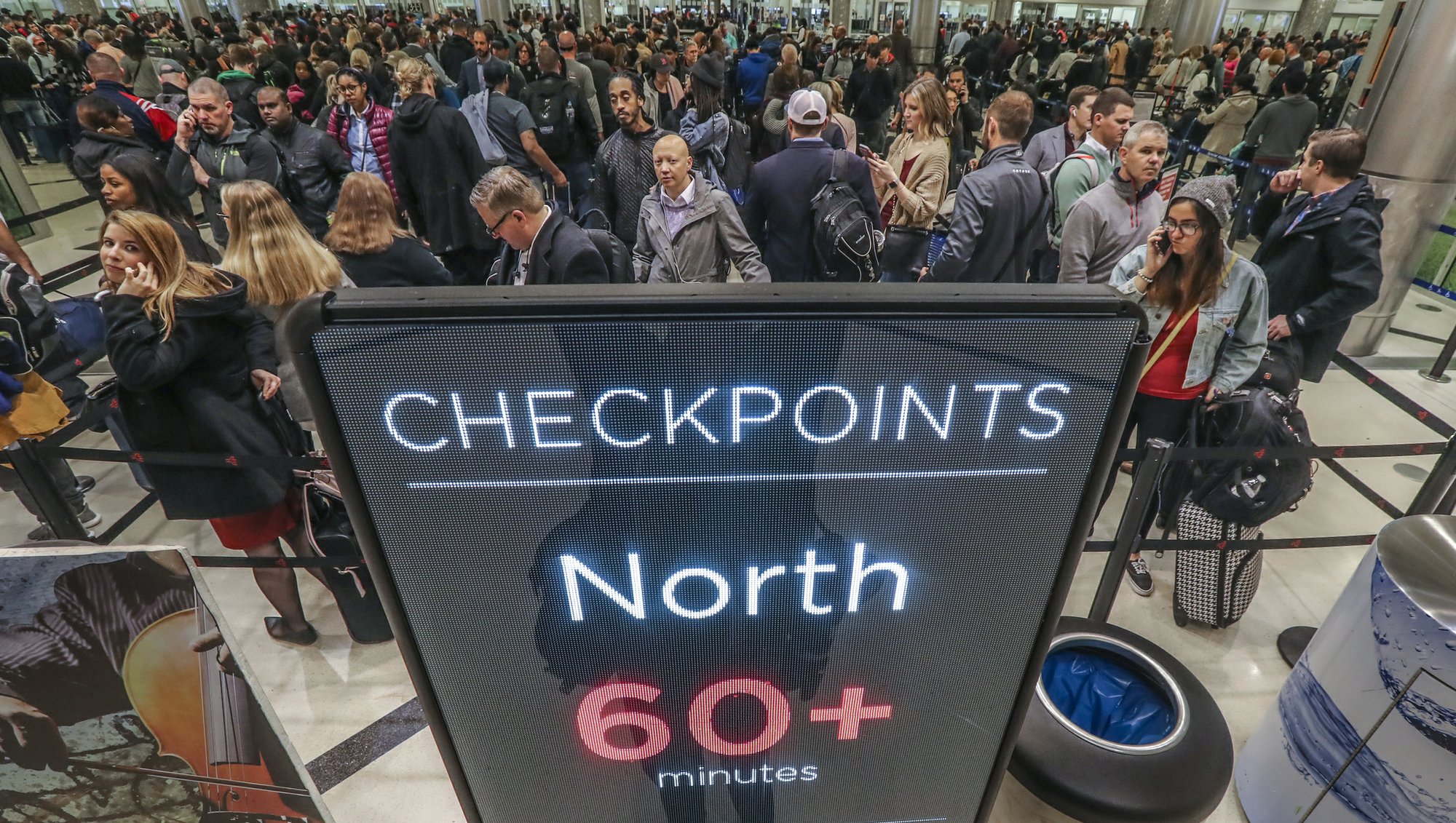 The number of airport security screeners failing to show up for work around the country is soaring as the partial government shutdown goes into its fourth week.
No-shows among screeners jumped Sunday and again Monday, when the Transportation Security Administration reported a national absence rate of 7.6 percent compared with 3.2 percent on a comparable day a year ago. Monday marked the first business day after screeners did not receive a paycheck for the first time since the shutdown began.
At Hartsfield-Jackson Atlanta International Airport, the world's busiest, some passengers waited more than an hour to get through checkpoints. The airport reported the long lines on its website Monday morning, showing the hour-plus waits at all three checkpoints in the domestic terminal.
---
Pentagon extends mission to Mexico border through September
The U.S. military will extend a mission to support security along the U.S. border with Mexico through Sept. 30, the Pentagon said on Monday.
Acting Defense Secretary Patrick Shanahan approved the extension in response to a request from the Homeland Security Department, the Pentagon said in a statement. There are about 2,350 troops assigned to the border mission.
---
Women's March leader Tamika Mallory refuses to condemn Louis Farrakhan as interview backfires
On 'The View,' Meghan McCain accuses group of 'anti-Semitism masked in activism'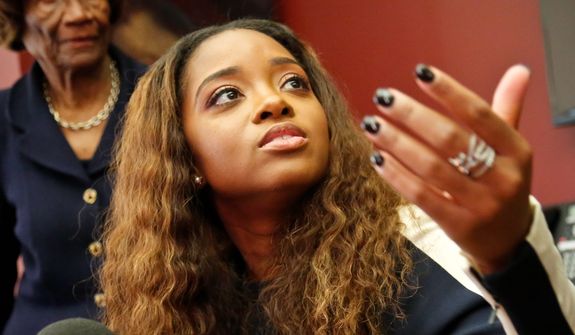 Women's March national co-chair Tamika D. Mallory's attempt to tamp down anti-Semitism concerns prior to next weekend's march may have backfired.
Ms. Mallory refused to condemn Nation of Islam leader Louis Farrakhan in an appearance Monday on ABC's "The View" under tough questioning from co-host Meghan McCain, who asked about Mr. Farrakhan's past comments on "wicked Jews, "false Jews," and homosexuality.
"We did not make those remarks," said Ms. Mallory. "What I will say to you is that I don't agree with many of Minister Farrakhan's statements."
---
NATO trashing Trump repeatedly pushed to pull out of anti-Russia alliance: report
President Trump floated the idea of withdrawing the U.S. from NATO among his officials several times last year, The New York Times reported late Monday night.
Unnamed officials, both current and former, told The Times that Mr. Trump said he didn't see the point of the North Atlantic Treaty Organization and viewed it as a drain on U.S. resources. The complaint came around the time of the last NATO summit in July 2018.
The president was very vocal in the days leading up to — and during — the summit about his criticism on NATO burden sharing. He repeatedly called for NATO allies to contribute more funds and accused them of taking advantage of the U.S.
---
Republicans strip Rep. Steve King of committee assignments over white nationalism remarks
House Republicans stripped Rep. Steve King of his committee assignments Monday, moving to punish the Iowa congressman for recent controversial comments he made about race and white nationalism.
The move came even as Democrats prepared for a more symbolic rebuke in the form of a censure or reprimand, with a vote on that latter option scheduled for Tuesday — which is also Martin Luther King Jr.'s birthday.
Mr. King denounced the moves against him, calling his GOP colleagues' ouster a "political decision" and insisted he has denounced white supremacy.
---
Joe Lieberman: 'Democratic Party is not going to succeed' with Alexandria Ocasio-Cortez's policies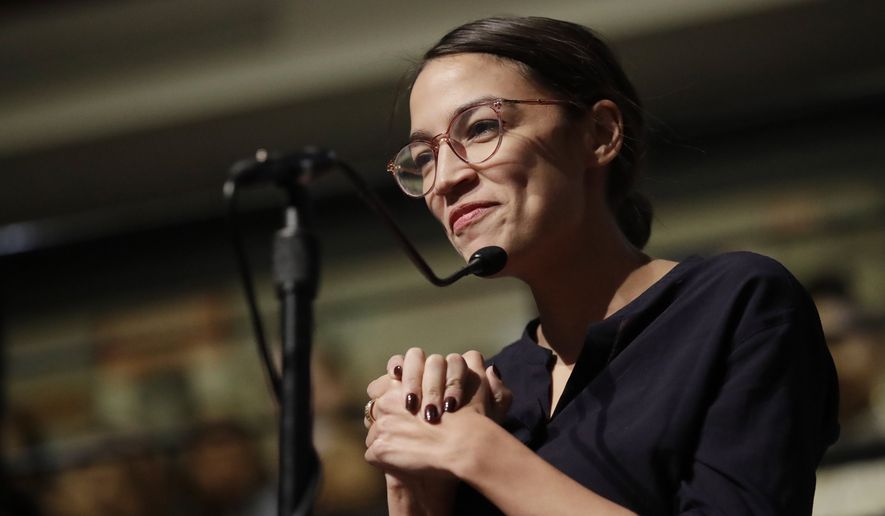 Former Sen. Joe Lieberman kept his feud with Rep. Alexandria Ocasio-Cortez alight Sunday after he accused the socialist millennial of bringing down the Democratic Party.
"She just takes us back to a big-spending, big-taxing Democratic Party," Mr. Lieberman said Sunday on Fox News. "And the Democratic Party is not going to succeed that way."
On Thursday, Mr. Lieberman told Fox Business that Ms. Ocasio-Cortez, who pushes leftist ideas like free health care for all and free college tuition, is too "far out" for the majority of Americans.
---
Rosenstein, DOJ exploring ways to more easily spy on journalists
For months now, the Department of Justice (DOJ) quietly has been working on a revision to its guidelines governing how, when and why prosecutors can obtain the records of journalists, particularly in leak cases.
The work has been supervised by Deputy Attorney General Rod Rosenstein's office, especially since former Attorney General Jeff Sessions departed, but is not wrapped up.
The effort has the potential to touch off a First Amendment debate with a press corps that already has high degrees of distrust of and disfunction with the Trump administration.
---
BREX FROM THE DEAD Theresa May will bid to force a SECOND vote on her Brexit deal despite facing huge defeat
Allies claim that German Chancellor Angela Merkel has offered Theresa May last minute help after saying the EU could grant extra concessions if MPs shoot down her deal
THERESA May will try to force a second vote on her Brexit deal despite facing a catastrophic defeat on it, allies have revealed.
It has emerged that the PM has been given fresh hope of eventual success from a last minute offer of help from Angela Merkel.
She will tell her divided Cabinet when it meets for a fiery discussion on Plan B this morning that the German leader suggested the EU could grant extra concessions once the troubled agreement is shot down.
And that could include persuading Taoiseach Leo Varadkar to agree to an end date to the hated Irish backstop – which the DUP and dozens of Tory MPs have demanded as their price.
---
It's OK now to ask whether Mueller has anything to say
There's a politically incorrect question hanging over Washington that it's almost safe to ask: How much longer can Robert Mueller spin his client-for-life until even Nice People start asking questions?
Mr. Mueller has been hacking away at what was once called the "Russian collusion investigation," now in its third year, and all we've seen so far is more evidence that a lot of shady lawyers do well in Washington. What is the paragon of rectitude up to?
Banging on Donald Trump is high sport in Washington, where there are rules about how everyone, even presidents, must behave, and the Donald makes up his own rules as he goes along. That's frowned on if you're not a member of the elites, or someone who stands still and wags his tail while an elite scratches his ears. Some of the press elites were taught, when they were learning their craft in the provinces, to be tough but fair to all. They learned in Washington that it's OK to be fairer to some than to others.
---
"It is discouraging to think how many people are shocked by honesty and how few by deceit."

-- Noel Coward

(1899-1973) British playwright

---

The Medal of Honor is the highest award for valor in action against an enemy force which can be bestowed upon an individual serving in the Armed Services of the United States.

GeneTrerally presented to its recipient by the President of the United States of America in the name of Congress.

The first award of the Medal of Honor was made March 25, 1863 to Private JACOB PARROTT.The last award of the Medal of Honor was made September 15, 2011 to Sergeant DAKOTA MEYER.

Since then there have been: • 3458 recipients of the Medal of Honor.

• Today there are 85 Living Recipients of the Medal of Honor.

Citation


Captain Humbert R. Versace distinguished himself by extraordinary heroism during the period of 29 October 1963 to 26 September 1965, while serving as S-2 Advisor, Military Assistance Advisory Group, Detachment 52, Ca Mau, Republic of Vietnam. While accompanying a Civilian Irregular Defense Group patrol engaged in combat operations in Thoi Binh District, An Xuyen Province, Captain Versace and the patrol came under sudden and intense mortar, automatic weapons, and small arms fire from elements of a heavily armed enemy battalion. As the battle raged, Captain Versace, although severely wounded in the knee and back by hostile fire, fought valiantly and continued to engage enemy targets. Weakened by his wounds and fatigued by the fierce firefight, Captain Versace stubbornly resisted capture by the over-powering Viet Cong force with the last full measure of his strength and ammunition. Taken prisoner by the Viet Cong, he exemplified the tenets of the Code of Conduct from the time he entered into Prisoner of War status. Captain Versace assumed command of his fellow American soldiers, scorned the enemy's exhaustive interrogation and indoctrination efforts, and made three unsuccessful attempts to escape, despite his weakened condition which was brought about by his wounds and the extreme privation and hardships he was forced to endure. During his captivity, Captain Versace was segregated in an isolated prisoner of war cage, manacled in irons for prolonged periods of time, and placed on extremely reduced ration. The enemy was unable to break his indomitable will, his faith in God, and his trust in the United States of America. Captain Versace, an American fighting man who epitomized the principles of his country and the Code of Conduct, was executed by the Viet Cong on 26 September 1965. Captain Versace's gallant actions in close contact with an enemy force and unyielding courage and bravery while a prisoner of war are in the highest traditions of the military service and reflect the utmost credit upon himself and the United States Army.

---

From the Archives

We Have Met the Enemy…
Geoff Metcalf


"They who can give up essential liberty to obtain a little temporary safety deserve neither liberty nor safety.
--Benjamin Franklin
"The American people must be willing to give up a degree of personal privacy in exchange for safety and security."
--Louis Freeh


In the wake of the clamor over the most recent WikiLeaks data dump, 'Vault 7', 'UMBRAGE', et al, it should be noted this is not really anything new. What we are seeing here is simply the evolution of something that goes back to the late 50s (to the incomplete best knowledge I have).

It is kinda cool to finally see even

The New York Times

acknowledging material

I was writing about in 1998

.

In April of 1998 I wrote "Privacy has become an anachronism." I was commenting on "a massive system designed to intercept all your e-mail, fax traffic and more." I was explaining 'Echelon', the illegitimate offspring of a

UKUSA Treaty

signed by the United States, United Kingdom, Canada, Australia and New Zealand. Its purpose was, and is, to have a vast global intelligence monster, which allegedly shares common goals. The system was so "efficient" that reportedly National Security Agency folk from Fort Meade could work from Menwith Hill in England to intercept local communications without either nation having to burden themselves with the formality of seeking approval (a court order) or disclosing the operation. And this was all pre-9/11 and pre-the anti-constitutional

'Patriot Act'

.

It is illegal (without a Judge's signed permission) for the United States to spy on its citizens … kinda. The laws have long been circumvented by a mutual pact among five nations. Under the terms of UKUSA agreement, Britain spies on Americans and America spies on British citizens, and then the two conspirators trade data. A classic technical finesse. It is legal, but the intent to evade the spirit is inescapable.

I often fictionalized the genesis of 'Echelon' as an informal meeting of a group of post war American and British intelligence types drinking in some remote rustic bar. An imagined CIA type complains to his MI6 buddy about the hassles of US laws preventing US intelligence from surveillance of bad guys, and the Brit echoes the same complaint.

"Hey wait a moment mate," says Nigel, the make-believe MI6 guy, "I can spy on your guys and you can spy on our bad players…why don't we just come up with a mechanism whereby we spy on your villains, you spy on our villains, and we just 'share' the intel?"

This system was called ECHELON, and has been kicking around in some form longer than most of you. The result of the UKUSA treaty signed by the United States, United Kingdom, Canada, Australia and New Zealand was, and is, to have a vast global intelligence monster which allegedly shares common goals.

The London Telegraph reported in December of 1997 that the Civil liberties Committee of the European Parliament had officially confirmed the existence and purpose of ECHELON. "A global electronic spy network that can eavesdrop on every telephone, e-mail and telex communication around the world will be officially acknowledged for the first time in a European Commission report. …"

The report noted: "Within Europe all e-mail, telephone and fax communications are routinely intercepted by the United States National Security Agency, transferring all target information from the European mainland via the strategic hub of London, then by satellite to Fort Meade in Maryland via the crucial hub at Menwith Hill, in the North York moors in the UK.

"The ECHELON system forms part of the UKUSA system but unlike many of the electronic spy systems developed during the Cold War, ECHELON was designed primarily for non-military targets: governments, organizations and businesses in virtually every country."

An interesting sidebar appeared in the International Herald Tribune under the headline, "Big Corporate Brother: It Knows More About You Than You Think." The story details Acxiom Corp, which was a humongous information service hidden in the Ozark foothills. Twenty-four hours a day, Acxiom electronically gathered and sorts all kinds of data about 196 million Americans. Credit card transactions and magazine subscriptions, telephone numbers, real estate records, automotive data, hunting, business and fishing licenses, consumer surveys and demographic detail that would make a marketing department's research manager salivate. This relatively new (legal) enterprise was known as "data warehousing" or "data-mining", and it underscores the cruel reality that the fiction of personal privacy has become obsolete. Technology's ability to collect and analyze data has made privacy a quaint albeit interesting dinosaur.

The Tribune reported that "Axciom can often determine whether an American owns a dog or cat, enjoys camping or gourmet cooking, reads the Bible or lots of other books. It can often pinpoint an American's occupation, car and favorite vacations. By analyzing the equivalent of billions of pages of data, it often projects for its customers who should be offered a credit card or who is likely to buy a computer."

Most of this information is from y 1998 piece. Echelon has developed, matured, and morphed into a much more powerful hybrid. 'Carnivore' was software to help triage the cacophony of data. Vault 7 and 'Umbrage' are logical (some would argue "insidious") growth.

More to follow…