Tuesday June 20th, 2017
"It Is Not A Question of Who Is Right Or Wrong But What Is Right Or Wrong That Counts.
"
--Geoff Metctalf
---
Updated
hrs

Wo
rld & National
"The Press was protected so that it could bare the secrets of the government and inform the people. Only a free and unrestrained press can effectively expose deception in government. And paramount among the responsibilities of a free press is the duty to prevent any part of the government from deceiving the people."
-- Justice Hugo L. Black
(1886-1971) US Supreme Court Justice

Armed Russian jet comes within 5 feet of US recon jet
An armed Russian fighter jet buzzed a U.S. Air Force reconnaissance aircraft in the Baltic Sea on Monday, two U.S. officials told Fox News.
The Russian Su-27 jet had air-to-air missiles under its wings and approached the U.S. Air Force RC-135 recon jet "rapidly," coming within five feet of the American aircraft, the officials said.
Once alongside, the Russian jet was "provocative" in its flight maneuvers and flying "erratically," according to another official.
Since June 2nd there have been over 35 interactions in the Baltic Sea region between U.S. and Russian jets and warships, but the incident Monday morning is notable because the U.S. military considered it "unsafe," according to one official.
U.S tries to defuse tensions with Russia
In third shootdown, US jet destroys another Iranian drone over Syria

---
New study supports Trump: 5.7 million noncitizens may have cast illegal votes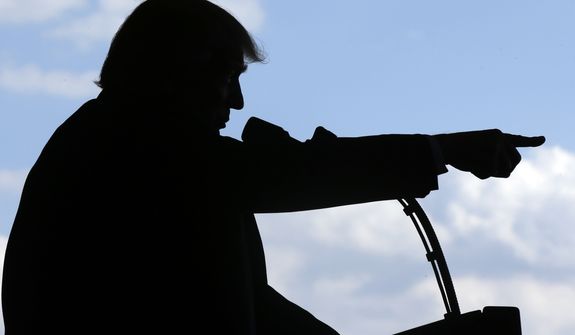 A research group in New Jersey has taken a fresh look at postelection polling data and concluded that the number of noncitizens voting illegally in U.S. elections is likely far greater than previous estimates.
As many as 5.7 million noncitizens may have voted in the 2008 election, which put Barack Obama in the White House.
The research organization Just Facts, a widely cited, independent think tank led by self-described conservatives and libertarians, revealed its number-crunching in a report on national immigration.
Just Facts President James D. Agresti and his team looked at data from an extensive Harvard/YouGov study that every two years questions a sample size of tens of thousands of voters. Some acknowledge they are noncitizens and are thus ineligible to vote.
---
Shake-up underway: Sean Spicer leaving White House podium for behind-the-scenes role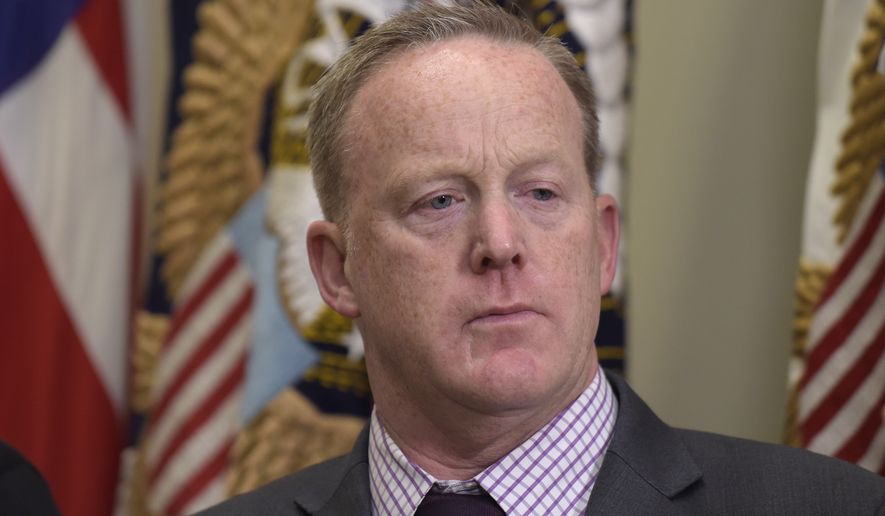 White House press secretary Sean Spicer is leaving the briefing room podium to take a more behind-the-scenes job managing the President Trump's communications strategy, according to officials, as a long-planned communications shake-up takes shape.
Mr. Spicer, whose combative exchanges with reporters at daily briefings has become legendary, has been easing out of the briefing job for a month. He has increasingly shared that duty with White House deputy press secretary Sarah Sanders.
The White House has not held an on-camera briefing since June 12.
---
Ossof tries to overome Pelsoi ties in Georgia House race
House Minority Leader Nancy Pelosi is not on the ballot in the runoff race Tuesday for Georgia's open congressional seat, but Republicans are pushing to make sure the California Democrat is on voters' minds when they go to the polls.
On the stump, in flyers and in a barrage of radio and television ads, GOP candidate Karen Handel and her allies have hammered home the message that Democrat Jon Ossoff will carry Mrs. Pelosi's water in Congress, as they look to excite their party's base and raise doubts about Mr. Ossoff's pledge to be an independent voice.
Mrs. Handel says her supporters will have the chance Tuesday "to rock Nancy Pelosi's world."
---
Navy admirals under investigation, suspected of interfering in SEAL's sexual assault case
The nation's highest military court on Monday sided with a decorated Navy SEAL and ordered an investigation into whether top Navy admiral lawyers at the Pentagon illegally interfered in his case to ensure a conviction on a sexual assault charge.
The U.S. Court of Appeals for the Armed Forces granted a petition for an independent probe from defense attorneys for Senior Chief Petty Officer Keith E. Barry, who was convicted of sexual assault in 2014 and sentenced to a dishonorable discharge and three years in prison.
Last month, the former admiral who oversaw Barry's case swore in an affidavit that two three-star admirals pressured him to uphold the conviction when he was about to overturn the trial judge's ruling.
---
Judge Narrows Injuction He Ordered Against Trump Travel Ban
U.S. District Court Judge Derrick Watson has cut back the injunction he issued against President Donald Trump's revised travel ban order, Politico is reporting.
Watson's move comes after the 9th Circuit Court of Appeals upheld his injunction, but noted portions that blocked the administration from reviewing vetting procedures were too broad, according to the website.
The judge narrowed the injunction clearing the way for the administration to conduct internal reviews of other nation's vetting procedures for visa applicants while the case is being reviewed by the U.S. Supreme Court, CNN reported.
---
US Sends Supersonic Bombers in Show of Force against N.Korea
The United States flew two supersonic bombers over the Korean Peninsula on Tuesday in a show of force against North Korea, South Korean officials said.
The U.S. often sends powerful warplanes in times of heightened animosities with North Korea, and flew B-1B bombers several times this year as the North conducted a series of banned ballistic missile tests.
Tuesday's flights by B-1Bs came shortly after the death of a U.S. college student who was recently released by North Korea in a coma following more than 17 months of captivity.
---
American Detainee's Death in North Korea Baffles Experts
North Korea's missile and nuclear tests, its carefully scripted propaganda bluster, even its military threats: Far from the scattershot workings of a madman, most of this fits the playbook of a small, proud country well used to stoking tensions to get concessions it would otherwise not receive from surrounding big powers.
What happened to Otto Warmbier, an American college student who died just days after North Korea released him from detention in a coma, is far more difficult to make sense of.
It jars so strikingly with the fates of most past detained Americans that outside observers are left struggling not only with the mystery of what killed Warmbier but also with what his death means for attempts by Washington and its allies to stop North Korea's pursuit of a nuclear-tipped ICBM that can target the U.S. mainland.
---
Justice from the Alice-in-Wonderland School of Law
Fair is fair, but special prosecutors work to their own fairness code, that it's important to be fairer to some than to others. Sometimes you don't have to be fair at all.
Special prosecutors study at the Lewis Carroll School of Law, tutored in Wonderland by the wise old Professor Alice, where they are taught the Washington legal principle of "verdict now, evidence later."
These railroad jobs are not necessarily the special prosecutor's fault. Hiring a special prosecutor, much like honest citizens sending off to Cheyenne for a hired gun to get rid of the crooked sheriff, is done with a very specific goal in mind. The special prosecutor is expected to nail the target, usually a president. His reputation is tainted if he can't do the job (though he does get to keep his nice fee).
---
NATO's Baltic challenge
Only a credible deterrence can keep the Russians at bay
President Trump was coy about his commitment to NATO's Article 5, which considers an attack on one member state is an attack on all. Most informed observers saw this as a bargaining ploy to get the attention of those member states who have not met the NATO defense spending target of 2 percent of gross domestic product (GDP). The administration has since reaffirmed our intention to honor Article 5. Perhaps the most relieved NATO members at this development are the Baltic States — Latvia, Estonia and Lithuania. If any NATO members should be worried about the Russian threat, it is those three.
Those of us who were skeptical about extending NATO membership to former members of the Warsaw Pact had two major concerns. The first was that NATO was overreaching in Eastern Europe. Prior to World War II, the French had extended security guaranties to Poland and Czechoslovakia when Germany was too weak to protest. However, when Hitler called the Allied bluff in the late 1930s, France and Britain realized that there was little they could do to stop Germany if she decided to launch a lightning attack on either eastern nation. Our second concern was that the loss of their eastern possessions would be a festering sore with the Russians for years to come and could be a flash point for future trouble with Russia. The second fear was valid. Many Russians, Vladimir Putin among them, have never accepted the loss of the Baltics and their Russian minority populations any more than they accepted the loss of Ukraine. It remains to be seen whether the first concern will also come to pass.
"It is discouraging to think how many people are shocked by honesty and how few by deceit."
-- Noel Coward
(1899-1973) British playwright
---
---
The Medal of Honor is the highest award for valor in action against an enemy force which can be bestowed upon an individual serving in the Armed Services of the United States.
GeneTrerally presented to its recipient by the President of the United States of America in the name of Congress.
The first award of the Medal of Honor was made March 25, 1863 to Private JACOB PARROTT.The last award of the Medal of Honor was made September 15, 2011 to Sergeant DAKOTA MEYER.
Since then there have been: • 3458 recipients of the Medal of Honor.
• Today there are 85 Living Recipients of the Medal of Honor.
Citation

Captain Humbert R. Versace distinguished himself by extraordinary heroism during the period of 29 October 1963 to 26 September 1965, while serving as S-2 Advisor, Military Assistance Advisory Group, Detachment 52, Ca Mau, Republic of Vietnam. While accompanying a Civilian Irregular Defense Group patrol engaged in combat operations in Thoi Binh District, An Xuyen Province, Captain Versace and the patrol came under sudden and intense mortar, automatic weapons, and small arms fire from elements of a heavily armed enemy battalion. As the battle raged, Captain Versace, although severely wounded in the knee and back by hostile fire, fought valiantly and continued to engage enemy targets. Weakened by his wounds and fatigued by the fierce firefight, Captain Versace stubbornly resisted capture by the over-powering Viet Cong force with the last full measure of his strength and ammunition. Taken prisoner by the Viet Cong, he exemplified the tenets of the Code of Conduct from the time he entered into Prisoner of War status. Captain Versace assumed command of his fellow American soldiers, scorned the enemy's exhaustive interrogation and indoctrination efforts, and made three unsuccessful attempts to escape, despite his weakened condition which was brought about by his wounds and the extreme privation and hardships he was forced to endure. During his captivity, Captain Versace was segregated in an isolated prisoner of war cage, manacled in irons for prolonged periods of time, and placed on extremely reduced ration. The enemy was unable to break his indomitable will, his faith in God, and his trust in the United States of America. Captain Versace, an American fighting man who epitomized the principles of his country and the Code of Conduct, was executed by the Viet Cong on 26 September 1965. Captain Versace's gallant actions in close contact with an enemy force and unyielding courage and bravery while a prisoner of war are in the highest traditions of the military service and reflect the utmost credit upon himself and the United States Army.
---
3/14/20017

We Have Met the Enemy…

Geoff Metcalf
"They who can give up essential liberty to obtain a little temporary safety deserve neither liberty nor safety.
--Benjamin Franklin
"The American people must be willing to give up a degree of personal privacy in exchange for safety and security."
--Louis Freeh

In the wake of the clamor over the most recent WikiLeaks data dump, 'Vault 7', 'UMBRAGE', et al, it should be noted this is not really anything new. What we are seeing here is simply the evolution of something that goes back to the late 50s (to the incomplete best knowledge I have).
It is kinda cool to finally see even the New York Times (www.nytimes.com/2017/03/09/opinion/the-truth-about-the-wikileaks-cia-cache.html?_r=0) acknowledging material I was writing about in 1998 (http://www.wnd.com/1998/04/6108/ ).
In April of 1998 I wrote "Privacy has become an anachronism." I was commenting on "a massive system designed to intercept all your e-mail, fax traffic and more." I was explaining 'Echelon', the illegitimate offspring of a UKUSA treaty (https://www.nationalarchives.gov.uk/ukusa/ ) signed by the United States, United Kingdom, Canada, Australia and New Zealand. Its purpose was, and is, to have a vast global intelligence monster, which allegedly shares common goals. The system was so "efficient" that reportedly National Security Agency folk from Fort Meade could work from Menwith Hill in England to intercept local communications without either nation having to burden themselves with the formality of seeking approval (a court order) or disclosing the operation. And this was all pre-9/11 and pre-the anti-constitutional 'Patriot Act'.
It is illegal (without a Judge's signed permission) for the United States to spy on its citizens … kinda. The laws have long been circumvented by a mutual pact among five nations. Under the terms of UKUSA agreement, Britain spies on Americans and America spies on British citizens, and then the two conspirators trade data. A classic technical finesse. It is legal, but the intent to evade the spirit is inescapable.
I often fictionalized the genesis of 'Echelon' as an informal meeting of a group of post war American and British intelligence types drinking in some remote rustic bar. An imagined CIA type complains to his MI6 buddy about the hassles of US laws preventing US intelligence from surveillance of bad guys, and the Brit echoes the same complaint.
"Hey wait a moment mate," says Nigel, the make-believe MI6 guy, "I can spy on your guys and you can spy on our bad players…why don't we just come up with a mechanism whereby we spy on your villains, you spy on our villains, and we just 'share' the intel?"
This system was called ECHELON, and has been kicking around in some form longer than most of you. The result of the UKUSA treaty signed by the United States, United Kingdom, Canada, Australia and New Zealand was, and is, to have a vast global intelligence monster which allegedly shares common goals.
The London Telegraph reported in December of 1997 that the Civil liberties Committee of the European Parliament had officially confirmed the existence and purpose of ECHELON. "A global electronic spy network that can eavesdrop on every telephone, e-mail and telex communication around the world will be officially acknowledged for the first time in a European Commission report. …"
The report noted: "Within Europe all e-mail, telephone and fax communications are routinely intercepted by the United States National Security Agency, transferring all target information from the European mainland via the strategic hub of London, then by satellite to Fort Meade in Maryland via the crucial hub at Menwith Hill, in the North York moors in the UK.
"The ECHELON system forms part of the UKUSA system but unlike many of the electronic spy systems developed during the Cold War, ECHELON was designed primarily for non-military targets: governments, organizations and businesses in virtually every country."
An interesting sidebar appeared in the International Herald Tribune under the headline, "Big Corporate Brother: It Knows More About You Than You Think." The story details Acxiom Corp, which was a humongous information service hidden in the Ozark foothills. Twenty-four hours a day, Acxiom electronically gathered and sorts all kinds of data about 196 million Americans. Credit card transactions and magazine subscriptions, telephone numbers, real estate records, automotive data, hunting, business and fishing licenses, consumer surveys and demographic detail that would make a marketing department's research manager salivate. This relatively new (legal) enterprise was known as "data warehousing" or "data-mining", and it underscores the cruel reality that the fiction of personal privacy has become obsolete. Technology's ability to collect and analyze data has made privacy a quaint albeit interesting dinosaur.
The Tribune reported that "Axciom can often determine whether an American owns a dog or cat, enjoys camping or gourmet cooking, reads the Bible or lots of other books. It can often pinpoint an American's occupation, car and favorite vacations. By analyzing the equivalent of billions of pages of data, it often projects for its customers who should be offered a credit card or who is likely to buy a computer."
Most of this information is from y 1998 piece. Echelon has developed, matured, and morphed into a much more powerful hybrid. 'Carnivore' was software to help triage the cacophony of data. Vault 7 and 'Umbrage' are logical (some would argue "insidious") growth.
More to follow…