"It Is Not A Question of Who Is Right Or Wrong But What Is Right Or Wrong That Counts.

"

--Geoff Metcalf



Wo
rld & National
Ohr notes show Simpson continued to push debunked story of Trump-Russia bank connections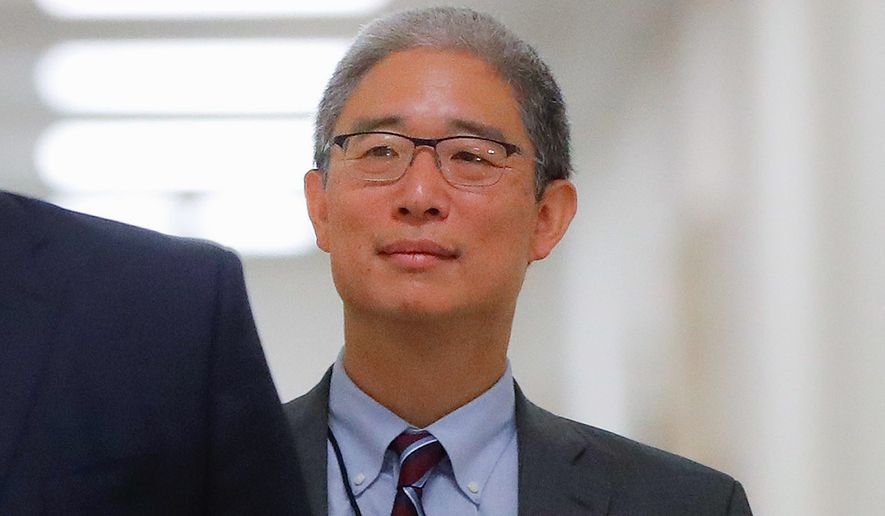 Fusion GPS founder Glenn R. Simpson pushed a conspiracy theory to the Justice Department that posited Donald Trump maintained a computer server in 2016 directly linked to the Kremlin-connected Alfa Bank in Moscow, according to government notes obtained by The Washington Times.
The handwritten entries by then-Associate Deputy Attorney General Bruce Ohr conflict with Mr. Simpson's subsequent testimony to the Senate Judiciary Committee. Mr. Simpson, an opposition research agent paid by the Hillary Clinton presidential campaign, told senators he didn't know whether there was any dedicated Trump-Alfa server and drew no conclusions, according to a transcript of his August 2017 closed-door testimony.
The debunked server conspiracy theory sprung up in leftist social media during the presidential campaign to suggest that Mr. Trump and his Trump Organization had illegal ties with Russia. To liberals, the supposed Trump server meant that the Republican presidential candidate's campaign had a secret communication channel to a powerful group of oligarch bankers tied to Russian President Vladimir Putin.
---
Trump administration plans on closing PLO office in D.C.
The Trump administration will take steps to close the Palestine Liberation Organization office in Washington, D.C., a senior Palestinian diplomat confirmed Monday.
Senior diplomat Dr. Saeb Erekat demanded the international community to intervene in what he argued were U.S. "attacks against the international system as a whole" to defend Israel.
"We have been notified by a US official of their decision to close the Palestinian Mission to the US. This is yet another affirmation of the Trump Administration's policy to collectively punish the Palestinian people, including by cutting financial support for humanitarian services including health and education," he said in a statement.
---
Kellyanne Conway: N.Y. Times op-ed author 'going to suss himself or herself out'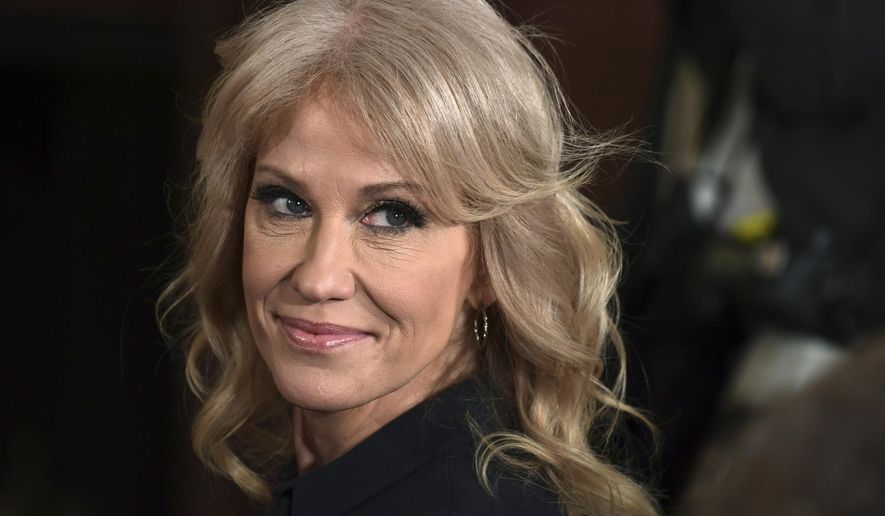 White House adviser Kellyanne Conway on Sunday said she thinks the Trump administration official who wrote an anonymous New York Times piece in which they said President Trump's advisers regularly try to undermine him to protect the country will eventually reveal himself or herself.
"I think this person is going to suss himself or herself out," Ms. Conway said on CNN's "State of the Union."
"I think cowards are like criminals, and eventually they confess to the wrong person: 'Shh - it was me but don't tell anyone.' And of course the person will tell someone," she said. "So they'll probably suss themselves out."
She said she hopes whoever wrote the piece doesn't get a "hero's welcome."
---
Brett Kavanaugh foes mail 3,000 coat hangers to Susan Collins' office
The end of contentious confirmation hearings for U.S. Supreme Court nominee Brett Kavanaugh has shifted the focus back to potential swing votes like Republican Sen. Susan Collins of Maine.
If Collins votes yes, then he is likely confirmed. She and Republican Sen. Lisa Murkowski of Alaska probably would have to both vote "no" for Kavanaugh to be blocked.
In keeping with her deliberative approach, Collins has kept mum about how she'll vote. Still, she's sent signals that Kavanaugh cleared a hurdle by telling her that Roe v. Wade establishing abortion rights is settled law. A spokeswoman for Collins said Saturday that a recently released email from Kavanaugh - in which he disputed that all legal scholars see Roe as settled - didn't contradict what he told the senator because he wasn't expressing his personal views.
The pressure is intense.
---

Why Trump's Record Trumps the Media's Spin
The media is determined to prove that Donald Trump is unfit to be president.

My first reaction to the anonymous anti-Trump op-ed in the New York Times was perhaps unusual for a resident of the swamp, which has been so hyper this week: I chuckled, rolled my eyes, and didn't even make it to the end of the article before losing interest.
It probably helps that I spent the week in Colorado and Utah, where seemingly no one cares. In the conversations in which I have participated or overheard, this subject has come up zero times. Muted televisions in airports and hotel lounges, which still carry CNN and its angry commentators out of habit, are blissfully ignored as life happens.
Most people outside the swamp either know what the media is up to or just don't care anymore.
---
Leslie Moonves departs as chief of CBS, financial package to be withheld pending investigation
CBS Corporation announced on Sunday that chairman and CEO Leslie Moonves is departing the company, effective immediately. Moonves' exit comes hours after The New Yorker published accounts from six women with allegations of sexual assault or misconduct, following allegations by six other women in July.
A financial exit package for Moonves will be withheld pending the results of an ongoing investigation into the allegations against him. Moonves was eligible for as much as $180 million if fired without cause, according to an employment contract he signed in May 2017. Recent reports indicated a potential payout in the range of $100 million.
---
Hurricane Florence Expected to Rapidly Intensify; Serious Rainfall Threat for U.S. East Coast
Florence has re-intensified into a hurricane, and is expected to rapidly intensify into a very dangerous Category 4 hurricane by Tuesday as it heads towards the Southeast U.S. Coast. Florence is likely to make landfall on Thursday evening or Friday morning on the Southeast U.S. East Coast, or remain just offshore. The odds have increased that Florence will stall on Friday and meander near or over the coast for several days, making the hurricane a huge rainfall and coastal flooding threat.
Florence was about 750 miles southeast of Bermuda late Sunday morning, moving west at 6 mph. Sea surface temperatures (SSTs) were a warm 28.5°C (83°F), but Florence was embedded in an atmosphere with somewhat dry air (a mid-level relative humidity of 50%). The high wind shear of 20 – 25 knots that had been driving this dry air into the core of the storm had abated significantly on Sunday morning, and was a light 5 - 10 knots. Satellite images on Sunday afternoon showed that the storm was significantly more organized, with a prominent eye, a more symmetrical shape, and impressive spiral banding. Florence was a medium-sized hurricane, with tropical storm-force winds that extended out up to 115 miles from the center. A NOAA hurricane hunter aircraft flying out of Bermuda on Sunday morning found 75 mph surface winds. No other hurricane hunter missions are scheduled for today; regular hurricane hunter missions by the Air Force will begin on Monday. The NOAA jet will fly another dropsonde mission on Sunday night.
---
Trump Attacks Woodward 'Fiction': 'I'll Write the Real Book'
President Donald Trump early Monday posted a series of tweets ridiculing journalist Bob Woodward's book about his administration and vowing that he'll "write the real book" when it comes to his presidency.
He also spoke out about the nation's GDP, noting that at 4.2 percent, it's "higher than the Unemployment rate (3.9 percent) for the first time in over 100 years!"
The Woodward book, "Fear: Trump in the White House"is a "joke," Trump declared.
"Just another assault against me, in a barrage of assaults, using now disproven unnamed and anonymous sources," Trump said. "Many have already come forward to say the quotes by them, like the book, are fiction. Dems can't stand losing. I'll write the real book!"
---
US Agriculture Chief Says NAFTA Deal Must End Canada's Milk Protein Scheme
Canada must end its low-price milk proteins policy to reach a U.S.-Canadian deal to update the North American Free Trade Agreement, U.S. Agriculture Secretary Sonny Perdue said.
Canada has encouraged overproduction and flooded export markets for milk proteins used in cheese and yogurt, hurting U.S. dairy farmers, Perdue said in an interview aired on Sunday on C-SPAN television.
"Our farmers don't have access to the Canadian markets the way that they have access to us. Class 7 has to go. It can't be renamed something or called something else," Perdue said when asked about dairy concessions needed to reach a NAFTA deal, referring to a new milk class created last year by Canada to price milk ingredients such as protein concentrates, skim milk and whole milk powder.
---
Intelligence Reports: North Korea Still Building Nukes
President Donald Trump's administration is taking a more aggressive position on North Korea as evidence grows that the country is still producing nuclear weapons despite promises of denuclearization, according to senior U.S. officials.
According to new intelligence, North Korea leader Kim Jong Un's regime is escalating efforts to conceal nuclear activity, NBC News reports, including building structures to hide the entrance to one warhead storage facility just in the months after Trump met with Kim in Singapore.
North Korean workers have also been observed moving warheads from the facility. One former U.S. official said the country does that often, "so our sensors are confused."
---
Fed's Rosengren Wants 2 More Hikes in 2018 as Economy Grows
When Boston Federal Reserve Bank President Eric Rosengren switched from advocating low interest rates to tighter monetary policy, he argued it was time to start crawling back toward "normal" rates even with 5 percent unemployment and weak growth and inflation.
Two years later, Rosengren has joined colleagues in beginning to lay the groundwork for those rate hikes to potentially continue longer and to a higher level than currently expected as the outlook for the economy strengthens.
---
That dishonest anonymous New York Times op-ed
The anonymous New York Times op-ed by a purported Trump administration senior official has a fatal flaw: The op-ed focuses on President Trump's words rather than his actions and decisions, which have been remarkably successful both on the economy and in foreign affairs. To suggest that those successes occurred because of his staff's resistance to his leadership rather than to his direct orders is foolish and self-serving.
The op-ed displays a lack of understanding of how Mr. Trump achieves success. It says that Mr. Trump shows a preference for autocrats and dictators, such as President Vladimir Putin of Russia and North Korea's leader Kim Jong-un. In fact, Mr. Trump's flattering words about both leaders are part of his negotiating tactics. If a CEO proposes to acquire another company, does he begin by denouncing the CEO of that company?
---
Accusing Brett Kavanaugh of judicial activism
Susan Brooks Thistlewaite, professor of theology and former president of Chicago Theological Seminary, penned an op-ed for Patheos this past week excoriating the Supreme Court nominee, Judge Brett Kavanaugh as "a pre-selected political ideologue" of, what she considers to be, the myopic and agenda-drivenright.
In her diatribe against Judge Kavanaugh, Ms. Thislewaite went to great lengths to remind her readers of the dangers of all aspirants to the bench who claim to have "no agenda" and who "take a minimalist approach" to constitutional interpretation.
"To me, Roberts's predilection for conservative judicial activism was obvious from the time of the hearings on his appointment. It should have been obvious to anybody The same is true of Kavanaugh That, in itself, should be enough to deny him an appointment to the Supreme Court. I was right in 2005 about what the Supreme Court would be like under the leadership of John Roberts, and I'm right about Kavanaugh. I know it and I hope you do as well."
And, thus, Ms. Thistlewaite steps to the front of the progressive parade of those who have zero awareness of their own self-refuting duplicity and hypocrisy.
"It is discouraging to think how many people are shocked by honesty and how few by deceit."
-- Noel Coward
(1899-1973) British playwright
---
The Medal of Honor is the highest award for valor in action against an enemy force which can be bestowed upon an individual serving in the Armed Services of the United States.
GeneTrerally presented to its recipient by the President of the United States of America in the name of Congress.
The first award of the Medal of Honor was made March 25, 1863 to Private JACOB PARROTT.The last award of the Medal of Honor was made September 15, 2011 to Sergeant DAKOTA MEYER.
Since then there have been: • 3458 recipients of the Medal of Honor.
• Today there are 85 Living Recipients of the Medal of Honor.
Citation
Captain Humbert R. Versace distinguished himself by extraordinary heroism during the period of 29 October 1963 to 26 September 1965, while serving as S-2 Advisor, Military Assistance Advisory Group, Detachment 52, Ca Mau, Republic of Vietnam. While accompanying a Civilian Irregular Defense Group patrol engaged in combat operations in Thoi Binh District, An Xuyen Province, Captain Versace and the patrol came under sudden and intense mortar, automatic weapons, and small arms fire from elements of a heavily armed enemy battalion. As the battle raged, Captain Versace, although severely wounded in the knee and back by hostile fire, fought valiantly and continued to engage enemy targets. Weakened by his wounds and fatigued by the fierce firefight, Captain Versace stubbornly resisted capture by the over-powering Viet Cong force with the last full measure of his strength and ammunition. Taken prisoner by the Viet Cong, he exemplified the tenets of the Code of Conduct from the time he entered into Prisoner of War status. Captain Versace assumed command of his fellow American soldiers, scorned the enemy's exhaustive interrogation and indoctrination efforts, and made three unsuccessful attempts to escape, despite his weakened condition which was brought about by his wounds and the extreme privation and hardships he was forced to endure. During his captivity, Captain Versace was segregated in an isolated prisoner of war cage, manacled in irons for prolonged periods of time, and placed on extremely reduced ration. The enemy was unable to break his indomitable will, his faith in God, and his trust in the United States of America. Captain Versace, an American fighting man who epitomized the principles of his country and the Code of Conduct, was executed by the Viet Cong on 26 September 1965. Captain Versace's gallant actions in close contact with an enemy force and unyielding courage and bravery while a prisoner of war are in the highest traditions of the military service and reflect the utmost credit upon himself and the United States Army.
---
From the Archives

We Have Met the Enemy…

Geoff Metcalf
"They who can give up essential liberty to obtain a little temporary safety deserve neither liberty nor safety.
--Benjamin Franklin
"The American people must be willing to give up a degree of personal privacy in exchange for safety and security."
--Louis Freeh

In the wake of the clamor over the most recent WikiLeaks data dump, 'Vault 7', 'UMBRAGE', et al, it should be noted this is not really anything new. What we are seeing here is simply the evolution of something that goes back to the late 50s (to the incomplete best knowledge I have).
It is kinda cool to finally see even
The New York Times
acknowledging material
I was writing about in 1998
.
In April of 1998 I wrote "Privacy has become an anachronism." I was commenting on "a massive system designed to intercept all your e-mail, fax traffic and more." I was explaining 'Echelon', the illegitimate offspring of a
UKUSA Treaty
signed by the United States, United Kingdom, Canada, Australia and New Zealand. Its purpose was, and is, to have a vast global intelligence monster, which allegedly shares common goals. The system was so "efficient" that reportedly National Security Agency folk from Fort Meade could work from Menwith Hill in England to intercept local communications without either nation having to burden themselves with the formality of seeking approval (a court order) or disclosing the operation. And this was all pre-9/11 and pre-the anti-constitutional
'Patriot Act'
.
It is illegal (without a Judge's signed permission) for the United States to spy on its citizens … kinda. The laws have long been circumvented by a mutual pact among five nations. Under the terms of UKUSA agreement, Britain spies on Americans and America spies on British citizens, and then the two conspirators trade data. A classic technical finesse. It is legal, but the intent to evade the spirit is inescapable.
I often fictionalized the genesis of 'Echelon' as an informal meeting of a group of post war American and British intelligence types drinking in some remote rustic bar. An imagined CIA type complains to his MI6 buddy about the hassles of US laws preventing US intelligence from surveillance of bad guys, and the Brit echoes the same complaint.
"Hey wait a moment mate," says Nigel, the make-believe MI6 guy, "I can spy on your guys and you can spy on our bad players…why don't we just come up with a mechanism whereby we spy on your villains, you spy on our villains, and we just 'share' the intel?"
This system was called ECHELON, and has been kicking around in some form longer than most of you. The result of the UKUSA treaty signed by the United States, United Kingdom, Canada, Australia and New Zealand was, and is, to have a vast global intelligence monster which allegedly shares common goals.
The London Telegraph reported in December of 1997 that the Civil liberties Committee of the European Parliament had officially confirmed the existence and purpose of ECHELON. "A global electronic spy network that can eavesdrop on every telephone, e-mail and telex communication around the world will be officially acknowledged for the first time in a European Commission report. …"
The report noted: "Within Europe all e-mail, telephone and fax communications are routinely intercepted by the United States National Security Agency, transferring all target information from the European mainland via the strategic hub of London, then by satellite to Fort Meade in Maryland via the crucial hub at Menwith Hill, in the North York moors in the UK.
"The ECHELON system forms part of the UKUSA system but unlike many of the electronic spy systems developed during the Cold War, ECHELON was designed primarily for non-military targets: governments, organizations and businesses in virtually every country."
An interesting sidebar appeared in the International Herald Tribune under the headline, "Big Corporate Brother: It Knows More About You Than You Think." The story details Acxiom Corp, which was a humongous information service hidden in the Ozark foothills. Twenty-four hours a day, Acxiom electronically gathered and sorts all kinds of data about 196 million Americans. Credit card transactions and magazine subscriptions, telephone numbers, real estate records, automotive data, hunting, business and fishing licenses, consumer surveys and demographic detail that would make a marketing department's research manager salivate. This relatively new (legal) enterprise was known as "data warehousing" or "data-mining", and it underscores the cruel reality that the fiction of personal privacy has become obsolete. Technology's ability to collect and analyze data has made privacy a quaint albeit interesting dinosaur.
The Tribune reported that "Axciom can often determine whether an American owns a dog or cat, enjoys camping or gourmet cooking, reads the Bible or lots of other books. It can often pinpoint an American's occupation, car and favorite vacations. By analyzing the equivalent of billions of pages of data, it often projects for its customers who should be offered a credit card or who is likely to buy a computer."
Most of this information is from y 1998 piece. Echelon has developed, matured, and morphed into a much more powerful hybrid. 'Carnivore' was software to help triage the cacophony of data. Vault 7 and 'Umbrage' are logical (some would argue "insidious") growth.
More to follow…