Monday March 12th, 2018
"It Is Not A Question of Who Is Right Or Wrong But What Is Right Or Wrong That Counts.
"
--Geoff Metctalf
---

Wo
rld & National
No word from North Korea on Kim's proposed meeting with Trump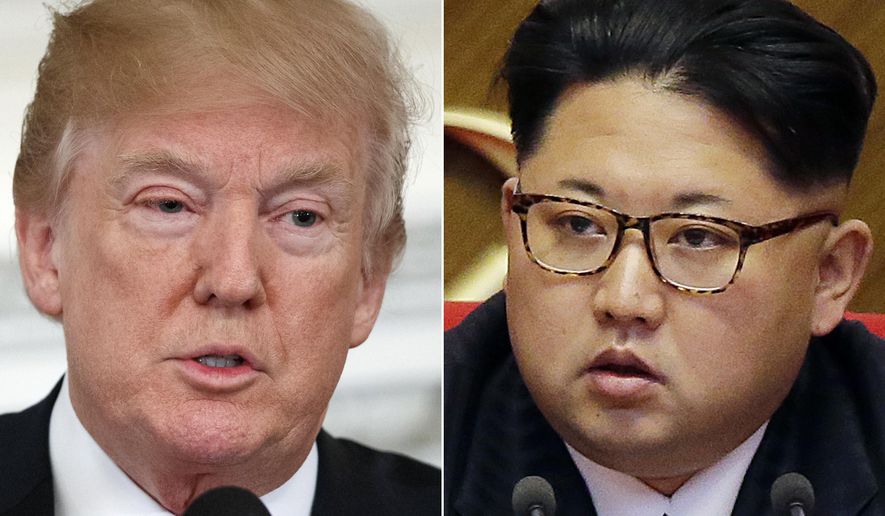 A meeting between President Trump and Kim Jong-un could be the diplomatic breakthrough of the century, but high-level U.S. sources, including two with experience in direct talks with Pyongyang, say huge doubts remain over the veracity of North Korea's reported offer to discuss abandoning its nuclear arsenal and to halt all weapons tests while such discussions play out.
"There's a great deal of uncertainty and skepticism right now," Joseph R. DeTrani, a former CIA official who served as special envoy to talks with Pyongyang before they broke down in 2009, told The Washington Times on Sunday.
He noted that, despite South Korean assurances that Mr. Kim made the offer in a private meeting with them last week, the North Korean leader has not commented on the matter publicly.
While North Korea's ambassador to the United Nations has reportedly confirmed the sincerity of Mr. Kim's offer, four days have passed since Mr. Trump said he would accept a direct meeting with the North Korean leader and there has been no mention of the situation by officials in Pyongyang or by North Korea's state-controlled Korean Central News Agency.
---
Trump's plan to combat school shootings includes federal commission
President Trump is creating a federal commission on school safety, ordering a review of the FBI tip line that ignored warnings about the man who is accused of killing 17 people at a Florida high school, and encouraging states to arm more qualified adults so schools are less vulnerable to attacks, administration officials said Sunday night.
The president also is calling on Congress to approve legislation aimed at improving the federal system of background checks on gun purchases, and is promoting another bill that would provide grants to help states prevent school violence.
As part of the long-awaited plan after the massacre in Parkland, Florida, Mr. Trump will further encourage states to pass "risk protection" orders, temporary court orders that allow police to remove guns from people who are deemed threats to themselves but have raised concerns about due process rights.
---
Condition for Kim Meeting is No Nuclear or Missile Testing

President Donald Trump's condition for meeting North Korean leader Kim Jong-un is that there be no nuclear or missile testing, Treasury Secretary Steve Mnuchin said on Sunday.
"There shouldn't be confusion," Mnuchin told NBC's "Meet the Press" program, when asked about White House press secretary Sarah Sanders' statement on Friday that there would be no meeting without concrete and verifiable actions by North Korea.

---
Putin's Russia: From basket case to resurgent superpower


Vladimir Putin and his Russia look more invincible today than at any other time in his 18 years in power.

Since Putin last faced an election in 2012, Russians have invaded Ukraine, annexed Crimea, blanket-bombed Syria, been accused of meddling in the U.S. presidential election and claimed to have a scary new nuclear arsenal.

"No one listened to us. You listen to us now," he said earlier this month, boasting about those weapons.

Putin will overwhelmingly win re-election as president on March 18, again. So why bother holding a vote at all?


---
UK Lawmaker Says Spy Poisoning Looks to Be 'State-Sponsored'
A senior British lawmaker says the poisoning of ex-spy Sergei Skripal and his daughter is "looking awfully like it was state-sponsored attempted murder."
Tom Tugendhat told the BBC it is still too early to be absolutely certain. The chairman of the Foreign Affairs committee said he would be "surprised" if Prime Minister Theresa May does not end up blaming Russian officials for the attack.
He says the announcement may come soon. May is chairing a National Security Council meeting Monday to hear the latest evidence.
PM May Poised to Publicly Blame, Sanction Russia After Spy Attack

---
Elizabeth Warren refuses DNA test to prove Native American heritage
Sen. Elizabeth Warren batted down calls for her to take a DNA test to prove her Native American heritage in an interview that aired Sunday.
"I know who I am. And never used it for anything. Never got any benefit from it anywhere," Warren said of her ancestry on NBC's "Meet the Press."
The Massachusetts Democrat has been under increased pressure to provide evidence of ​her ​Native American roots, with President Trump repeatedly mocking her as "Pocahontas" as recently as Saturday.
An editorial this month in Massachusetts's Berkshire Eagle urged Warren to buy a DNA test for $99 to resolve the issue once and for all.
---
Footage of mysterious object above ocean stuns military personnel
Pentagon's UFO program revealed
Newly released video of a mysterious object streaking over the Atlantic Ocean shows the Pentagon needs to take UFOs seriously, a researcher says.
The sensational two-minute clip captured by a camera aboard a US Navy F/A-18 jet flying at 25,000 feet wowed military personnel.
"What the f— is that thing?" shouted the pilot in the video posted online by the To the Stars Academy of Arts and Science, a private research company.
"Oh my gosh, dude!" exclaimed the jet's weapons systems officer.
---
China Scrap's Presidential Term Limits
Clearing Way for Xi's Indefinite Rule


China's parliament voted to repeal presidential term limits, allowing President Xi Jinping to keep power indefinitely in a formal break from succession rules set up after Mao Zedong's turbulent rule.
All but five of the almost 3,000 National People's Congress deputies present Sunday supported the measure to strike a constitutional provision barring the president from serving more than two consecutive terms. The amendment -- announced by the Communist Party two weeks ago -- removes the only barrier keeping Xi, 64, from staying on after his expected second term ends in 2023.
The vote -- never in doubt -- gives Xi more time to enact plans to centralize party control, increase global clout and curb financial and environmental risks. It also ties the world's most populous country more closely to the fate of a single man than at any point since reformer Deng Xiaoping began establishing a system for peaceful power transitions in the aftermath of Mao's death.
---

Mary Matalin Praises Trump
Trump Great President, performance 'Stunning'
Political consultant Mary Matalin praised President Trump as "a great overall president," calling his job performance "stunning" and adding that she can "die happy now."
In 2016, Matalin left the Republican Party and registered as a Libertarian but the pundit told PJM she "can't leave the party because it's Hotel California."
"I always thought, as Reagan did, that libertarianism was central to conservatism. I have the same philosophy and I support the same policies. I just thought, at the time, it had nothing to do with Trump, whom I think is doing a great job. It's just that I didn't see those principles and policies being reflected in the majorities that we kept electing," Matalin told PJM in an exclusive interview at the recent Conservative Political Action Conference.
---
China takes a wrong turn
Mao and his Chinese Communist Party ruled for 30 disastrous years beginning in 1949. Tens of millions were murdered, social chaos was constant, China was cut off from the world, and its underdeveloped economy stagnated.
Deng Xiaoping's era of reforms started in 1978 and continued for 30 years. The cult of personality was replaced with a collective leadership. The CCP rule became less oppressive (except for the Tiananmen massacre).
Private enterprise and foreign investment were permitted, and China grew at an astounding rate. It became the world's factory, its most dynamic exporter and its second largest economy.
---
The facts about guns at school
President Trump thinks arming school staff and teachers deter threats. Surprise, media fact checkers from The New York Times to FactCheck.org accuse him of "false and misleading claims" to "inaccurate facts."
The FactCheck.org analysis has been carried on hundreds of news site. Yet, any serious look at the data shows that Mr. Trump's arguments are more clearly grounded in facts and a deeper understanding of these attacks than the fact checkers would dare let their readers know.
This isn't a theoretical debate, as 25 states to varying degrees, allow concealed handgun permit holders, including staff and teachers, to carry guns on K-12 school grounds. Some such as Alabama, New Hampshire, Utah and much of Oregon allow anyone with a regular concealed handgun permit to carry.
Other states require the approval of a school superintendent or school board. One state, South Dakota, requires 40 hours of training.
"It is discouraging to think how many people are shocked by honesty and how few by deceit."
-- Noel Coward
(1899-1973) British playwright
---
The Medal of Honor is the highest award for valor in action against an enemy force which can be bestowed upon an individual serving in the Armed Services of the United States.
GeneTrerally presented to its recipient by the President of the United States of America in the name of Congress.
The first award of the Medal of Honor was made March 25, 1863 to Private JACOB PARROTT.The last award of the Medal of Honor was made September 15, 2011 to Sergeant DAKOTA MEYER.
Since then there have been: • 3458 recipients of the Medal of Honor.
• Today there are 85 Living Recipients of the Medal of Honor.
Citation
Captain Humbert R. Versace distinguished himself by extraordinary heroism during the period of 29 October 1963 to 26 September 1965, while serving as S-2 Advisor, Military Assistance Advisory Group, Detachment 52, Ca Mau, Republic of Vietnam. While accompanying a Civilian Irregular Defense Group patrol engaged in combat operations in Thoi Binh District, An Xuyen Province, Captain Versace and the patrol came under sudden and intense mortar, automatic weapons, and small arms fire from elements of a heavily armed enemy battalion. As the battle raged, Captain Versace, although severely wounded in the knee and back by hostile fire, fought valiantly and continued to engage enemy targets. Weakened by his wounds and fatigued by the fierce firefight, Captain Versace stubbornly resisted capture by the over-powering Viet Cong force with the last full measure of his strength and ammunition. Taken prisoner by the Viet Cong, he exemplified the tenets of the Code of Conduct from the time he entered into Prisoner of War status. Captain Versace assumed command of his fellow American soldiers, scorned the enemy's exhaustive interrogation and indoctrination efforts, and made three unsuccessful attempts to escape, despite his weakened condition which was brought about by his wounds and the extreme privation and hardships he was forced to endure. During his captivity, Captain Versace was segregated in an isolated prisoner of war cage, manacled in irons for prolonged periods of time, and placed on extremely reduced ration. The enemy was unable to break his indomitable will, his faith in God, and his trust in the United States of America. Captain Versace, an American fighting man who epitomized the principles of his country and the Code of Conduct, was executed by the Viet Cong on 26 September 1965. Captain Versace's gallant actions in close contact with an enemy force and unyielding courage and bravery while a prisoner of war are in the highest traditions of the military service and reflect the utmost credit upon himself and the United States Army.
---
From the Archives

We Have Met the Enemy…

Geoff Metcalf
"They who can give up essential liberty to obtain a little temporary safety deserve neither liberty nor safety.
--Benjamin Franklin
"The American people must be willing to give up a degree of personal privacy in exchange for safety and security."
--Louis Freeh

In the wake of the clamor over the most recent WikiLeaks data dump, 'Vault 7', 'UMBRAGE', et al, it should be noted this is not really anything new. What we are seeing here is simply the evolution of something that goes back to the late 50s (to the incomplete best knowledge I have).
It is kinda cool to finally see even the New York Times (www.nytimes.com/2017/03/09/opinion/the-truth-about-the-wikileaks-cia-cache.html?_r=0) acknowledging material I was writing about in 1998 (http://www.wnd.com/1998/04/6108/ ).
In April of 1998 I wrote "Privacy has become an anachronism." I was commenting on "a massive system designed to intercept all your e-mail, fax traffic and more." I was explaining 'Echelon', the illegitimate offspring of a UKUSA treaty (https://www.nationalarchives.gov.uk/ukusa/ ) signed by the United States, United Kingdom, Canada, Australia and New Zealand. Its purpose was, and is, to have a vast global intelligence monster, which allegedly shares common goals. The system was so "efficient" that reportedly National Security Agency folk from Fort Meade could work from Menwith Hill in England to intercept local communications without either nation having to burden themselves with the formality of seeking approval (a court order) or disclosing the operation. And this was all pre-9/11 and pre-the anti-constitutional 'Patriot Act'.
It is illegal (without a Judge's signed permission) for the United States to spy on its citizens … kinda. The laws have long been circumvented by a mutual pact among five nations. Under the terms of UKUSA agreement, Britain spies on Americans and America spies on British citizens, and then the two conspirators trade data. A classic technical finesse. It is legal, but the intent to evade the spirit is inescapable.
I often fictionalized the genesis of 'Echelon' as an informal meeting of a group of post war American and British intelligence types drinking in some remote rustic bar. An imagined CIA type complains to his MI6 buddy about the hassles of US laws preventing US intelligence from surveillance of bad guys, and the Brit echoes the same complaint.
"Hey wait a moment mate," says Nigel, the make-believe MI6 guy, "I can spy on your guys and you can spy on our bad players…why don't we just come up with a mechanism whereby we spy on your villains, you spy on our villains, and we just 'share' the intel?"
This system was called ECHELON, and has been kicking around in some form longer than most of you. The result of the UKUSA treaty signed by the United States, United Kingdom, Canada, Australia and New Zealand was, and is, to have a vast global intelligence monster which allegedly shares common goals.
The London Telegraph reported in December of 1997 that the Civil liberties Committee of the European Parliament had officially confirmed the existence and purpose of ECHELON. "A global electronic spy network that can eavesdrop on every telephone, e-mail and telex communication around the world will be officially acknowledged for the first time in a European Commission report. …"
The report noted: "Within Europe all e-mail, telephone and fax communications are routinely intercepted by the United States National Security Agency, transferring all target information from the European mainland via the strategic hub of London, then by satellite to Fort Meade in Maryland via the crucial hub at Menwith Hill, in the North York moors in the UK.
"The ECHELON system forms part of the UKUSA system but unlike many of the electronic spy systems developed during the Cold War, ECHELON was designed primarily for non-military targets: governments, organizations and businesses in virtually every country."
An interesting sidebar appeared in the International Herald Tribune under the headline, "Big Corporate Brother: It Knows More About You Than You Think." The story details Acxiom Corp, which was a humongous information service hidden in the Ozark foothills. Twenty-four hours a day, Acxiom electronically gathered and sorts all kinds of data about 196 million Americans. Credit card transactions and magazine subscriptions, telephone numbers, real estate records, automotive data, hunting, business and fishing licenses, consumer surveys and demographic detail that would make a marketing department's research manager salivate. This relatively new (legal) enterprise was known as "data warehousing" or "data-mining", and it underscores the cruel reality that the fiction of personal privacy has become obsolete. Technology's ability to collect and analyze data has made privacy a quaint albeit interesting dinosaur.
The Tribune reported that "Axciom can often determine whether an American owns a dog or cat, enjoys camping or gourmet cooking, reads the Bible or lots of other books. It can often pinpoint an American's occupation, car and favorite vacations. By analyzing the equivalent of billions of pages of data, it often projects for its customers who should be offered a credit card or who is likely to buy a computer."
Most of this information is from y 1998 piece. Echelon has developed, matured, and morphed into a much more powerful hybrid. 'Carnivore' was software to help triage the cacophony of data. Vault 7 and 'Umbrage' are logical (some would argue "insidious") growth.
More to follow…