"It Is Not A Question of Who Is Right Or Wrong But What Is Right Or Wrong That Counts.

"

--Geoff Metcalf
Wo

rld & Nation
Drone Attack on Saudi Oil Field Seen as Realizing Worst Fears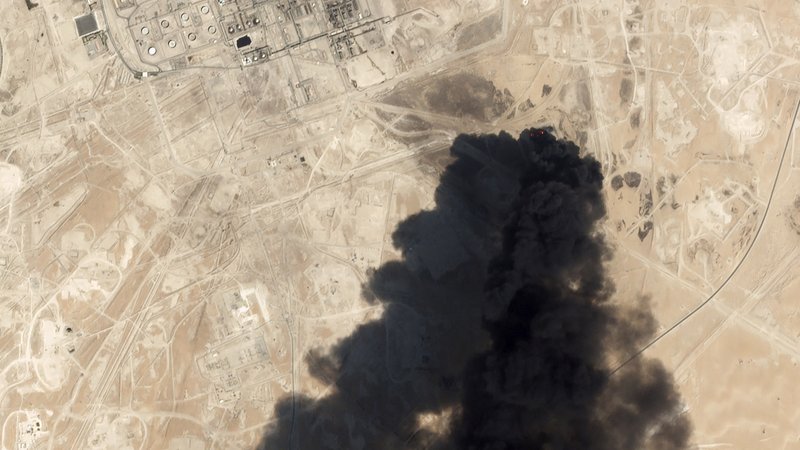 For many of the national security teams that monitor threats on the U.S., the apparent drone strike Saturday on the heart of Saudi Arabia's oil production facilities was the realization of their worst fears.
Based on early reports, multiple relatively inexpensive drone devices were able to pierce Saudi defenses in a way that a traditional air force could not: flying long distances to drop potent bombs that apparently set vast portions of the Saudi petroleum infrastructure ablaze.
The attack, for which Houthi rebels battling Saudi Arabia in Yemen took credit, underscored the fears raised by U.S. security officials and experts in terrorism about the rapid evolution of technologies allowing expanded unmanned flight.
---
'Locked and loaded': Trump says U.S. waiting to hear 'under what terms we would proceed'
A weekend drone attack on Saudi Arabia that cut into global energy supplies and halved the kingdom's oil production threatened Sunday to fuel a regional crisis, as the U.S. released new evidence to back up its allegation that Iran was responsible for the assault amid heightened tensions over Tehran's collapsing nuclear deal.
President Trump said the U.S. had reason to believe it knew who was behind the attack – his secretary of state had blamed Iran the previous day – and assured his Twitter followers that "we are … locked and loaded" depending on verification and were waiting to hear from the Saudis as to who they believe was behind the attack and "under what terms we would proceed!"
The tweets followed a National Security Council meeting at the White House that included Vice President Mike Pence, Secretary of State Mike Pompeo and Defense Secretary Mark Esper.
---
Democrats question Biden's mental fitness after Castro's attack on former VP's memory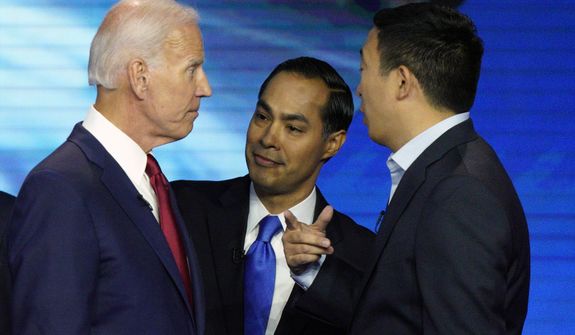 Former Housing Secretary Julian Castro called out the elephant in the room when he questioned whether Joseph R. Biden was mentally fit to be president, pulling back the curtain on a debate that has been raging inside the Democratic Party since the former vice president entered the race.
For Carlos Cardona, chairman of the Laconia New Hampshire Democrats, it was an uncomfortable subject that nevertheless had to be broached.
"He is like our Uncle Joe. People love Joe. Joe is a good person," Mr. Cardona said. "It is just more and more we are seeing a different Joe, and when you love somebody and they are changing, mentally or physically, and they are aging in a way you are not excited about, it is bittersweet."
Mr. Cardona was among the 14 million viewers that tuned into the third presidential debate and watched Mr. Castro passionately challenge Mr. Biden to come clean on whether he was having memory lapses on stage.
---
NY Times Updates Kavanaugh Story: Woman 'Does Not Recall' Incident
The New York Times updated its accusatory weekend story about Supreme Court Justice Brett Kavanaugh to note that a woman it cited as the victim of an alleged sexual assault by Kavanaugh is said to have no memory of the incident.
The Times inserted a sentence to the piece it published based on a new book that discusses Kavanaugh's early life and the sexual assault controversy that arose during his confirmation process a year ago.
The Times updated the story later with this lin: "The female student declined to be interviewed and friends say she does not recall the episode."
---
No deal: Auto workers strike against GM in contract dispute
More than 49,000 members of the United Auto Workers walked off General Motors factory floors or set up picket lines early Monday as contract talks with the company deteriorated into a strike.
Workers shut down 33 manufacturing plants in nine states across the U.S., as well as 22 parts distribution warehouses.
It wasn't clear how long the walkout would last, with the union saying GM has budged little in months of talks while GM said it made substantial offers including higher wages and factory investments.
It's the first national strike by the union since a two-day walkout in 2007 that had little impact on the company.
---
Ilhan Omar responds to 9/11 criticism
Rep. Ilhan Omar responded to the criticisms aimed at her during last week's 9/11 memorial service in New York, saying her intention was to draw attention to civil rights issues for Muslims.
"9/11 was an attack on all Americans," the Minnesota Democrat said on "Face the Nation." "I certainly could not understand the weight of the pain that the victims of the families of 9/11 must feel."
However, Ms. Omar, one of two first Muslim congresswomen in Congress, said Americans have to keep in mind that part of the aftermath was some people "had their civil rights stripped from them."
Earlier this year the freshman congresswoman came under fire for making comments appearing to be dismissive of the Sept. 11 attacks, which left nearly 3,000 dead.
---
On offense: Trump eyes path to expand 2016 victory map, flip Democratic-leaning states
New Mexico called ripe target because president has a "good story to tell" about job creation there
The Trump 2020 campaign noticed something interesting while crunching data from its February rally in El Paso: A significant percentage of the crowd crossed into Texas from Las Cruces, New Mexico, including plenty of women and Hispanics, who will be pivotal to the president's reelection prospects.
"That piqued our interest in New Mexico," said Tim Murtaugh, the Trump campaign's director of communications.
Mr. Trump will rally with supporters outside Albuquerque, the state's largest city, on Monday as part of a bid to expand his 2016 victory map and win states that have tilted blue in recent presidential cycles.
---
Saudi Arabia executes 134 people including six kids as brutal crucifixions spike
At least six teens were reportedly executed this year for supposed "crimes" when they were kids
More than 134 people have been brutally executed in Saudi Arabia so far this year, including six who were just kids when they were arrested.
A massive spike in crucifixions and beheadings has seen the slain tortured and slaughtered by brutal methods, according to a human rights organisation.
In a report presented at the UN Human Rights Council in Geneva, The Death Penalty Project revealed a further 24 people are at "imminent risk" of execution.
---
Brexit: UK offers no solution to replace backstop, says EU
The UK has yet to come forward with a solution to replace the backstop, says the European Commission.
Downing Street said a meeting between Boris Johnson and Commission president Jean-Claude Juncker was "constructive".
But in a statement after the working lunch, the Commission said no proposals had been put forward to replace the controversial Brexit policy.
Mr Johnson has called it "undemocratic" and said it needs to be removed from any deal he would do with the EU.
---
The fake news narrative is that 'Trump is in trouble'
The sound of one hand clapping
If you weren't looking closely, you might not have noticed that Republicans won two North Carolina congressional races last Tuesday, not just one.
The media featured the 9th District race in which Dan Bishop defeated Dan McCready by 50.7 percent to 48.7 percent. They ignored the 3rd District, where state Rep. Greg Murphy swamped Democrat Allen Thomas with nearly 60 percent of the vote to fill the seat of the late Rep. Walter Jones, who died in February.
Mentioning the landslide Republican victory in the 3rd would have tarnished the media's main point, which was the closeness of the race in the 9th, where President Trump and Vice President Mike Pence campaigned for Mr. Bishop the day before.
So, the fake news narrative is that "Trump is in trouble." It's a done deal, folks. Time to lay out some early money in Vegas for whomever the Democrats nominate in 2020.
---
Democrats still lack chops to beat Donald Trump
Democrats, ten of 'em, took to the debate stage for their third debate on Thursday to offer up the best and the brightest and the most of their mostest means of beating Donald Trump for the White House, 2020 — and they came up with this: The president's a racist.
The president's a gun-loving, immigrant-hating racist whose gun-loving, immigrant-hating racism has led to mass shootings and killings.
Really?!
Let the congratulatory parties for Trump's reelection begin now.
Democrats, short on policies and long, very long, on socialist, authoritarian, all-hail-the-low-information-voter soundbites, ought to compose their concession speeches now.
---
---
"It is discouraging to think how many people are shocked by honesty and how few by deceit."

-- Noel Coward

(1899-1973) British playwright

---

The Medal of Honor is the highest award for valor in action against an enemy force which can be bestowed upon an individual serving in the Armed Services of the United States.

GeneTrerally presented to its recipient by the President of the United States of America in the name of Congress.

The first award of the Medal of Honor was made March 25, 1863 to Private JACOB PARROTT.The last award of the Medal of Honor was made September 15, 2011 to Sergeant DAKOTA MEYER.

Since then there have been: • 3458 recipients of the Medal of Honor.

• Today there are 85 Living Recipients of the Medal of Honor.

Citation


Captain Humbert R. Versace distinguished himself by extraordinary heroism during the period of 29 October 1963 to 26 September 1965, while serving as S-2 Advisor, Military Assistance Advisory Group, Detachment 52, Ca Mau, Republic of Vietnam. While accompanying a Civilian Irregular Defense Group patrol engaged in combat operations in Thoi Binh District, An Xuyen Province, Captain Versace and the patrol came under sudden and intense mortar, automatic weapons, and small arms fire from elements of a heavily armed enemy battalion. As the battle raged, Captain Versace, although severely wounded in the knee and back by hostile fire, fought valiantly and continued to engage enemy targets. Weakened by his wounds and fatigued by the fierce firefight, Captain Versace stubbornly resisted capture by the over-powering Viet Cong force with the last full measure of his strength and ammunition. Taken prisoner by the Viet Cong, he exemplified the tenets of the Code of Conduct from the time he entered into Prisoner of War status. Captain Versace assumed command of his fellow American soldiers, scorned the enemy's exhaustive interrogation and indoctrination efforts, and made three unsuccessful attempts to escape, despite his weakened condition which was brought about by his wounds and the extreme privation and hardships he was forced to endure. During his captivity, Captain Versace was segregated in an isolated prisoner of war cage, manacled in irons for prolonged periods of time, and placed on extremely reduced ration. The enemy was unable to break his indomitable will, his faith in God, and his trust in the United States of America. Captain Versace, an American fighting man who epitomized the principles of his country and the Code of Conduct, was executed by the Viet Cong on 26 September 1965. Captain Versace's gallant actions in close contact with an enemy force and unyielding courage and bravery while a prisoner of war are in the highest traditions of the military service and reflect the utmost credit upon himself and the United States Army.

---

From the Archives

We Have Met the Enemy…
Geoff Metcalf


"They who can give up essential liberty to obtain a little temporary safety deserve neither liberty nor safety.
--Benjamin Franklin
"The American people must be willing to give up a degree of personal privacy in exchange for safety and security."
--Louis Freeh


In the wake of the clamor over the most recent WikiLeaks data dump, 'Vault 7', 'UMBRAGE', et al, it should be noted this is not really anything new. What we are seeing here is simply the evolution of something that goes back to the late 50s (to the incomplete best knowledge I have).

It is kinda cool to finally see even

The New York Times

acknowledging material

I was writing about in 1998

.

In April of 1998 I wrote "Privacy has become an anachronism." I was commenting on "a massive system designed to intercept all your e-mail, fax traffic and more." I was explaining 'Echelon', the illegitimate offspring of a

UKUSA Treaty

signed by the United States, United Kingdom, Canada, Australia and New Zealand. Its purpose was, and is, to have a vast global intelligence monster, which allegedly shares common goals. The system was so "efficient" that reportedly National Security Agency folk from Fort Meade could work from Menwith Hill in England to intercept local communications without either nation having to burden themselves with the formality of seeking approval (a court order) or disclosing the operation. And this was all pre-9/11 and pre-the anti-constitutional

'Patriot Act'

.

It is illegal (without a Judge's signed permission) for the United States to spy on its citizens … kinda. The laws have long been circumvented by a mutual pact among five nations. Under the terms of UKUSA agreement, Britain spies on Americans and America spies on British citizens, and then the two conspirators trade data. A classic technical finesse. It is legal, but the intent to evade the spirit is inescapable.

I often fictionalized the genesis of 'Echelon' as an informal meeting of a group of post war American and British intelligence types drinking in some remote rustic bar. An imagined CIA type complains to his MI6 buddy about the hassles of US laws preventing US intelligence from surveillance of bad guys, and the Brit echoes the same complaint.

"Hey wait a moment mate," says Nigel, the make-believe MI6 guy, "I can spy on your guys and you can spy on our bad players…why don't we just come up with a mechanism whereby we spy on your villains, you spy on our villains, and we just 'share' the intel?"

This system was called ECHELON, and has been kicking around in some form longer than most of you. The result of the UKUSA treaty signed by the United States, United Kingdom, Canada, Australia and New Zealand was, and is, to have a vast global intelligence monster which allegedly shares common goals.

The London Telegraph reported in December of 1997 that the Civil liberties Committee of the European Parliament had officially confirmed the existence and purpose of ECHELON. "A global electronic spy network that can eavesdrop on every telephone, e-mail and telex communication around the world will be officially acknowledged for the first time in a European Commission report. …"

The report noted: "Within Europe all e-mail, telephone and fax communications are routinely intercepted by the United States National Security Agency, transferring ll target information from the European mainland via the strategic hub of London, then by satellite to Fort Meade in Maryland via the crucial hub at Menwith Hill, in the North York moors in the UK.

"The ECHELON system forms part of the UKUSA system but unlike many of the electronic spy systems developed during the Cold War, ECHELON was designed primarily for non-military targets: governments, organizations and businesses in virtually every country."

An interesting sidebar appeared in the International Herald Tribune under the headline, "Big Corporate Brother: It Knows More About You Than You Think." The story details Acxiom Corp, which was a humongous information service hidden in the Ozark foothills. Twenty-four hours a day, Acxiom electronically gathered and sorts all kinds of data about 196 million Americans. Credit card transactions and magazine subscriptions, telephone numbers, real estate records, automotive data, hunting, business and fishing licenses, consumer surveys and demographic detail that would make a marketing department's research manager salivate. This relatively new (legal) enterprise was known as "data warehousing" or "data-mining", and it underscores the cruel reality that the fiction of personal privacy has become obsolete. Technology's ability to collect and analyze data has made privacy a quaint albeit interesting dinosaur.

The Tribune reported that "Axciom can often determine whether an American owns a dog or cat, enjoys camping or gourmet cooking, reads the Bible or lots of other books. It can often pinpoint an American's occupation, car and favorite vacations. By analyzing the equivalent of billions of pages of data, it often projects for its customers who should be offered a credit card or who is likely to buy a computer."

Most of this information is from y 1998 piece. Echelon has developed, matured, and morphed into a much more powerful hybrid. 'Carnivore' was software to help triage the cacophony of data. Vault 7 and 'Umbrage' are logical (some would argue "insidious") growth.

More to follow…