"It Is Not A Question of Who Is Right Or Wrong But What Is Right Or Wrong That Counts.

"

--Geoff Metcalf
Providing an on line Triage of the news since 1997



Wo

rld & Nation
Democrats unveil two articles of impeachment against President Trump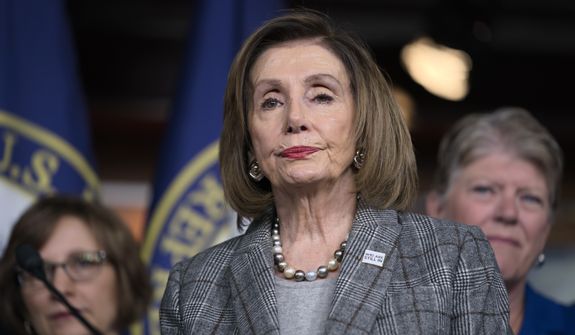 House Democrats are filing two articles of impeachment against President Trump: abuse of power and obstruction of Congress.
"He endangers our the Constitution, endangers our democracy and endangers our national security," House Judiciary Committee Chairman Jerrold L. Nadler said Tuesday, flanked by Speaker Nancy Pelosi and the chairs of other House committees involved in the impeachment inquiry. "These actions, moreover, are consistent with President Trump's previous investigations of foreign interference of our 2016 election."
Mrs. Pelosi announced the House Judiciary Committee will meet later this week to draft the articles, before they are sent to the full House.
---

Trump: NAFTA rewrite 'looking good'
Democrats expected to announce support for pact

President Trump said Tuesday his rewrite of the North American trade deal is "looking good" ahead of an expected announcement of Democratic support.

"It will be the best and most important trade deal ever made by the USA. Good for everybody - Farmers, Manufacturers, Energy, Unions - tremendous support. Importantly, we will finally end our Country's worst Trade Deal, NAFTA!" Mr. Trump tweeted.

Mr. Trump made the U.S.-Mexico-Canada Agreement, or USMCA, his top priority after pledging in 2016 that he would renegotiate trade deals stacked against American workers.




---
Tabloid-worthy Hunter Biden undercuts father's 'No Malarkey' mojo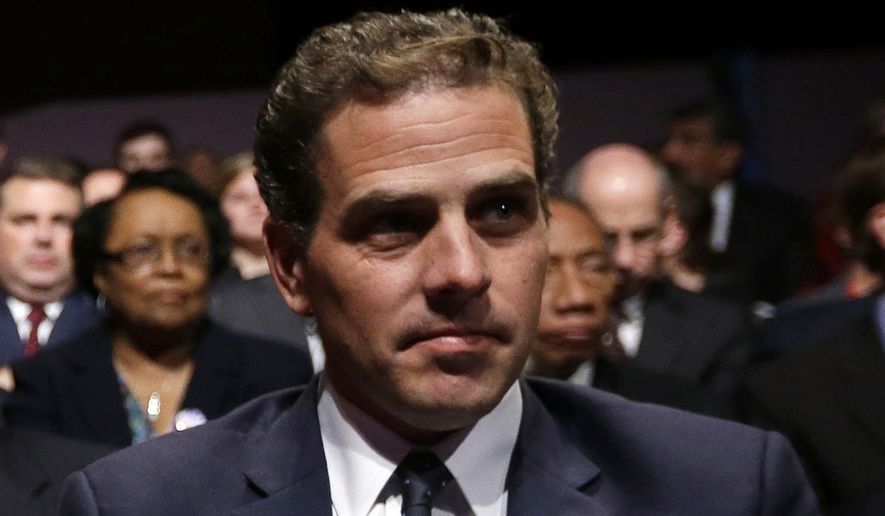 Hunter Biden's name is ringing throughout the political universe — from the halls of Congress to the annals of social media and the cornfields of Iowa, messing with former Vice President Joseph R. Biden's "No Malarkey" mojo in the Democratic presidential race.
The 49-year-old has emerged as a central character in the impeachment inquiry on Capitol Hill and is complicating life for Mr. Biden on the campaign trail. Questions about Hunter's tabloid-worthy personal life, as well as his cushy position on the board of a Ukranian energy company, are muddying his father's message.
---
Hillary Clinton emerges as top choice of Democratic voters in Harvard-Harris presidential poll
Poll finds Clinton edges Biden, Sanders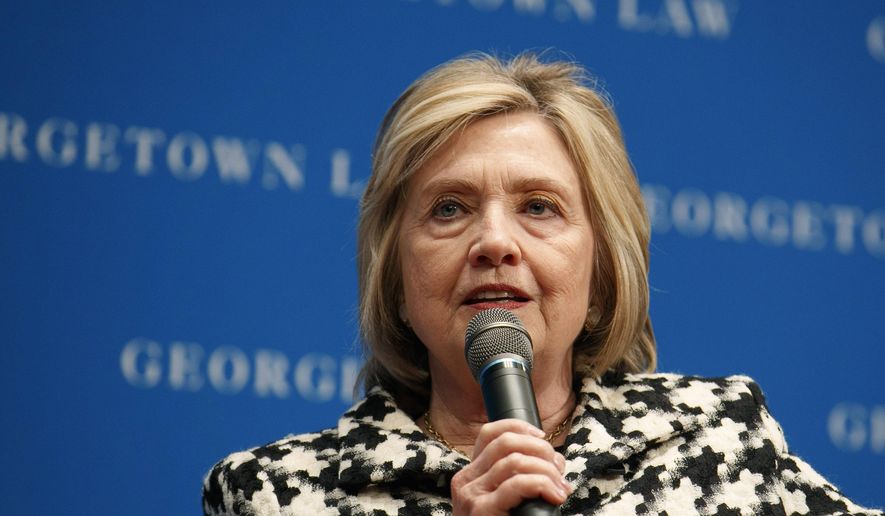 She's not running for president — yet — but Hillary Clinton was the top choice for Democratic voters in the Harvard-Harris national poll released last week.
Mrs. Clinton drew 21%, followed by former Vice President Joseph R. Biden with 20%, when registered Democrats were asked whom they would support for the 2020 party presidential nod if she and former Secretary of State John Kerry were added to the mix.
Placing third in the hypothetical race was Vermont Sen. Bernard Sanders at 12%, followed by Massachusetts Sen. Elizabeth Warren at 9% and ex-New York City Mayor Michael Bloomberg at 7%.
The online survey of 1,859 voters was conducted Nov. 27-29, a few days after Mr. Bloomberg entered the race, by the Harris Poll, and released by the Center for American Political Studies at Harvard.
---
John Durham says he disagrees with DOJ IG conclusion that Russia probe was justified
U.S. Attorney John Durham said Monday he disagrees with the Justice Department inspector general's conclusion that the FBI was justified in 2016 when it launched an investigation into President Trump's campaign.
Mr. Durham was tasked by Attorney General William P. Barr earlier this year to oversee a separate investigation into the origins of the Russia probe. His investigation is covering much of the same territory as Justice Department Inspector General Michael E. Horowitz.
---
Britain faces most history-shaping election since WWII
Britain is facing the most testing and significant period in its modern history since World War II.
The polarized electorate now has a critical choice to make -- but it seems unlikely the result, whatever it may be, will heal deep and toxic divisions that could last a generation or more.
The 20th century saw Britain fight alongside and against Europeans and then help make the prosperous peace into the 21st century. This election will help determine where Britain's formal relationship with the European Union lands and what the impact will be on all walks of life.
---
Russia reacts with anger after doping ban from Olympics, World Cup
The World Anti-Doping Agency on Monday banned Russia for four years from major global sporting events including the 2020 Tokyo Olympics and the 2022 World Cup in Qatar over manipulated doping data, prompting an angry response from President Vladimir Putin.
WADA's executive committee, meeting in Lausanne, handed Russia the "robust" four-year suspension after accusing Moscow of falsifying data from a doping testing laboratory that was handed over to investigators earlier this year.
The toughest ever sanctions imposed on Russian state authorities will see government officials barred from attending any major events, while the country will lose the right to host or bid for tournaments.
---
Pensacola Hit by Cyberattack Days After Shooting at Military Base
Florida city's emails, phone lines and 311 customer services have been affected
The city of Pensacola, Fla., was hit with a cyberattack, shutting down much of the city computer network, days after a Saudi air force student opened fire at a military base there.
"The city of Pensacola is experiencing a cyberattack that began this weekend that is impacting our city network, including phones and email at City Hall and some of our other buildings," Pensacola Mayor Grover Robinson said at a Monday briefing.
The mayor said he didn't know if the attack was connected to Friday's shooting, when a Saudi flight student opened fire in a classroom at Naval Air Station Pensacola before he was shot to death by authorities.
---
A U.K. general election or a Brexit referendum?
Britons go to the polls, again
Brits go to the polls on Thursday to choose a new Parliament. Boris Johnson will likely remain prime minister, but will the Conservatives have a clear majority, or will they have to rely on support from other political parties?
The Labor Party's campaign has been dogged by claims of anti-Semitism and that its leader, Jeremy Corbyn, used documents from the Reddit website to attack the Conservatives that may have been put there by Russian sources.
Regarding Brexit, Mr. Corbyn would negotiate a new deal with the European Union and then hold a second referendum, but it is possible he could be negotiating a new job instead.
---
The cents and sense of maintaining the roadless protections on the Tongass
Protecting the National Forest in Southeast Alaska
The U.S. Forest Service is weighing whether to do away with roadless protections on the Tongass National Forest in Southeast Alaska. The Tongass no doubt has ecological significance. It is the largest national forest in the country and one of the largest intact temperate rainforests in the world. But all too often, the dollars and cents of a decision like this are overlooked.
Roadless areas make up about a third of the National Forest System, including more than 9 million acres of the Tongass in Alaska. During the second half of the 20th century, national roadless areas were a battleground between conservationists and the logging industry. When the Roadless Conservation Rule was implemented in 2001, it banned most road building and commercial logging in roadless areas. That only poured fuel on forest management battles.
When I was chief of the U.S. Forest Service during the President George W. Bush administration, there was disagreement and uncertainty with what to do with national forest roadless areas. The federal courts eventually upheld the legality of the Roadless Rule and mostly brought an end to the fracas — except as it pertained to the Tongass National Forest.
---
" It is discouraging to think how many people are shocked by honesty and how few by deceit."

-- Noel Coward

(1899-1973) British playwright

---

The Medal of Honor is the highest award for valor in action against an enemy force which can be bestowed upon an individual serving in the Armed Services of the United States.

GeneTrerally presented to its recipient by the President of the United States of America in the name of Congress.

The first award of the Medal of Honor was made March 25, 1863 to Private JACOB PARROTT.The last award of the Medal of Honor was made September 15, 2011 to Sergeant DAKOTA MEYER.

Since then there have been: • 3458 recipients of the Medal of Honor.

• Today there are 85 Living Recipients of the Medal of Honor.

Citation


Captain Humbert R. Versace distinguished himself by extraordinary heroism during the period of 29 October 1963 to 26 September 1965, while serving as S-2 Advisor, Military Assistance Advisory Group, Detachment 52, Ca Mau, Republic of Vietnam. While accompanying a Civilian Irregular Defense Group patrol engaged in combat operations in Thoi Binh District, An Xuyen Province, Captain Versace and the patrol came under sudden and intense mortar, automatic weapons, and small arms fire from elements of a heavily armed enemy battalion. As the battle raged, Captain Versace, although severely wounded in the knee and back by hostile fire, fought valiantly and continued to engage enemy targets. Weakened by his wounds and fatigued by the fierce firefight, Captain Versace stubbornly resisted capture by the over-powering Viet Cong force with the last full measure of his strength and ammunition. Taken prisoner by the Viet Cong, he exemplified the tenets of the Code of Conduct from the time he entered into Prisoner of War status. Captain Versace assumed command of his fellow American soldiers, scorned the enemy's exhaustive interrogation and indoctrination efforts, and made three unsuccessful attempts to escape, despite his weakened condition which was brought about by his wounds and the extreme privation and hardships he was forced to endure. During his captivity, Captain Versace was segregated in an isolated prisoner of war cage, manacled in irons for prolonged periods of time, and placed on extremely reduced ration. The enemy was unable to break his indomitable will, his faith in God, and his trust in the United States of America. Captain Versace, an American fighting man who epitomized the principles of his country and the Code of Conduct, was executed by the Viet Cong on 26 September 1965. Captain Versace's gallant actions in close contact with an enemy force and unyielding courage and bravery while a prisoner of war are in the highest traditions of the military service and reflect the utmost credit upon himself and the United States Army.

---

From the Archives

We Have Met the Enemy…
Geoff Metcalf


"They who can give up essential liberty to obtain a little temporary safety deserve neither liberty nor safety.
--Benjamin Franklin
"The American people must be willing to give up a degree of personal privacy in exchange for safety and security."
--Louis Freeh


In the wake of the clamor over the most recent WikiLeaks data dump, 'Vault 7', 'UMBRAGE', et al, it should be noted this is not really anything new. What we are seeing here is simply the evolution of something that goes back to the late 50s (to the incomplete best knowledge I have).

It is kinda cool to finally see even

The New York Times

acknowledging material

I was writing about in 1998

.

In April of 1998 I wrote "Privacy has become an anachronism." I was commenting on "a massive system designed to intercept all your e-mail, fax traffic and more." I was explaining 'Echelon', the illegitimate offspring of a

UKUSA Treaty

signed by the United States, United Kingdom, Canada, Australia and New Zealand. Its purpose was, and is, to have a vast global intelligence monster, which allegedly shares common goals. The system was so "efficient" that reportedly National Security Agency folk from Fort Meade could work from Menwith Hill in England to intercept local communications without either nation having to burden themselves with the formality of seeking approval (a court order) or disclosing the operation. And this was all pre-9/11 and pre-the anti-constitutional

'Patriot Act'

.

It is illegal (without a Judge's signed permission) for the United States to spy on its citizens … kinda. The laws have long been circumvented by a mutual pact among five nations. Under the terms of UKUSA agreement, Britain spies on Americans and America spies on British citizens, and then the two conspirators trade data. A classic technical finesse. It is legal, but the intent to evade the spirit is inescapable.

I often fictionalized the genesis of 'Echelon' as an informal meeting of a group of post war American and British intelligence types drinking in some remote rustic bar. An imagined CIA type complains to his MI6 buddy about the hassles of US laws preventing US intelligence from surveillance of bad guys, and the Brit echoes the same complaint.

"Hey wait a moment mate," says Nigel, the make-believe MI6 guy, "I can spy on your guys and you can spy on our bad players…why don't we just come up with a mechanism whereby we spy on your villains, you spy on our villains, and we just 'share' the intel?"

This system was called ECHELON, and has been kicking around in some form longer than most of you. The result of the UKUSA treaty signed by the United States, United Kingdom, Canada, Australia and New Zealand was, and is, to have a vast global intelligence monster which allegedly shares common goals.

The London Telegraph reported in December of 1997 that the Civil liberties Committee of the European Parliament had officially confirmed the existence and purpose of ECHELON. "A global electronic spy network that can eavesdrop on every telephone, e-mail and telex communication around the world will be officially acknowledged for the first time in a European Commission report. …"

The report noted: "Within Europe all e-mail, telephone and fax communications are routinely intercepted by the United States National Security Agency, transferring ll target information from the European mainland via the strategic hub of London, then by satellite to Fort Meade in Maryland via the crucial hub at Menwith Hill, in the North York moors in the UK.

"The ECHELON system forms part of the UKUSA system but unlike many of the electronic spy systems developed during the Cold War, ECHELON was designed primarily for non-military targets: governments, organizations and businesses in virtually every country."

An interesting sidebar appeared in the International Herald Tribune under the headline, "Big Corporate Brother: It Knows More About You Than You Think." The story details Acxiom Corp, which was a humongous information service hidden in the Ozark foothills. Twenty-four hours a day, Acxiom electronically gathered and sorts all kinds of data about 196 million Americans. Credit card transactions and magazine subscriptions, telephone numbers, real estate records, automotive data, hunting, business and fishing licenses, consumer surveys and demographic detail that would make a marketing department's research manager salivate. This relatively new (legal) enterprise was known as "data warehousing" or "data-mining", and it underscores the cruel reality that the fiction of personal privacy has become obsolete. Technology's ability to collect and analyze data has made privacy a quaint albeit interesting dinosaur.

The Tribune reported that "Axciom can often determine whether an American owns a dog or cat, enjoys camping or gourmet cooking, reads the Bible or lots of other books. It can often pinpoint an American's occupation, car and favorite vacations. By analyzing the equivalent of billions of pages of data, it often projects for its customers who should be offered a credit card or who is likely to buy a computer."

Most of this information is from y 1998 piece. Echelon has developed, matured, and morphed into a much more powerful hybrid. 'Carnivore' was software to help triage the cacophony of data. Vault 7 and 'Umbrage' are logical (some would argue "insidious") growth.

More to follow…