"It Is Not A Question of Who Is Right Or Wrong But What Is Right Or Wrong That Counts.

"

--Geoff Metcalf
Providing an on line Triage of the news since 1997



Wo
rld & Nation
Supreme Court to Hear Major Abortion Case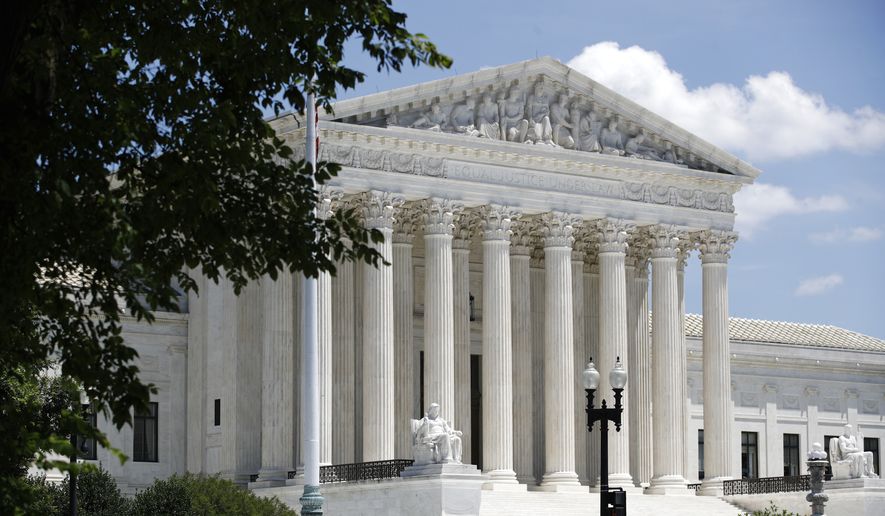 The Supreme Court on Monday said it would hear a case from Mississippi challenging Roe v. Wade, the 1973 decision that established a constitutional right to abortion. The case will give the court's new 6-to-3 conservative majority its first opportunity to weigh in on state laws restricting abortion.
The case, Dobbs v. Jackson Women's Health Organization, No. 19- 1392, concerns a law enacted by the Republican-dominated Mississippi legislature that banned abortions if "the probable gestational age of the unborn human" was determined to be more than 15 weeks. The statute included narrow exceptions for medical emergencies or "a severe fetal abnormality."
Lower courts said the law was plainly unconstitutional under Roe, which forbids states from banning abortions before fetal viability — the point at which fetuses can sustain life outside the womb, or around 23 or 24 weeks.
---
The Unsilenced Majority: Conservatives set up shop to fight cancel culture, corporate 'wokeism'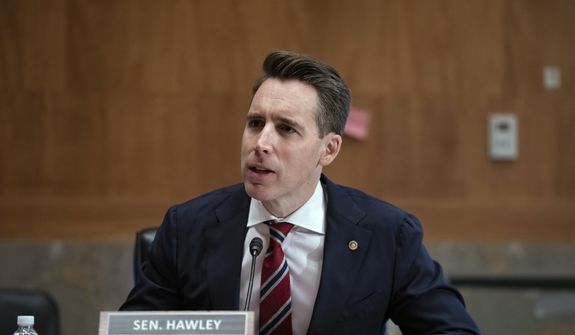 A handful of conservative movement heavyweights on Monday launched an advocacy organization designed to push back against what they describe as a rising tide of "cancel culture" and "corporate wokeism."
The priorities of The Unsilenced Majority will include promoting free expression, fighting "cancel culture pressure campaigns" in the private sector and curbing cancel culture in K-12 education.
The group speaks for an "emboldened majority" of Americans who recognize the "imminent threat" that cancel culture poses to the country, said Mike Davis, its founder and president.
---
GOP Readies Revised Offer to Biden Infrastructure Plan
President Joe Biden's prospects for passing a major infrastructure bill through Congress with bipartisan support — seen unlikely in the wake of his Democrat-only pandemic-relief package in March — are now rising, though disagreements over funding could still scupper a deal.
Senate Republicans are set to deliver a revised offer of a package that includes roads, public transportation, and airports to the White House as early as Monday.
During last year's presidential campaign, Biden enshrined the aspiration of restoring bipartisanship to American governance. The newfound opening, however, clouds the outlook for the rest of his economic vision: a sweeping expansion of the federal government in providing support to millions of lower-income Americans, financed by higher taxes on companies and the wealthy.
Progressives have warned about the danger of undermining Democrat unity for that element of Biden's $4 trillion agenda if infrastructure is stripped out.
---
Israel continues assault on Gaza for 2nd week as Netanyahu vows to quell Hamas rocket fire, "whatever it takes"
Israeli missiles continued to slam into the Gaza Strip on Monday after the deadliest day yet in the current fighting between Israel and the Palestinian group Hamas. At least 42 people were killed in Gaza on Sunday, including children, and several large buildings were destroyed.
Israeli Prime Minister Benjamin Netanyahu said he wanted to "levy a heavy price" against Hamas for launching thousands of rockets at Israel — a barrage that also continued Monday.
As the conflict entered a second week, the Israeli strikes in Gaza were blamed for almost 200 Palestinian deaths as of Monday, including 55 children and 33 women. More than 1,200 have been injured in the assault. The rockets launched from the Gaza Strip by Hamas militants have killed eight people in Israel, including a young boy and a soldier.
---
U.S., EU agree to talks, truce in steel and aluminum dispute
The U.S. and the European Union agreed Monday to begin talks on steel and aluminum supply in a bid to smooth over trade relations and lift tariffs imposed by former President Donald Trump on national security grounds.
The parties said they want to reach a solution by the end of the year that addresses World Trade Organization disputes over tit-for-tat levies and "global excess capacity" from China and elsewhere.
"The distortions that result from this excess capacity pose a serious threat to the market-oriented EU and U.S. steel and aluminum industries and the workers in those industries," U.S. Trade Representative Katherine Tai, Commerce Secretary Gina M. Raimondo and European Commission Executive Vice President Valdis Dombrovskis said in a joint statement.
---
UFOs regularly spotted in restricted U.S. airspace, report on the phenomena due next month
We have tackled many strange stories on 60 Minutes, but perhaps none like this. It's the story of the U.S. government's grudging acknowledgment of unidentified aerial phenomena— UAP—more commonly known as UFOs. After decades of public denial the Pentagon now admits there's something out there, and the U.S. Senate wants to know what it is. The intelligence committee has ordered the director of national intelligence and the secretary of defense to deliver a report on the mysterious sightings by next month.
Bill Whitaker: So what you are telling me is that UFOs, unidentified flying objects, are real?
Lue Elizondo: Bill, I think we're beyond that already. The government has already stated for the record that they're real. I'm not telling you that. The United States government is telling you that.
Luis Elizondo spent 20 years running military intelligence operations worldwide: in Afghanistan, the Middle East and Guantanamo. He hadn't given UFOs a second thought until 2008. That's when he was asked to join something at the Pentagon called the Advanced Aerospace Threat Identification Program, or "AATIP."
---
Former FDA Head Gottlieb: 'By June, Nobody Is Going to Be Wearing Masks'
Dr. Scott Gottlieb, the former commissioner of the Food and Drug Administration, says he believes that Americans will no longer wear COVID-19 face masks by June.
"By June, I think the prevalence of it is going to be sufficiently low in this country and we're just not going to be concerned about it," he told CNBC, talking about COVID-19. Gottlieb said he wore a mask while shopping with his young children this past weekend even though he has been fully vaccinated.
"What's the downside of keeping it on?" Gottlieb told CNBC's "Squawk Box." "I would probably keep a mask on my kids a little bit longer. Another week or two." Gottlieb led the FDA during the Trump administration from 2017 to 2019.
---
Joel Greenberg, Matt Gaetz's associate, pleads guilty to sex trafficking charges
A former associate of Rep. Matt Gaetz on Monday pleaded guilty to multiple federal crimes, including sex trafficking of an underage girl, and agreed to cooperate with the investigation into the Florida Republican.
Joel Greenberg, a former Seminole County, Florida, tax commissioner, admitted to six charges including admitting that he had knowingly solicited and paid a minor for sex. He also pleaded guilty to charges of fraud and stalking a political rival.
The plea deal could be a substantial win for Justice Department prosecutors probing whether Mr. Gaetz had a sexual relationship with a 17-year-old girl and paid for her travels with him.
---
Police punished for speaking out against Black Lives Matter
Police officers across the country have been fired, demoted or otherwise disciplined for social media posts that voice opposition to Black Lives Matter and violence during racial justice protests.
In recent weeks, two policewomen in New Jersey were fired or demoted for calling BLM protesters "terrorists," and a police officer in Virginia was canned for criticizing political leaders who side with racial justice rioters.
Sara Erwin was a police officer in Hopewell Township, New Jersey, when she sounded off on Facebook last year about racial justice riots. She said her children were in tears, begging her not to go to work for fear she would be killed.
---
Prince Harry says America's First Amendment 'bonkers': 'I still don't understand it'
Prince Harry said in a new interview he finds America's First Amendment "bonkers" after arriving here from England last year.
The Duke of Sussex appeared Thursday on Dax Shepard's "Armchair Expert" podcast, in which the two discussed the issues their families have faced with the paparazzi in the U.S.
Mr. Shepard, an American actor, argued that the First Amendment protects the freedom of the press, "and in some ways, it should," because of its importance for democracy.
Prince Harry, however, had other thoughts.
---
Team Biden promises failing on climate change
Unrealistic benchmarks, major obstacles stand in the way of reaching goals
If you blinked, you may have missed it, but as part of his climate summit in April, President Biden promised to reduce U.S. emissions of greenhouse gases by 50% by 2030.
This promise follows on President Obama's promise to reduce emissions by 28% by 2025 (both from a 2005 baseline).
In 2019, net greenhouse gas emissions in the United States were about 5.769 billion tons. In 2005, they were 6.635 billion tons.
---
Should McCarthy be the next to go?
He's presided over a five-month long intra-party fight over his conference chairperson and kept the party on defense
Kevin McCarthy is angling to be third in line to the presidency but the Liz Cheney debacle should call into question the leadership skills of the California Republican.
You have to hand it to Mitch McConnell. He may not be Donald Trump's favorite Republican, or the most dynamic of public figures, but at least he has his people largely in line. Kevin McCarthy, on the other hand, has presided over a five-month-long intra-party fight over his conference chairperson that has repeatedly forced his members off message and kept the party on defense.
Democrats and the media wanted Mr. McCarthy and House Republicans to keep this fight going and he has obliged them at every turn. The left wanted an excuse to keep talking about Jan. 6 and the former president's claims about the contested election and arguably Mr. McCarthy has added fuel to that conversation.
---
" It is discouraging to think how many people are shocked by honesty and how few by deceit."

-- Noel Coward

(1899-1973) British playwright

---

The Medal of Honor is the highest award for valor in action against an enemy force which can be bestowed upon an individual serving in the Armed Services of the United States.

GeneTrerally presented to its recipient by the President of the United States of America in the name of Congress.

The first award of the Medal of Honor was made March 25, 1863 to Private JACOB PARROTT.The last award of the Medal of Honor was made September 15, 2011 to Sergeant DAKOTA MEYER.

Since then there have been: • 3458 recipients of the Medal of Honor.

• Today there are 85 Living Recipients of the Medal of Honor.

Citation


Captain Humbert R. Versace distinguished himself by extraordinary heroism during the period of 29 October 1963 to 26 September 1965, while serving as S-2 Advisor, Military Assistance Advisory Group, Detachment 52, Ca Mau, Republic of Vietnam. While accompanying a Civilian Irregular Defense Group patrol engaged in combat operations in Thoi Binh District, An Xuyen Province, Captain Versace and the patrol came under sudden and intense mortar, automatic weapons, and small arms fire from elements of a heavily armed enemy battalion. As the battle raged, Captain Versace, although severely wounded in the knee and back by hostile fire, fought valiantly and continued to engage enemy targets. Weakened by his wounds and fatigued by the fierce firefight, Captain Versace stubbornly resisted capture by the over-powering Viet Cong force with the last full measure of his strength and ammunition. Taken prisoner by the Viet Cong, he exemplified the tenets of the Code of Conduct from the time he entered into Prisoner of War status. Captain Versace assumed command of his fellow American soldiers, scorned the enemy's exhaustive interrogation and indoctrination efforts, and made three unsuccessful attempts to escape, despite his weakened condition which was brought about by his wounds and the extreme privation and hardships he was forced to endure. During his captivity, Captain Versace was segregated in an isolated prisoner of war cage, manacled in irons for prolonged periods of time, and placed on extremely reduced ration. The enemy was unable to break his indomitable will, his faith in God, and his trust in the United States of America. Captain Versace, an American fighting man who epitomized the principles of his country and the Code of Conduct, was executed by the Viet Cong on 26 September 1965. Captain Versace's gallant actions in close contact with an enemy force and unyielding courage and bravery while a prisoner of war are in the highest traditions of the military service and reflect the utmost credit upon himself and the United States Army.

---

From the Archives

We Have Met the Enemy…
Geoff Metcalf


"They who can give up essential liberty to obtain a little temporary safety deserve neither liberty nor safety.
--Benjamin Franklin
"The American people must be willing to give up a degree of personal privacy in exchange for safety and security."
--Louis Freeh


In the wake of the clamor over the most recent WikiLeaks data dump, 'Vault 7', 'UMBRAGE', et al, it should be noted this is not really anything new. What we are seeing here is simply the evolution of something that goes back to the late 50s (to the incomplete best knowledge I have).

It is kinda cool to finally see even

The New York Times

acknowledging material

I was writing about in 1998

.

In April of 1998 I wrote "Privacy has become an anachronism." I was commenting on "a massive system designed to intercept all your e-mail, fax traffic and more." I was explaining 'Echelon', the illegitimate offspring of a

UKUSA Treaty

signed by the United States, United Kingdom, Canada, Australia and New Zealand. Its purpose was, and is, to have a vast global intelligence monster, which allegedly shares common goals. The system was so "efficient" that reportedly National Security Agency folk from Fort Meade could work from Menwith Hill in England to intercept local communications without either nation having to burden themselves with the formality of seeking approval (a court order) or disclosing the operation. And this was all pre-9/11 and pre-the anti-constitutional

'Patriot Act'

.

It is illegal (without a Judge's signed permission) for the United States to spy on its citizens … kinda. The laws have long been circumvented by a mutual pact among five nations. Under the terms of UKUSA agreement, Britain spies on Americans and America spies on British citizens, and then the two conspirators trade data. A classic technical finesse. It is legal, but the intent to evade the spirit is inescapable.

I often fictionalized the genesis of 'Echelon' as an informal meeting of a group of post war American and British intelligence types drinking in some remote rustic bar. An imagined CIA type complains to his MI6 buddy about the hassles of US laws preventing US intelligence from surveillance of bad guys, and the Brit echoes the same complaint.

"Hey wait a moment mate," says Nigel, the make-believe MI6 guy, "I can spy on your guys and you can spy on our bad players…why don't we just come up with a mechanism whereby we spy on your villains, you spy on our villains, and we just 'share' the intel?"

This system was called ECHELON, and has been kicking around in some form longer than most of you. The result of the UKUSA treaty signed by the United States, United Kingdom, Canada, Australia and New Zealand was, and is, to have a vast global intelligence monster which allegedly shares common goals.

The London Telegraph reported in December of 1997 that the Civil liberties Committee of the European Parliament had officially confirmed the existence and purpose of ECHELON. "A global electronic spy network that can eavesdrop on every telephone, e-mail and telex communication around the world will be officially acknowledged for the first time in a European Commission report. …"

The report noted: "Within Europe all e-mail, telephone and fax communications are routinely intercepted by the United States National Security Agency, transferring ll target information from the Eurv opean mainland via the strategic hub of London, then by satellite to Fort Meade in Maryland via the crucial hub at Menwith Hill, in the North York moors in th UK.

"The ECHELON system forms part of the UKUSA system but unlike many of the electronic spy systems developed during the Cold War, ECHELON was designed primarily for non-military targets: governments, organizations and businesses in virtually every country."

An interesting sidebar appeared in the International Herald Tribune under the headline, "Big Corporate Brother: It Knows More About You Than You Think." The story details Acxiom Corp, which was a humongous information service hidden in the Ozark foothills. Twenty-four hours a day, Acxiom electronically gathered and sorts all kinds of data about 196 million Americans. Credit card transactions and magazine subscriptions, telephone numbers, real estate records, automotive data, hunting, business and fishing licenses, consumer surveys and demographic detail that would make a marketing department's research manager salivate. This relatively new (legal) enterprise was known as "data warehousing" or "data-mining", and it underscores the cruel reality that the fiction of personal privacy has become obsolete. Technology's ability to collect and analyze data has made privacy a quaint albeit interesting dinosaur.

The Tribune reported that "Axciom can often determine whether an American owns a dog or cat, enjoys camping or gourmet cooking, reads the Bible or lots of other books. It can often pinpoint an American's occupation, car and favorite vacations. By analyzing the equivalent of billions of pages of data, it often projects for its customers who should be offered a credit card or who is likely to buy a computer."

Most of this information is from y 1998 piece. Echelon has developed, matured, and morphed into a much more powerful hybrid. 'Carnivore' was software to help triage the cacophony of data. Vault 7 and 'Umbrage' are logical (some would argue "insidious") growth.

More to follow…