"It Is Not A Question of Who Is Right Or Wrong But What Is Right Or Wrong That Counts.

"

--Geoff Metcalf
Providing an on line Triage of the news since 1997



Wo

rld & Nation
GOP demands hearings on border 'crisis' amid migrant 'surge'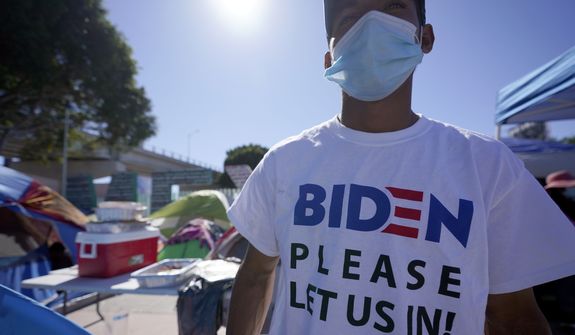 Republicans on the House Oversight and Reform Committee labeled the border a "crisis" and demanded Thursday that the panel hold a hearing to explore the Biden administration's troubled handling of the situation.

Led by Rep. James Comer, the ranking Republican, all GOP lawmakers on the oversight committee said Democrats themselves should want to hold the hearing to get to the bottom of the Biden team's use of unlicensed facilities to hold illegal immigrant children — something Democrats complained about when the Trump administration did it.

"This Committee must schedule a hearing to conduct oversight of the welfare of migrant children being held in these container facilities," the lawmakers wrote to Rep. Carolyn B. Maloney, New York Democrat and chair of the panel. "The Committee should also examine the Biden Administration's plan for reducing the overall numbers of unaccompanied children arriving illegally at the southern border, as well as its plans for handling the current surge."

The Republicans last month also requested a hearing to examine school closures in the U.S. amid the coronavirus pandemic. In the new letter, they said "both American children and migrant children are in crisis."


---
Biden's border wall halt creates smugglers' highway, sheriff says
President Biden's decision to stop border wall construction forced crews to put down tools and walk away in the middle of work — and left the border less secure than ever in some places, according to an Arizona sheriff whose county covers 83 miles of the boundary.
There are locations where contractors had built the high-speed roads that are part of the border wall system, and which Border Patrol agents are able to use to patrol the new barrier.
But when the stop-work order came down, they had not built the actual wall yet.
---
Pentagon's 'anti-extremism' cull risks converting U.S. military 'into a left-wing Praetorian Guard'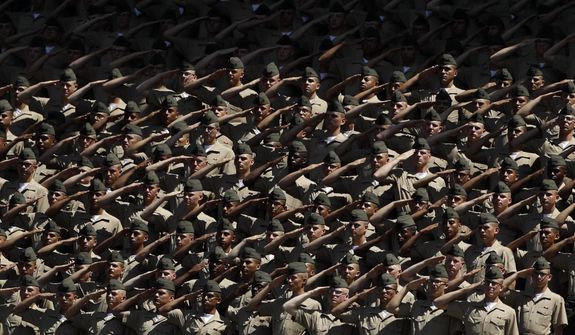 The Pentagon is trying to root out political "extremism" in the ranks, but its definition is so broad and blurry that some retired officers and military analysts fear it could inadvertently sweep up traditional Catholics, Republicans and others who aren't racist or violent but simply embrace conservative, pro-life politics.
The potential unintended consequences of the Defense Department's anti-extremism push, critics say, could be far-reaching and in a worst-case scenario could hurt military recruiting in the long run if religious Americans or those on the political right feel unwelcome in the ranks.
The Biden administration has been doing a full court press to root out extremists in the security forces, spurred largely by the number of active-service members, veteran soldiers and members of law enforcement in the clashes at the U.S. Capitol on Jan. 6.
---
House Passes Radical HR1 Election Bill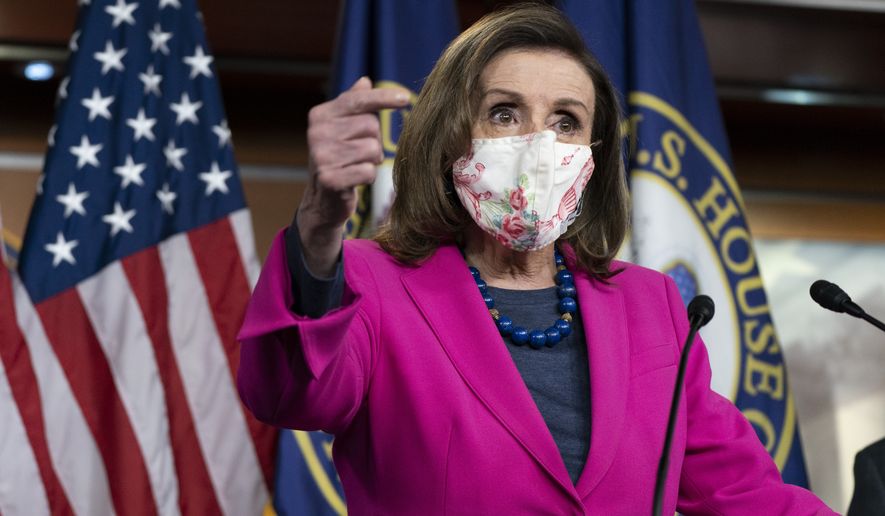 House Democrats passed sweeping voting and ethics legislation over unanimous Republican opposition, advancing to the Senate what would be the largest overhaul of the U.S. election law in at least a generation.
House Resolution 1, which touches on virtually every aspect of the electoral process, was approved Wednesday night on a near party-line 220-210 vote.
The bill aims to counter voting rights safeguards advancing in Republican-controlled statehouses across the country in the wake of former President Donald Trump's claims of a stolen 2020 election.
It faces an uncertain fate in the Democrat-controlled Senate, where it has little chance of passing without changes to procedural rules that currently allow Republicans to block it.
---
Joe Biden Promises Unity; The Equality Act Swings A Culture War Sword
The Equality Act would enshrine into law the left's ideological extremism on three of the most divisive issues of the day: sex, abortion, and religious liberty.
Joe Biden ran on the promise of uniting America. Yet last week his fellow Democrats in the House of Representatives passed the so-called Equality Act—a bill that if enacted into law promises to irrevocably divide this country.
While sold as civil rights legislation necessary to protect LGBTQ people from unjust discrimination, the statutory language of the Equality Act would instead enshrine into law the left's ideological extremism on three of the most divisive issues of the day: sex, abortion, and religious liberty.
By redefining "sex" to include sex stereotypes and gender identity—defined broadly to mean an individual's gender appearance, mannerisms, characteristics, or self-defined gender identity—the Equality Act demands American businesses, non-profit organizations, schools, employers, and state and local municipalities ignore reality and consider biological men as women, and vice versa. An individual need only declare an opposite-sex "gender identity" to "change" his sex under the law.
---
Canceled: Conservative comic strip 'Mallard Fillmore' dropped in 'unprecedented' move
The conservative comic strip "Mallard Fillmore" has been plucked.
Bruce Tinsley, creator of the 27-year-old cartoon, said he was told this week by his syndication company that Gannett newspapers across the country simultaneously dropped the comic over two strips critical of President Biden and transgender participation in women's sports.
"It was a big shock," Mr. Tinsley told The Washington Times. "From what I'm hearing, it was unprecedented. My syndicate had never seen anything like it."
---
Catholics urged by U.S. church leadership to avoid Johnson & Johnson COVID-19 vaccine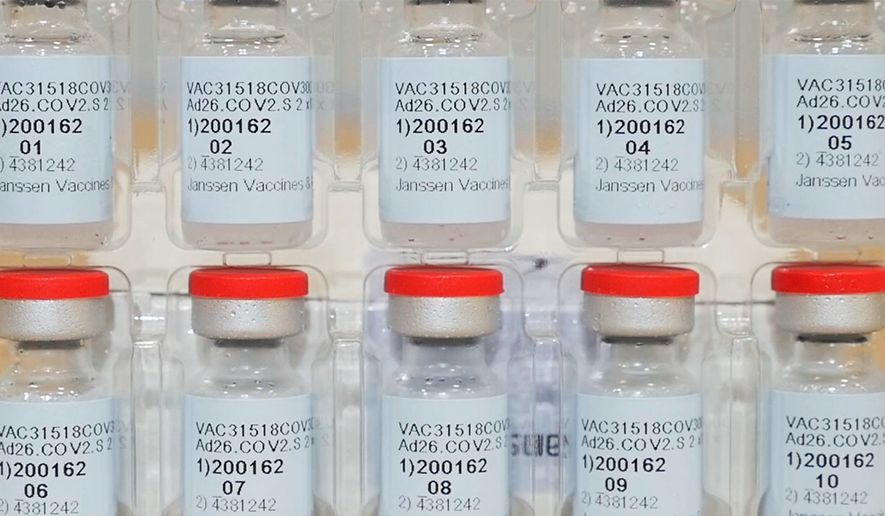 Catholic leaders are urging the faithful to avoid the Johnson & Johnson coronavirus vaccine if they can because it is produced using cell lines derived from abortions decades ago.
But the vaccines themselves do not contain fetal tissue and the manufacturing lines use lab-grown cells — not the initial tissue.
The Vatican in December said it is "morally acceptable" to get COVID-19 vaccines, citing the harm from the pandemic and the fact that recipients did not play a role in the long-ago abortions that sparked the cell lines. But the Archdiocese of New Orleans kicked off a debate this week by dubbing the J&J vaccine "morally compromised," as the Catholic Church opposes abortion.
---
Biden relents, agrees to curtail stimulus checks in COVID-19 relief package
President Biden bowed to pressure from moderate Democrats on Wednesday and agreed to tighten the eligibility for the $1,400 stimulus checks handed out as part of a $1.9 trillion coronavirus relief package.
Mr. Biden hoped to deliver a bipartisan "American Rescue Plan," but the negotiations boiled down to settling differences among congressional Democrats while Republican opposition solidified over concerns that the spending was excessive and scattershot.
Mr. Biden and Democrats on Capitol Hill also agreed to keep $400-per-week enhanced unemployment benefits in the deal.
---
Biden's crumbling Cabinet: Becerra in peril for HHS slot after Tanden bailed from OMB
California attorney general's lack of health-care experience, religious-freedom stances cited
Another Biden Cabinet pick found himself in trouble Wednesday as Republicans set their sights on health secretary nominee Xavier Becerra, calling into question his qualifications and "radical" political record a day after the withdrawal of Neera Tanden.
The Senate Finance Committee split 14-14 along party lines on Mr. Becerra's bid to head the Health and Human Services Department. The nomination was sent to the full Senate for debate and two floor votes, as conservative groups put pressure on swing Democrats to oppose the selection.
The signs of trouble came a day after President Biden pulled at her request the nomination of Ms. Tanden to head the Office of Management Budget once it became clear that years of pointed social-media jabs against lawmakers in both parties had poisoned her chances.
---
Video of Joe Biden's Live Feed Cut Off After Asking for Questions Viewed One Million Times
The sudden cutting off of a virtual discussion live feed held by President Joe Biden and House Democrats after he opened the floor to questions has been widely viewed on social media.
During the session from the White House briefing room on Wednesday, Biden had urged fellow Democrats to make the case for the COVID relief package to their constituents.
At the end of the speech, Biden said: "I'm happy to take questions, if that's what I'm supposed to do Nance," referring to the House Speaker Nancy Pelosi, who had introduced him at the start of his address.
---
GOP State Lawmakers Look to Nullify Federal Gun Limits
With Democrats controlling the presidency and Congress, Republican state lawmakers concerned about the possibility of new federal gun control laws aren't waiting to react.
Legislation in at least a dozen states seeks to nullify any new restrictions, such as ammunition limits or a ban on certain types of weapons. Some bills would make it a crime for local police officers to enforce federal gun laws.
That can create confusion for officers who often work with federal law enforcement, said Daniel Isom, a former chief of the St. Louis Police Department who is now a senior adviser for Everytown for Gun Safety. Federal law plays a big role in some areas, such as keeping guns away from domestic violence offenders.
---
Affordable Care Act: The bad idea that will not die
Democrats' scheme in COVID plan would move U.S. one step closer to government-rationed health care
Like many things tried by the federal government, the Affordable Care Act has been a failure.
The good news for advocates of government-run health care is that in Washington, failing upwards is a tradition. In this case, the failure has only emboldened them to try to spend even more money and do more damage to the health care system.
The ACA — which, to be clear, was health insurance restructuring, not health care reform — was supposed to have about 25 million people enrolled in its exchanges by now. Enrollment has been stuck at about 10 million people since 2015.
---
Woke capitalism's upcoming backlash
Republicans' reflexive support of big business is at an end
In the last month, Disney slapped an offensive content warning on "The Muppet Show," Coca-Cola urged its workers to "be less white" as part of its diversity training, Hasbro rebranded Mr. Potato Head as gender neutral, Dr. Seuss Enterprises stopped publishing of six his books for "racist and insensitive imagry," and Amazon halted online sales of a conservative book on transgender issues it had marketed for about three years.
So-called woke capitalism isn't slowing down — it's accelerating at a pace few could have predicted after last summer's Black Lives Matter movement, when many corporations dove head-first into marketing and posturing for the progressive cause.
Yet, there are signs of an upcoming backlash — that those sitting in the C-suite of Fortune 500 firms should pay attention to.
---
" It is discouraging to think how many people are shocked by honesty and how few by deceit."

-- Noel Coward

(1899-1973) British playwright

---

The Medal of Honor is the highest award for valor in action against an enemy force which can be bestowed upon an individual serving in the Armed Services of the United States.

GeneTrerally presented to its recipient by the President of the United States of America in the name of Congress.

The first award of the Medal of Honor was made March 25, 1863 to Private JACOB PARROTT.The last award of the Medal of Honor was made September 15, 2011 to Sergeant DAKOTA MEYER.

Since then there have been: • 3458 recipients of the Medal of Honor.

• Today there are 85 Living Recipients of the Medal of Honor.

Citation


Captain Humbert R. Versace distinguished himself by extraordinary heroism during the period of 29 October 1963 to 26 September 1965, while serving as S-2 Advisor, Military Assistance Advisory Group, Detachment 52, Ca Mau, Republic of Vietnam. While accompanying a Civilian Irregular Defense Group patrol engaged in combat operations in Thoi Binh District, An Xuyen Province, Captain Versace and the patrol came under sudden and intense mortar, automatic weapons, and small arms fire from elements of a heavily armed enemy battalion. As the battle raged, Captain Versace, although severely wounded in the knee and back by hostile fire, fought valiantly and continued to engage enemy targets. Weakened by his wounds and fatigued by the fierce firefight, Captain Versace stubbornly resisted capture by the over-powering Viet Cong force with the last full measure of his strength and ammunition. Taken prisoner by the Viet Cong, he exemplified the tenets of the Code of Conduct from the time he entered into Prisoner of War status. Captain Versace assumed command of his fellow American soldiers, scorned the enemy's exhaustive interrogation and indoctrination efforts, and made three unsuccessful attempts to escape, despite his weakened condition which was brought about by his wounds and the extreme privation and hardships he was forced to endure. During his captivity, Captain Versace was segregated in an isolated prisoner of war cage, manacled in irons for prolonged periods of time, and placed on extremely reduced ration. The enemy was unable to break his indomitable will, his faith in God, and his trust in the United States of America. Captain Versace, an American fighting man who epitomized the principles of his country and the Code of Conduct, was executed by the Viet Cong on 26 September 1965. Captain Versace's gallant actions in close contact with an enemy force and unyielding courage and bravery while a prisoner of war are in the highest traditions of the military service and reflect the utmost credit upon himself and the United States Army.

---

From the Archives

We Have Met the Enemy…
Geoff Metcalf


"They who can give up essential liberty to obtain a little temporary safety deserve neither liberty nor safety.
--Benjamin Franklin
"The American people must be willing to give up a degree of personal privacy in exchange for safety and security."
--Louis Freeh


In the wake of the clamor over the most recent WikiLeaks data dump, 'Vault 7', 'UMBRAGE', et al, it should be noted this is not really anything new. What we are seeing here is simply the evolution of something that goes back to the late 50s (to the incomplete best knowledge I have).

It is kinda cool to finally see even

The New York Times

acknowledging material

I was writing about in 1998

.

In April of 1998 I wrote "Privacy has become an anachronism." I was commenting on "a massive system designed to intercept all your e-mail, fax traffic and more." I was explaining 'Echelon', the illegitimate offspring of a

UKUSA Treaty

signed by the United States, United Kingdom, Canada, Australia and New Zealand. Its purpose was, and is, to have a vast global intelligence monster, which allegedly shares common goals. The system was so "efficient" that reportedly National Security Agency folk from Fort Meade could work from Menwith Hill in England to intercept local communications without either nation having to burden themselves with the formality of seeking approval (a court order) or disclosing the operation. And this was all pre-9/11 and pre-the anti-constitutional

'Patriot Act'

.

It is illegal (without a Judge's signed permission) for the United States to spy on its citizens … kinda. The laws have long been circumvented by a mutual pact among five nations. Under the terms of UKUSA agreement, Britain spies on Americans and America spies on British citizens, and then the two conspirators trade data. A classic technical finesse. It is legal, but the intent to evade the spirit is inescapable.

I often fictionalized the genesis of 'Echelon' as an informal meeting of a group of post war American and British intelligence types drinking in some remote rustic bar. An imagined CIA type complains to his MI6 buddy about the hassles of US laws preventing US intelligence from surveillance of bad guys, and the Brit echoes the same complaint.

"Hey wait a moment mate," says Nigel, the make-believe MI6 guy, "I can spy on your guys and you can spy on our bad players…why don't we just come up with a mechanism whereby we spy on your villains, you spy on our villains, and we just 'share' the intel?"

This system was called ECHELON, and has been kicking around in some form longer than most of you. The result of the UKUSA treaty signed by the United States, United Kingdom, Canada, Australia and New Zealand was, and is, to have a vast global intelligence monster which allegedly shares common goals.

The London Telegraph reported in December of 1997 that the Civil liberties Committee of the European Parliament had officially confirmed the existence and purpose of ECHELON. "A global electronic spy network that can eavesdrop on every telephone, e-mail and telex communication around the world will be officially acknowledged for the first time in a European Commission report. …"

The report noted: "Within Europe all e-mail, telephone and fax communications are routinely intercepted by the United States National Security Agency, transferring ll target information from the Eurv opean mainland via the strategic hub of London, then by satellite to Fort Meade in Maryland via the crucial hub at Menwith Hill, in the North York moors in th UK.

"The ECHELON system forms part of the UKUSA system but unlike many of the electronic spy systems developed during the Cold War, ECHELON was designed primarily for non-military targets: governments, organizations and businesses in virtually every country."

An interesting sidebar appeared in the International Herald Tribune under the headline, "Big Corporate Brother: It Knows More About You Than You Think." The story details Acxiom Corp, which was a humongous information service hidden in the Ozark foothills. Twenty-four hours a day, Acxiom electronically gathered and sorts all kinds of data about 196 million Americans. Credit card transactions and magazine subscriptions, telephone numbers, real estate records, automotive data, hunting, business and fishing licenses, consumer surveys and demographic detail that would make a marketing department's research manager salivate. This relatively new (legal) enterprise was known as "data warehousing" or "data-mining", and it underscores the cruel reality that the fiction of personal privacy has become obsolete. Technology's ability to collect and analyze data has made privacy a quaint albeit interesting dinosaur.

The Tribune reported that "Axciom can often determine whether an American owns a dog or cat, enjoys camping or gourmet cooking, reads the Bible or lots of other books. It can often pinpoint an American's occupation, car and favorite vacations. By analyzing the equivalent of billions of pages of data, it often projects for its customers who should be offered a credit card or who is likely to buy a computer."

Most of this information is from y 1998 piece. Echelon has developed, matured, and morphed into a much more powerful hybrid. 'Carnivore' was software to help triage the cacophony of data. Vault 7 and 'Umbrage' are logical (some would argue "insidious") growth.

More to follow…