"It Is Not A Question of Who Is Right Or Wrong But What Is Right Or Wrong That Counts.

"

--Geoff Metcalf
Providing an on line Triage of the news since 1997



Wo

rld & Nation
China attempted to cover up scope of COVID-19, could have largely prevented outbreak: GOP report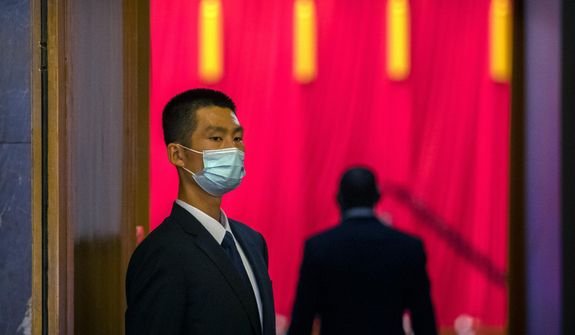 China could have been prevented two-thirds of its coronavirus cases before the end of February had it followed international health guidelines at the beginning of the outbreak in Wuhan, a new congressional report concluded.

The report, released Monday and authored by Republican members of the House Foreign Affairs Committee, echoes earlier findings that China made efforts to cover up the severity of the initial spread of the virus and that the government harassed and detained journalists, scientists and health care professionals who were voicing concerns about its handling of the outbreak.

"It is beyond doubt that the [Chinese Communist Party] actively engaged in a cover-up designed to obfuscate data, hide relevant public health information, and suppress doctors and journalists who attempted to warn the world," the report said. "Research shows the CCP could have reduced the number of cases in China by up to 95 percent had it fulfilled its obligations under international law and responded to the outbreak in a manner consistent with best practices."


---
Trump: I'll Announce Supreme Court Nominee Friday or Saturday
President Donald Trump said Monday he plans to name his Supreme Court nominee either Friday or Saturday after the late Justice Ruth Bader Ginsburg is laid to rest.
"She was a legend," Trump said on Fox News' "Fox and Friends." "She represented something different than you or I or somebody else may really agree with or like, frankly, but she was a legend ... I don't want to hurt her reputation at all, but she did vote for me on a case, and it was a very important case, so that was nice. But, no, she was a legendary figure."
Ginsburg's services will likely be on Thursday or Friday, "as I understand it," but in "all due respect, we should wait until the services are over for Justice Ginsburg," said Trump.
---
Pelosi doesn't rule out impeachment to delay Trump's Supreme Court pick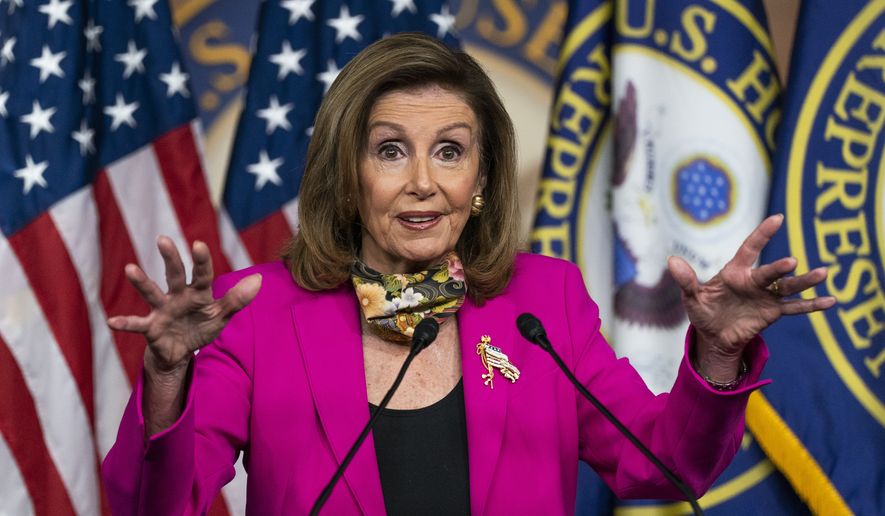 House Speaker Nancy Pelosi on Sunday would not rule out launching impeachment proceedings to try to block President Trump and Senate Republicans from quickly filling the vacancy left on the Supreme Court by the death of Justice Ruth Bader Ginsburg.
"We have our options. We have arrows in our quiver that I'm not about to discuss right now," the California Democrat said on ABC's "This Week."
Host George Stephanopoulos had asked her about the possibility of launching impeachment proceedings against Mr. Trump or Attorney General William P. Barr in the post-election lame-duck session of Congress as a way to stall a high court confirmation process.
---
DOJ declares New York, Portland and Seattle 'anarchist jurisdictions,' moves to cut federal funding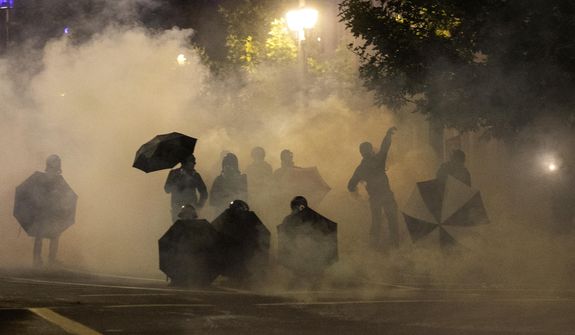 The Justice Department on Monday declared New York, Portland and Seattle "anarchist jurisdictions," the first step toward revoking federal funding from those cities.
President Trump earlier this month ordered federal agencies to look for ways to cut off federal funding in Democratic-led cities besieged by violence this summer. The Justice Department's move escalates the criticism Mr. Trump has been leveling at Democrat leaders, blaming them for the rising crime and violence.
The list of cities is expected to be updated periodically, the Justice Department said.
---
'Emergency' investigation: House Democrats threaten to impeach AG Barr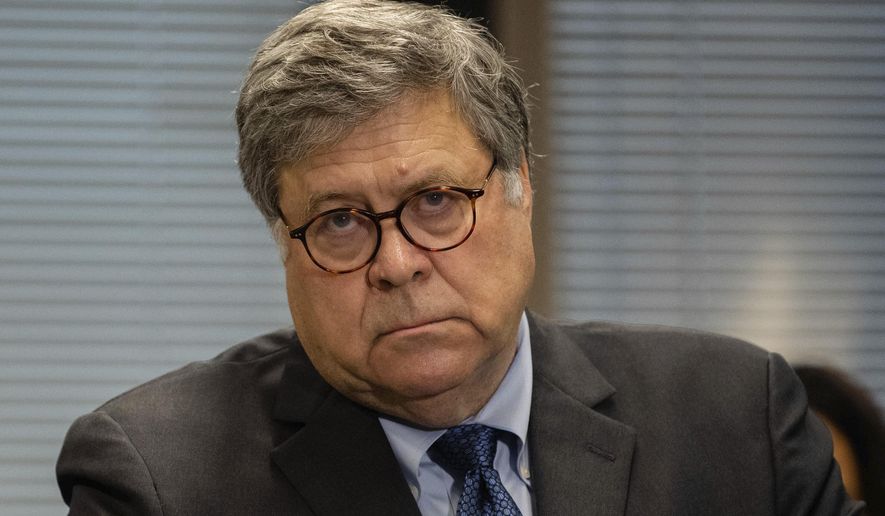 Democrats are turning up the heat on William P. Barr, accusing the attorney general of trying to influence the November presidential election and threatening impeachment after he gave a fiery speech last week lambasting career federal prosecutors.
The chairs of four House committees urged the Justice Department's internal watchdog to open an "emergency" investigation into whether Mr. Barr is using U.S. Attorney John Durham's Russia probe as part of an effort to taint the presidential election.
In a letter Friday to Justice Department Inspector General Michael E. Horowitz, the four lawmakers said Mr. Barr's comments and actions could be damaging "to public confidence in the integrity of the DOJ and our democratic process."
---
US to Slap Sanctions on Over 2 Dozen Targets Tied to Iran Arms
The United States on Monday will sanction more than two dozen people and entities involved in Iran's nuclear, missile and conventional arms programs, a senior U.S. official said, putting teeth behind U.N. sanctions on Tehran that Washington argues have resumed despite the opposition of allies and adversaries.
Speaking on condition of anonymity, the official said Iran could have enough fissile material for a nuclear weapon by the end of the year and that Tehran has resumed long-range missile cooperation with nuclear-armed North Korea. He did not provide detailed evidence regarding either assertion.
The new sanctions fit into U.S. President Donald Trump's effort to limit Iran's regional influence and come a week after U.S.-brokered deals for the United Arab Emirates and Bahrain to normalize ties with Israel, pacts that may coalesce a wider coalition against Iran while appealing to pro-Israel U.S. voters ahead of the Nov. 3 election.
The new sanctions also put European allies, China and Russia on notice that while their inclination may be to ignore the U.S. drive to maintain the U.N. sanctions on Iran, companies based in their nations would feel the bite for violating them.
---
CNN quiet as Biden claims nobody would have died from virus if Trump had 'done his job'
Biden declares 'all the people would still be alive' at town hall in Moosic, Pennsylvania
Democratic presidential nominee Joseph R. Biden declared at Thursday's CNN town hall that nobody would have died from the novel coronavirus if President Trump had "done his job," a whopper that CNN anchor Anderson Cooper let slide.
"And if the president had done his job, had done his job from the beginning, all the people would still be alive," Mr. Biden said at the town hall. "All the people — I'm not making this up, just look at the data. Look at the data."
He was immediately challenged on social media by right-of-center commentators and fact-checks by news outlets, notably The Washington Post, which concluded, "Actually, Biden is making this up."
---
CDC Says Coronavirus Could Spread Through Air
The U.S. Centers for Disease Control and Prevention has warned that COVID-19 could spread through airborne particles that can remain suspended in the air and travel beyond six feet.
The agency previously said the virus mainly spreads from person to person through respiratory droplets when a sick person coughs, sneezes or talks.
The updated guidance, posted on the agency's website on Friday, also recommended that people use air purifiers to reduce airborne germs indoors to avoid the disease from spreading.
---
Mike Pompeo deserves credit for the Abraham Accords
The agreement, normalizing relations between Israel, Bahrain and the United Arab Emirates, is a triumph
The Abraham Accords signed last week, normalizing relations between Israel and two more Arab states, are rightly considered a triumph for the Trump administration.
Perhaps as important, the agreements illuminate the limits of diplomacy and groupthink, the power of indifference and the irresistibility of practical considerations in the realm of foreign policy.
Israel's new ties with the United Arab Emirates and Bahrain are also a rebuke to the American foreign policy establishment's bipartisan cluelessness with respect to the Middle East. For 60 years, that establishment has proceeded as if the only answer to the region's problems was to press the Israelis and the Palestinians into ever more meaningless "talks," while ignoring the very real truth that the Arab world had and has interests that go well beyond the question of Israel.
---
Kamala Harris and Dems side with rioters, abandon police
For many Americans, "Lancaster County" evokes gentle slopes, cornfields, barns, Amish buggies and a seemingly endless supply of Christian novels about Amish heroines.
It's a sweet-spirited place where you can actually feel the peaceful vibes emanating from a God-blessed land. Anyone suffering from city-bred anxiety should spend a day there to see how different life can be.
You may not want any part of the strict Amish and less-strict Mennonite lifestyles, but your psyches can gain a bit of rest away from our debauched culture's daily bombardment.
---
" It is discouraging to think how many people are shocked by honesty and how few by deceit."

-- Noel Coward

(1899-1973) British playwright

---

The Medal of Honor is the highest award for valor in action against an enemy force which can be bestowed upon an individual serving in the Armed Services of the United States.

GeneTrerally presented to its recipient by the President of the United States of America in the name of Congress.

The first award of the Medal of Honor was made March 25, 1863 to Private JACOB PARROTT.The last award of the Medal of Honor was made September 15, 2011 to Sergeant DAKOTA MEYER.

Since then there have been: • 3458 recipients of the Medal of Honor.

• Today there are 85 Living Recipients of the Medal of Honor.

Citation


Captain Humbert R. Versace distinguished himself by extraordinary heroism during the period of 29 October 1963 to 26 September 1965, while serving as S-2 Advisor, Military Assistance Advisory Group, Detachment 52, Ca Mau, Republic of Vietnam. While accompanying a Civilian Irregular Defense Group patrol engaged in combat operations in Thoi Binh District, An Xuyen Province, Captain Versace and the patrol came under sudden and intense mortar, automatic weapons, and small arms fire from elements of a heavily armed enemy battalion. As the battle raged, Captain Versace, although severely wounded in the knee and back by hostile fire, fought valiantly and continued to engage enemy targets. Weakened by his wounds and fatigued by the fierce firefight, Captain Versace stubbornly resisted capture by the over-powering Viet Cong force with the last full measure of his strength and ammunition. Taken prisoner by the Viet Cong, he exemplified the tenets of the Code of Conduct from the time he entered into Prisoner of War status. Captain Versace assumed command of his fellow American soldiers, scorned the enemy's exhaustive interrogation and indoctrination efforts, and made three unsuccessful attempts to escape, despite his weakened condition which was brought about by his wounds and the extreme privation and hardships he was forced to endure. During his captivity, Captain Versace was segregated in an isolated prisoner of war cage, manacled in irons for prolonged periods of time, and placed on extremely reduced ration. The enemy was unable to break his indomitable will, his faith in God, and his trust in the United States of America. Captain Versace, an American fighting man who epitomized the principles of his country and the Code of Conduct, was executed by the Viet Cong on 26 September 1965. Captain Versace's gallant actions in close contact with an enemy force and unyielding courage and bravery while a prisoner of war are in the highest traditions of the military service and reflect the utmost credit upon himself and the United States Army.

---

From the Archives

We Have Met the Enemy…
Geoff Metcalf


"They who can give up essential liberty to obtain a little temporary safety deserve neither liberty nor safety.
--Benjamin Franklin
"The American people must be willing to give up a degree of personal privacy in exchange for safety and security."
--Louis Freeh


In the wake of the clamor over the most recent WikiLeaks data dump, 'Vault 7', 'UMBRAGE', et al, it should be noted this is not really anything new. What we are seeing here is simply the evolution of something that goes back to the late 50s (to the incomplete best knowledge I have).

It is kinda cool to finally see even

The New York Times

acknowledging material

I was writing about in 1998

.

In April of 1998 I wrote "Privacy has become an anachronism." I was commenting on "a massive system designed to intercept all your e-mail, fax traffic and more." I was explaining 'Echelon', the illegitimate offspring of a

UKUSA Treaty

signed by the United States, United Kingdom, Canada, Australia and New Zealand. Its purpose was, and is, to have a vast global intelligence monster, which allegedly shares common goals. The system was so "efficient" that reportedly National Security Agency folk from Fort Meade could work from Menwith Hill in England to intercept local communications without either nation having to burden themselves with the formality of seeking approval (a court order) or disclosing the operation. And this was all pre-9/11 and pre-the anti-constitutional

'Patriot Act'

.

It is illegal (without a Judge's signed permission) for the United States to spy on its citizens … kinda. The laws have long been circumvented by a mutual pact among five nations. Under the terms of UKUSA agreement, Britain spies on Americans and America spies on British citizens, and then the two conspirators trade data. A classic technical finesse. It is legal, but the intent to evade the spirit is inescapable.

I often fictionalized the genesis of 'Echelon' as an informal meeting of a group of post war American and British intelligence types drinking in some remote rustic bar. An imagined CIA type complains to his MI6 buddy about the hassles of US laws preventing US intelligence from surveillance of bad guys, and the Brit echoes the same complaint.

"Hey wait a moment mate," says Nigel, the make-believe MI6 guy, "I can spy on your guys and you can spy on our bad players…why don't we just come up with a mechanism whereby we spy on your villains, you spy on our villains, and we just 'share' the intel?"

This system was called ECHELON, and has been kicking around in some form longer than most of you. The result of the UKUSA treaty signed by the United States, United Kingdom, Canada, Australia and New Zealand was, and is, to have a vast global intelligence monster which allegedly shares common goals.

The London Telegraph reported in December of 1997 that the Civil liberties Committee of the European Parliament had officially confirmed the existence and purpose of ECHELON. "A global electronic spy network that can eavesdrop on every telephone, e-mail and telex communication around the world will be officially acknowledged for the first time in a European Commission report. …"

The report noted: "Within Europe all e-mail, telephone and fax communications are routinely intercepted by the United States National Security Agency, transferring ll target information from the Eurv opean mainland via the strategic hub of London, then by satellite to Fort Meade in Maryland via the crucial hub at Menwith Hill, in the North York moors in th UK.

"The ECHELON system forms part of the UKUSA system but unlike many of the electronic spy systems developed during the Cold War, ECHELON was designed primarily for non-military targets: governments, organizations and businesses in virtually every country."

An interesting sidebar appeared in the International Herald Tribune under the headline, "Big Corporate Brother: It Knows More About You Than You Think." The story details Acxiom Corp, which was a humongous information service hidden in the Ozark foothills. Twenty-four hours a day, Acxiom electronically gathered and sorts all kinds of data about 196 million Americans. Credit card transactions and magazine subscriptions, telephone numbers, real estate records, automotive data, hunting, business and fishing licenses, consumer surveys and demographic detail that would make a marketing department's research manager salivate. This relatively new (legal) enterprise was known as "data warehousing" or "data-mining", and it underscores the cruel reality that the fiction of personal privacy has become obsolete. Technology's ability to collect and analyze data has made privacy a quaint albeit interesting dinosaur.

The Tribune reported that "Axciom can often determine whether an American owns a dog or cat, enjoys camping or gourmet cooking, reads the Bible or lots of other books. It can often pinpoint an American's occupation, car and favorite vacations. By analyzing the equivalent of billions of pages of data, it often projects for its customers who should be offered a credit card or who is likely to buy a computer."

Most of this information is from y 1998 piece. Echelon has developed, matured, and morphed into a much more powerful hybrid. 'Carnivore' was software to help triage the cacophony of data. Vault 7 and 'Umbrage' are logical (some would argue "insidious") growth.

More to follow…