"It Is Not A Question of Who Is Right Or Wrong But What Is Right Or Wrong That Counts.

"

--Geoff Metcalf
Providing an on line Triage of the news since 1997
Wo
rld & Nation
Tokyo Olympics Opening Ceremony Review: Naomi Osaka & Tonga Man's Return Couldn't Elevate Downbeat Affair Of NBC's Live Morning Broadcast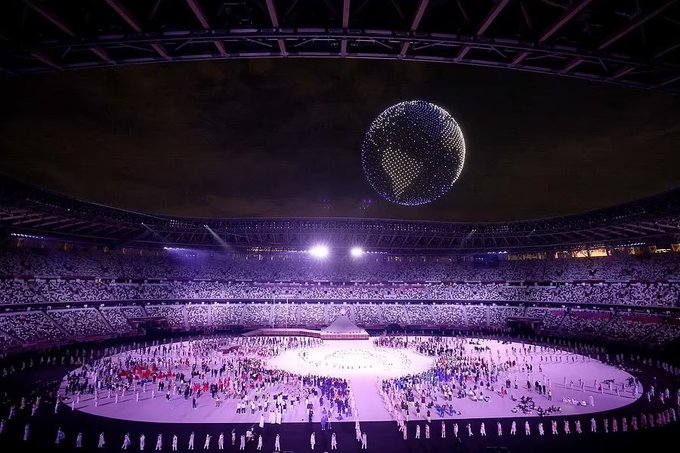 Ever imagine what it would be like if they held an Olympics and almost nobody came?
Well, with Japanese-born tennis superstar Naomi Osaka holding the flame and lighting the cauldron, today's opening ceremony of the coronavirus hobbled Games of the XXXII Olympiad live from Japan provided an answer to that query — and it was ultimately neither engaging nor enjoyable.
Leaning chillingly more Death Star than Panhellenic, the nearly four-hour long NBC broadcast event from a virtually locked down Tokyo was a made for TV event in almost all the worst ways. Put it this way, when your penultimate kicker is a Tonight Show-like skit turning on all the lights in the 13 million populated metropolis, you might want to reconsider your global audience's expectations.
---
Team USA doc: 83% of American athletes in Tokyo are vaccinated, but 100 still unvaccinated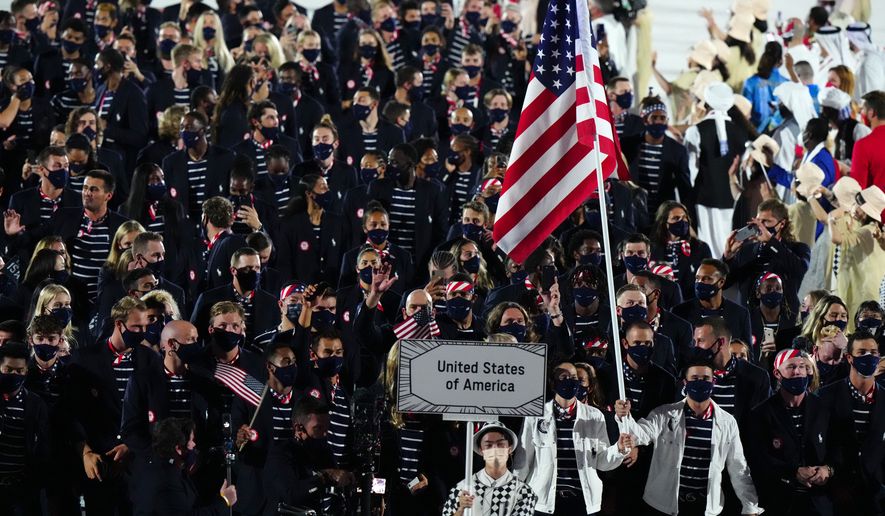 Roughly 100 of more than 600 U.S. athletes competing in Tokyo for the Summer Games have not been vaccinated, the U.S. doctor said Friday.
Despite holdouts, NBC News reports that team doctor Jonathan Finoff is happy with the vaccination rate of 83% that he calculated from sorting through athletes' health histories.
"Eighty-three percent is actually a substantial number, and we're quite happy with it," said Dr. Finnoff, medical chief for the U.S. Olympic and Paralympic Committee.
The rate is far higher than the general U.S. population's vaccination rate of 49%.
---
Rep. Jordan Seeks More Info on Former FBI Official's 2016 Misconduct
Rep. Jim Jordan, R-Ohio, wants more information regarding a former senior FBI official's misconduct surrounding the 2016 election, the Washington Examiner reported.
Justice Department Inspector General Michael Horowitz this week released a summary that said his investigation into allegations of misconduct against the unnamed then-senior FBI employee uncovered evidence to substantiate them.
Jordan, the ranking member of the House Judiciary Committee, wrote a letter Wednesday to Horowitz seeking an unredacted case file for the summary, the Examiner reported.
The lawmaker requested all relevant documents, communications, and any other evidence that would help the panel ascertain "the extent of this serious misconduct" and "evaluate the FBI's handling of the matter."
---
Ala. Gov. Kay Ivey fumes over worst vaccination rate in U.S.: 'Start blaming the unvaccinated folks'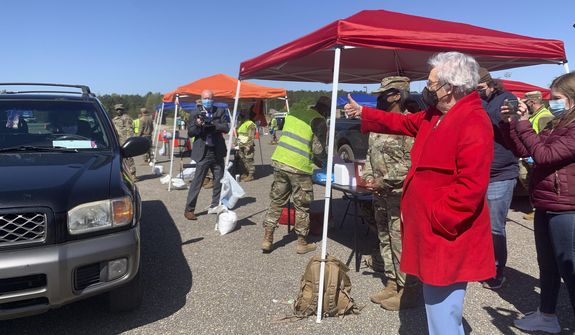 Alabama Gov. Kay Ivey said people are "supposed to have common sense" as she unloaded on unvaccinated people for driving coronavirus outbreaks and hospitalizations in her state.
"It's time to start blaming the unvaccinated folks, not the regular folks. It's the unvaccinated folks that are letting us down," she said at a Birmingham event Thursday night that aired by the CBS WIAT affiliate.
Only about a third of Alabama's population is fully vaccinated against COVID-19, putting it worst in the nation alongside Mississippi.
---
De Blasio bucks mask mandate as COVID-19 cases rise
Banking on vaccine uptick as L.A., other places go back to masks
Los Angeles County and other coronavirus hot spots are reimposing mask mandates, but the Big Apple, the epicenter of last year's nightmare, is a glaring exception as cases climb as a result of the fast-moving delta strain.
Mayor Bill de Blasio is bucking calls to require face coverings again. He said that would penalize people who have been vaccinated and sow doubt in the minds of those who might come forward.
"People need to get vaccinated, period. Nothing will do what vaccination will do," Mr. de Blasio, a Democrat, told reporters Thursday. "Are we really going to let ourselves fall back to where we were? Do you really want to see the world shut down again? I mean, let's get serious. People have to get vaccinated."
---
Rep. Hice: Pelosi 'Comfortable' With Republicans Off Committee
House Speaker Nancy Pelosi is "comfortable" with Republicans backing away from serving on the select committee investigating the Jan. 6 incidents at the Capitol because she doesn't want the truth to come out, Rep. Jody Hice told Newsmax Thursday.
"She knows at the end of the day, the buck stops with her," said the Georgia Republican on Newsmax's "John Bachman Now." "She wants to talk about wanting the truth. But she does not want the truth because she knows at the end of the day, the buck stops with her."
His comments come after House Minority Leader Kevin McCarthy Wednesday pulled back all five of the Republicans he had picked for the committee after Pelosi vetoed Reps. Jim Jordan and Jim Banks.
---
House Freedom Caucus asks McCarthy to try to remove Pelosi as speaker
The request is a sign of increasing levels of GOP anger toward Speaker Nancy Pelosi.
The conservative House Freedom Caucus is urging Kevin McCarthy to try to boot Nancy Pelosi from her position as speaker, a sign of further escalating tensions after the California Democrat vetoed two of the House Minority Leader's GOP picks from the Jan. 6 select committee.
In a letter Friday, the far-right group asked McCarthy to file and bring up a privileged motion by July 31 "to vacate the chair and end Nancy Pelosi's authoritarian reign as Speaker of the House."
"Speaker Pelosi's tenure is destroying the House of Representatives and our ability to faithfully represent the people we are here to serve," they write. "Republicans, under your leadership, must show the American people that we will act to protect our ability to represent their interests."
The motion is all but guaranteed to fail in the Democratic House, but it signals a stewing anger on the right towards the speaker. The Freedom Caucus' letter indicates that McCarthy would need to initiate the motion, and if he were to do so, it would further escalate partisan acrimony in the House that has remained high, and occasionally gotten personal, since Jan. 6.
---
Democrats embrace 'cook-the-books' tactic they bashed under Republican reign
"Everybody plays games with it," said House Budget Chair John Yarmuth.
When Republicans have used dynamic scoring in the past, Bernie Sanders called it a "gimmick" and a way to "cook the books." Now Democrats are using the same strategy.
Democratic leaders are relying on that murky budget tactic to shrink the official cost of a $3.5 trillion plan to enact President Joe Biden's most liberal commitments without Republican support, which is expected to add digits to the already $28 trillion national debt.
The hypocrisy is not lost on Republicans. They endured the ire of Sanders and other Democrats in 2017, when they used dynamic scoring — the controversial technique that involves assuming that a policy will ultimately result in increased government revenue — to justify their $2.3 trillion tax overhaul. Democrats dismiss the GOP backlash as a bit rich.
---
Texas begins jailing border crossers on trespassing charges
Texas is beginning to arrest migrants on trespassing charges along the U.S.-Mexico border as part of Republican Gov. Greg Abbott's actions that he says are needed to slow the number of border crossings, jailing at least 10 people so far with more on the way, authorities said Thursday.
The arrests put in motion plans that Abbott first announced in June, when he also said that Texas would continue building former President Donald Trump's border wall and called on other governors to deploy law enforcement and National Guard members to the southern border.
The detainees are being held at what had been an empty state prison in Dilley, Texas, about 100 miles (160.93 kilometers) north of the border city of Laredo, said Robert Hurst, a spokesman for the Texas Department of Criminal Justice. He said the converted facility will be able to hold more than 950 people.
---
Biden's quiet court drive
President Biden and the Democratic-controlled Senate have installed more federal judges during the first six months of his presidency than any administration since Richard Nixon's.
Why it matters: While Democrats may spend more time talking publicly about vaccines and infrastructure, the rapid pace of both nominations and confirmations shows judges are one of the party's most urgent priorities. President Trump pushed through his own slate of judges to boost conservatives for decades.
By the numbers: Biden has had eight federal judges confirmed since taking office on Jan. 20.
Chief of Staff Ron Klain and White House counsel Dana Remus — in coordination with the Senate Judiciary Committee — are intensely focused on accelerating Biden's efforts to appoint as many judges as possible.
---
Not a 'rubber stamp': House Democrats threaten to wreck bipartisan infrastructure bill
Republicans say Peter DeFazio is putting his own pet projects above the good of the country
House Democrats are trying to muscle their way into the infrastructure negotiations between President Biden and bipartisan senators, even going as far as threatening to scuttle the entire package.
House Transportation Committee Chairman Peter DeFazio, Oregon Democrat, threw a wrench into the talks this week by pledging to be more than just a "rubber stamp" for the final deal.
"At the moment they just want to send over the bipartisan bill and say we have to take it," Mr. DeFazio said. "Which I'm not willing to do. … I'm not taking it."
---

More Top News
---
When life gives Biden a Lemon
President tells big lie about role in anti-police riots
You know we are in trouble when CNN's Don Lemon is the smart one.
This is an actual exchange between Mr. Lemon and President Joe Biden during a staged "town hall" Wednesday night in Cincinnati.
LEMON: "You said that you need — we need — more police, right? Your words. So then, how do you respond to Republicans who try to paint you and your party as anti-police?"
BIDEN: "They're lying."
So, innocent American citizens saw their cities convulsed with violence, bloodshed, and fire-bombings during the past year — all in protest of police. Joe Biden, Vice President Kamala Harris, House Speaker Nancy Pelosi, and the entire Democrat Party leadership chose to draft off the violent political movement and whip up the mobs into a further frenzy — all for their own political benefit.
---
British spy, spooks for hire conspired to take down Trump and steal a U.S. election
The Christopher Steele dossier is the most important political document in America's modern era.
Imported from London, the dossier contained a dozen or so bogus felony allegations against a U.S. president, Donald Trump, and aides for purported Russian election collusion. It was designed to bring his end.
Unleashing it like a piece of destructive malware, Democratic Party operatives sent the dossier coursing through Washington's power machines to program them to get Mr. Trump.
---
" It is discouraging to think how many people are shocked by honesty and how few by deceit."

-- Noel Coward

(1899-1973) British playwright

---

The Medal of Honor is the highest award for valor in action against an enemy force which can be bestowed upon an individual serving in the Armed Services of the United States.

GeneTrerally presented to its recipient by the President of the United States of America in the name of Congress.

The first award of the Medal of Honor was made March 25, 1863 to Private JACOB PARROTT.The last award of the Medal of Honor was made September 15, 2011 to Sergeant DAKOTA MEYER.

Since then there have been: • 3458 recipients of the Medal of Honor.

• Today there are 85 Living Recipients of the Medal of Honor.

Citation


Captain Humbert R. Versace distinguished himself by extraordinary heroism during the period of 29 October 1963 to 26 September 1965, while serving as S-2 Advisor, Military Assistance Advisory Group, Detachment 52, Ca Mau, Republic of Vietnam. While accompanying a Civilian Irregular Defense Group patrol engaged in combat operations in Thoi Binh District, An Xuyen Province, Captain Versace and the patrol came under sudden and intense mortar, automatic weapons, and small arms fire from elements of a heavily armed enemy battalion. As the battle raged, Captain Versace, although severely wounded in the knee and back by hostile fire, fought valiantly and continued to engage enemy targets. Weakened by his wounds and fatigued by the fierce firefight, Captain Versace stubbornly resisted capture by the over-powering Viet Cong force with the last full measure of his strength and ammunition. Taken prisoner by the Viet Cong, he exemplified the tenets of the Code of Conduct from the time he entered into Prisoner of War status. Captain Versace assumed command of his fellow American soldiers, scorned the enemy's exhaustive interrogation and indoctrination efforts, and made three unsuccessful attempts to escape, despite his weakened condition which was brought about by his wounds and the extreme privation and hardships he was forced to endure. During his captivity, Captain Versace was segregated in an isolated prisoner of war cage, manacled in irons for prolonged periods of time, and placed on extremely reduced ration. The enemy was unable to break his indomitable will, his faith in God, and his trust in the United States of America. Captain Versace, an American fighting man who epitomized the principles of his country and the Code of Conduct, was executed by the Viet Cong on 26 September 1965. Captain Versace's gallant actions in close contact with an enemy force and unyielding courage and bravery while a prisoner of war are in the highest traditions of the military service and reflect the utmost credit upon himself and the United States Army.

---

From the Archives

We Have Met the Enemy…
Geoff Metcalf


"They who can give up essential liberty to obtain a little temporary safety deserve neither liberty nor safety.
--Benjamin Franklin
"The American people must be willing to give up a degree of personal privacy in exchange for safety and security."
--Louis Freeh


In the wake of the clamor over the most recent WikiLeaks data dump, 'Vault 7', 'UMBRAGE', et al, it should be noted this is not really anything new. What we are seeing here is simply the evolution of something that goes back to the late 50s (to the incomplete best knowledge I have).

It is kinda cool to finally see even

The New York Times

acknowledging material

I was writing about in 1998

.

In April of 1998 I wrote "Privacy has become an anachronism." I was commenting on "a massive system designed to intercept all your e-mail, fax traffic and more." I was explaining 'Echelon', the illegitimate offspring of a

UKUSA Treaty

signed by the United States, United Kingdom, Canada, Australia and New Zealand. Its purpose was, and is, to have a vast global intelligence monster, which allegedly shares common goals. The system was so "efficient" that reportedly National Security Agency folk from Fort Meade could work from Menwith Hill in England to intercept local communications without either nation having to burden themselves with the formality of seeking approval (a court order) or disclosing the operation. And this was all pre-9/11 and pre-the anti-constitutional

'Patriot Act'

.

It is illegal (without a Judge's signed permission) for the United States to spy on its citizens … kinda. The laws have long been circumvented by a mutual pact among five nations. Under the terms of UKUSA agreement, Britain spies on Americans and America spies on British citizens, and then the two conspirators trade data. A classic technical finesse. It is legal, but the intent to evade the spirit is inescapable.

I often fictionalized the genesis of 'Echelon' as an informal meeting of a group of post war American and British intelligence types drinking in some remote rustic bar. An imagined CIA type complains to his MI6 buddy about the hassles of US laws preventing US intelligence from surveillance of bad guys, and the Brit echoes the same complaint.

"Hey wait a moment mate," says Nigel, the make-believe MI6 guy, "I can spy on your guys and you can spy on our bad players…why don't we just come up with a mechanism whereby we spy on your villains, you spy on our villains, and we just 'share' the intel?"

This system was called ECHELON, and has been kicking around in some form longer than most of you. The result of the UKUSA treaty signed by the United States, United Kingdom, Canada, Australia and New Zealand was, and is, to have a vast global intelligence monster which allegedly shares common goals.

The London Telegraph reported in December of 1997 that the Civil liberties Committee of the European Parliament had officially confirmed the existence and purpose of ECHELON. "A global electronic spy network that can eavesdrop on every telephone, e-mail and telex communication around the world will be officially acknowledged for the first time in a European Commission report. …"

The report noted: "Within Europe all e-mail, telephone and fax communications are routinely intercepted by the United States National Security Agency, transferring ll target information from the Eurv opean mainland via the strategic hub of London, then by satellite to Fort Meade in Maryland via the crucial hub at Menwith Hill, in the North York moors in th UK.

"The ECHELON system forms part of the UKUSA system but unlike many of the electronic spy systems developed during the Cold War, ECHELON was designed primarily for non-military targets: governments, organizations and businesses in virtually every country."

An interesting sidebar appeared in the International Herald Tribune under the headline, "Big Corporate Brother: It Knows More About You Than You Think." The story details Acxiom Corp, which was a humongous information service hidden in the Ozark foothills. Twenty-four hours a day, Acxiom electronically gathered and sorts all kinds of data about 196 million Americans. Credit card transactions and magazine subscriptions, telephone numbers, real estate records, automotive data, hunting, business and fishing licenses, consumer surveys and demographic detail that would make a marketing department's research manager salivate. This relati vely new (legal) enterprise was known as "data warehousing" or "data-mining", and it underscores the cruel reality that the fiction of personal privacy has become obsolete. Technology's ability to collect and analyze data has made privacy a quaint albeit interesting dinosaur.

The Tribune reported that "Axciom can often determine whether an American owns a dog or cat, enjoys camping or gourmet cooking, reads the Bible or lots of other books. It can often pinpoint an American's occupation, car and favorite vacations. By analyzing the equivalent of billions of pages of data, it often projects for its customers who should be offered a credit card or who is likely to buy a computer."

Most of this information is from y 1998 piece. Echelon has developed, matured, and morphed into a much more powerful hybrid. 'Carnivore' was software to help triage the cacophony of data. Vault 7 and 'Umbrage' are logical (some would argue "insidious") growth.

More to follow…