"It Is Not A Question of Who Is Right Or Wrong But What Is Right Or Wrong That Counts.

"

--Geoff Metcalf
Providing an on line Triage of the news since 1997
Wo
rld & Nation
China watching U.S. response on Ukraine closely, with Taiwan in mind
Biden critics say failure to deter Russia will send a message to Beijing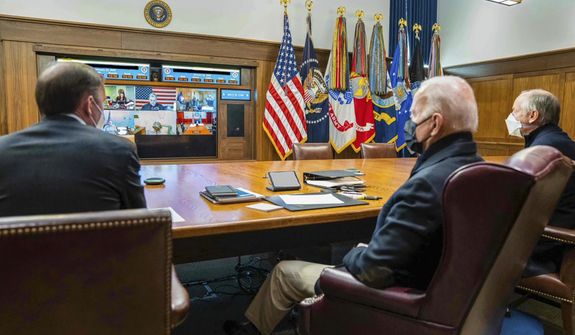 China is watching closely as the U.S. responds to the escalating tensions in eastern Europe, military experts and lawmakers say.
President Biden has, for weeks, mobilized the full force of his administration and rallied allies in a bid to cool tensions spurred by Russia's troop buildup of more than 100,000 troops on its border with Ukraine. But with Russia still refusing to rule out military action against Kyiv, some in Washington are raising fears that a weak U.S. and Western response could embolden the Chinese Communist Party and accelerate the long-simmering standoff over Taiwan.
Texas Rep. Michael T. McCaul, the top Republican on the House Foreign Affairs Committee, said last week he already fears China has already become emboldened by the events in Ukraine. He expressed growing concerns that China could make a move for Taiwan soon after the Winter Olympics conclude in Beijing next month.
The chaotic U.S. pullout from Afghanistan last summer and Russia's increasingly menacing stand toward Ukraine and NATO underscore a foreign policy truth — that actions positive and negative affect international perceptions of power and deterrence.
---
China Gives U.S. Three Urgent Demands
China gave the United States a list of three priorities on Thursday, as its top diplomat bemoaned the lack of progress in bilateral relations despite the arrival of a new president inside the White House.
In his call with Secretary of State Antony Blinken, Chinese Foreign Minister Wang Yi said the Joe Biden administration had sent more positive signals than those received under Donald Trump, but that he was unhappy about "new shocks" that continued to emerge in the already delicate U.S.-China relationship.
Wang said President Biden responded positively to Xi Jinping's "three principles of mutual respect, peaceful coexistence and win-win cooperation" when China's leader proposed the guidelines during their high-level summit last November. Quoting Biden, the Chinese diplomat said the U.S. "does not seek a 'new Cold War,' does not seek to change China's system, does not seek to strengthen its alliances in order to oppose China, does not support 'Taiwan independence,' and does not intend on conflict and confrontation with China."
---
Russia Sees Some Room for Dialogue After US Security Response
Russia said on Thursday the United States had shown it was not willing to address Moscow's main security concerns, set out during their standoff over Ukraine, but that both sides had an interest in continuing dialogue.
Kremlin spokesman Dmitry Peskov said Moscow, which has massed troops near Ukraine, would not rush to draw conclusions after Washington formally responded to Russian proposals for a redrawing of post-Cold War security arrangements in Europe.
Describing tensions on the continent as reminiscent of the Cold War, Peskov said it would take time for Moscow to review Wednesday's response from Washington. But he said U.S. and NATO statements that Russia's main demands were unacceptable did not leave much room for optimism.
---
Biden eyes long list of Black female candidates to fill Supreme Court vacancy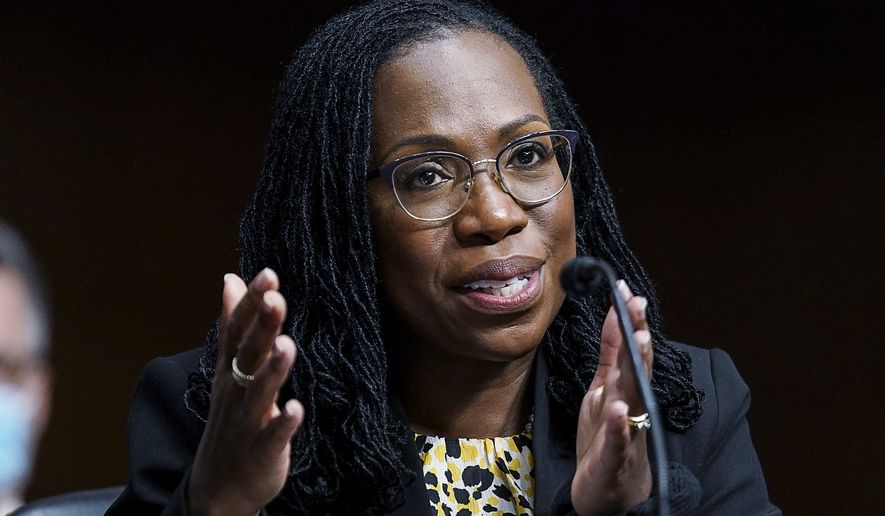 President Biden has a deep bench of Black female legal scholars to choose from for a history-making Supreme Court pick, and his shortlist is replete with figures who will thrill the party's racial justice and far-left activists.
Mr. Biden promised during the 2020 campaign that he'd appoint a Black woman to fill a vacancy on the court and Justice Stephen G. Breyer's pending retirement gave him that chance.
The top two names on the list, court watchers say, are Judge Ketanji Brown Jackson, who was confirmed in June to the U.S. Court of Appeals, and California Supreme Court Justice Leondra Kruger.
---
Denmark to End Most COVID Restrictions and 'Welcome the Life We Knew Before'
Denmark Prime Minister Mette Frederiksen announced on January 26 Denmark would be throwing out most of the COVID-19 pandemic restrictions it placed, including mask mandates.
Restrictions currently in place are for the public to wear masks on public transportations, in restaurants, in shops, and people entering healthcare facilities and retirement homes, according to the Associated Press. However, following the February 1 change of restrictions, masks will only be required in hospitals, healthcare facilities and homes for the elderly.
"We say goodbye to the restrictions and welcome the life we knew before," Frederiksen said. "As of Feb. 1, Denmark will be open."
According to Health Minister Magnus Heunicke, Denmark's recent cases of COVID were more than 46,000 daily on average; however, only 40 people are in hospital intensive care units.
---
U.S. economy grew 5.7 percent in 2021, fastest full-year clip since 1984, despite ongoing pandemic
The U.S. economy grew by 5.7 percent in 2021, the fastest full-year clip since 1984, roaring back in the pandemic's second year despite two new virus variants that rocked the country.
The growth came in fits and starts, with a burst of government spending helping propel a fast start, even as a surge in new cases and deaths in the second half of the year created new pressures. The economy grew at a 6.9 percent annual rate from October to December, the Bureau of Economic Analysis said Thursday, a sharp acceleration from 2.3 percent in the previous quarter.
In a powerful rebound from 2020, when the economy contracted by 3.4 percent — its worst result since 1946 — 2021′s strong growth created a record 6.4 million jobs. But it also brought a host of complications, helping fuel the highest inflation in 40 years and creating supply chain snarls as consumers hungry for products overwhelmed the global delivery system. To beat back rising prices, the Federal Reserve is now shifting its strategy and preparing for interest rate hikes this year, convinced it has given enough support to help the labor market and now must keep the economy from overheating further.
---
Nikki Haley says Biden should 'step down and take Kamala with him' because the US looks 'weak' on foreign policy heading into the Beijing Olympics
Former UN Ambassador Nikki Haley called on President Biden and VP Harris to resign.
In a Fox News radio interview, Haley said Biden should "step down and take Kamala with him."
Haley also said she's worried the US will look "weak" on foreign policy at the Beijing Olympics.
---
Gun rights group sues San Jose over liability insurance requirement
A national gun rights group is suing a California city that has approved legislation requiring gun owners to carry liability insurance.
The measure, which the San Jose City Council approved Tuesday, is an "unprecedented step," according to the federal lawsuit that the National Association for Gun Rights and local gun owner Mark Sikes filed that evening.
The complaint seeks nominal damages and an injunction to overturn an "unconstitutional and unlawful ordinance" that violates the Second Amendment right to bear arms by placing an unfair financial burden on gun owners.
---
Bodycam Footage Shows Migrants Flown into NY in Dead of Night: 'Everything Is Supposed to Be Hush-Hush'
Bodycam footage released through a Freedom of Information Act request shows federal contractors dropping off migrants at the Westchester County Airport in White Plains, N.Y., last summer, with one contractor on the scene saying the Biden administration was "betraying the American people."
New York Republican gubernatorial candidate Rob Astorino obtained the footage, a 51-minute clip from the body camera of Westchester Police Sgt. Michael Hamborsky on August 13, 2021. Astorino discussed the footage on Tucker Carlson Tonight on Fox News on Wednesday.
In the footage, Hamborsky can be heard questioning federal contractors and lamenting the lack of adherence to security procedures at the airport. Some of the contractors were employees of MVM Inc., according to the Post, a firm that signed a contract with the federal government to transport illegal immigrants to locations throughout the country.
"You're on a secure facility here; we really don't know anything and we're in charge of security," Hamborsky tells a contractor at one point. Hamborsky is able to learn that a plane with 142 migrants arrived at the airport at 11:48 p.m. on August 12.
"Listen, my thing is I like to comply but technically we're not supposed to show IDs or anything. Like I said, everything is supposed to be hush-hush," one of the contractors tells Hamborsky at one point.
---
The state wants to own your child
California aims to pass law so children can get COVID-19 shots without parental consent
For a good reason, there has been a lot of coverage and outrage over the news that the Democratic-controlled state of California intends to pass a bill allowing 12-year-old children to be able to get the COVID-19 vaccine without parental consent. For context, remember what 12-year-olds are — 6th-graders.
It is, of course, worthy of outrage and in a normal world, we would wonder how politicians suddenly lost their minds. But this is not sudden. Politicians have been working at taking complete control of your children for decades and have made significant inroads. Step by step, state and city governments have been changing laws allowing minors to consent without their parent's involvement or knowledge to a myriad of "health care" decisions.
Both Republican and Democratic governors of California have continually expanded the "health care" minors can receive not just without a parent's consent, but providers and others are forbidden by law to inform a parent about what is happening without the child's consent!
---
The failure of the White House whiz kids
Ron Klain won't retweet this column
Washington is a company town, and companies love to have meetings. So, it was a surprise when a few days before Christmas, Politico led one of its stories with this most remarkable sentence: "About two months ago during a fire drill, the White House emptied, and aides congregated outside. It was their first-ever all-staff meeting, an official quipped at the time."
That seems … unexpected for an administration that we were assured repeatedly was experienced, highly skilled and super smart. But maybe it shouldn't have been unexpected.
So far, this senior White House staff has produced a string of embarrassments. It's not just the policy failures concerning inflation, border security or Afghanistan. It's a simple lack of competence at the jobs they are being paid to do.
---
" It is discouraging to think how many people are shocked by honesty and how few by deceit."

-- Noel Coward

(1899-1973) British playwright

---

The Medal of Honor is the highest award for valor in action against an enemy force which can be bestowed upon an individual serving in the Armed Services of the United States.

GeneTrerally presented to its recipient by the President of the United States of America in the name of Congress.

The first award of the Medal of Honor was made March 25, 1863 to Private JACOB PARROTT.The last award of the Medal of Honor was made September 15, 2011 to Sergeant DAKOTA MEYER.

Since then there have been: • 3458 recipients of the Medal of Honor.

• Today there are 85 Living Recipients of the Medal of Honor.

Citation


Captain Humbert R. Versace distinguished himself by extraordinary heroism during the period of 29 October 1963 to 26 September 1965, while serving as S-2 Advisor, Military Assistance Advisory Group, Detachment 52, Ca Mau, Republic of Vietnam. While accompanying a Civilian Irregular Defense Group patrol engaged in combat operations in Thoi Binh District, An Xuyen Province, Captain Versace and the patrol came under sudden and intense mortar, automatic weapons, and small arms fire from elements of a heavily armed enemy battalion. As the battle raged, Captain Versace, although severely wounded in the knee and back by hostile fire, fought valiantly and continued to engage enemy targets. Weakened by his wounds and fatigued by the fierce firefight, Captain Versace stubbornly resisted capture by the over-powering Viet Cong force with the last full measure of his strength and ammunition. Taken prisoner by the Viet Cong, he exemplified the tenets of the Code of Conduct from the time he entered into Prisoner of War status. Captain Versace assumed command of his fellow American soldiers, scorned the enemy's exhaustive interrogation and indoctrination efforts, and made three unsuccessful attempts to escape, despite his weakened condition which was brought about by his wounds and the extreme privation and hardships he was forced to endure. During his captivity, Captain Versace was segregated in an isolated prisoner of war cage, manacled in irons for prolonged periods of time, and placed on extremely reduced ration. The enemy was unable to break his indomitable will, his faith in God, and his trust in the United States of America. Captain Versace, an American fighting man who epitomized the principles of his country and the Code of Conduct, was executed by the Viet Cong on 26 September 1965. Captain Versace's gallant actions in close contact with an enemy force and unyielding courage and bravery while a prisoner of war are in the highest traditions of the military service and reflect the utmost credit upon himself and the United States Army.

---

From the Archives

We Have Met the Enemy…
Geoff Metcalf


"They who can give up essential liberty to obtain a little temporary safety deserve neither liberty nor safety.
--Benjamin Franklin
"The American people must be willing to give up a degree of personal privacy in exchange for safety and security."
--Louis Freeh


In the wake of the clamor over the most recent WikiLeaks data dump, 'Vault 7', 'UMBRAGE', et al, it should be noted this is not really anything new. What we are seeing here is simply the evolution of something that goes back to the late 50s (to the incomplete best knowledge I have).

It is kinda cool to finally see even

The New York Times

acknowledging material

I was writing about in 1998

.

In April of 1998 I wrote "Privacy has become an anachronism." I was commenting on "a massive system designed to intercept all your e-mail, fax traffic and more." I was explaining 'Echelon', the illegitimate offspring of a

UKUSA Treaty

signed by the United States, United Kingdom, Canada, Australia and New Zealand. Its purpose was, and is, to have a vast global intelligence monster, which allegedly shares common goals. The system was so "efficient" that reportedly National Security Agency folk from Fort Meade could work from Menwith Hill in England to intercept local communications without either nation having to burden themselves with the formality of seeking approval (a court order) or disclosing the operation. And this was all pre-9/11 and pre-the anti-constitutional

'Patriot Act'

.

It is illegal (without a Judge's signed permission) for the United States to spy on its citizens … kinda. The laws have long been circumvented by a mutual pact among five nations. Under the terms of UKUSA agreement, Britain spies on Americans and America spies on British citizens, and then the two conspirators trade data. A classic technical finesse. It is legal, but the intent to evade the spirit is inescapable.

I often fictionalized the genesis of 'Echelon' as an informal meeting of a group of post war American and British intelligence types drinking in some remote rustic bar. An imagined CIA type complains to his MI6 buddy about the hassles of US laws preventing US intelligence from surveillance of bad guys, and the Brit echoes the same complaint.

"Hey wait a moment mate," says Nigel, the make-believe MI6 guy, "I can spy on your guys and you can spy on our bad players…why don't we just come up with a mechanism whereby we spy on your villains, you spy on our villains, and we just 'share' the intel?"

This system was called ECHELON, and has been kicking around in some form longer than most of you. The result of the UKUSA treaty signed by the United States, United Kingdom, Canada, Australia and New Zealand was, and is, to have a vast global intelligence monster which allegedly shares common goals.

The report noted: "Within Europe all e-mail, telephone and fax communications are routinely intercepted by the United States National Security Agency, transferring ll target information from the Eurv opean mainland via the strategic hub of London, then by satellite to Fort Meade in Maryland via the crucial hub at Menwith Hill, in the North York moors in th UK.

"The ECHELON system forms part of the UKUSA system but unlike many of the electronic spy systems developed during the Cold War, ECHELON was designed primarily for non-military targets: governments, organizations and businesses in virtually every country."

An interesting sidebar appeared in the International Herald Tribune under the headline, "Big Corporate Brother: It Knows More About You Than You Think." The story details Acxiom Corp, which was a humongous information service hidden in the Ozark foothills. Twenty-four hours a day, Acxiom electronically gathered and sorts all kinds of data about 196 million Americans. Credit card transactions and magazine subscriptions, telephone numbers, real estate records, automotive data, hunting, business and fishing licenses, consumer surveys and demographic detail that would make a marketing department's research manager salivate. This relati vely new (legal) enterprise was known as "data warehousing" or "data-mining", and it underscores the cruel reality that the fiction of personal privacy has become obsolete. Technology's ability to collect and analyze data has made privacy a quaint albeit interesting dinosaur.

The Tribune reported that "Axciom can often determine whether an American owns a dog or cat, enjoys camping or gourmet cooking, reads the Bible or lots of other books. It can often pinpoint an American's occupation, car and favorite vacations. By analyzing the equivalent of billions of pages of data, it often projects for its customers who should be offered a credit card or who is likely to buy a computer."

Most of this information is from y 1998 piece. Echelon has developed, matured, and morphed into a much more powerful hybrid. 'Carnivore' was software to help triage the cacophony of data. Vault 7 and 'Umbrage' are logical (some would argue "insidious") growth.

More to follow…