"It Is Not A Question of Who Is Right Or Wrong But What Is Right Or Wrong That Counts.

"

--Geoff Metcalf
Wo

rld & National
He's In For 2020: Bernie Sanders Is Running For President Again
Sen. Bernie Sanders has confirmed to VPR that he is seeking the 2020 Democratic presidential nomination.
His official announcement video was posted online Tuesday morning.
"I wanted to let the people of the state of Vermont know about this first," Sanders told VPR's Bob Kinzel. "And what I promise to do is, as I go around the country, is to take the values that all of us in Vermont are proud of — a belief in justice, in community, in grassroots politics, in town meetings — that's what I'm going to carry all over this country."
---
Iran-al Qaeda alliance may provide legal rationale for U.S. military strikes
Trump administration officials warn of global security threat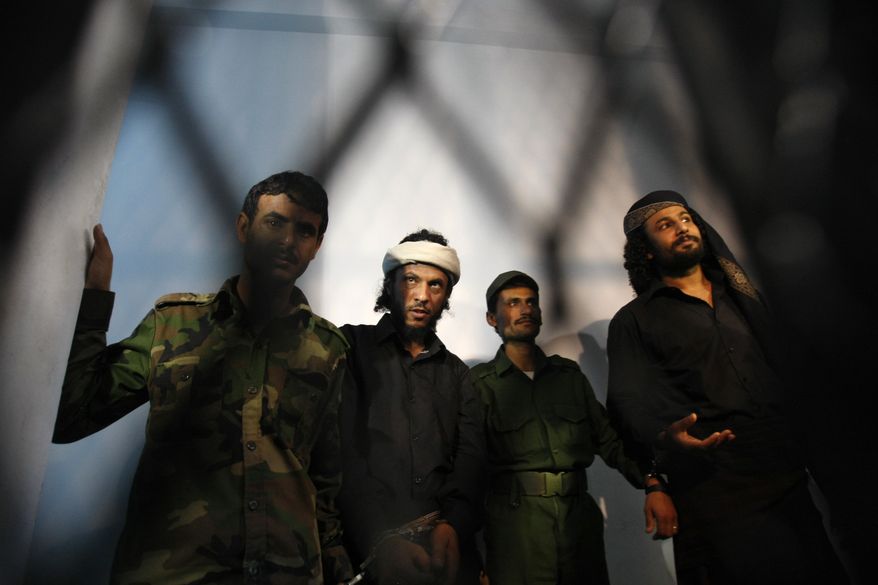 Iran is providing high-level al Qaeda operatives with a clandestine sanctuary to funnel fighters, money and weapons across the Middle East, according to Trump administration officials who warn that the long-elusive, complex relationship between two avowed enemies of America has evolved into an unacceptable global security threat.
With the once-prominent Islamic State receding from the spotlight, The Washington Times has learned that the administration is focusing increasingly on the unlikely alliance between Iran and al Qaeda, with what some sources say is an eye toward establishing a potential legal justification for military strikes against Iran or its proxies.
Skeptics have long doubted that Iran, which this year marked its 40th anniversary as a Shiite Muslim theocracy, could find common cause with a radical Sunni Islamist group such as al Qaeda, but U.S. officials argue that a confluence of interests — and a common enemy in the U.S. and its allies — has brought a level of covert cooperation and coordination that has reached new heights.
---
16 States Sue Trump Over Emergency Wall Declaration
A group of 16 states filed suit in federal court in California to stop President Donald Trump's emergency declaration to fund a wall on the U.S.-Mexico border, The Washington Post reported Monday.
Earlier in the day, California Attorney General Xavier Becerra told MSNBC's "Andrea Mitchell Reports" he planned to file California's lawsuit..
Joining California and New York are Colorado, Connecticut, Delaware, Hawaii, Illinois, Maine, Maryland, Michigan, Minnesota, Nevada, New Jersey, New Mexico, Oregon and Virginia. All have Democratic governors but one — Maryland, whose attorney general is a Democrat — and most have legislatures controlled by Democrats, The New York Times reported.
---
Andrew McCabe says the investigations into Trump faced no congressional pushback
Former acting FBI Director Andrew McCabe said Tuesday that no congressional leaders pushed back against the counterintelligence and obstruction of justice investigations launched against President Trump.
Mr. McCabe told NBC's "Today" show that he briefed the "Gang of Eight," the group of top congressional leaders from both parties — which would have included former Speaker Paul D. Ryan and current Senate Majority Leader Mitch McConnell — about the investigations.
"That's the important part here," Mr. McCabe said. "No one objected — not on legal grounds, not on constitutional grounds and not based on the facts."
---
Trump Mulls Change with Intel Director Coats
Citing several White House sources, President Trump has a "general disappointment" in Director of National Intelligence Dan Coats — and there may be a "change of leadership" ahead, Newsmax Media CEO Christopher Ruddy told CNN Monday.
In an interview with CNN's Christiane Amanpour, Ruddy slammed the intel chief for recently "undercutting" Trump and "trying to make policy and not inform policy" before Congress.
"The intelligence chiefs… just went before an open session of Congress, and they openly said that they believe the president's policies and efforts in North Korea are going to fail based on the intelligence," Ruddy said.
"I think you have a classic example here where Director Coats is trying to make policy and not inform policy," he continued. "The purpose of intelligence is to give the president the facts, let him decide and make the decisions, not to publicly declare that his policies are going to fail a week before he goes over to North Korea on this very important summit."
---
CBS' Lara Logan Laments Mostly Liberal International Press
CBS News foreign correspondent Lara Logan criticized the international media corps as predominantly "liberal," crowding out conservative outlets that represent the other side of the coin.
In an interview with retired Navy SEAL Mike Ritland for his Mike Drop podcast, posted by Breitbart, Logan asserted the "media everywhere is mostly liberal, not just the [United States]."
---
Liberals banking on AOC 2.0 scramble for Mark Kelly alternative in Arizona
When former astronaut Mark Kelly said last week he would run as a Democrat to try to unseat a sitting Republican U.S. senator in Arizona, the news sent liberal activists scrambling to try to come up with a candidate of their own.
Left-wing groups urged Rep. Ruben Gallego, a vocal member of the Congressional Progressive Caucus, to join the race to give liberals a more palatable option as they prepare for 2020.
Across the country, those same liberal groups are eyeing next year's elections with anticipation, hoping to prove that stunning primary season upsets in 2018, such as freshman Rep. Alexandria Ocasio-Cortez's ousting of a 20-year party leader, were just an opening act.
---
Cartel Ambushes Mexican Soldiers near Texas Border
An ambush by gunmen from a faction of Los Zetas killed one Mexican soldier and injured two others in Nuevo Laredo. Three attackers working for a convicted terrorist also died in the incident just south of Laredo, Texas.
Mexican military officials have not released any information on the attack, however unofficial sources with direct knowledge revealed to Breitbart News the attack took place along the highway that connects Nuevo Laredo and Monterrey. Moving in various SUVs, a team of gunmen with the Cartel Del Noreste (CDN) faction of Los Zetas attacked a convoy of soldiers patrolling the streets of Nuevo Laredo. The shooters killed one army lieutenant and injured two others.
Under the leadership of convicted terrorist Hector Raul "El Tory" Luna Luna, the CDN has once again advanced their tactic of silencing local news outlets to keep the organization out of public view. None of the local news outlets in Nuevo Laredo reported on the weekend shootout. El Tory, the operational leader for the CDN, is wanted in the U.S. for a grenade attack against the American consulate in Monterrey. The CDN is working to inspire terror throughout the border states of Tamaulipas and Nuevo Leon by dumping ice chests with human remains and written threats to rivals.
---
Justice Dept Official: Rosenstein to Step Down by Mid-March
Deputy Attorney General Rod Rosenstein will leave the Department of Justice by the middle of March, according to a new report.
Fox News reported Monday night that Rosenstein, who was already expected to depart in the wake of Attorney General William Barr being confirmed last week, is leaving to give Barr the chance to transition into his new role. The network cited a senior DOJ official in its report.
Fox reported that Barr has chosen Jeffrey Rosen, an academic who currently serves as president and CEO of the National Constitution Center, to serve as his deputy AG.
---
Keeping a TV tall tale straight is never easy
Life sometimes imitates art, often bad art. Actors live and work in a make-believe world, and when they step outside that world they're naturally confused about which world they're in.
Jussie Smollett was an obscure actor in a troubled Fox television series called "Empire." Ratings are down, and sinking, and the Fox network was braced for more bad news when the new season returns next month. What "Empire" needed was publicity to juice expectations. Why not some help from Jussie?
But now Jussie is in trouble with the law because of the tale he told to the cops, that two white guys in bright-red MAGA hats beat him up outside a sandwich shop in a rough neighborhood in Chicago, poured bleach on him, looped a noose around his neck, shouted racist and homophobic insults, and left him in the street to die. (Or to await his close-up.) But then the plot thickened and took an interesting turn.
---
Tracing the real root of America's opioid crisis
Opioids are flooding into the United States in such vast quantities that President Trump declared a "National Health Emergency" in October 2017. Yet, despite some tales to the contrary, the opioid crisis is literally manufactured in places like Mexico. China, too. In their factories, fentanyl and other copycat drugs are produced in staggering amounts. And they're decimating us.
According to the Centers for Disease Controal and Prevention (CDC), from 1999-2017 almost 400,000 people died from an overdose involving opioids. On average, 130 Americans die each day in this way.
The CDC further states that the "most recent cases of fentanyl-related harm, overdose, and death in the United States are linked to illegally-made fentanyl. It is sold through illegal drug markets for its heroin-like effect. It is often mixed with heroin and/or cocaine as a combination product — with or without the user's knowledge — to increase its euphoric effects." The crux of the problem is the smuggling of illegal opioids and other "legal" drugs illicitly copied and manufactured in China and other places. These versions of the "legal" drugs are then smuggled into the United States by Mexican drug cartels and sold in the United States at enormous profits.
---
---
"It is discouraging to think how many people are shocked by honesty and how few by deceit."

-- Noel Coward

(1899-1973) British playwright

---

The Medal of Honor is the highest award for valor in action against an enemy force which can be bestowed upon an individual serving in the Armed Services of the United States.

GeneTrerally presented to its recipient by the President of the United States of America in the name of Congress.

The first award of the Medal of Honor was made March 25, 1863 to Private JACOB PARROTT.The last award of the Medal of Honor was made September 15, 2011 to Sergeant DAKOTA MEYER.

Since then there have been: • 3458 recipients of the Medal of Honor.

• Today there are 85 Living Recipients of the Medal of Honor.

Citation


Captain Humbert R. Versace distinguished himself by extraordinary heroism during the period of 29 October 1963 to 26 September 1965, while serving as S-2 Advisor, Military Assistance Advisory Group, Detachment 52, Ca Mau, Republic of Vietnam. While accompanying a Civilian Irregular Defense Group patrol engaged in combat operations in Thoi Binh District, An Xuyen Province, Captain Versace and the patrol came under sudden and intense mortar, automatic weapons, and small arms fire from elements of a heavily armed enemy battalion. As the battle raged, Captain Versace, although severely wounded in the knee and back by hostile fire, fought valiantly and continued to engage enemy targets. Weakened by his wounds and fatigued by the fierce firefight, Captain Versace stubbornly resisted capture by the over-powering Viet Cong force with the last full measure of his strength and ammunition. Taken prisoner by the Viet Cong, he exemplified the tenets of the Code of Conduct from the time he entered into Prisoner of War status. Captain Versace assumed command of his fellow American soldiers, scorned the enemy's exhaustive interrogation and indoctrination efforts, and made three unsuccessful attempts to escape, despite his weakened condition which was brought about by his wounds and the extreme privation and hardships he was forced to endure. During his captivity, Captain Versace was segregated in an isolated prisoner of war cage, manacled in irons for prolonged periods of time, and placed on extremely reduced ration. The enemy was unable to break his indomitable will, his faith in God, and his trust in the United States of America. Captain Versace, an American fighting man who epitomized the principles of his country and the Code of Conduct, was executed by the Viet Cong on 26 September 1965. Captain Versace's gallant actions in close contact with an enemy force and unyielding courage and bravery while a prisoner of war are in the highest traditions of the military service and reflect the utmost credit upon himself and the United States Army.

---

From the Archives

We Have Met the Enemy…
Geoff Metcalf


"They who can give up essential liberty to obtain a little temporary safety deserve neither liberty nor safety.
--Benjamin Franklin
"The American people must be willing to give up a degree of personal privacy in exchange for safety and security."
--Louis Freeh


In the wake of the clamor over the most recent WikiLeaks data dump, 'Vault 7', 'UMBRAGE', et al, it should be noted this is not really anything new. What we are seeing here is simply the evolution of something that goes back to the late 50s (to the incomplete best knowledge I have).

It is kinda cool to finally see even

The New York Times

acknowledging material

I was writing about in 1998

.

In April of 1998 I wrote "Privacy has become an anachronism." I was commenting on "a massive system designed to intercept all your e-mail, fax traffic and more." I was explaining 'Echelon', the illegitimate offspring of a

UKUSA Treaty

signed by the United States, United Kingdom, Canada, Australia and New Zealand. Its purpose was, and is, to have a vast global intelligence monster, which allegedly shares common goals. The system was so "efficient" that reportedly National Security Agency folk from Fort Meade could work from Menwith Hill in England to intercept local communications without either nation having to burden themselves with the formality of seeking approval (a court order) or disclosing the operation. And this was all pre-9/11 and pre-the anti-constitutional

'Patriot Act'

.

It is illegal (without a Judge's signed permission) for the United States to spy on its citizens … kinda. The laws have long been circumvented by a mutual pact among five nations. Under the terms of UKUSA agreement, Britain spies on Americans and America spies on British citizens, and then the two conspirators trade data. A classic technical finesse. It is legal, but the intent to evade the spirit is inescapable.

I often fictionalized the genesis of 'Echelon' as an informal meeting of a group of post war American and British intelligence types drinking in some remote rustic bar. An imagined CIA type complains to his MI6 buddy about the hassles of US laws preventing US intelligence from surveillance of bad guys, and the Brit echoes the same complaint.

"Hey wait a moment mate," says Nigel, the make-believe MI6 guy, "I can spy on your guys and you can spy on our bad players…why don't we just come up with a mechanism whereby we spy on your villains, you spy on our villains, and we just 'share' the intel?"

This system was called ECHELON, and has been kicking around in some form longer than most of you. The result of the UKUSA treaty signed by the United States, United Kingdom, Canada, Australia and New Zealand was, and is, to have a vast global intelligence monster which allegedly shares common goals.

The London Telegraph reported in December of 1997 that the Civil liberties Committee of the European Parliament had officially confirmed the existence and purpose of ECHELON. "A global electronic spy network that can eavesdrop on every telephone, e-mail and telex communication around the world will be officially acknowledged for the first time in a European Commission report. …"

The report noted: "Within Europe all e-mail, telephone and fax communications are routinely intercepted by the United States National Security Agency, transferring all target information from the European mainland via the strategic hub of London, then by satellite to Fort Meade in Maryland via the crucial hub at Menwith Hill, in the North York moors in the UK.

"The ECHELON system forms part of the UKUSA system but unlike many of the electronic spy systems developed during the Cold War, ECHELON was designed primarily for non-military targets: governments, organizations and businesses in virtually every country."

An interesting sidebar appeared in the International Herald Tribune under the headline, "Big Corporate Brother: It Knows More About You Than You Think." The story details Acxiom Corp, which was a humongous information service hidden in the Ozark foothills. Twenty-four hours a day, Acxiom electronically gathered and sorts all kinds of data about 196 million Americans. Credit card transactions and magazine subscriptions, telephone numbers, real estate records, automotive data, hunting, business and fishing licenses, consumer surveys and demographic detail that would make a marketing department's research manager salivate. This relatively new (legal) enterprise was known as "data warehousing" or "data-mining", and it underscores the cruel reality that the fiction of personal privacy has become obsolete. Technology's ability to collect and analyze data has made privacy a quaint albeit interesting dinosaur.

The Tribune reported that "Axciom can often determine whether an American owns a dog or cat, enjoys camping or gourmet cooking, reads the Bible or lots of other books. It can often pinpoint an American's occupation, car and favorite vacations. By analyzing the equivalent of billions of pages of data, it often projects for its customers who should be offered a credit card or who is likely to buy a computer."

Most of this information is from y 1998 piece. Echelon has developed, matured, and morphed into a much more powerful hybrid. 'Carnivore' was software to help triage the cacophony of data. Vault 7 and 'Umbrage' are logical (some would argue "insidious") growth.

More to follow…