---
Updated
hrs

Wo
rld & National
"The Press was protected so that it could bare the secrets of the government and inform the people. Only a free and unrestrained press can effectively expose deception in government. And paramount among the responsibilities of a free press is the duty to prevent any part of the government from deceiving the people."
-- Justice Hugo L. Black
(1886-1971) US Supreme Court Justice

Trump hailed by Afghan president:
'A difference of day and night'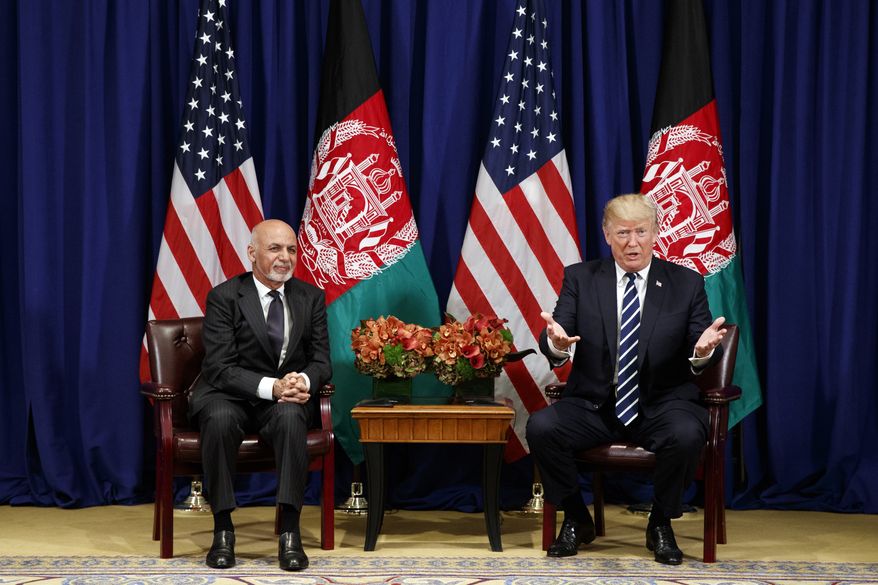 President Trump received glowing praise Thursday from Afghanistan President Ashraf Ghani for the new war strategy, which was credited for turning around the 16-year war against Taliban militants and other radical Islamic terrorists.

"It is a difference of day and night," Mr. Ghani said at a meeting with Mr. Trump. "The cloud of uncertainty has been lifted, but equally important is your commitment to a political solution at the end of this process."

Mr. Trump announced the new strategy a month ago. It included setting long-term goals for the war effort, sending more U.S. troops to train and assist the Afghan military and revisions rules of engagement.

"You made this decision on the basis of courage and determination. We salute you," Mr. Ghani said of the renewed commitment to the war.


---
Puerto Rico could be without power for months after Hurricane Maria


Puerto Rico may be without power for months after Hurricane Maria hit the U.S. territory with powerful winds that downed trees, ripped the roofs off homes and turned roads into rivers with flash flooding.

Gov. Ricardo Rosselló told CNN late Wednesday night that it may take months to restore power to the entire island.

He said that as a result of the powerful Category 4 hurricane, no one on the island has power from utilities since the power grid is 'a little bit old, mishandled and weak'.

HURRICANE MARIA'S RAMPAGE DEMOLISHES PUERTO RICO...
Fear, pain, shock...
ENTIRELY without power...
'No Trees'...
Young people already fled island...
SATELLITE...
CONE...

---

Hundreds Missing in Mexico City Days After Earthquake

Rescue workers, hampered by heavy rains, continued to search for survivors early Thursday from this week's deadly earthquake that killed at least 230 people, a toll that seemed sure to rise amid reports of nearly as many people missing.

Overnight, the body of a 58-year-old teacher was removed from the collapsed remains of the Enrique Rebsamen primary school in southern Mexico City.

The school, which accounted for the greatest loss of life during the quake, was the focus on an intense recovery effort aimed at rescuing what appeared to be one or more girls trapped inside. By early Thursday, the attempts had not been successful.


---

Emails point to Paul Manafort's offer to brief Russian billionaire in campaign

In the middle of Donald Trump's presidential run, then-campaign chairman Paul Manafort said he was willing to provide "private briefings" about the campaign to a Russian billionaire the U.S. government considers close to Russian President Vladimir Putin.

Manafort's offer was memorialized in an email exchange with a former employee of his political consulting firm in July 2016. It was first reported by The Washington Post, which said portions of Manafort's emails were read to reporters.

Manafort spokesman Jason Maloni confirmed to The Associated Press that the email exchanges were legitimate but said no briefings ever occurred. The email involved an offer for Oleg Deripaska, a wealthy Russian who made his money in the aluminum business.


---
It's Tillerson vs. Haley Over Iranian Nuclear Deal


Rex Tillerson and Nikki Haley are squaring off over the Iranian nuclear deal, with the secretary of state pushing President Donald Trump to remain in the accord while the U.N. ambassador fights for the president's agenda, The Washington Free Beacon reported.

The president ran on a platform of ending what he calls the worst deal ever made, and earlier this week said it was an "embarrassment."
Yet, Tillerson is urging Trump to keep the U.S. in the deal, stoking tensions with Haley.

---

Graham-Cassidy Bill 'Right Solution at the Right Time'

Next week's vote on the Graham-Cassidy healthcare bill will be close, but the Trump administration believes the repeal and replace legislation is the "right solution at the right time," Vice President Mike Pence said Thursday.

"We're close, and the Graham-Cassidy bill we believe is the right solution at the right time to repeal and replace Obamacare with the kind of reform that will allow states to innovate and to create better quality healthcare, better access for Americans and capture that innovation of democracy and reform that, frankly, our founders contemplated when they crafted the Constitution," Pence told Fox News' "Fox & Friends."


---

Divided Democratic Party Debates Its Future

Every party cast out of power endures a period of soul-searching. But the Democrats' dilemma was unimaginable even a year ago, when Clinton seemed to be coasting toward the White House and demographic change fueled dreams of a permanent national majority. Now, eight months into the Trump presidency, the party looks to face its toughest odds since Ronald Reagan won 49 states in 1984. The Democrats are in their deepest congressional rut since the class of 1946 was elected, and hold the fewest governors' mansions--15--since 1922. Of the 98 partisan legislatures in the U.S., Republicans control 67. During Barack Obama's presidency, Democrats lost 970 seats in state legislatures, leaving the party's bench almost bare. The median age of their congressional leadership is 67, and many of the obvious early presidential front runners will be in their 70s by the 2020 election.

Meanwhile, there's still no sign the Democrats have learned the lessons of the last one. "I've tried to learn from my own mistakes. There are plenty," Clinton writes in her campaign memoir What Happened. The book, released on Sept. 12, casts blame on Russia, the FBI and the candidate herself, but never quite finds a satisfying answer to the titular question. Even if it did, these days the party seems to prize ideological purity over Clintonian pragmatism. "There is no confusion about what we Democrats are against. The only disagreement," says strategist Neil Sroka, "is what we're for."


---

Alliance of blue states vows to meet Paris climate goals without Trump
U.S. Climate Alliance says 14 states represent 'third largest country in world'

The governors of more than a dozen liberal states, described as the economic equivalent of "the third-largest country in the world," said Wednesday they are on track to meet their share of the Paris climate agreement despite President Trump's decision to withdraw.

Known as the U.S. Climate Alliance, the 14 governors released a report showing that their states will be able to reduce emissions by 24 percent to 29 percent below 2005 levels by 2025, which would "fulfill their contribution to the Paris Agreement targets."

"We're doing something in the face of inaction, or as Gov. [Andrew] Cuomo said, denial," said Gov. Jerry Brown, California Democrat, at a press conference in New York City.


---

Gillespie attacks Northam in ad over sanctuary city stance

Both the Democrat and Republican in Virginia's governor's race say the state doesn't have any sanctuary cities — contradicting the Trump administration, which earlier this year fingered two counties as sanctuaries for refusing to fully cooperate with deportations.

But despite their apparent agreement, GOP candidate Ed Gillespie rolled out a new ad Wednesday attacking Democrat Ralph Northam on the issue, saying Mr. Northam opposed legislation that would have prevented sanctuary cities from starting up.

The ad underscores the messy politics of immigration, which President Trump thrust to the forefront during his own 2016 campaign, and has kept their in the months since, demanding an end to sanctuary cities he says protect dangerous illegal immigrants.


---

VA fires former D.C. Medical Center director using new law's authority

The Department of Veterans Affairs fired former Washington, D.C., VA Medical Center Director Brian Hawkins Wednesday for "failure to provide effective leadership" at the D.C. Medical Center.

The department said it took this action using authorities provided by the VA Accountability Act, which President Trump signed into law in June. Mr. Hawkins was notified in late August that he was facing removal.

"We at VA will use the authorities available to ensure our veterans get the highest quality service and care possible," said VA Secretary Dr. David J. Shulkin. "This is the right decision for veterans in D.C., and employees at the medical center, and underscores our commitment to hold employees accountable if they fail to do their jobs or live up to VA's values."


---

The perennial taste of sour grapes
Allegations of foreign election tampering have always rung hollow

On her current book tour, Hillary Clinton is still blaming the Russians (among others) for her unexpected defeat in last year's presidential election. She remains sold on a conspiracy theory that Donald Trump successfully colluded with Russian President Vladimir Putin to rig the election in Mr. Trump's favor.

But allegations that a president won an election due to foreign collusion have been lodged by losers of elections throughout history. Some of the charges may have had a kernel of truth, but it has never been proven that foreign tampering changed the outcome of an election.

In 2012, then-President Barack Obama inadvertently left his mic on during a meeting with outgoing Russian President Dmitry Medvedev. Mr. Obama seemed to be reassuring the Russians that if they would just behave (i.e., give Mr. Obama "space") during his re-election campaign, Mr. Obama would have "more flexibility" on Russian demands for the U.S. to drop its plans for an Eastern European missile defense system.


---

Good-bye, Columbus
A closer look explains the explorer's New World conduct

With Columbus Day upon us leftist rage is approaching gale force. Blinded by their irrational hatred they denounce Columbus and the civilization he symbolized for every ill ever visited upon this hemisphere. They are domestic Taliban, whose goal is the cultural obliteration of our society.

First things first. Christopher Columbus was a man of his time in outlook but one of immense courage and vision. He was not looking for the New World, but his seamanship in crossing the Atlantic has seldom been equaled. And yes, he did discover America — no one else's discovery took, St. Brendan and his merry monks or Norsemen notwithstanding.

Second, when the great explorer's critics accuse him of genocide, they ignore the definition of the word. As defined by the American Heritage Dictionary genocide is "the systematic, planned annihilation of a racial, political, or cultural group." Spaniards were brutal in suppressing revolts, but genocide was not part of the scheme; slavery and conversion were. Columbus was not even involved in suppressing the slave revolt in Hispaniola. The uprising, quite justified in light of Spanish cruelty, was crushed by Gov. Nicholas de Ovando. Meanwhile, Columbus was marooned on Jamaica with Ovando in no rush to rescue him.


"It is discouraging to think how many people are shocked by honesty and how few by deceit."
-- Noel Coward
(1899-1973) British playwright
---
---
The Medal of Honor is the highest award for valor in action against an enemy force which can be bestowed upon an individual serving in the Armed Services of the United States.
GeneTrerally presented to its recipient by the President of the United States of America in the name of Congress.
The first award of the Medal of Honor was made March 25, 1863 to Private JACOB PARROTT.The last award of the Medal of Honor was made September 15, 2011 to Sergeant DAKOTA MEYER.
Since then there have been: • 3458 recipients of the Medal of Honor.
• Today there are 85 Living Recipients of the Medal of Honor.
Citation

Captain Humbert R. Versace distinguished himself by extraordinary heroism during the period of 29 October 1963 to 26 September 1965, while serving as S-2 Advisor, Military Assistance Advisory Group, Detachment 52, Ca Mau, Republic of Vietnam. While accompanying a Civilian Irregular Defense Group patrol engaged in combat operations in Thoi Binh District, An Xuyen Province, Captain Versace and the patrol came under sudden and intense mortar, automatic weapons, and small arms fire from elements of a heavily armed enemy battalion. As the battle raged, Captain Versace, although severely wounded in the knee and back by hostile fire, fought valiantly and continued to engage enemy targets. Weakened by his wounds and fatigued by the fierce firefight, Captain Versace stubbornly resisted capture by the over-powering Viet Cong force with the last full measure of his strength and ammunition. Taken prisoner by the Viet Cong, he exemplified the tenets of the Code of Conduct from the time he entered into Prisoner of War status. Captain Versace assumed command of his fellow American soldiers, scorned the enemy's exhaustive interrogation and indoctrination efforts, and made three unsuccessful attempts to escape, despite his weakened condition which was brought about by his wounds and the extreme privation and hardships he was forced to endure. During his captivity, Captain Versace was segregated in an isolated prisoner of war cage, manacled in irons for prolonged periods of time, and placed on extremely reduced ration. The enemy was unable to break his indomitable will, his faith in God, and his trust in the United States of America. Captain Versace, an American fighting man who epitomized the principles of his country and the Code of Conduct, was executed by the Viet Cong on 26 September 1965. Captain Versace's gallant actions in close contact with an enemy force and unyielding courage and bravery while a prisoner of war are in the highest traditions of the military service and reflect the utmost credit upon himself and the United States Army.
---
3/14/20017

We Have Met the Enemy…

Geoff Metcalf
"They who can give up essential liberty to obtain a little temporary safety deserve neither liberty nor safety.
--Benjamin Franklin
"The American people must be willing to give up a degree of personal privacy in exchange for safety and security."
--Louis Freeh

In the wake of the clamor over the most recent WikiLeaks data dump, 'Vault 7', 'UMBRAGE', et al, it should be noted this is not really anything new. What we are seeing here is simply the evolution of something that goes back to the late 50s (to the incomplete best knowledge I have).
It is kinda cool to finally see even the New York Times (www.nytimes.com/2017/03/09/opinion/the-truth-about-the-wikileaks-cia-cache.html?_r=0) acknowledging material I was writing about in 1998 (http://www.wnd.com/1998/04/6108/ ).
In April of 1998 I wrote "Privacy has become an anachronism." I was commenting on "a massive system designed to intercept all your e-mail, fax traffic and more." I was explaining 'Echelon', the illegitimate offspring of a UKUSA treaty (https://www.nationalarchives.gov.uk/ukusa/ ) signed by the United States, United Kingdom, Canada, Australia and New Zealand. Its purpose was, and is, to have a vast global intelligence monster, which allegedly shares common goals. The system was so "efficient" that reportedly National Security Agency folk from Fort Meade could work from Menwith Hill in England to intercept local communications without either nation having to burden themselves with the formality of seeking approval (a court order) or disclosing the operation. And this was all pre-9/11 and pre-the anti-constitutional 'Patriot Act'.
It is illegal (without a Judge's signed permission) for the United States to spy on its citizens … kinda. The laws have long been circumvented by a mutual pact among five nations. Under the terms of UKUSA agreement, Britain spies on Americans and America spies on British citizens, and then the two conspirators trade data. A classic technical finesse. It is legal, but the intent to evade the spirit is inescapable.
I often fictionalized the genesis of 'Echelon' as an informal meeting of a group of post war American and British intelligence types drinking in some remote rustic bar. An imagined CIA type complains to his MI6 buddy about the hassles of US laws preventing US intelligence from surveillance of bad guys, and the Brit echoes the same complaint.
"Hey wait a moment mate," says Nigel, the make-believe MI6 guy, "I can spy on your guys and you can spy on our bad players…why don't we just come up with a mechanism whereby we spy on your villains, you spy on our villains, and we just 'share' the intel?"
This system was called ECHELON, and has been kicking around in some form longer than most of you. The result of the UKUSA treaty signed by the United States, United Kingdom, Canada, Australia and New Zealand was, and is, to have a vast global intelligence monster which allegedly shares common goals.
The London Telegraph reported in December of 1997 that the Civil liberties Committee of the European Parliament had officially confirmed the existence and purpose of ECHELON. "A global electronic spy network that can eavesdrop on every telephone, e-mail and telex communication around the world will be officially acknowledged for the first time in a European Commission report. …"
The report noted: "Within Europe all e-mail, telephone and fax communications are routinely intercepted by the United States National Security Agency, transferring all target information from the European mainland via the strategic hub of London, then by satellite to Fort Meade in Maryland via the crucial hub at Menwith Hill, in the North York moors in the UK.
"The ECHELON system forms part of the UKUSA system but unlike many of the electronic spy systems developed during the Cold War, ECHELON was designed primarily for non-military targets: governments, organizations and businesses in virtually every country."
An interesting sidebar appeared in the International Herald Tribune under the headline, "Big Corporate Brother: It Knows More About You Than You Think." The story details Acxiom Corp, which was a humongous information service hidden in the Ozark foothills. Twenty-four hours a day, Acxiom electronically gathered and sorts all kinds of data about 196 million Americans. Credit card transactions and magazine subscriptions, telephone numbers, real estate records, automotive data, hunting, business and fishing licenses, consumer surveys and demographic detail that would make a marketing department's research manager salivate. This relatively new (legal) enterprise was known as "data warehousing" or "data-mining", and it underscores the cruel reality that the fiction of personal privacy has become obsolete. Technology's ability to collect and analyze data has made privacy a quaint albeit interesting dinosaur.
The Tribune reported that "Axciom can often determine whether an American owns a dog or cat, enjoys camping or gourmet cooking, reads the Bible or lots of other books. It can often pinpoint an American's occupation, car and favorite vacations. By analyzing the equivalent of billions of pages of data, it often projects for its customers who should be offered a credit card or who is likely to buy a computer."
Most of this information is from y 1998 piece. Echelon has developed, matured, and morphed into a much more powerful hybrid. 'Carnivore' was software to help triage the cacophony of data. Vault 7 and 'Umbrage' are logical (some would argue "insidious") growth.
More to follow…