"It Is Not A Question of Who Is Right Or Wrong But What Is Right Or Wrong That Counts.

"

--Geoff Metcalf
Wo

rld & National
Biden caves after being battered on abortion by media, liberal rivals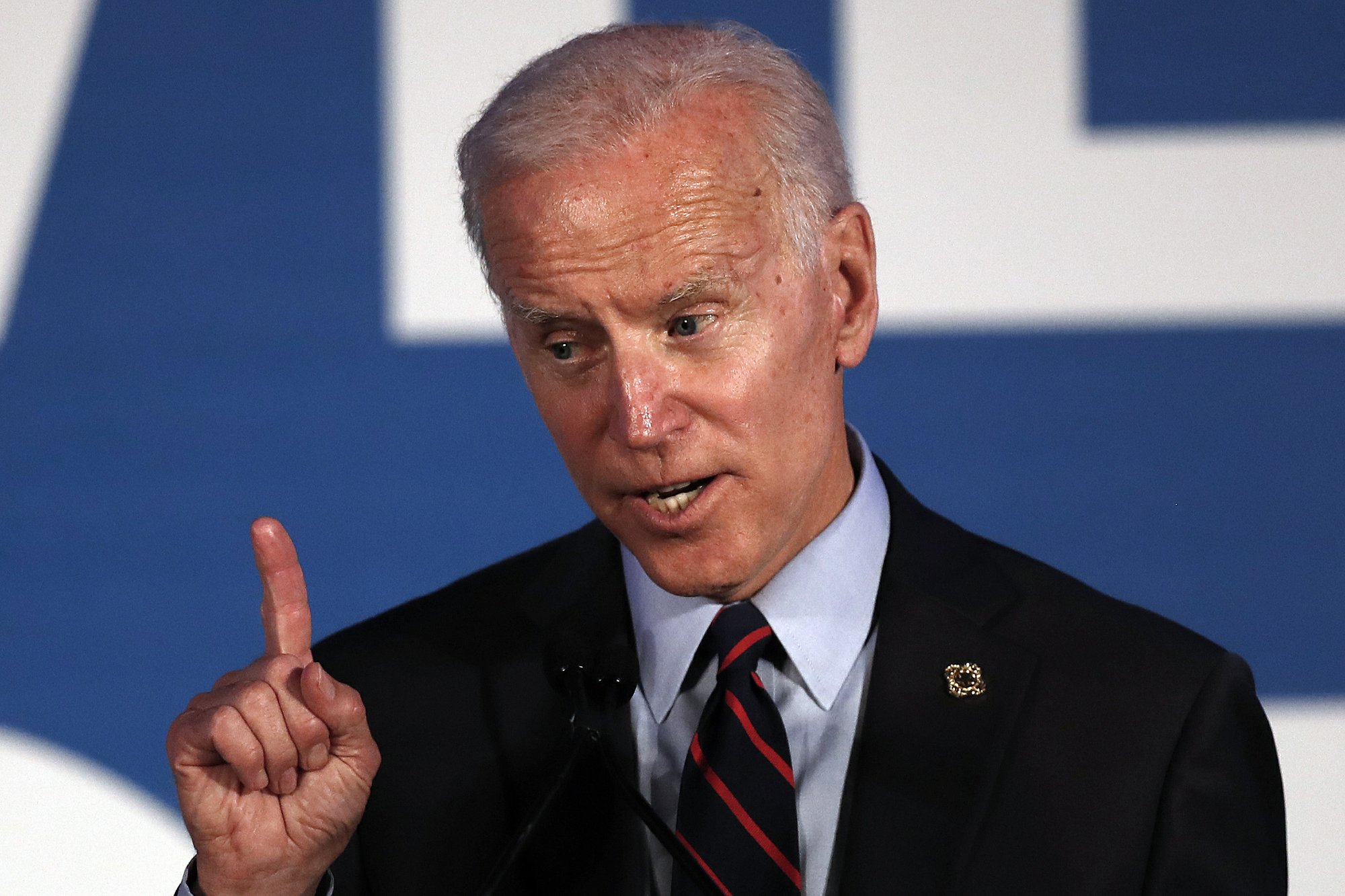 The left is suddenly piling on Joe Biden, with ample help from the media.
It was inevitable that some of the more liberal candidates would go after Joe because he's in a position to cruise to the nomination unless he gets roughed up.
And journalists are primed for any takedown attempt because they want a competitive race, and Biden is turning it into a snooze-a-thon.
What's more, many journalists and pundits agree with the carping that Biden isn't liberal enough. And simmering in the background is a bit of embarrassment that they predicted Biden would be such a weak candidate; they wouldn't mind a little retroactive vindication.
---
Pompeo: Trump's 'America First' discards multilateralism that no longer works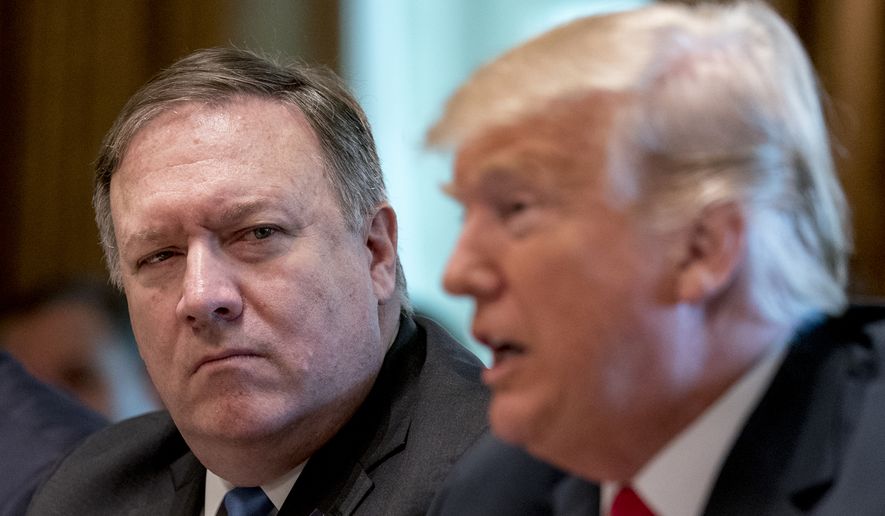 President Trump is not trying to tear apart the European Union. He is also not bent on abandoning any of the big multinational institutions — NATO, the United Nations, the World Bank, the International Monetary Fund, the World Trade Organization and others — that the U.S. built up after World War II.
He is, however, committed to putting American interests first in foreign policy, and that means big institutions found to be no longer effective in promoting Western values of freedom and human rights must reform or face abandonment from Washington.
That was the central message of Mike Pompeo, at first Mr. Trump's chief spy and now his chief diplomat, charged with explaining the shift in Washington to a wary world. The secretary of state and former CIA chief has served as the tip of the spear in translating Mr. Trump's "America First" vision to nervous European leaders, and he spoke expansively of the president's mission in a wide-ranging interview with The Washington Times this week as he rounded out his second tour through the capitals of the continent in less than a month.
---

House Democrats, Republicans Secretly Negotiating Congressional Pay Raise

Party leaders from both sides of the aisle met in private this week to negotiate a deal that would give lawmakers their first pay bump since 2009, but one day later, the National Republican Congressional Committee blasted Democrats alone for considering a pay raise.

House Majority Leader Steny Hoyer, D-Md., hosted a meeting Tuesday with House Minority Leader Kevin McCarthy, R-Calif., House Minority Whip Steve Scalise, R-La., and Rep. Cedric Richmond, D-La., to talk about a deal, reports Politico Playbook.

McCarthy and Scalise have said they're open to a pay raise that would increase lawmakers' salaries from $174,000. McCarthy in May told NBC that lawmakers are leaving because of the pay, and Congress hasn't had a cost-of-living adjustment in a decade.


---
US and Russian warships nearly collide in the Pacific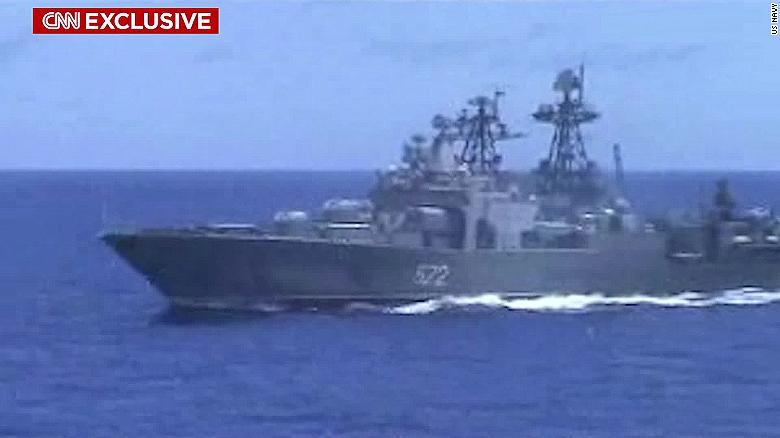 The United States and Russian navies are at odds over an apparent near collision in the Pacific Friday with each side blaming the other.

The US and Russian warships came somewhere between 50 feet and 165 feet of each other, according to the two opposing reports, with both sides alleging their ships were forced to perform emergency maneuvers to avoid a collision, which can be seen in video and a picture of the event obtained by CNN.

This latest incident comes just days after the US Navy accused Russia of intercepting a US aircraft and amid tensions with Moscow on a wide range of geopolitical issues. Last month, Secretary of State Mike Pompeo met Russian Vladimir Putin in the resort town of Sochi, where he warned Russia about interfering in US elections, taking a tougher public line than President Donald Trump on the issue.


---
U.S. Navy says Russians were 'unsafe and unprofessional' in dangerous near collision incident
A U.S. missile cruiser and Russian destroyer nearly collided Friday in the Philippine Sea, with the two vessels coming within at least 100 feet of one another as the two nations traded blame for the incident.
American officials say the USS Chancellorsville was forced to take emergency actions to avoid hitting Russia's Udaloy I DD 572.
It's the latest in a string of air and sea confrontations between the U.S. and Russia.
---
FBI wiretap petitions for Trump campaign contained key errors
Four FBI wiretap applications targeting a Trump campaign volunteer were more inaccurate than previously known based on subsequent investigative information, an analysis shows.
The FBI applications to federal judges under the Foreign Intelligence Surveillance Act (FISA) are a central focus of the Justice Department's special review of how the Obama administration started its probe into the Donald Trump campaign.
---
'Whole Life Democrats' seek to redefine party's stance on abortion
Louisiana legislator sponsors anti-abortion constitutional amendment
Louisiana state Rep. Katrina R. Jackson has been called plenty of names — a fake Democrat, a traitor, even a Republican — but she prefers another label: "whole life Democrat."
The two-term legislator has repeatedly defied her party with her staunch pro-life advocacy. She not only voted this week to place the No Right to Abortion constitutional amendment on the 2020 ballot, but she also sponsored it.
Yet Ms. Jackson is more than a random political outlier. She is helping carve a niche in her party for Democrats who oppose abortion but support a host of social programs, including a livable wage, affordable health care, equal pay for women and criminal justice reform.
---
Pence: US 'Encouraged' by Mexico's Proposals as Tariffs Loom
U.S. and Mexican officials claim to be making progress as they labored for a second day to avert import tariffs. But President Donald Trump is still threatening to impose them as he tries to pressure Mexico into stemming the flow of Central American migrants across the United States' southern border.
Vice President Mike Pence, monitoring the talks from his travels in Pennsylvania, said Thursday the U.S. was "encouraged" by Mexico's latest proposals but that tariffs still were set to take effect on Monday.
Pence added that it would be "for the president to decide" whether Mexico was doing enough to head off the tariffs. Pence said that, among other issues, negotiators had been discussing a potential agreement to make it difficult for those who enter Mexico from other countries to claim asylum in the U.S. Mexico has long resisted that request.
---
Jobs creation slows dramatically with payrolls up just 75,000 in May, much worse than expected
Job creation decelerated strongly in May, with nonfarm payrolls up by just 75,000 even as the unemployment rate remained at a 50-year low, the Labor Department reported Friday.
The decline was the second in four months that payrolls increased by less than 100,000 as the labor market continues to show signs of weakening. Economists surveyed by Dow Jones had been looking for a gain of 180,000.
In addition to the weak total for May, the previous two months' reports saw substantial downward revisions. March's count fell from 189,000 to 153,000 and the April total was taken down to 224,000 from 263,000, for a total reduction of 75,000 jobs.
---
Pomp, fakery, shock, rage, and crisis averted
Another crisis lies behind us. The New York Times had reported that Donald Trump was, all by himself, plotting to destroy the Special Relationship with Britain, and The Washington Post reported unidentified troop movements near Yorktown, believed to be remnants of the British army surrendered by Gen. Cornwallis, marching on the capital to avenge Mr. Trump's various insults in London.
But the president apparently used all the right forks at the dinner, he didn't drool on his tie, and he seemed to get along swimmingly with Queen Elizabeth II at the elegant state dinner at Buckingham Palace. An occasional royal smile widened into a grin (perhaps at one of the president's jokes), he made no attempt to grab anything, and the Special Relationship survived intact. "But it was a close-run thing," the Duke of Wellington told CNN News. The trip was a success.
---
Hope and respect are the keys to peace in Israel
If employers have to lay off workers because of the boycott, everyone gets hurt, including Arabs
Hope and respect will help bring peace throughout Israel.
Tonette and I visited Israel this past week. I saw a glimpse of that hope while visiting a company called Alon Group in Samaria. There we spoke with owner Rafael Alon and his team. Of the hundreds of people that they employ at that factory, about half of the workforce is Jewish and the other half is Arab.
Rafael says he loves all of his employees. And he notes with pride that his workers make about two and a half times as much at his factory as people make in the Arab areas. Having a good-paying job makes people much more interested in keeping their job and maintaining their homes without conflict.
---
---
"It is discouraging to think how many people are shocked by honesty and how few by deceit."

-- Noel Coward

(1899-1973) British playwright

---

The Medal of Honor is the highest award for valor in action against an enemy force which can be bestowed upon an individual serving in the Armed Services of the United States.

GeneTrerally presented to its recipient by the President of the United States of America in the name of Congress.

The first award of the Medal of Honor was made March 25, 1863 to Private JACOB PARROTT.The last award of the Medal of Honor was made September 15, 2011 to Sergeant DAKOTA MEYER.

Since then there have been: • 3458 recipients of the Medal of Honor.

• Today there are 85 Living Recipients of the Medal of Honor.

Citation


Captain Humbert R. Versace distinguished himself by extraordinary heroism during the period of 29 October 1963 to 26 September 1965, while serving as S-2 Advisor, Military Assistance Advisory Group, Detachment 52, Ca Mau, Republic of Vietnam. While accompanying a Civilian Irregular Defense Group patrol engaged in combat operations in Thoi Binh District, An Xuyen Province, Captain Versace and the patrol came under sudden and intense mortar, automatic weapons, and small arms fire from elements of a heavily armed enemy battalion. As the battle raged, Captain Versace, although severely wounded in the knee and back by hostile fire, fought valiantly and continued to engage enemy targets. Weakened by his wounds and fatigued by the fierce firefight, Captain Versace stubbornly resisted capture by the over-powering Viet Cong force with the last full measure of his strength and ammunition. Taken prisoner by the Viet Cong, he exemplified the tenets of the Code of Conduct from the time he entered into Prisoner of War status. Captain Versace assumed command of his fellow American soldiers, scorned the enemy's exhaustive interrogation and indoctrination efforts, and made three unsuccessful attempts to escape, despite his weakened condition which was brought about by his wounds and the extreme privation and hardships he was forced to endure. During his captivity, Captain Versace was segregated in an isolated prisoner of war cage, manacled in irons for prolonged periods of time, and placed on extremely reduced ration. The enemy was unable to break his indomitable will, his faith in God, and his trust in the United States of America. Captain Versace, an American fighting man who epitomized the principles of his country and the Code of Conduct, was executed by the Viet Cong on 26 September 1965. Captain Versace's gallant actions in close contact with an enemy force and unyielding courage and bravery while a prisoner of war are in the highest traditions of the military service and reflect the utmost credit upon himself and the United States Army.

---

From the Archives

We Have Met the Enemy…
Geoff Metcalf


"They who can give up essential liberty to obtain a little temporary safety deserve neither liberty nor safety.
--Benjamin Franklin
"The American people must be willing to give up a degree of personal privacy in exchange for safety and security."
--Louis Freeh


In the wake of the clamor over the most recent WikiLeaks data dump, 'Vault 7', 'UMBRAGE', et al, it should be noted this is not really anything new. What we are seeing here is simply the evolution of something that goes back to the late 50s (to the incomplete best knowledge I have).

It is kinda cool to finally see even

The New York Times

acknowledging material

I was writing about in 1998

.

In April of 1998 I wrote "Privacy has become an anachronism." I was commenting on "a massive system designed to intercept all your e-mail, fax traffic and more." I was explaining 'Echelon', the illegitimate offspring of a

UKUSA Treaty

signed by the United States, United Kingdom, Canada, Australia and New Zealand. Its purpose was, and is, to have a vast global intelligence monster, which allegedly shares common goals. The system was so "efficient" that reportedly National Security Agency folk from Fort Meade could work from Menwith Hill in England to intercept local communications without either nation having to burden themselves with the formality of seeking approval (a court order) or disclosing the operation. And this was all pre-9/11 and pre-the anti-constitutional

'Patriot Act'

.

It is illegal (without a Judge's signed permission) for the United States to spy on its citizens … kinda. The laws have long been circumvented by a mutual pact among five nations. Under the terms of UKUSA agreement, Britain spies on Americans and America spies on British citizens, and then the two conspirators trade data. A classic technical finesse. It is legal, but the intent to evade the spirit is inescapable.

I often fictionalized the genesis of 'Echelon' as an informal meeting of a group of post war American and British intelligence types drinking in some remote rustic bar. An imagined CIA type complains to his MI6 buddy about the hassles of US laws preventing US intelligence from surveillance of bad guys, and the Brit echoes the same complaint.

"Hey wait a moment mate," says Nigel, the make-believe MI6 guy, "I can spy on your guys and you can spy on our bad players…why don't we just come up with a mechanism whereby we spy on your villains, you spy on our villains, and we just 'share' the intel?"

This system was called ECHELON, and has been kicking around in some form longer than most of you. The result of the UKUSA treaty signed by the United States, United Kingdom, Canada, Australia and New Zealand was, and is, to have a vast global intelligence monster which allegedly shares common goals.

The London Telegraph reported in December of 1997 that the Civil liberties Committee of the European Parliament had officially confirmed the existence and purpose of ECHELON. "A global electronic spy network that can eavesdrop on every telephone, e-mail and telex communication around the world will be officially acknowledged for the first time in a European Commission report. …"

The report noted: "Within Europe all e-mail, telephone and fax communications are routinely intercepted by the United States National Security Agency, transferring all target information from the European mainland via the strategic hub of London, then by satellite to Fort Meade in Maryland via the crucial hub at Menwith Hill, in the North York moors in the UK.

"The ECHELON system forms part of the UKUSA system but unlike many of the electronic spy systems developed during the Cold War, ECHELON was designed primarily for non-military targets: governments, organizations and businesses in virtually every country."

An interesting sidebar appeared in the International Herald Tribune under the headline, "Big Corporate Brother: It Knows More About You Than You Think." The story details Acxiom Corp, which was a humongous information service hidden in the Ozark foothills. Twenty-four hours a day, Acxiom electronically gathered and sorts all kinds of data about 196 million Americans. Credit card transactions and magazine subscriptions, telephone numbers, real estate records, automotive data, hunting, business and fishing licenses, consumer surveys and demographic detail that would make a marketing department's research manager salivate. This relatively new (legal) enterprise was known as "data warehousing" or "data-mining", and it underscores the cruel reality that the fiction of personal privacy has become obsolete. Technology's ability to collect and analyze data has made privacy a quaint albeit interesting dinosaur.

The Tribune reported that "Axciom can often determine whether an American owns a dog or cat, enjoys camping or gourmet cooking, reads the Bible or lots of other books. It can often pinpoint an American's occupation, car and favorite vacations. By analyzing the equivalent of billions of pages of data, it often projects for its customers who should be offered a credit card or who is likely to buy a computer."

Most of this information is from y 1998 piece. Echelon has developed, matured, and morphed into a much more powerful hybrid. 'Carnivore' was software to help triage the cacophony of data. Vault 7 and 'Umbrage' are logical (some would argue "insidious") growth.

More to follow…