Friday June 23rd, 2017
"It Is Not A Question of Who Is Right Or Wrong But What Is Right Or Wrong That Counts.
"
--Geoff Metctalf
---
Updated
hrs

Wo
rld & National
"The Press was protected so that it could bare the secrets of the government and inform the people. Only a free and unrestrained press can effectively expose deception in government. And paramount among the responsibilities of a free press is the duty to prevent any part of the government from deceiving the people."
-- Justice Hugo L. Black
(1886-1971) US Supreme Court Justice

Sealing and transfer of Susan Rice records angers House committee investigating 'unmasking'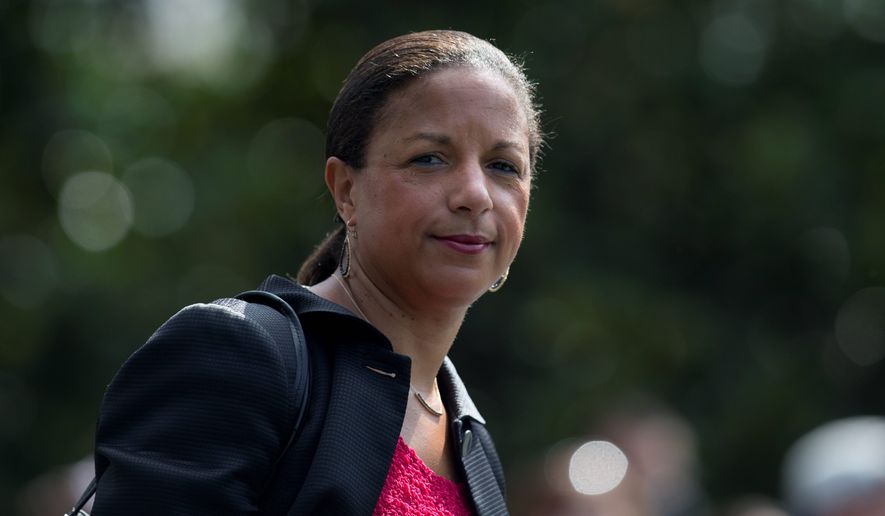 House intelligence committee sources say career officials at the National Security Council are slow-walking the delivery of subpoenaed records on former National Security Adviser Susan E. Rice's handling of classified information and the "unmasking" of Trump campaign workers — material from the Russian hacking probe that middle-level NSC managers claim was transferred to President Obama's library and could "remain closed to the public for five years."
One source, speaking only on the condition of anonymity, called the transfer curious and appeared to reflect an effort by former administration officials to obscure evidence on whether Ms. Rice and other top officials in the Obama White House illegally tried to identify which Trump campaign and transition aides had been caught up in the U.S. intelligence intercepts of Russian interference in the presidential race.
The two high-level intelligence committee sources told The Washington Times that they are confident the panel's investigators, despite the delays, will eventually get their hands on the records shipped to a heavily secure archive for Mr. Obama's yet-to-be-built presidential library.
---
Trump argues tape allegations meant to keep Comey honest, calls Mueller-Comey ties 'bothersome'
President Trump said Friday that his comment about tapes was to keep former FBI Director James B. Comey honest.
"I didn't tape, and I don't have any tape, and I didn't tape. But when he found out that there may be tapes out there, whether it's governmental tapes, or anything else, who knows, I think his story may have changed. And you'll have to take a look at that because then he has to tell what actually took place at the events," Mr. Trump said on Fox News.
On the possible resignation of special counsel Robert Mueller, Mr. Trump said Mr. Mueller's friendship with Mr. Comey and his staff's ties to former Democratic nominee Hillary Clinton were "bothersome." Mr. Trump also denied again the charges of collusion or obstruction of justice regarding his campaign's ties to Russia and Mr. Comey's firing.
---
Lobbyist who helped write Obamacare legislation locked out of Republican process
It took secrecy to lock out the lobbyists.
The health care bill was drafted behind closed doors by Senate Republican leaders, drawing howls from Democrats who said they were shut out of the process.
Also left outside, however, was the army of health care industry lobbyists who helped draft Obamacare in 2009 and 2010 but didn't get a say this time.
---
Trump says 'It would be a very, very sad day for Repulicans' if Pelosi steps down
President Donald Trump said he hopes House Democratic Leader Nancy Pelosi does not step down from her post.
In an appearance on "Fox & Friends" that aired on Friday, Trump said he would like Pelosi to stay right where she is because she has an "extraordinary record against her."
"It would be a very, very sad day for Republicans if she steps down. I would be very disappointed if she did," Trump said.
Pelosi staying: 'I think I'm worth the trouble.'

---
Trump Aides respond to His Latest Conspiracy Tweets
After a cascading series of controversies created in large part by Donald Trump's Twitter account, the president took to his preferred medium again on Thursday to float another conspiracy theory: the Oval Office itself could be under surveillance.
Trump ended speculation on Thursday about whether he had installed a recording device in the Oval Office and made "tapes" of his conversations with former FBI director James Comey, a possibility he first raised in another tweet in early May. "I did not make, and do not have, any such recordings," he wrote.
But then, unprompted, he floated another possibility: U.S. intelligence or law enforcement officials might have his office bugged. "With all of the recently reported electronic surveillance, intercepts, unmasking and illegal leaking of information, I have no idea whether there are 'tapes' or recordings of my conversations with James Comey," Trump wrote.
---
Supreme Court could reveal action on travel ban at any time
The Supreme Court has almost certainly decided what to do about President Donald Trump's travel ban affecting citizens of six mostly Muslim countries.
The country is waiting for the court to make its decision public about the biggest legal controversy in the first five months of Trump's presidency. The issue has been tied up in the courts since Trump's original order in January sparked widespread protests just days after he took office.
The justices met Thursday morning for their last regularly scheduled private conference in June and probably took a vote about whether to let the Trump administration immediately enforce the ban and hear the administration's appeal of lower court rulings blocking the ban.
---
Obama's secret struggle to punish Russia for Putin's election assault
Early last August, an envelope with extraordinary handling restrictions arrived at the White House. Sent by courier from the CIA, it carried "eyes only" instructions that its contents be shown to just four people: President Barack Obama and three senior aides.
Inside was an intelligence bombshell, a report drawn from sourcing deep inside the Russian government that detailed Russian President Vladi≠mir Putin's direct involvement in a cyber campaign to disrupt and discredit the U.S. presidential race.
But it went further. The intelligence captured Putin's specific instructions on the operation's audacious objectives — defeat or at least damage the Democratic nominee, Hillary Clinton, and help elect her opponent, Donald Trump.
At that point, the outlines of the Russian assault on the U.S. election were increasingly apparent. Hackers with ties to Russian intelligence services had been rummaging through Democratic Party computer networks, as well as some Republican systems, for more than a year. In July, the FBI had opened an investigation of contacts between Russian officials and Trump associates. And on July 22, nearly 20,000 emails stolen from the Democratic National Committee were dumped online by WikiLeaks.
---
White House reporters object to off-camera briefings
The White House Correspondents' Association (WHCA) is urging President Trump's spokespeople to allow the daily press briefing to be broadcast on radio and television.
WHCA President Jeff Mason said he met with White House press secretary Sean Spicer and his deputy, Sarah Huckabee Sanders, on Thursday to convey the reporters' concerns about the increasing number of off-camera briefings.
"We have urged the White House not to replace on-camera briefings with 'gaggles,' not-for-broadcast question & answer sessions," Mason said in a statement.
---
Brexit: EU leaders say UK offer could 'worsen situation'
European leaders have criticised the UK's offer to EU nationals after Brexit - with one senior figure claiming it could "worsen the situation" for them.
European Council President Donald Tusk said the plan was "below expectations" while German Chancellor Angela Merkel said there had been "no breakthrough".
Theresa May conceded there were differences between the two sides.
---
Foreign student population in U.S. grows to 1.2 million
Nearly 1.2 million foreign students are living and studying at schools in the U.S., Homeland Security reported Friday, with the vast majority of those coming from Asia.
The data, collected by U.S. Immigration and Customs Enforcement from its student and exchange visitor database, said the number is up 2 percent compared to 2016.
China dominates the program, with 362,368 students, trailed by India at 206,698.
---
Johnny Depp, Courting Outrage, Flirts With Idea of Trump Assassination
The actor Johnny Depp is the latest American entertainment figure to suggest — however jokingly, ironically or obliquely — the killing of President Trump.
Speaking on Thursday at the Glastonbury arts festival in southwest England, Mr. Depp asked the audience, "Can you bring Trump here?"
The remark was met with booing and jeering, and he continued: "You misunderstand completely. When was the last time an actor assassinated a president? I want to clarify: I'm not an actor. I lie for a living. However, it's been awhile, and maybe it's time."
The words were being interpreted as an allusion to the assassination of President Abraham Lincoln by John Wilkes Booth, an actor, in 1865.
---
The party's over and no place to call home
That's the dilemma of the Democrats, forlorn, despondent and walking in circles like the goose hit on the head with a long-handled wooden spoon. They're asking questions for which there are no happy answers in the wake of their fourth straight loss in a round of special elections.
The only consoling words the mainstream-media pundits have come up with is that they came close. "It certainly wasn't a blow-out," one Democratic consultant said on election night. "We did pretty well."
Well, not as bad as it could have been, anyway. That was the consolation a small boy offered to George McGovern a day or so after he lost 49 of 50 states — which one pundit called "running the table from A to B." The late Mr. McGoo, a genuinely nice guy who didn't have a clue about what made the America of his time tick, waited to board a flight with a man and his little boy. The boy told him: "Don't feel too bad, coming in second is pretty good."
---
Supporting medicine and its finest practitioners
The response to the Alexandria shooting reveals the kind of health care system we must build
Treating emergencies isn't your insurance talking. It's doctoring. It's nursing. It's medical technology. It's your stone-filled gallbladder obstructing and a top surgeon operating on it without delay. You can't prove that a junior attending surgeon wouldn't do just as well, but you can feel it when the wound is healing so well two days later where the angry raw organ was scope-sucked successfully from your body.
The best of emergency health care is what we saw represented on the television screen last week, as top doctors came forward to describe their craft, a reminder that the health insurance future we've all been debating lacks real flesh on its bones. An insurance company can't manufacture or guarantee the dedication or skill of a Dr. Jack Sava, head of trauma at Medstar Washington Hospital Center, who directed the lifesaving interventions for House Majority Whip Steven Scalise.
"It is discouraging to think how many people are shocked by honesty and how few by deceit."
-- Noel Coward
(1899-1973) British playwright
---
---
The Medal of Honor is the highest award for valor in action against an enemy force which can be bestowed upon an individual serving in the Armed Services of the United States.
GeneTrerally presented to its recipient by the President of the United States of America in the name of Congress.
The first award of the Medal of Honor was made March 25, 1863 to Private JACOB PARROTT.The last award of the Medal of Honor was made September 15, 2011 to Sergeant DAKOTA MEYER.
Since then there have been: • 3458 recipients of the Medal of Honor.
• Today there are 85 Living Recipients of the Medal of Honor.
Citation

Captain Humbert R. Versace distinguished himself by extraordinary heroism during the period of 29 October 1963 to 26 September 1965, while serving as S-2 Advisor, Military Assistance Advisory Group, Detachment 52, Ca Mau, Republic of Vietnam. While accompanying a Civilian Irregular Defense Group patrol engaged in combat operations in Thoi Binh District, An Xuyen Province, Captain Versace and the patrol came under sudden and intense mortar, automatic weapons, and small arms fire from elements of a heavily armed enemy battalion. As the battle raged, Captain Versace, although severely wounded in the knee and back by hostile fire, fought valiantly and continued to engage enemy targets. Weakened by his wounds and fatigued by the fierce firefight, Captain Versace stubbornly resisted capture by the over-powering Viet Cong force with the last full measure of his strength and ammunition. Taken prisoner by the Viet Cong, he exemplified the tenets of the Code of Conduct from the time he entered into Prisoner of War status. Captain Versace assumed command of his fellow American soldiers, scorned the enemy's exhaustive interrogation and indoctrination efforts, and made three unsuccessful attempts to escape, despite his weakened condition which was brought about by his wounds and the extreme privation and hardships he was forced to endure. During his captivity, Captain Versace was segregated in an isolated prisoner of war cage, manacled in irons for prolonged periods of time, and placed on extremely reduced ration. The enemy was unable to break his indomitable will, his faith in God, and his trust in the United States of America. Captain Versace, an American fighting man who epitomized the principles of his country and the Code of Conduct, was executed by the Viet Cong on 26 September 1965. Captain Versace's gallant actions in close contact with an enemy force and unyielding courage and bravery while a prisoner of war are in the highest traditions of the military service and reflect the utmost credit upon himself and the United States Army.
---
3/14/20017

We Have Met the Enemy…

Geoff Metcalf
"They who can give up essential liberty to obtain a little temporary safety deserve neither liberty nor safety.
--Benjamin Franklin
"The American people must be willing to give up a degree of personal privacy in exchange for safety and security."
--Louis Freeh

In the wake of the clamor over the most recent WikiLeaks data dump, 'Vault 7', 'UMBRAGE', et al, it should be noted this is not really anything new. What we are seeing here is simply the evolution of something that goes back to the late 50s (to the incomplete best knowledge I have).
It is kinda cool to finally see even the New York Times (www.nytimes.com/2017/03/09/opinion/the-truth-about-the-wikileaks-cia-cache.html?_r=0) acknowledging material I was writing about in 1998 (http://www.wnd.com/1998/04/6108/ ).
In April of 1998 I wrote "Privacy has become an anachronism." I was commenting on "a massive system designed to intercept all your e-mail, fax traffic and more." I was explaining 'Echelon', the illegitimate offspring of a UKUSA treaty (https://www.nationalarchives.gov.uk/ukusa/ ) signed by the United States, United Kingdom, Canada, Australia and New Zealand. Its purpose was, and is, to have a vast global intelligence monster, which allegedly shares common goals. The system was so "efficient" that reportedly National Security Agency folk from Fort Meade could work from Menwith Hill in England to intercept local communications without either nation having to burden themselves with the formality of seeking approval (a court order) or disclosing the operation. And this was all pre-9/11 and pre-the anti-constitutional 'Patriot Act'.
It is illegal (without a Judge's signed permission) for the United States to spy on its citizens … kinda. The laws have long been circumvented by a mutual pact among five nations. Under the terms of UKUSA agreement, Britain spies on Americans and America spies on British citizens, and then the two conspirators trade data. A classic technical finesse. It is legal, but the intent to evade the spirit is inescapable.
I often fictionalized the genesis of 'Echelon' as an informal meeting of a group of post war American and British intelligence types drinking in some remote rustic bar. An imagined CIA type complains to his MI6 buddy about the hassles of US laws preventing US intelligence from surveillance of bad guys, and the Brit echoes the same complaint.
"Hey wait a moment mate," says Nigel, the make-believe MI6 guy, "I can spy on your guys and you can spy on our bad players…why don't we just come up with a mechanism whereby we spy on your villains, you spy on our villains, and we just 'share' the intel?"
This system was called ECHELON, and has been kicking around in some form longer than most of you. The result of the UKUSA treaty signed by the United States, United Kingdom, Canada, Australia and New Zealand was, and is, to have a vast global intelligence monster which allegedly shares common goals.
The London Telegraph reported in December of 1997 that the Civil liberties Committee of the European Parliament had officially confirmed the existence and purpose of ECHELON. "A global electronic spy network that can eavesdrop on every telephone, e-mail and telex communication around the world will be officially acknowledged for the first time in a European Commission report. …"
The report noted: "Within Europe all e-mail, telephone and fax communications are routinely intercepted by the United States National Security Agency, transferring all target information from the European mainland via the strategic hub of London, then by satellite to Fort Meade in Maryland via the crucial hub at Menwith Hill, in the North York moors in the UK.
"The ECHELON system forms part of the UKUSA system but unlike many of the electronic spy systems developed during the Cold War, ECHELON was designed primarily for non-military targets: governments, organizations and businesses in virtually every country."
An interesting sidebar appeared in the International Herald Tribune under the headline, "Big Corporate Brother: It Knows More About You Than You Think." The story details Acxiom Corp, which was a humongous information service hidden in the Ozark foothills. Twenty-four hours a day, Acxiom electronically gathered and sorts all kinds of data about 196 million Americans. Credit card transactions and magazine subscriptions, telephone numbers, real estate records, automotive data, hunting, business and fishing licenses, consumer surveys and demographic detail that would make a marketing department's research manager salivate. This relatively new (legal) enterprise was known as "data warehousing" or "data-mining", and it underscores the cruel reality that the fiction of personal privacy has become obsolete. Technology's ability to collect and analyze data has made privacy a quaint albeit interesting dinosaur.
The Tribune reported that "Axciom can often determine whether an American owns a dog or cat, enjoys camping or gourmet cooking, reads the Bible or lots of other books. It can often pinpoint an American's occupation, car and favorite vacations. By analyzing the equivalent of billions of pages of data, it often projects for its customers who should be offered a credit card or who is likely to buy a computer."
Most of this information is from y 1998 piece. Echelon has developed, matured, and morphed into a much more powerful hybrid. 'Carnivore' was software to help triage the cacophony of data. Vault 7 and 'Umbrage' are logical (some would argue "insidious") growth.
More to follow…