"It Is Not A Question of Who Is Right Or Wrong But What Is Right Or Wrong That Counts.

"

--Geoff Metcalf
Providing an on line Triage of the news since 1997



Wo

rld & Nation



Barr's Move on Durham Bad for Biden
Attorney General Bill Barr's decision to appoint U.S. Attorney John Durham as a special counsel to investigate the origins of the probe into Russia and President Donald Trump's 2016 campaign is bad news for Joe Biden and could hinder a potential nomination of Sally Yates as attorney general, George Washington University law professor Jonathan Turley writes in an opinion piece.
The appointment also contradicts news reports claiming Durham hadn't found anything of significance after being tapped in May 2019 to conduct the investigation because Barr would have had to find that there was a need for further criminal investigation but that it would have been a conflict of interest for the Department of Justice to conduct it, Turley says in his USA Today article, published on Wednesday.
And after former FBI attorney Kevin Clinesmith's guilty plea to altering an email that was used to seek surveillance warrants against ex-Trump campaign adviser Carter Page, the further investigation and conflict likely do not involve people in the current administration, but rather those expected to join Biden's administration, said Turley.
---
Rep. Brooks of Alabama will object to Biden's Electoral College votes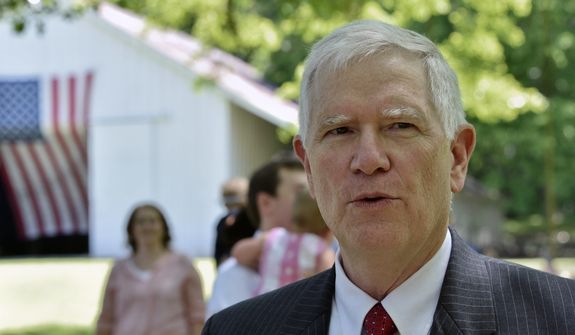 Republican Rep. Mo Brooks of Alabama said he plans to challenge the Electoral College votes on Jan. 6 when Congress meets to certify the election for presumptive President-elect Joseph R. Biden.
In comments to reporters, Mr. Brooks is citing allegations of widespread voter fraud as his motivation.
He said he is seeking Republican senators willing to join him. That would enable Congress to suspend a joint session and allow the House and Senate to meet separately to debate objections to the presidential electors.
---
Trump campaign goes after Lin Wood, pro-Trump attorney who suggested Ga. boycott
President Trump's campaign is going after Lin Wood, the pro-Trump attorney who has talked openly about Republicans boycotting the upcoming Georgia runoffs in January.
A campaign Twitter account for Mr. Trump shared a Breitbart story late Thursday about Mr. Wood's past ties to Democrats. Mr. Wood replied that he is historically "nonpartisan" but that he loves Mr. Trump and gave $375,000 to the president's political action committee.
"Attacks being lodged against me do NOTHING to change my position," he said on Twitter Thursday. "I have principles. 11/3 election in GA was unlawful & unconstitutional. GA needs to fix system before January election."
---
DHS inspector general investigating alleged warrantless surveillance
The Department of Homeland Security is investigating its employees' alleged warrantless surveillance, according to a letter from Department of Homeland Security Inspector General Joseph V. Cuffari to five Democratic senators.
In October, five Democrats wrote to DHS' inspector general to ask that he investigate the U.S. Customs and Border Protection's alleged warrantless domestic surveillance of cellphones via technology developed by a government contractor.
This week, Sen. Ron Wyden, Oregon Democrat, published a reply he and the other Democrats received from DHS' inspector general saying that it would investigate whether DHS violated policies involving cellphone surveillance.
---
Iowa Democrat asks Pelosi, House Democrats to overturn her loss
An Iowa Democrat who lost her election bid by six votes said Wednesday she will ask Speaker Nancy Pelosi and the House to overturn the certified result and declare her the winner.
The move is striking, at a time when Democrats and much of the political press is criticizing President Trump for similar challenges in his race against Democrat Joseph R. Biden for the White House.
Iowa this week certified Mariannette Miller-Meeks, a Republican, as the winner in the state's 2nd Congressional District, defeating Rita Hart, the Democratic candidate.
Ms. Hart could have challenged the result in Iowa but didn't. Instead, Republicans said, she "ran to Speaker Pelosi" to try to get a favorable ruling from fellow Democrats in Washington.
---
Pelosi caves, backs bipartisan COVID-19 relief proposal as basis for new negotiations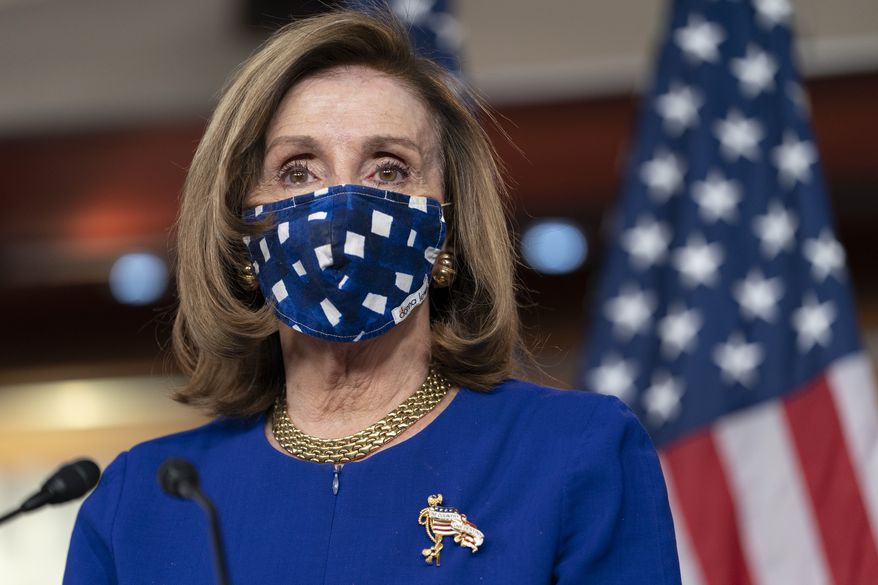 House Speaker Nancy Pelosi caved Wednesday on her demand for a $2 trillion-plus coronavirus relief package and endorsed a much smaller bipartisan package as a jumping-off point for new talks.
A deal is still a long way off. Senate Majority Leader Mitch McConnell, Kentucky Republican, is focusing on an even slimmer approach that is preapproved by President Trump.
As recently as Monday, Mrs. Pelosi, California Democrat, and Senate Minority Leader Charles E. Schumer, New York Democrat, were offering a bigger relief package to Republicans than the $908 billion plan they now embrace.
---
David Cohen Top Contender for CIA Chief
Former Deputy CIA Director David Cohen is Joe Biden's top choice to oversee the spy agency.
The New York Times reported no final decision has been made and one is not expected to be announced until at least next week.
But Biden is said to favor Cohen, who served as CIA deputy director during the Obama administration. The Times attributed the information to multiple people familiar with the process of filling the post. Ultimately, Biden's pick for the CIA job depends, in part, on the mix of people he wants to lead the Pentagon and other agencies.
Avril Haines, Biden's pick to serve as director of national intelligence, is also in favor of Cohen, who had succeeded her as deputy CIA chief, the Times noted.
---
Black Lives Matter movement imploding over internal power struggle, money grabs
Black Lives Matter is facing a rebellion within its own ranks as regional affiliates seek greater control over the movement and demand answers about where millions of dollars in donations have gone.
After years of tensions between the national organization and local outlets, the rift went public this week with the release of a statement by 10 BLM chapters accusing the top brass at the Black Lives Matter Global Network Foundation of failing to open their books or share the wealth with the rank and file.
"For years, there has been inquiry regarding the financial operations of BLMGN and no acceptable process of either public or internal transparency about the unknown millions of dollars donated to BLMGN, which has certainly increased during this time of pandemic and rebellion," reads the "Statement from the Frontlines of BLM" posted Monday.
---
Saudi Arabia, Qatar Near US-Brokered Deal to End Lengthy Rift
Saudi Arabia and Qatar are nearing a preliminary deal to end a rift that's dragged on for more than three years, prodded by a Trump administration seeking foreign policy wins during its waning days in the White House, three people with knowledge of the talks said.
The tentative agreement does not involve the three other Arab countries that also severed diplomatic and trade ties with Qatar in June 2017 — the United Arab Emirates, Bahrain, and Egypt. A fourth person said a broader realignment remained a long way off as the underlying issues, such as Doha's relations with Tehran, remained unresolved.
The potential breakthrough follows months of intense diplomacy mediated by Kuwait, which reached fruition with a final push from President Donald Trump's son-in-law and Middle East envoy Jared Kushner, who visited the Gulf this week. The rapprochement is likely to include reopening air space and land borders, an end to the information war Qatar and Saudi Arabia have waged, and other confidence-building steps as part of a detailed plan to gradually rebuild relations, two of the people said.
---
Biden: I Won't Immediately Lift China Tariffs
Joe Biden says he won't immediately lift tariffs placed by President Donald Trump on many imports from China or break Trump's initial trade deal.
Biden says he wants to maximize his leverage in future talks with the United States' geopolitical rival.
Speaking to New York Times columnist Thomas Friedman, Biden said, "I'm not going to make any immediate moves, and the same applies to the tariffs." Biden adds in Friedman's column published Wednesday: "I'm not going to prejudice my options."
---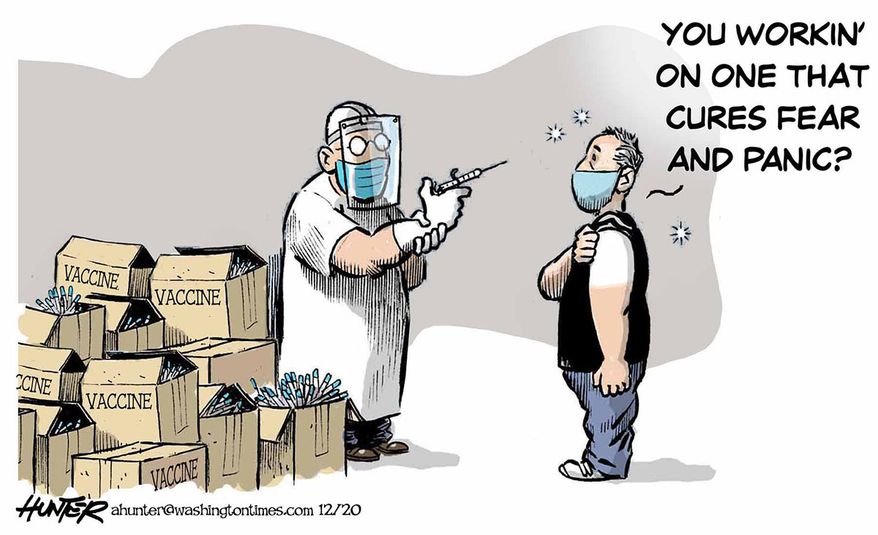 ---
Lack of third parties may have cost Trump the election
President didn't crater among women, non-Whites, educated voters
In the wake of every election, people try to twist what happened to fit their narrative. This year was no different.
Do voters really want compromise? All the smart people in Washington have hurried to tell us that the split results mean that the people want compromise and cooperation. That is certainly one interpretation. Here's another: The voters voted for divided government specifically because they are distrustful of giving one party too much power and don't really want the federal government to do too much.
Which explanation sounds more likely?
---
Is Biden physically and mentally up to the job of president?
A president of the United States needs to be fit and aware to address every challenge
Whenever President-elect Joe Biden makes a rare public appearance and is out of the immediate control of his team it increases my suspicions that he is not physically, and above all mentally, up to the job he is about to take over.
Last week, Mr. Biden fractured his foot and now must wear a walking boot for several weeks while it heals. The Biden staff claims the fracture occurred while he played with his dog, Major. They also want us to know the German Shepherd is a rescue dog, which is a joke waiting to be told, full of irony. Who will "rescue" Mr. Biden from himself?
The press pool was denied access and not allowed to take pictures of Mr. Biden after he visited an orthopedist and was given the boot (no pun intended). This caused even Andrea Mitchell on liberal MSNBC to complain that the Biden team wasn't being transparent about his injury. On Tuesday, he finally allowed photographers to take pictures of his boot.
---
" It is discouraging to think how many people are shocked by honesty and how few by deceit."

-- Noel Coward

(1899-1973) British playwright

---

The Medal of Honor is the highest award for valor in action against an enemy force which can be bestowed upon an individual serving in the Armed Services of the United States.

GeneTrerally presented to its recipient by the President of the United States of America in the name of Congress.

The first award of the Medal of Honor was made March 25, 1863 to Private JACOB PARROTT.The last award of the Medal of Honor was made September 15, 2011 to Sergeant DAKOTA MEYER.

Since then there have been: • 3458 recipients of the Medal of Honor.

• Today there are 85 Living Recipients of the Medal of Honor.

Citation


Captain Humbert R. Versace distinguished himself by extraordinary heroism during the period of 29 October 1963 to 26 September 1965, while serving as S-2 Advisor, Military Assistance Advisory Group, Detachment 52, Ca Mau, Republic of Vietnam. While accompanying a Civilian Irregular Defense Group patrol engaged in combat operations in Thoi Binh District, An Xuyen Province, Captain Versace and the patrol came under sudden and intense mortar, automatic weapons, and small arms fire from elements of a heavily armed enemy battalion. As the battle raged, Captain Versace, although severely wounded in the knee and back by hostile fire, fought valiantly and continued to engage enemy targets. Weakened by his wounds and fatigued by the fierce firefight, Captain Versace stubbornly resisted capture by the over-powering Viet Cong force with the last full measure of his strength and ammunition. Taken prisoner by the Viet Cong, he exemplified the tenets of the Code of Conduct from the time he entered into Prisoner of War status. Captain Versace assumed command of his fellow American soldiers, scorned the enemy's exhaustive interrogation and indoctrination efforts, and made three unsuccessful attempts to escape, despite his weakened condition which was brought about by his wounds and the extreme privation and hardships he was forced to endure. During his captivity, Captain Versace was segregated in an isolated prisoner of war cage, manacled in irons for prolonged periods of time, and placed on extremely reduced ration. The enemy was unable to break his indomitable will, his faith in God, and his trust in the United States of America. Captain Versace, an American fighting man who epitomized the principles of his country and the Code of Conduct, was executed by the Viet Cong on 26 September 1965. Captain Versace's gallant actions in close contact with an enemy force and unyielding courage and bravery while a prisoner of war are in the highest traditions of the military service and reflect the utmost credit upon himself and the United States Army.

---

From the Archives

We Have Met the Enemy…
Geoff Metcalf


"They who can give up essential liberty to obtain a little temporary safety deserve neither liberty nor safety.
--Benjamin Franklin
"The American people must be willing to give up a degree of personal privacy in exchange for safety and security."
--Louis Freeh


In the wake of the clamor over the most recent WikiLeaks data dump, 'Vault 7', 'UMBRAGE', et al, it should be noted this is not really anything new. What we are seeing here is simply the evolution of something that goes back to the late 50s (to the incomplete best knowledge I have).

It is kinda cool to finally see even

The New York Times

acknowledging material

I was writing about in 1998

.

In April of 1998 I wrote "Privacy has become an anachronism." I was commenting on "a massive system designed to intercept all your e-mail, fax traffic and more." I was explaining 'Echelon', the illegitimate offspring of a

UKUSA Treaty

signed by the United States, United Kingdom, Canada, Australia and New Zealand. Its purpose was, and is, to have a vast global intelligence monster, which allegedly shares common goals. The system was so "efficient" that reportedly National Security Agency folk from Fort Meade could work from Menwith Hill in England to intercept local communications without either nation having to burden themselves with the formality of seeking approval (a court order) or disclosing the operation. And this was all pre-9/11 and pre-the anti-constitutional

'Patriot Act'

.

It is illegal (without a Judge's signed permission) for the United States to spy on its citizens … kinda. The laws have long been circumvented by a mutual pact among five nations. Under the terms of UKUSA agreement, Britain spies on Americans and America spies on British citizens, and then the two conspirators trade data. A classic technical finesse. It is legal, but the intent to evade the spirit is inescapable.

I often fictionalized the genesis of 'Echelon' as an informal meeting of a group of post war American and British intelligence types drinking in some remote rustic bar. An imagined CIA type complains to his MI6 buddy about the hassles of US laws preventing US intelligence from surveillance of bad guys, and the Brit echoes the same complaint.

"Hey wait a moment mate," says Nigel, the make-believe MI6 guy, "I can spy on your guys and you can spy on our bad players…why don't we just come up with a mechanism whereby we spy on your villains, you spy on our villains, and we just 'share' the intel?"

This system was called ECHELON, and has been kicking around in some form longer than most of you. The result of the UKUSA treaty signed by the United States, United Kingdom, Canada, Australia and New Zealand was, and is, to have a vast global intelligence monster which allegedly shares common goals.

The London Telegraph reported in December of 1997 that the Civil liberties Committee of the European Parliament had officially confirmed the existence and purpose of ECHELON. "A global electronic spy network that can eavesdrop on every telephone, e-mail and telex communication around the world will be officially acknowledged for the first time in a European Commission report. …"

The report noted: "Within Europe all e-mail, telephone and fax communications are routinely intercepted by the United States National Security Agency, transferring ll target information from the Eurv opean mainland via the strategic hub of London, then by satellite to Fort Meade in Maryland via the crucial hub at Menwith Hill, in the North York moors in th UK.

"The ECHELON system forms part of the UKUSA system but unlike many of the electronic spy systems developed during the Cold War, ECHELON was designed primarily for non-military targets: governments, organizations and businesses in virtually every country."

An interesting sidebar appeared in the International Herald Tribune under the headline, "Big Corporate Brother: It Knows More About You Than You Think." The story details Acxiom Corp, which was a humongous information service hidden in the Ozark foothills. Twenty-four hours a day, Acxiom electronically gathered and sorts all kinds of data about 196 million Americans. Credit card transactions and magazine subscriptions, telephone numbers, real estate records, automotive data, hunting, business and fishing licenses, consumer surveys and demographic detail that would make a marketing department's research manager salivate. This relatively new (legal) enterprise was known as "data warehousing" or "data-mining", and it underscores the cruel reality that the fiction of personal privacy has become obsolete. Technology's ability to collect and analyze data has made privacy a quaint albeit interesting dinosaur.

The Tribune reported that "Axciom can often determine whether an American owns a dog or cat, enjoys camping or gourmet cooking, reads the Bible or lots of other books. It can often pinpoint an American's occupation, car and favorite vacations. By analyzing the equivalent of billions of pages of data, it often projects for its customers who should be offered a credit card or who is likely to buy a computer."

Most of this information is from y 1998 piece. Echelon has developed, matured, and morphed into a much more powerful hybrid. 'Carnivore' was software to help triage the cacophony of data. Vault 7 and 'Umbrage' are logical (some would argue "insidious") growth.

More to follow…