"It Is Not A Question of Who Is Right Or Wrong But What Is Right Or Wrong That Counts.

"

--Geoff Metcalf
Wo

rld & National
Democrats say obstruction occurred, Trump must be held 'accountable'
Special counsel Robert Mueller said one reason he didn't recommend bringing charges against President Trump is that it could have foreclosed Congress' ability to impeach him.
In his 448-page report released Thursday, Mr. Mueller concluded that Mr. Trump did not conspire with Russia to try to subvert the 2016 election — but the special counsel said the steps the president took to try to undermine the subsequent investigation into that baseless claim could seem fishy, depending on one's perspective.
Those moves, including dangling pardons and trying to fire Mr. Mueller, never came to fruition — but Mr. Mueller says that was more because of the stoic efforts of the president's aides to thwart him than restraint on Mr. Trump's part.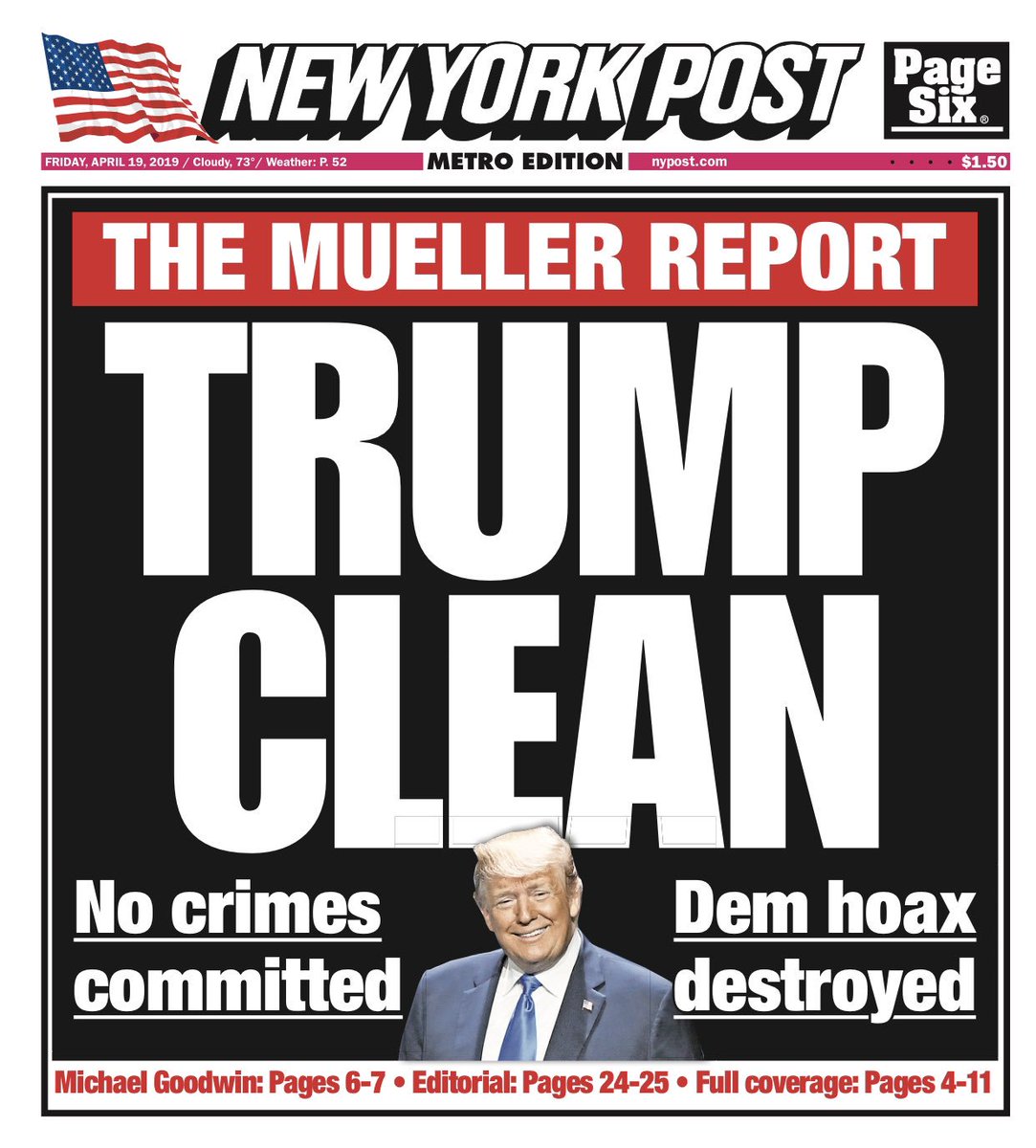 ---
Yankees ban Kate Smith's 'God Bless America' over 'history of potential racism'
The New York Yankees' anti-racism efforts have extended to pulling from their seventh-inning stretch a famous recording of the legendary Kate Smith singing "God Bless America."
Not because anyone has complained that the song is racist, but because Smith recorded other racially insensitive standards from and during the Jim Crow era.
The Yankees pulled Smith's "God Bless America" from the rotation at the start of the season, but the New York Daily News reported the reason Thursday — "the Yankees were made aware of Smith's history of potential racism."
According to the Daily News, the "potential racism" of which the Yankees were made aware included that she recorded "Pickaninny Heaven," a jingle about black children where, among other things, they fantasize about "great big watermelons." She recorded a film clip to promote the song at a black orphanage and, the Daily News reported, "much of the imagery is startlingly racist."
---
NKorea Calls for Pompeo to be Dropped from Talks
North Korea said on Thursday it no longer wanted to deal with U.S. Secretary of State Mike Pompeo and that he should be replaced in talks by someone more mature, hours after it announced its first weapons test since nuclear talks broke down.
The North's official KCNA news agency quoted senior foreign ministry official Kwon Jong Gun as warning that no one could predict the situation on the Korean peninsula if the United States did not abandon the "root cause" that compelled North Korea to develop nuclear weapons.
The statement came shortly after North Korea said leader Kim Jong Un had overseen the testing of a new tactical guided weapon, which KCNA said had a "peculiar mode of guiding flight" and "a powerful warhead."
---
Notre Dame rector: "Computer glitch" possible fire culprit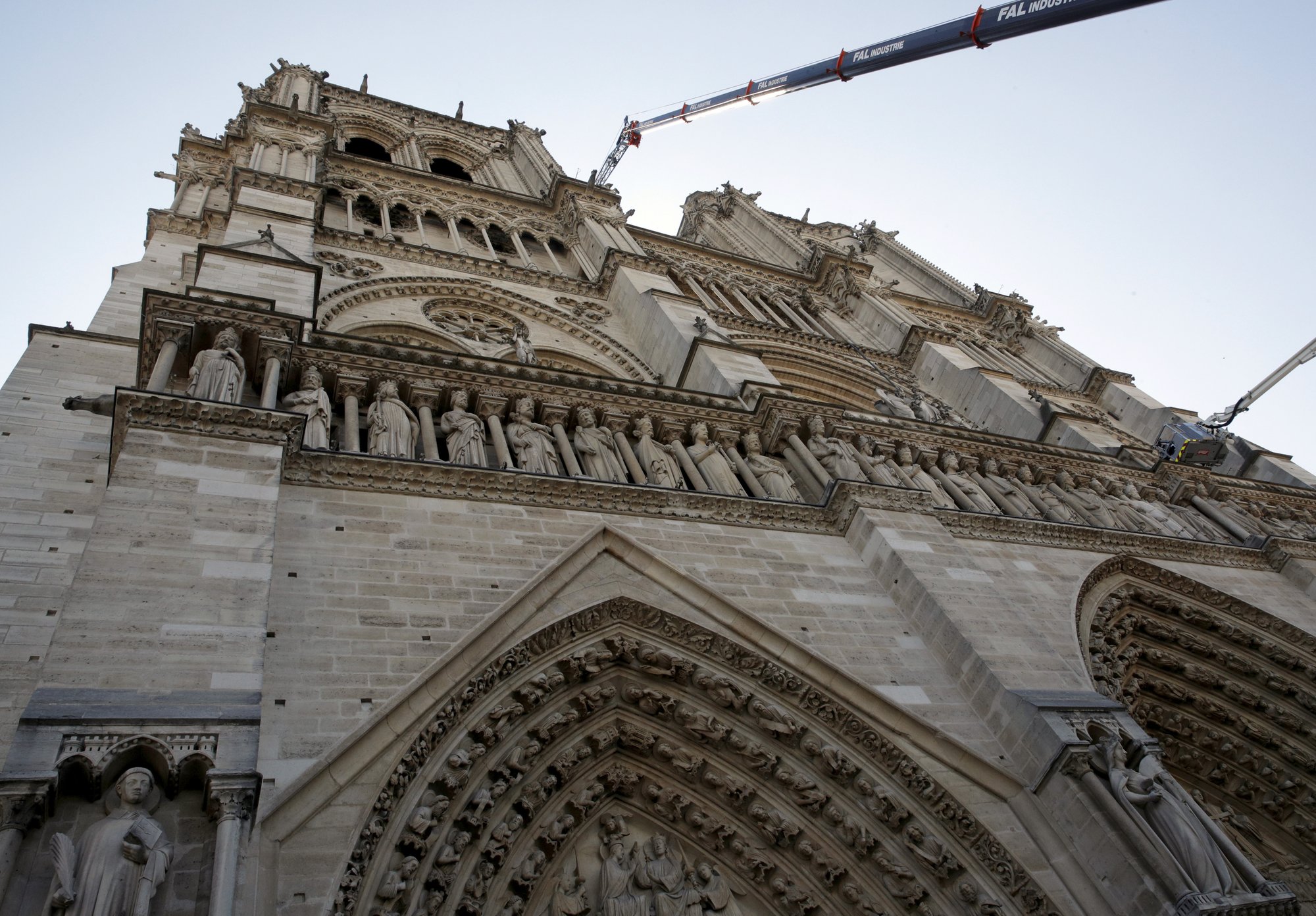 A "computer glitch" may have been behind the fast-spreading fire that ravaged Notre Dame, the cathedral's rector said Friday, as architects and construction workers tried to figure out how to stabilize the damaged structure and protect it from the elements.
The fire burned through the lattice of enormous oak beams supporting the monument's vaulted stone ceiling, dangerously weakening the building. The surrounding neighborhood has been blocked off, and stones have continued to tumble off the sides of the cathedral since Monday evening's devastating blaze.
---
Report: Biden will announce 2020 bid next week
Former Vice President Joe Biden will officially launch his presidential bid next Wednesday with a video announcement, people familiar with the matter told The Atlantic in a report published Friday.
The video will use footage shot two weeks ago outside his old family home in Scranton, Pa., roots to which he has often pointed to show his understanding of working-class struggles in America.
Biden has long been seen as likely to enter the 2020 race, and his potential campaign has loomed large over a growing Democratic primary field that already has more than a dozen candidates.
---
A top progressive pundit says mainstream Democrats are worried about Bernie Sanders winning the White House in 2020
Sen. Bernie Sanders is making mainstream Democrats nervous.
But some of the presidential candidate's supporters say it's not because they're worried Sanders can't defeat President Donald Trump in 2020. It's because he can, they say.
The Vermont democratic socialist may have surprised the party's establishment with his strong performance so far. He's been polling second, behind only former Vice President Joe Biden, who has yet to enter the race. Sanders also took the lead in an Emerson poll released Tuesday. He raised more than $18 million in the first quarter of 2019, the most money of any Democratic contender. And his base of loyal followers, who made him a force in the 2016 primary, has not gone anywhere.
---
More yellow vest protests despite Notre Dame fire
For many yellow vest protesters, the stinging sadness that came with the devastating fire at Notre Dame Cathedral has quickly given way to boiling anger.
Some of the activists, whose violent protests against inequality have been shaking up France for months, said they cried in front of their TV sets as they watched the Gothic architectural masterpiece being consumed by flames Monday night.
Despite their struggles to make ends meet, some even made small donations for the restoration of the iconic building.
---
Hatred of journalists turning to violence, watchdog warns
Hatred of journalists whipped up by populist and authoritarian leaders is degenerating into violence across the world, media watchdog Reporters Without Borders (RSF) warned Thursday.
And the number of countries where journalists can work safely is plummeting, its annual World Press Freedom Index revealed.
Political leaders' hostility towards the media "has incited increasingly frequent acts of violence that have fuelled an unprecedented level of fear and danger for journalists," the report added.
---
The National Enquirer is being sold for $100 million to James Cohen, CEO of Hudson News
American Media Inc. is selling the National Enquirer for $100 million to James Cohen, CEO of Hudson News, ending an association between a longtime friend of President Trump and the tabloid that illegally attempted to bury embarrassing news about Trump during the 2016 campaign.
The supermarket tabloid, along with two sister publications, is set to be purchased by the head of the travel retailer known for its airport newsstands.
The decision to sell came after Anthony Melchiorre, the hedge-fund manager whose firm controls AMI, became disillusioned with the reporting tactics of the Enquirer and the legal and political pressure that resulted from them, according to people familiar with the deliberations.
---
Once more, only lumps of coal in certain Christmas stockings
It was Christmas again this week and all the Democrats got in their stockings were two or three lumps of coal. Or maybe it wasn't Christmas, but Groundhog Day.
The earlier summary of Robert Mueller's findings was only a summary, after all, and everyone knew the actual report had all the good stuff. Mr. Mueller wouldn't let us down.
Ah, but he did. Great expectations dashed again. The Democrats, but for the dwindling number of grown-ups in the party of Jefferson, Jackson, Harry S. Truman and FDR, were so sure that Mr. Mueller would deliver the goods they had conferred sainthood on him, much like the Nobel Peace Prize awarded to Barack Obama before he assumed office. Now some Democrats are looking for rope to deal with the special counsel, unless that other mob, the one still in pursuit of the president, has cornered the supply of hemp on their march to the hanging tree.
---
Misleading Americans about the environment -- again
California's commitment to being the official clown car of the Democratic Party continues apace.
The latest absurdity is brought to us by legislation from the Democratically controlled state legislature seeking to ban all those little plastic toiletry bottles one finds in hotel rooms.
" 'We know we have an enormous problem with our world, we've become addicted to [plastic], and it's caused a major dilemma environmentally,' said Assemblyman Ash Kalra, who introduced Bill AB-1162 in February," Fox News reported.
This urgent need for legislation is due to, of course, climate change. Plastic is pouring into our oceans, harming the ecosystem and destroying the lives of animals. But don't tell Democrats that the culprit isn't pesky Americans or the United States. No, it's actually the direct fault of five Asian nations, led by China.
---
"It is discouraging to think how many people are shocked by honesty and how few by deceit."

-- Noel Coward

(1899-1973) British playwright

---

The Medal of Honor is the highest award for valor in action against an enemy force which can be bestowed upon an individual serving in the Armed Services of the United States.

GeneTrerally presented to its recipient by the President of the United States of America in the name of Congress.

The first award of the Medal of Honor was made March 25, 1863 to Private JACOB PARROTT.The last award of the Medal of Honor was made September 15, 2011 to Sergeant DAKOTA MEYER.

Since then there have been: • 3458 recipients of the Medal of Honor.

• Today there are 85 Living Recipients of the Medal of Honor.

Citation


Captain Humbert R. Versace distinguished himself by extraordinary heroism during the period of 29 October 1963 to 26 September 1965, while serving as S-2 Advisor, Military Assistance Advisory Group, Detachment 52, Ca Mau, Republic of Vietnam. While accompanying a Civilian Irregular Defense Group patrol engaged in combat operations in Thoi Binh District, An Xuyen Province, Captain Versace and the patrol came under sudden and intense mortar, automatic weapons, and small arms fire from elements of a heavily armed enemy battalion. As the battle raged, Captain Versace, although severely wounded in the knee and back by hostile fire, fought valiantly and continued to engage enemy targets. Weakened by his wounds and fatigued by the fierce firefight, Captain Versace stubbornly resisted capture by the over-powering Viet Cong force with the last full measure of his strength and ammunition. Taken prisoner by the Viet Cong, he exemplified the tenets of the Code of Conduct from the time he entered into Prisoner of War status. Captain Versace assumed command of his fellow American soldiers, scorned the enemy's exhaustive interrogation and indoctrination efforts, and made three unsuccessful attempts to escape, despite his weakened condition which was brought about by his wounds and the extreme privation and hardships he was forced to endure. During his captivity, Captain Versace was segregated in an isolated prisoner of war cage, manacled in irons for prolonged periods of time, and placed on extremely reduced ration. The enemy was unable to break his indomitable will, his faith in God, and his trust in the United States of America. Captain Versace, an American fighting man who epitomized the principles of his country and the Code of Conduct, was executed by the Viet Cong on 26 September 1965. Captain Versace's gallant actions in close contact with an enemy force and unyielding courage and bravery while a prisoner of war are in the highest traditions of the military service and reflect the utmost credit upon himself and the United States Army.

---

From the Archives

We Have Met the Enemy…
Geoff Metcalf


"They who can give up essential liberty to obtain a little temporary safety deserve neither liberty nor safety.
--Benjamin Franklin
"The American people must be willing to give up a degree of personal privacy in exchange for safety and security."
--Louis Freeh


In the wake of the clamor over the most recent WikiLeaks data dump, 'Vault 7', 'UMBRAGE', et al, it should be noted this is not really anything new. What we are seeing here is simply the evolution of something that goes back to the late 50s (to the incomplete best knowledge I have).

It is kinda cool to finally see even

The New York Times

acknowledging material

I was writing about in 1998

.

In April of 1998 I wrote "Privacy has become an anachronism." I was commenting on "a massive system designed to intercept all your e-mail, fax traffic and more." I was explaining 'Echelon', the illegitimate offspring of a

UKUSA Treaty

signed by the United States, United Kingdom, Canada, Australia and New Zealand. Its purpose was, and is, to have a vast global intelligence monster, which allegedly shares common goals. The system was so "efficient" that reportedly National Security Agency folk from Fort Meade could work from Menwith Hill in England to intercept local communications without either nation having to burden themselves with the formality of seeking approval (a court order) or disclosing the operation. And this was all pre-9/11 and pre-the anti-constitutional

'Patriot Act'

.

It is illegal (without a Judge's signed permission) for the United States to spy on its citizens … kinda. The laws have long been circumvented by a mutual pact among five nations. Under the terms of UKUSA agreement, Britain spies on Americans and America spies on British citizens, and then the two conspirators trade data. A classic technical finesse. It is legal, but the intent to evade the spirit is inescapable.

I often fictionalized the genesis of 'Echelon' as an informal meeting of a group of post war American and British intelligence types drinking in some remote rustic bar. An imagined CIA type complains to his MI6 buddy about the hassles of US laws preventing US intelligence from surveillance of bad guys, and the Brit echoes the same complaint.

"Hey wait a moment mate," says Nigel, the make-believe MI6 guy, "I can spy on your guys and you can spy on our bad players…why don't we just come up with a mechanism whereby we spy on your villains, you spy on our villains, and we just 'share' the intel?"

This system was called ECHELON, and has been kicking around in some form longer than most of you. The result of the UKUSA treaty signed by the United States, United Kingdom, Canada, Australia and New Zealand was, and is, to have a vast global intelligence monster which allegedly shares common goals.

The London Telegraph reported in December of 1997 that the Civil liberties Committee of the European Parliament had officially confirmed the existence and purpose of ECHELON. "A global electronic spy network that can eavesdrop on every telephone, e-mail and telex communication around the world will be officially acknowledged for the first time in a European Commission report. …"

The report noted: "Within Europe all e-mail, telephone and fax communications are routinely intercepted by the United States National Security Agency, transferring all target information from the European mainland via the strategic hub of London, then by satellite to Fort Meade in Maryland via the crucial hub at Menwith Hill, in the North York moors in the UK.

"The ECHELON system forms part of the UKUSA system but unlike many of the electronic spy systems developed during the Cold War, ECHELON was designed primarily for non-military targets: governments, organizations and businesses in virtually every country."

An interesting sidebar appeared in the International Herald Tribune under the headline, "Big Corporate Brother: It Knows More About You Than You Think." The story details Acxiom Corp, which was a humongous information service hidden in the Ozark foothills. Twenty-four hours a day, Acxiom electronically gathered and sorts all kinds of data about 196 million Americans. Credit card transactions and magazine subscriptions, telephone numbers, real estate records, automotive data, hunting, business and fishing licenses, consumer surveys and demographic detail that would make a marketing department's research manager salivate. This relatively new (legal) enterprise was known as "data warehousing" or "data-mining", and it underscores the cruel reality that the fiction of personal privacy has become obsolete. Technology's ability to collect and analyze data has made privacy a quaint albeit interesting dinosaur.

The Tribune reported that "Axciom can often determine whether an American owns a dog or cat, enjoys camping or gourmet cooking, reads the Bible or lots of other books. It can often pinpoint an American's occupation, car and favorite vacations. By analyzing the equivalent of billions of pages of data, it often projects for its customers who should be offered a credit card or who is likely to buy a computer."

Most of this information is from y 1998 piece. Echelon has developed, matured, and morphed into a much more powerful hybrid. 'Carnivore' was software to help triage the cacophony of data. Vault 7 and 'Umbrage' are logical (some would argue "insidious") growth.

More to follow…