Friday April 28th, 2017
"It Is Not A Question of Who Is Right Or Wrong But What Is Right Or Wrong That Counts.
"
--Geoff Metctalf
---
Updated
World & National
"The Press was protected so that it could bare the secrets of the government and inform the people. Only a free and unrestrained press can effectively expose deception in government. And paramount among the responsibilities of a free press is the duty to prevent any part of the government from deceiving the people."


-- Justice Hugo L. Black
(1886-1971) US Supreme Court Justice

House passes stopgap bill to avert government shutdown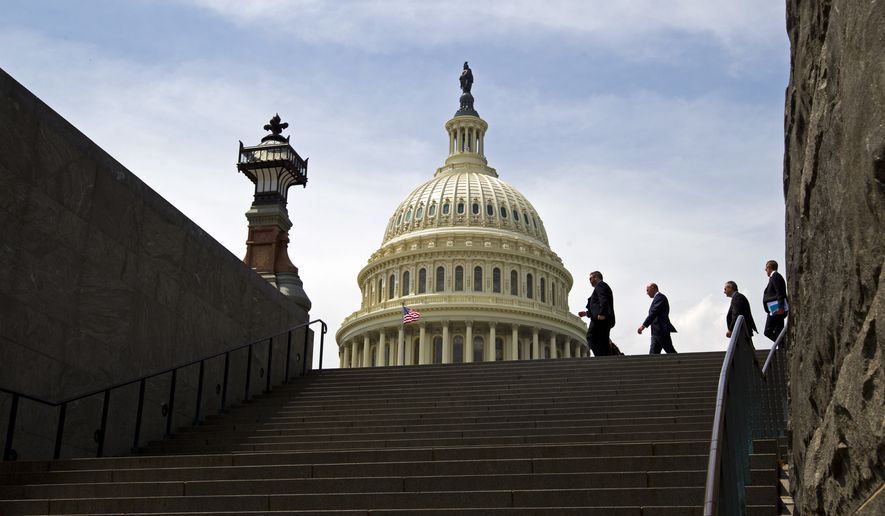 The House passed a stopgap spending bill Friday that would avert a government shutdown at midnight.

The measure, which is expected to easily pass the Senate later Friday, would give Congress another week to negotiate a bill to fund the government for the rest of the fiscal year that ends Sept. 30.

Most of the major disputes preventing a long-term spending bill were resolved earlier in the week, but Republicans and Democrats continued to haggle over issues such as helping address Puerto Rico's Medicaid crisis and fixing health care for miners.

Earlier in the week, President Trump took steps to clear the way for a deal on a long-term spending bill. Senate Democrats responded with further demands.


---
China threatens sanctions if North Korea continues nuclear tests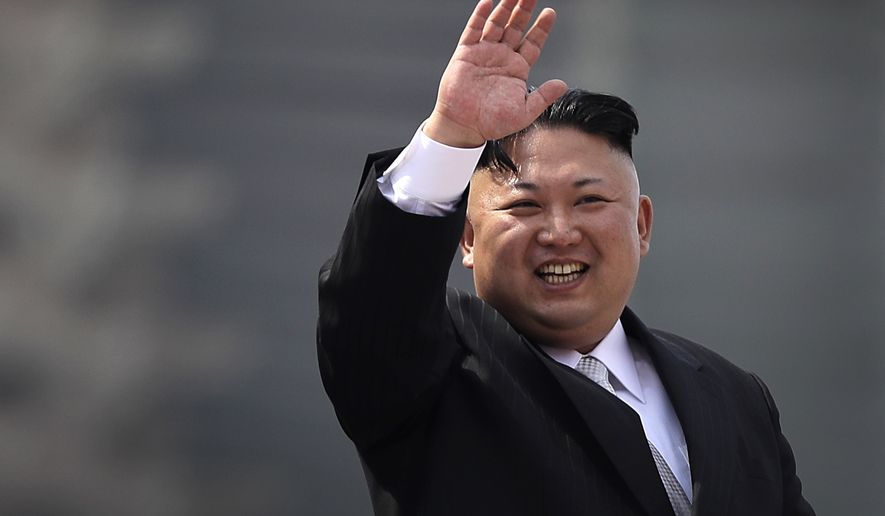 Secretary of State Rex W. Tillerson said Thursday that China has threatened to impose sanctions on North Korea if it conducts further nuclear tests.

"We know that China is in communications with the regime in Pyongyang," Mr. Tillerson said on Fox News Channel. "They confirmed to us that they had requested the regime conduct no further nuclear test."

Mr. Tillerson said China also told the U.S. that it had informed North Korea "that if they did conduct further nuclear tests, China would be taking sanctions actions on their own."

Earlier Thursday, the senior U.S. Navy officer overseeing military operations in the Pacific said the crisis with North Korea is at the worst point he's ever seen, but he declined to compare the situation to the Cuban Missile Crisis decades ago.

"It's real," Adm. Harry Harris Jr. said during testimony before the Senate Armed Services Committee.


---
Trump says 'major major' conflict with NKorea possible


U.S. President Donald Trump said on Thursday a major conflict with North Korea is possible in the standoff over its nuclear and missile programs, but he would prefer a diplomatic outcome to the dispute.

"There is a chance that we could end up having a major, major conflict with North Korea. Absolutely," Trump told Reuters in an Oval Office interview ahead of his 100th day in office on Saturday.

Nonetheless, Trump said he wanted to peacefully resolve a crisis that has bedeviled multiple U.S. presidents, a path that he and his administration are emphasizing by preparing a variety of new economic sanctions while not taking the military option off the table.

"We'd love to solve things diplomatically but it's very difficult," he said.


---

Trump's loyal voters aren't buying 'shameful' media spin

As President Trump reaches his 100-day mark in office, an unfriendly news media has done much to undermine his efforts. Trump voters appear to be ignoring it all, says Ford O'Connell, a political strategist and an adjunct professor at the George Washington University Graduate School of Political Management.

"Employing a blitzkrieg-style deluge of misleading headlines, both online and in print, coupled with a heavy diet of 89 percent negative broadcast network news coverage of Trump, the groupthink of the liberal media bubble has tried mightily to portray President Trump's first 100 days in office as the worst political disaster of the last half century," Mr. O'Connell tells The Washington Times.

"How else are we to explain the fact that President Trump has the lowest approval rating since 1945, yet his supporters express little-to-no buyer's remorse and that if the 2016 presidential election were held today, Trump would win the popular vote over Hillary Clinton, according to the latest Washington Post-ABC News poll?" he continued.


---

U.S. Economy Grew 0.7% in First Quarter
Slowest in Three Years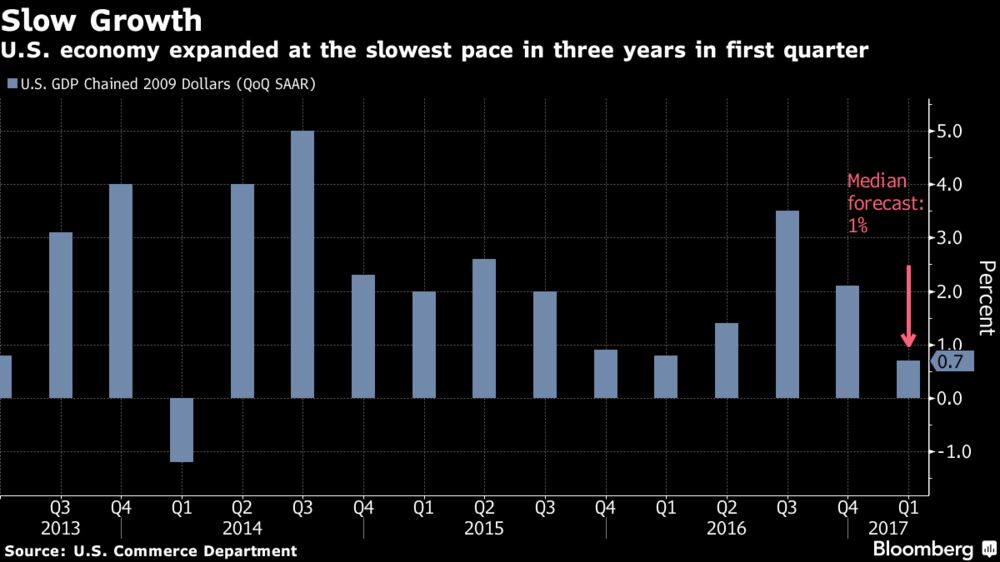 The U.S. economy expanded at the slowest pace in three years as weak auto sales and lower home-heating bills dragged down consumer spending, offsetting a pickup in investment led by housing and oil drilling.

Gross domestic product, the value of all goods and services produced, rose at a 0.7 percent annualized rate after advancing 2.1 percent in the prior quarter, Commerce Department data showed Friday in Washington. The median forecast of economists surveyed by Bloomberg called for a 1 percent gain. Consumer spending, the biggest part of the economy, rose 0.3 percent, the worst performance since 2009.



President addresses NRA on eve of 100 Days...
LIST: Accomplishments...
Trump complains Saudis not paying fair share for defense...
State Dept plans 9% cut of diplomats, civil servants...
CONFESSION: What Press Still Doesn't Get About Trump...
POLL: Media Earns Poor Marks...
Newspaper Reporter, Broadcaster Top List Of Worst Jobs...

---

Sessions Defends Trump's 'Right' to Criticize Federal Judges

The real threat to an independent judiciary is its increase politicization, not President Donald Trump's criticism of federal judges who have ruled against his executive orders, Attorney General Jeff Sessions said Friday.

"It's right for the president, as he's done historically over the centuries, to express opinions over judicial opinions," Sessions told "CBS This Morning." "They have a lifetime appointment. Their pay can't be cut and their decisions can be commented on."

Further, Sessions said, he thinks that Trump was justified for his criticism of U.S. District Judge William Orrick in San Francisco, who issued a temporary ruling in a lawsuit challenging the president's executive order to withhold funding from sanctuary cities.


---

10 Biggest Moments of President Trump's First 100 Days

President Donald Trump's first 100 days in the White House have been filled with achievements and setbacks as the new commander in chief acted swiftly in an attempt to make an impact on everything from healthcare and the Supreme Court to tax reform and immigration.

Since his upset win in November, Trump knew the road to change would be challenging, especially with all of his promises heading into the Oval Office: secure the border, improve the economy, repeal and replace Obamacare, overhaul the tax code, get rid of trade agreements that don't benefit the United States, and crack down on terrorism, to name a few.

According to a new poll from the University of Virginia Center for Politics, 93 percent of Trump voters approve of his performance over the first 100 days.

Though some of his plans hit roadblocks, Trump's first 100 days in office have also surprised many of his opponents who have commended his tremendous strength in dealing with Syria, Russia, and North Korea, and extolled his efforts domestically, as well.

---

Among Trump aides, Mattis emerges as key voice

When Defense Secretary Jim Mattis sat down with leaders in Saudi Arabia last week, a top White House official traveling with him offered up a new label for the Pentagon chief, who is well known as a combat-hardened former general: "favorite of the president."

The depiction from deputy national security adviser Dina Powell, however lighthearted, sheds light on the substantial role that Mattis has assumed since taking charge at the Pentagon three months ago, as one of President Trump's most influential advisers and a commanding voice on foreign policy issues.

Mattis's strong standing in Trump's Cabinet makes the top Pentagon position more powerful than it has been in recent years, helping to steer the administration toward more traditional foreign policy positions while allocating greater authority and resources to the military at a time of complex and myriad global threats.


---

Elizabeth Warren Turns on Obama
I'm 'troubled' by Obama's $400,000 speaking fee

Elizabeth Warren isn't too keen about former President Barack Obama's $400,000 fee to address a Wall Street conference on healthcare this fall.

"I was troubled by that," the Massachusetts senator said Thursday during an interview with the SiriusXM show "Alter Family Politics" on Radio Andy.

She then proceeded to discuss her disdain for "the influence of money" in the nation's capital.

"One of the things I talk about in the book ["This Fight is Our Fight"] is the influence of money," she said. "I describe it as a snake that slithers through Washington. And that it shows up in so many different ways here in Washington. People understand the money that goes into campaign contributions. And when I say 'understand.' I don't mean they think it's okay, but at least people see it. The money that goes into hiring lobbyists, but it's also the money that goes into bought-and-paid-for experts, the money that goes into think tanks that have these shadowy funders."


---

Spooked by the power of words, words, words

The only thing anyone is allowed to hear on campus is a slogan. Thinking is so 20th century (and early 20th century at that). The adults paid to be in charge have retreated to a safe place, where never is heard an encouraging word and the skies are cloudy all day.

The First Amendment has been under the latest assault for months, and this week Howard Dean, the former governor of Vermont and onetime chairman of the Democratic Party, finally said out loud what certain prominent Democrats have hinted at and alluded to, that free speech does not necessarily include extending it to anyone who disagrees with them.

This poison spread, like so much of the toxic stuff polluting the body politic, from the campuses of the elite. Particularly the University of California at Berkeley, where visiting speakers with something to say can't say it because it might offend the sophomore class. Cowardice rules in the university president's office and ignorance rules in Sproul Plaza. A speech by Ann Coulter, the firebrand columnist, was canceled because everyone was afraid of what she might say.


---

Controlling the nation's internet
Congress has the power and the responsibility to fix net neutrality

Do you remember the last time you had an issue with your internet connection and the federal government cheerfully helped you resolve it? Me neither. Yet the same federal government who spent $2 billion on a website that was more likely to dish out electric shocks than work properly is now literally in control of our nation's internet, under the false rubric of promoting "net neutrality."

Since 1996, the internet had been designated as "information services" and left unregulated. But under the Obama administration's 2015 FCC order, the internet was redefined as a "common carrier," putting it under the thumb of Title II of the 1934 Communications Act, the Depression-era law that kept our nation's telegraphs and rotary phones humming.

The core concepts of true net neutrality are simple. They include no blocking of information or resources, no intentional slowing or reduction in available bandwidth, no "pay to play" allocation of higher speeds, and protection of consumers' online privacy. There's broad agreement on these principles, the crucial difference is how we enforce them.



"It is discouraging to think how many people are shocked by honesty and how few by deceit."

-- Noel Coward

(1899-1973) British playwright
---
---
The Medal of Honor is the highest award for valor in action against an enemy force which can be bestowed upon an individual serving in the Armed Services of the United States.
GeneTrerally presented to its recipient by the President of the United States of America in the name of Congress.
The first award of the Medal of Honor was made March 25, 1863 to Private JACOB PARROTT.The last award of the Medal of Honor was made September 15, 2011 to Sergeant DAKOTA MEYER.
Since then there have been: • 3458 recipients of the Medal of Honor.
• Today there are 85 Living Recipients of the Medal of Honor.
Citation

Captain Humbert R. Versace distinguished himself by extraordinary heroism during the period of 29 October 1963 to 26 September 1965, while serving as S-2 Advisor, Military Assistance Advisory Group, Detachment 52, Ca Mau, Republic of Vietnam. While accompanying a Civilian Irregular Defense Group patrol engaged in combat operations in Thoi Binh District, An Xuyen Province, Captain Versace and the patrol came under sudden and intense mortar, automatic weapons, and small arms fire from elements of a heavily armed enemy battalion. As the battle raged, Captain Versace, although severely wounded in the knee and back by hostile fire, fought valiantly and continued to engage enemy targets. Weakened by his wounds and fatigued by the fierce firefight, Captain Versace stubbornly resisted capture by the over-powering Viet Cong force with the last full measure of his strength and ammunition. Taken prisoner by the Viet Cong, he exemplified the tenets of the Code of Conduct from the time he entered into Prisoner of War status. Captain Versace assumed command of his fellow American soldiers, scorned the enemy's exhaustive interrogation and indoctrination efforts, and made three unsuccessful attempts to escape, despite his weakened condition which was brought about by his wounds and the extreme privation and hardships he was forced to endure. During his captivity, Captain Versace was segregated in an isolated prisoner of war cage, manacled in irons for prolonged periods of time, and placed on extremely reduced ration. The enemy was unable to break his indomitable will, his faith in God, and his trust in the United States of America. Captain Versace, an American fighting man who epitomized the principles of his country and the Code of Conduct, was executed by the Viet Cong on 26 September 1965. Captain Versace's gallant actions in close contact with an enemy force and unyielding courage and bravery while a prisoner of war are in the highest traditions of the military service and reflect the utmost credit upon himself and the United States Army.
---
3/14/20017

We Have Met the Enemy…

Geoff Metcalf
"They who can give up essential liberty to obtain a little temporary safety deserve neither liberty nor safety.
--Benjamin Franklin
"The American people must be willing to give up a degree of personal privacy in exchange for safety and security."
--Louis Freeh

In the wake of the clamor over the most recent WikiLeaks data dump, 'Vault 7', 'UMBRAGE', et al, it should be noted this is not really anything new. What we are seeing here is simply the evolution of something that goes back to the late 50s (to the incomplete best knowledge I have).
It is kinda cool to finally see even the New York Times (www.nytimes.com/2017/03/09/opinion/the-truth-about-the-wikileaks-cia-cache.html?_r=0) acknowledging material I was writing about in 1998 (http://www.wnd.com/1998/04/6108/ ).
In April of 1998 I wrote "Privacy has become an anachronism." I was commenting on "a massive system designed to intercept all your e-mail, fax traffic and more." I was explaining 'Echelon', the illegitimate offspring of a UKUSA treaty (https://www.nationalarchives.gov.uk/ukusa/ ) signed by the United States, United Kingdom, Canada, Australia and New Zealand. Its purpose was, and is, to have a vast global intelligence monster, which allegedly shares common goals. The system was so "efficient" that reportedly National Security Agency folk from Fort Meade could work from Menwith Hill in England to intercept local communications without either nation having to burden themselves with the formality of seeking approval (a court order) or disclosing the operation. And this was all pre-9/11 and pre-the anti-constitutional 'Patriot Act'.
It is illegal (without a Judge's signed permission) for the United States to spy on its citizens … kinda. The laws have long been circumvented by a mutual pact among five nations. Under the terms of UKUSA agreement, Britain spies on Americans and America spies on British citizens, and then the two conspirators trade data. A classic technical finesse. It is legal, but the intent to evade the spirit is inescapable.
I often fictionalized the genesis of 'Echelon' as an informal meeting of a group of post war American and British intelligence types drinking in some remote rustic bar. An imagined CIA type complains to his MI6 buddy about the hassles of US laws preventing US intelligence from surveillance of bad guys, and the Brit echoes the same complaint.
"Hey wait a moment mate," says Nigel, the make-believe MI6 guy, "I can spy on your guys and you can spy on our bad players…why don't we just come up with a mechanism whereby we spy on your villains, you spy on our villains, and we just 'share' the intel?"
This system was called ECHELON, and has been kicking around in some form longer than most of you. The result of the UKUSA treaty signed by the United States, United Kingdom, Canada, Australia and New Zealand was, and is, to have a vast global intelligence monster which allegedly shares common goals.
The London Telegraph reported in December of 1997 that the Civil liberties Committee of the European Parliament had officially confirmed the existence and purpose of ECHELON. "A global electronic spy network that can eavesdrop on every telephone, e-mail and telex communication around the world will be officially acknowledged for the first time in a European Commission report. …"
The report noted: "Within Europe all e-mail, telephone and fax communications are routinely intercepted by the United States National Security Agency, transferring all target information from the European mainland via the strategic hub of London, then by satellite to Fort Meade in Maryland via the crucial hub at Menwith Hill, in the North York moors in the UK.
"The ECHELON system forms part of the UKUSA system but unlike many of the electronic spy systems developed during the Cold War, ECHELON was designed primarily for non-military targets: governments, organizations and businesses in virtually every country."
An interesting sidebar appeared in the International Herald Tribune under the headline, "Big Corporate Brother: It Knows More About You Than You Think." The story details Acxiom Corp, which was a humongous information service hidden in the Ozark foothills. Twenty-four hours a day, Acxiom electronically gathered and sorts all kinds of data about 196 million Americans. Credit card transactions and magazine subscriptions, telephone numbers, real estate records, automotive data, hunting, business and fishing licenses, consumer surveys and demographic detail that would make a marketing department's research manager salivate. This relatively new (legal) enterprise was known as "data warehousing" or "data-mining", and it underscores the cruel reality that the fiction of personal privacy has become obsolete. Technology's ability to collect and analyze data has made privacy a quaint albeit interesting dinosaur.
The Tribune reported that "Axciom can often determine whether an American owns a dog or cat, enjoys camping or gourmet cooking, reads the Bible or lots of other books. It can often pinpoint an American's occupation, car and favorite vacations. By analyzing the equivalent of billions of pages of data, it often projects for its customers who should be offered a credit card or who is likely to buy a computer."
Most of this information is from y 1998 piece. Echelon has developed, matured, and morphed into a much more powerful hybrid. 'Carnivore' was software to help triage the cacophony of data. Vault 7 and 'Umbrage' are logical (some would argue "insidious") growth.
More to follow…